From babies being born to friends having surgery or being ill, it seems that there's always someone in my community that could use a meal.
Unfortunately, I barely have my life together enough to make a meal for my own family, let alone to prepare something edible for another family.
Please tell me you can relate.
So I'm sharing six clever ideas to gift food for a friend - even if you are a terrible cook.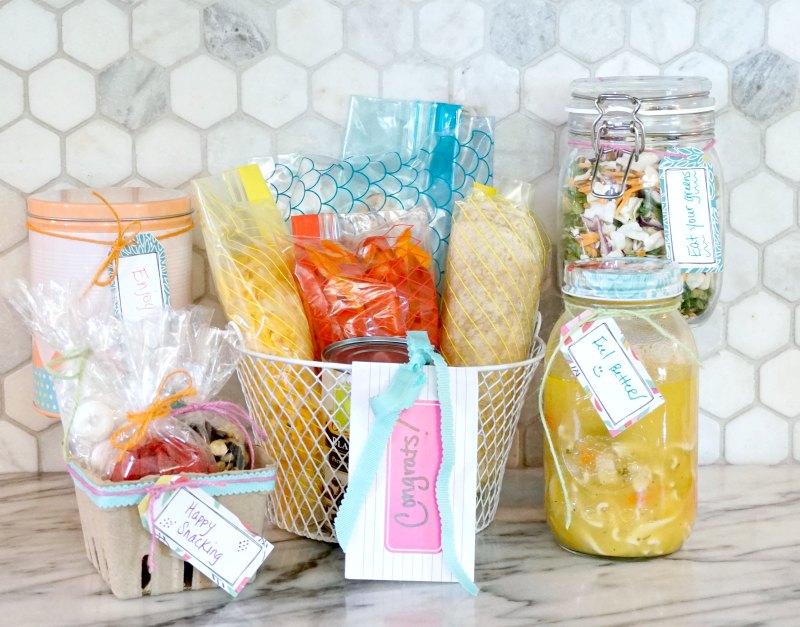 First, Watch This Video to See the Cuteness for Yourself
6 Clever Ideas for Gifting Food to Friends
From cute packaging ideas to a few shortcuts - and even some recipe ideas - I'm sharing all of my favorite ideas, hacks and tips for gifting food to friends.
Be sure to bookmark this post so you can come back to it every time you need it.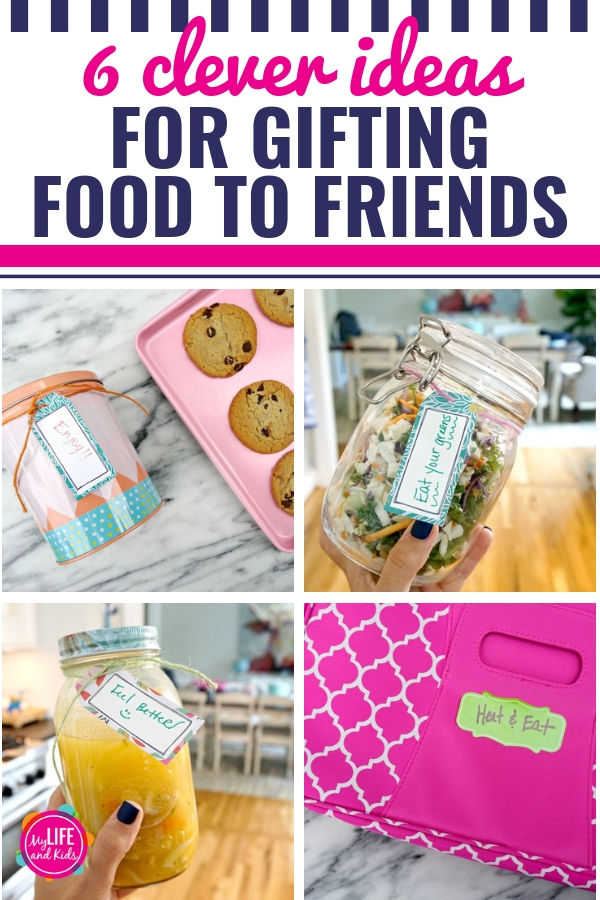 #1 - Think About Dessert First
I can't tell you how many times I've been about to drop food off to a friend, only to realize that I completely forgot dessert.
These days, I think about dessert first.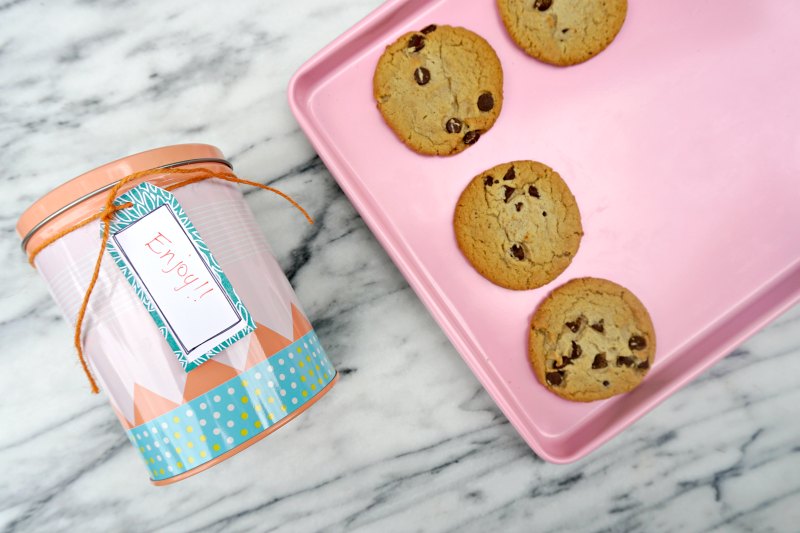 Bake (or buy!) your favorite cookies, and put them in a cute tin. Tie on a gift tag, and you're good to go.
Sometimes I skip the full meal train sign ups altogether and just dropping off a tin of cookies when I have a chance.
It's a great way to let someone know that you care and are thinking about them without preparing an entire meal (especially if you're a terrible cook like I am.)
Where to Buy Cute Cookie Containers
Unfortunately, the adorable tin I used is no longer being featured on the IKEA website, but be sure to check the kitchen area if you're ever in the store. In the meantime, here are a few more cute cookie containers to consider:
These white round tins from The Container Store.
This large clear paint can from The Container Store.
This acrylic canister from Target.
These canister tins from Amazon.
My Favorite Cookie Recipes
Three-ingredient Peanut Butter Cookies
Chocolate Peanut Butter Crunch Cookies
Or just swing through the grocery store and buy cookies. 🙂
#2 - Make the Casserole Extra Special
I think we can all agree that a casserole is usually the go-to meal for friends in need. A great idea for gifting a casserole, is to give a casserole warmer as part of your gift!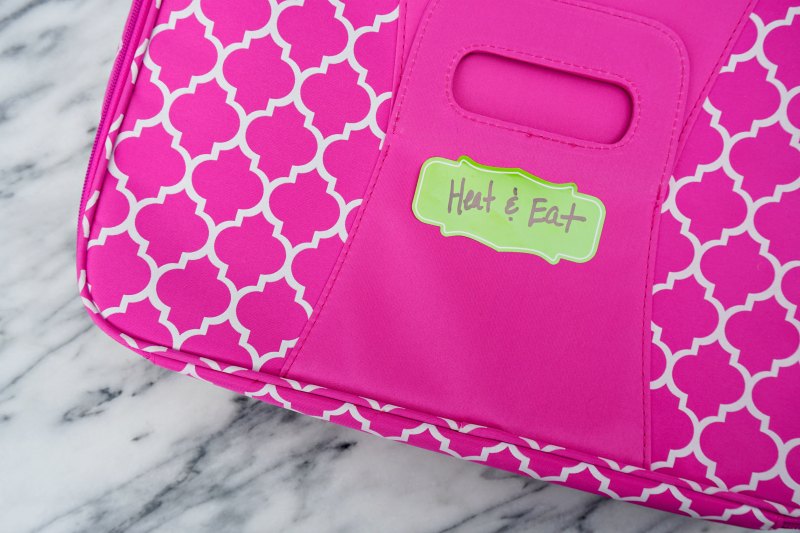 These cute casserole warmers are super handy for picnics and potlucks, and they can be the perfect gift for someone that has just had their second (or third or fourth) child.
You can grab one right here on Amazon (be sure to check out all of the colors)!
My Favorite Casserole Recipes
I'm not a great cook, but even I can't screw up these simple and delicious casseroles!
15 of the BEST Breakfast Casseroles
My Favorite Paleo Casserole Recipes
15 of the Best Chicken Casserole Recipes
#3 - Serve Salad in a Jar
I know. This is one you've probably seen before. But have you really thought through what a great idea this is?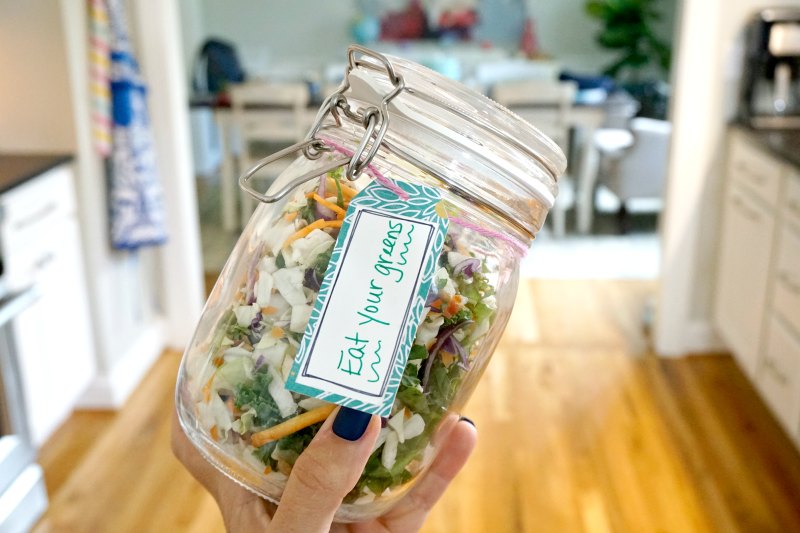 In fact, you could *JUST* drop off some jars of salad for your friend to grab for lunch. Even better? When you serve salad in a jar, no one knows if you took the time to cut all those veggies yourself or just dumped in a bag of salad.
Boom!
Where to Buy Cute Jars
You can pretty much find cute canister jars everywhere, but here are a few of my favorites.
This is my usual go-to from IKEA.
Here's a similar option from Amazon.
My Favorite Salad Recipes
If you're not going to buy a salad, at least try some of these delicious recipes.
15 of the Best Chopped Salad Recipes
#4 - Prep a Meal for Them to Cook
A friend did this for us when our 3rd child was born, and it was such a treat! Simply do all the prep work for a meal, and give your friends the meal ingredients along with the recipe to cook on their own.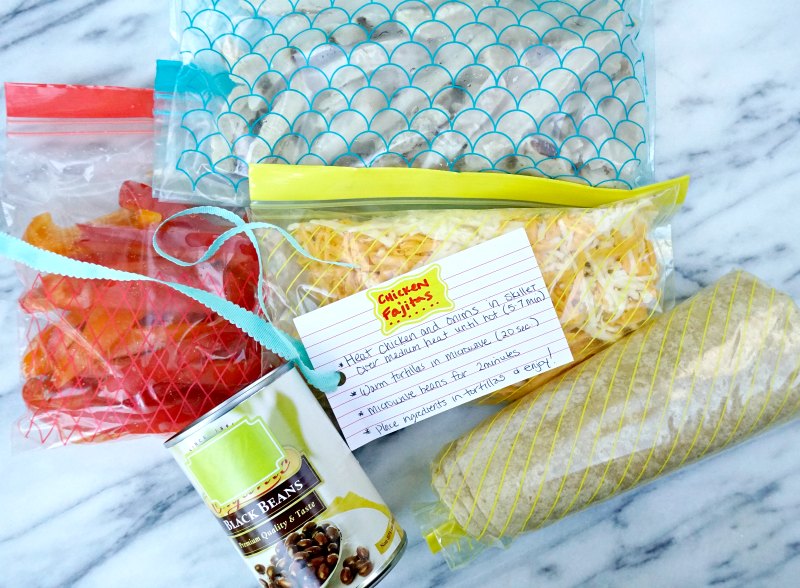 In this example, chop all of the veggies for fajitas, and package everything in fun baggies. Toss all of the ingredients into a basket and tie on the recipe. Your friends can now cook their own meal (and make their own modifications), and you don't have to spend a ton of time in the kitchen.
Win-Win.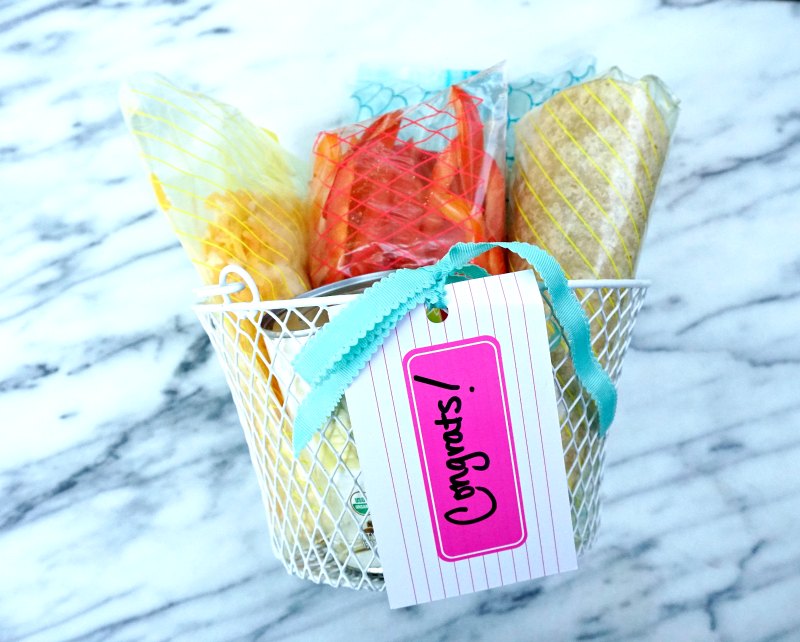 Where to Buy the Supplies
Tell me how much you love these amazing and colorful baggies? It's possible that I feel like a really old woman to be this excited about patterns on storage bags, but whatever.
The only place I have ever seen bags like this is at IKEA. You can see them on their website here, here and here.
Let me know if you ever see them somewhere else, and I will add the links!
My Favorite Dinner Recipes 
My Favorite Healthy Italian Recipes
#5 - Don't Forget the Snacks
One of my very favorite gifts for new moms is to drop off a supply of snacks. Everyone else is already bringing them meals, but sometimes a new mom just needs SNACKS!
I am getting hungry just remembering all the days spent feeding a baby in the middle of the night and wishing that a snack fairy would appear to feed me.
Be someone's snack fairy!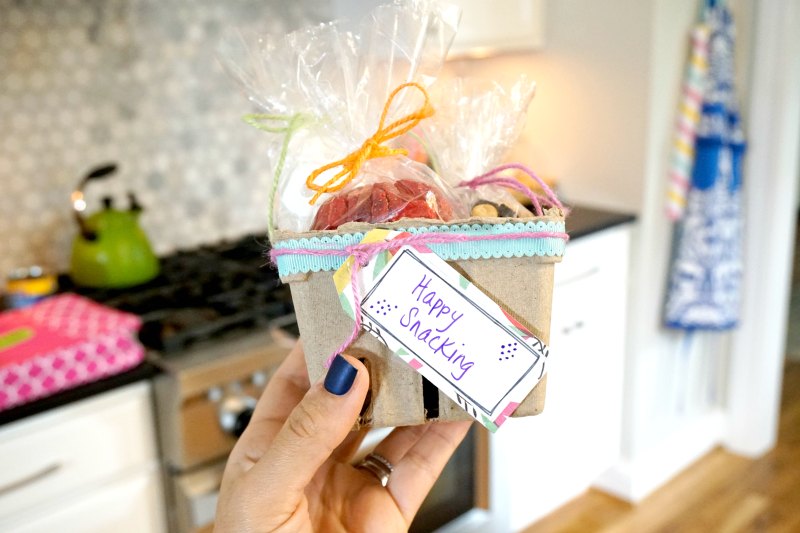 Package your favorite snacks in plastic baggies, and put them all together in a little snack basket.
They might forget who made what casserole that they're eating for dinner. But they're never going to forget the person that rescued them throughout their busy days and nights with snacks.
Where to Buy Cute Snack Packaging
Clear Gift Bags (for pre-packaging snacks)
Berry Basket Container (like pictured) - Option 1
Berry Basket Container - Option 2
Larger Snack Basket Idea from Target
#6 - SOUP! Yes, I'm shouting about soup!
Here's the thing. Sometimes I have a friend that is feeling under the weather, and I want to drop something on her porch to let her know I'm thinking about her. But a full meal is complete overkill. And a magazine just seems pointless.
So. SOUP!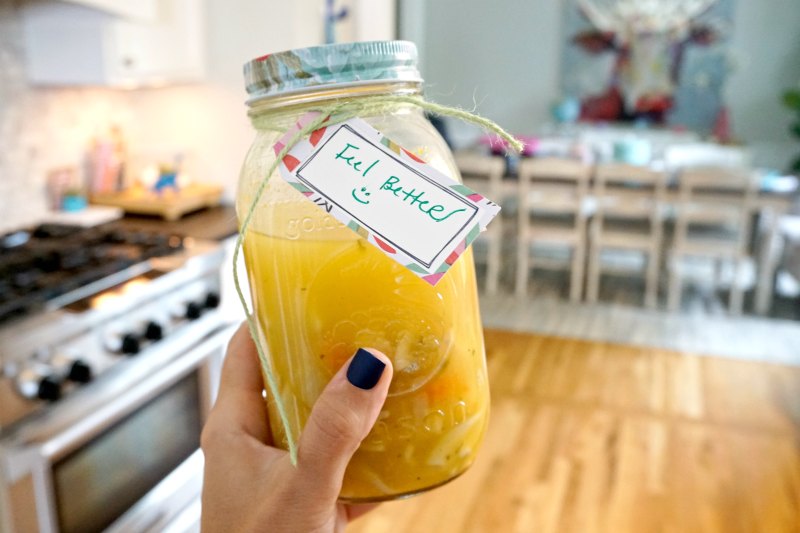 Pour your favorite soup into a mason jar (bonus points if it has a cute lid) and drop it off to your friend with a cold.
Have you figured out the best part of this entire idea yet? No one will know whether you made the soup yourself or just dumped in your favorite can.
How great is that?
Where to Buy Cute Mason Jars
As far as I'm concerned, mason jars are cute just by being mason jars. BUT - here are some extra cute ones.
This is a 6-pack from Amazon. Be sure to notice the amazing handles and GIFT TAGS that come with them! 
The cute mason jar lid that I'm using is from the Pioneer Woman. You can grab them at Walmart or here on Amazon.
My Favorite Soup Recipes
15 of the Best Healthy Soup Recipes
But really, a can of soup will work too! 🙂
In Case You Missed It, This Video Walks You Through All Six Ideas
Meal Train Mania
So - there you go. Sign up for those meal trains.
Or don't.
Either way, your friends will be so glad that you are in their lives, gifting them cute and clever meals, snacks and desserts.