Easy make ahead freezer meals are perfect for busy families, to gift to new moms or even to feed a crowd at a party or a funeral. I love to make large batches of our favorite casserole recipes to stock the freezer!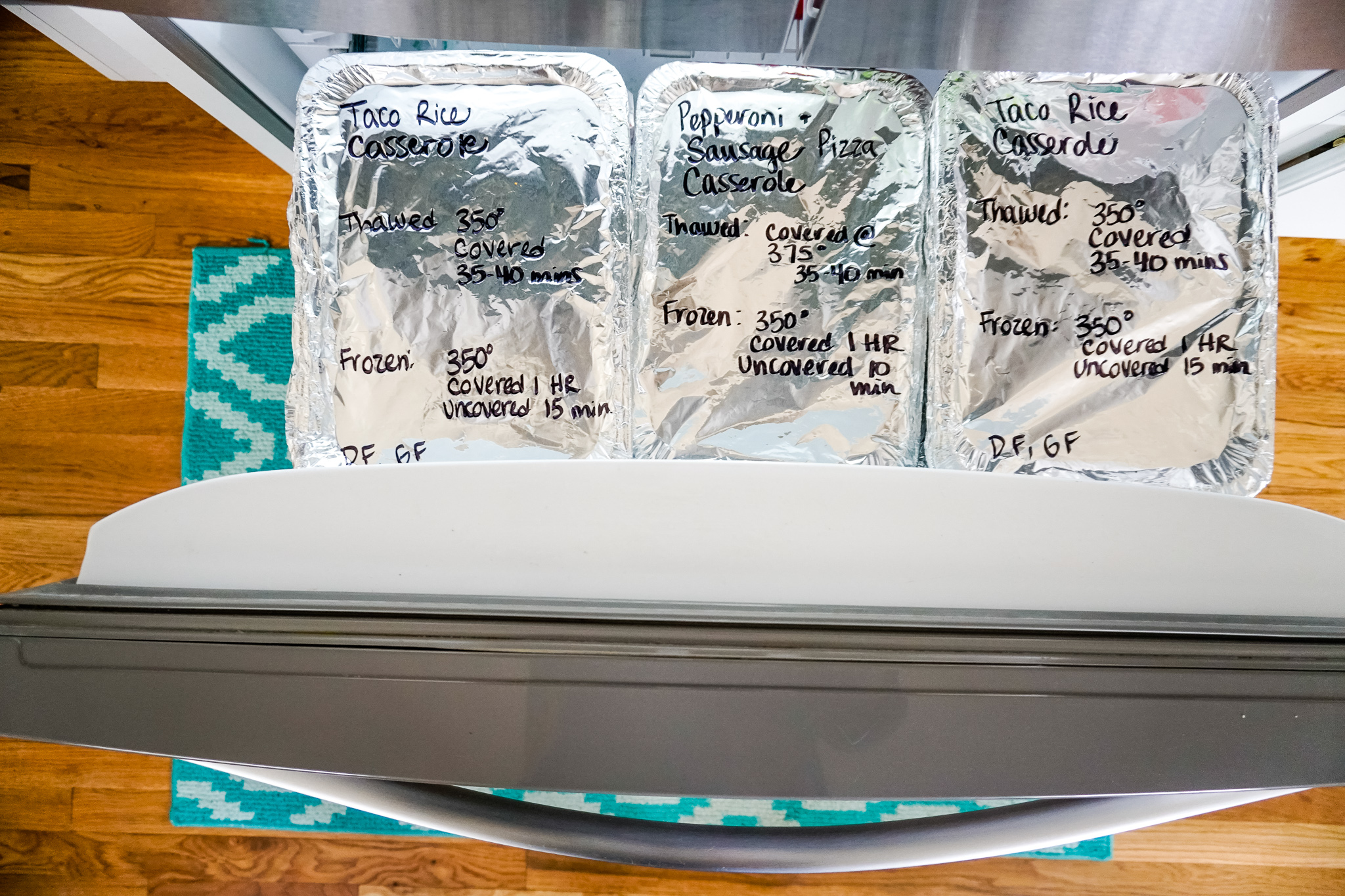 Getting Started with Make Ahead Casseroles for the Freezer
If this is your first time making meals for the freezer, don't be intimidated. With a few tips and supplies, you'll be on your way to a fully stocked freezer.
Helpful Supplies
Disposable casserole dishes - we're all about the environment, but when it comes to freezer casseroles, these disposable containers are a no brainer. You can stack them easily in the freezer, they can go directly into the oven, and if you're gifting a casserole to a friend or new mom, then you don't have to worry about getting your dish back. (And you can always wash and reuse them!) These are the dishes that I use.
Plastic wrap - Air is not your friend when it comes to properly storing food in the freezer. By placing a layer of plastic wrap on the top of your dish before it goes in the freezer, you decrease the risk of freezer burn. I like to use Press & Seal.
Heavy duty tin foil - your disposable casserole dishes will come with plastic lids, but nothing beats heavy duty tin foil. You can cover your dish (it goes on top of the plastic wrap) and then use a Sharpie to write important information on the top (like the name of your dish, baking instructions and the date that you made it.) This is what I use.
Sharpie - for labeling your freezer meal.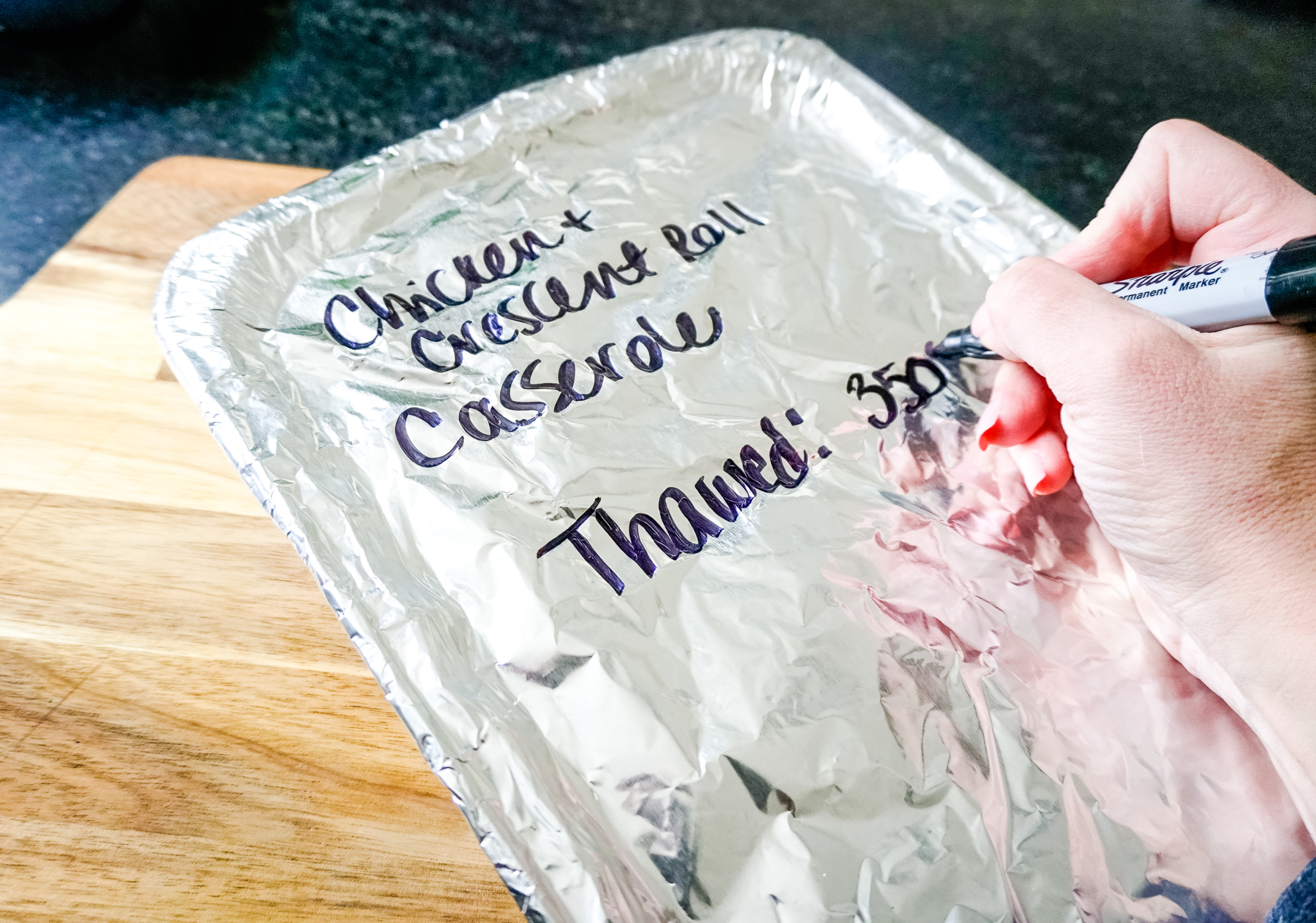 Helpful Tips
If this is your first time making freezer meals, don't panic. With a few advance preparations, you'll have your freezer stocked in no time.
Plan ahead - Make a list of the recipes you'd like to make and create a master grocery list. (Don't forget to purchase your freezer meal supplies that I mentioned above.)
Batch your cooking - You may find that it's a lot faster (and easier) if you choose recipes that all have the same main ingredient - like chicken or pasta. That way you can cook your base in bulk and just add different ingredients to make your different meals. (Here are five recipes that all use shredded chicken as the base.)
Make room in your freezer - This may seem like a no brainer, but before you make 10 casseroles to put in your freezer, make sure you have room in your freezer for 10 casseroles!
Grab a friend - cooking days are always more fun when you have a friend in the kitchen. You can split the cost of the ingredients and each take home half of the casseroles. Or each of you can provide the ingredients for a few recipes and split the casseroles at the end.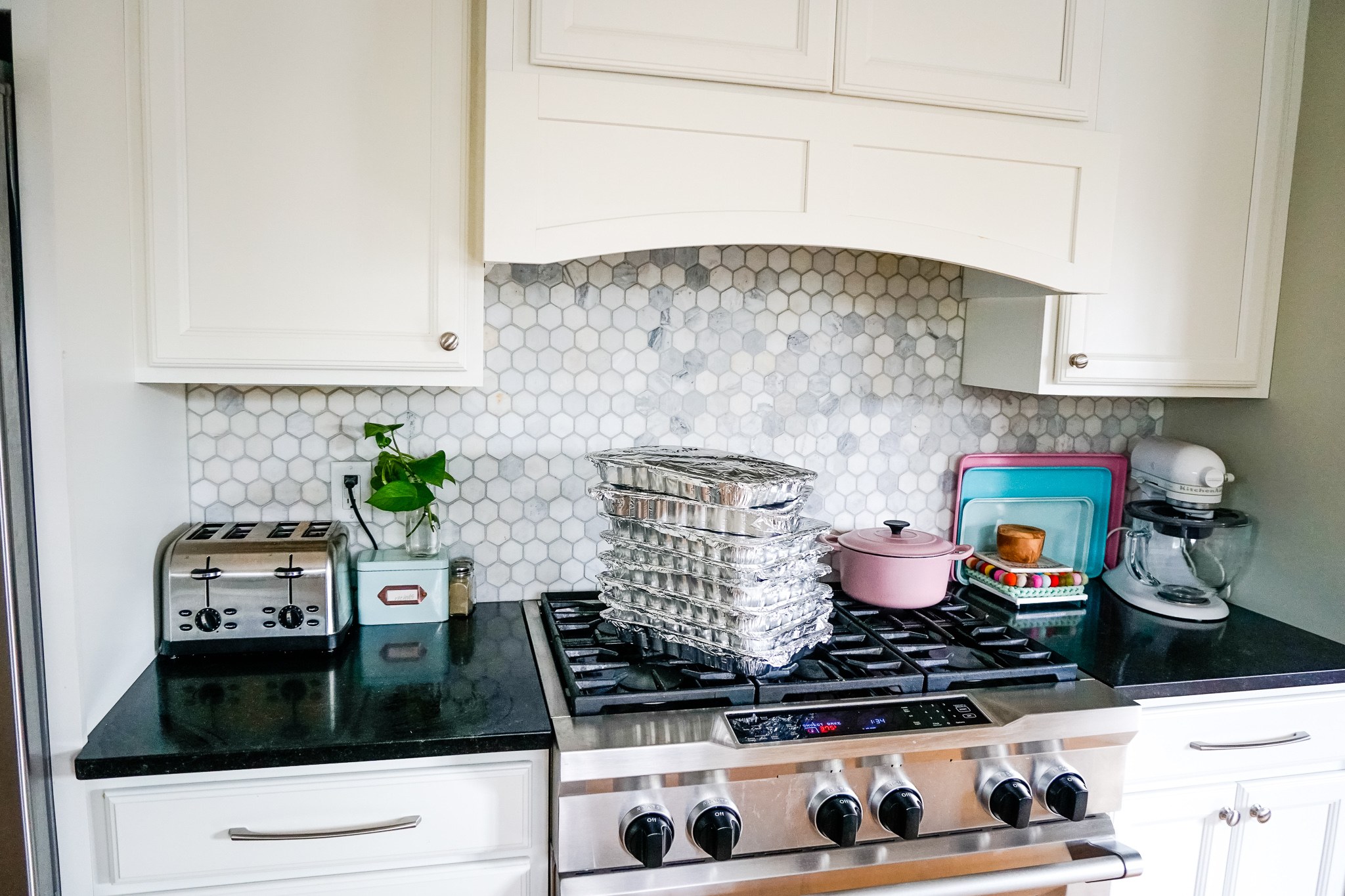 Now that you have your supplies (and your freezer cleaned out), you're ready to cook!