Halloween
30 Awesome Halloween Games for Kids
By |
I always looked forward to Halloween as a kid.
Now that I'm an adult with kids in elementary school, I feel like half of my fall is spent figuring out what games to play at the school Halloween parties. So I've compiled all of my research into one place so that you can quickly and easily find inspiration, instructions and supply lists in one place.
Watch the video below for inspiration and then keep reading to see game instructions and supply lists.
30 Awesome Halloween Games for Kids (and Adults)
If you're in charge of planning the Halloween party for school, you'll love these 30 DIY Halloween games for kids and for adults. Whether you are planning a preschool party or need something for tweens and tweens, these games are perfect for all ages. (And I included Halloween Minute to Win It games too!)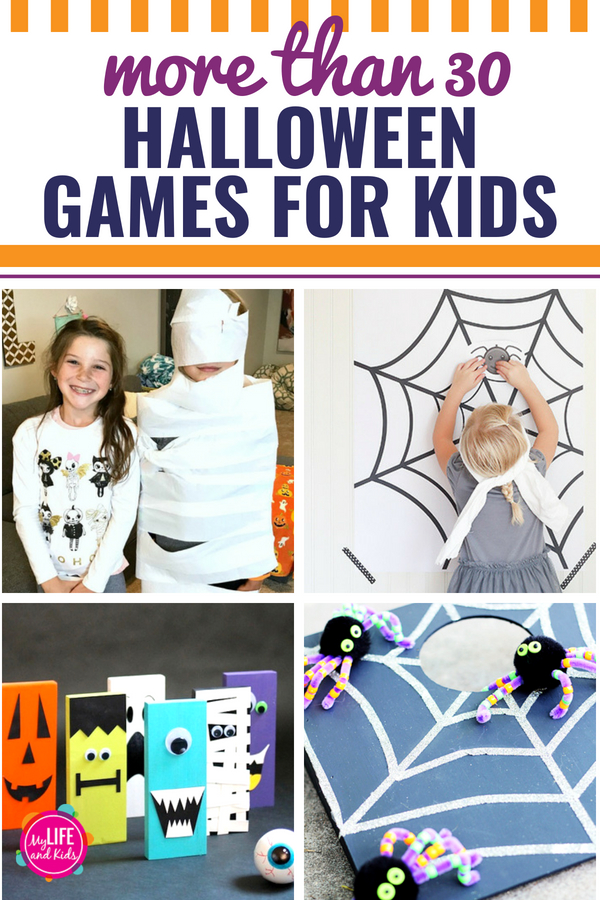 Halloween Mummies
I've played a version of this game in every class Halloween party I've ever hosted. The kids love it, it's super interactive, and the supplies are pretty simple.
Hint: rolls of toilet paper. Single ply works great!
Simply have the kids choose a partner. When you say go, they have one roll of toilet paper to wrap their partner from head to toe to become a Halloween mummy. First one finished wins.
I think you'll quickly find that the kids don't care a single bit about who wins, it's just fun to dress each other up with toilet paper.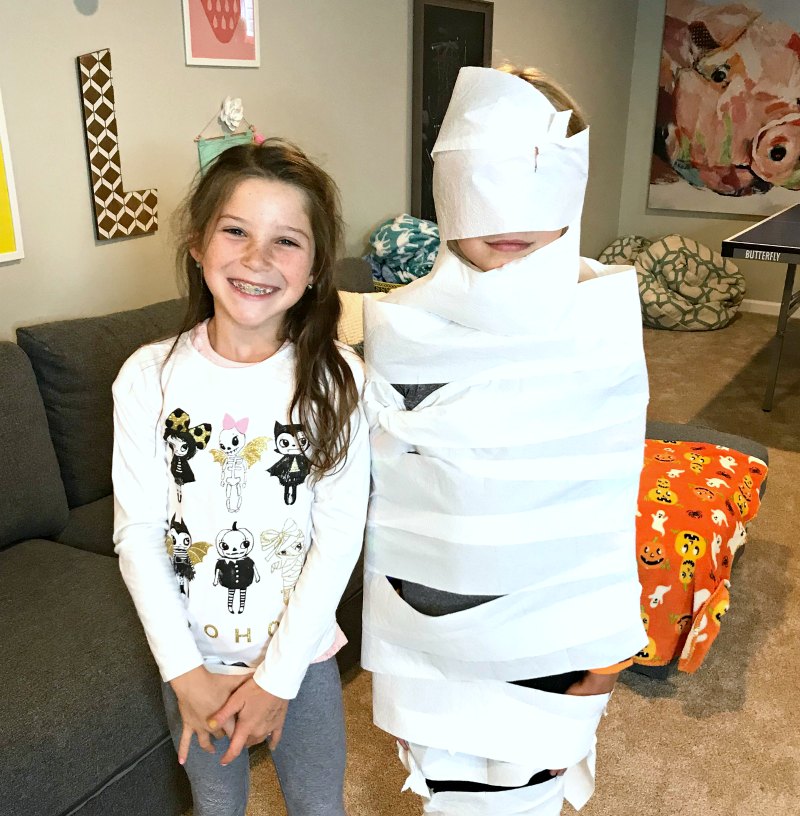 Target Practice
You will need:
Shower cap for each participant
Foaming shaving cream
Orange cheesy balls
Divide your contestants into teams. One person will wear the shower cap, and their partner will cover the cap with shaving cream. Have the partners spread apart. They have 60 seconds to throw orange cheesy balls and attempt to have them stick to the shaving cream on top of their partner's head. Winning team lands the most in 60 seconds. (This is best played outside.)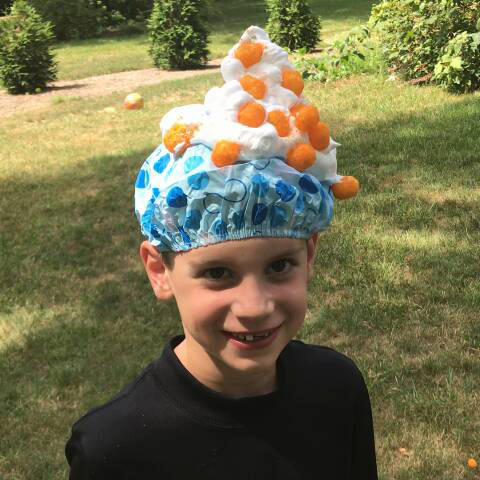 Shake Your Booty
You will need:
Cake box or tissue box – with a hole cut out
Belt (softball and baseball belts work really well!)
Ping pong balls
Cut slits in the side of the box and weave your belt through the box. Fill the box with ping pong balls and give your kids 60 seconds to shake them all out. No hands!
For older kids, use a tissue box. For my younger kids, the larger cake box and larger hole made it a little easier for them.
Make this more "Halloweeny" by using orange and black ping pong balls.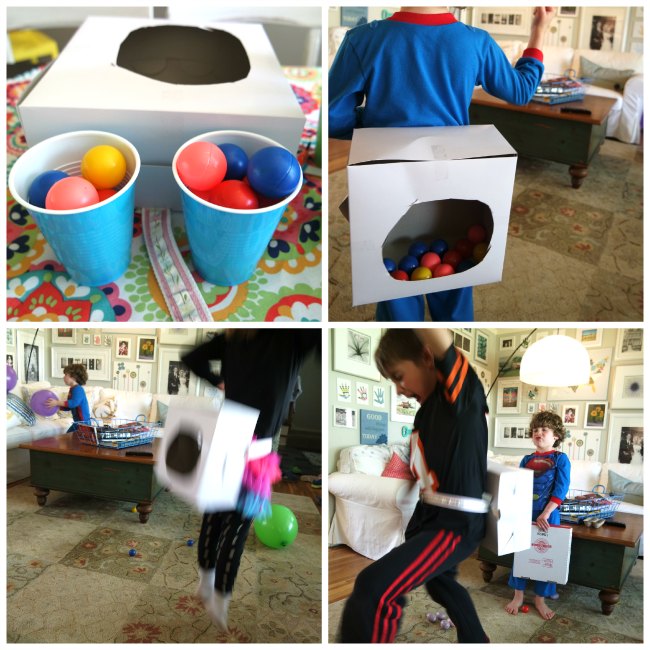 Spider Web Walking
This adorable game is perfect for younger kids (think preschool and early elementary). It's super simple to set up, and the kids will be lining up to take a turn!
Click here to see the full instructions from No Time for Flashcards

Pumpkin Bowling
Do you know who is going to love this game? Pretty much everyone who plays it! And if your kids are into arts and crafts, they'll probably love creating the game supplies as much as they love playing it.
Click here to see the full instructions from A Girl and Her Glue Gun.
While you're there, be sure to see her Free Bingo Printables and her great Halloween game idea called Last Man Standing.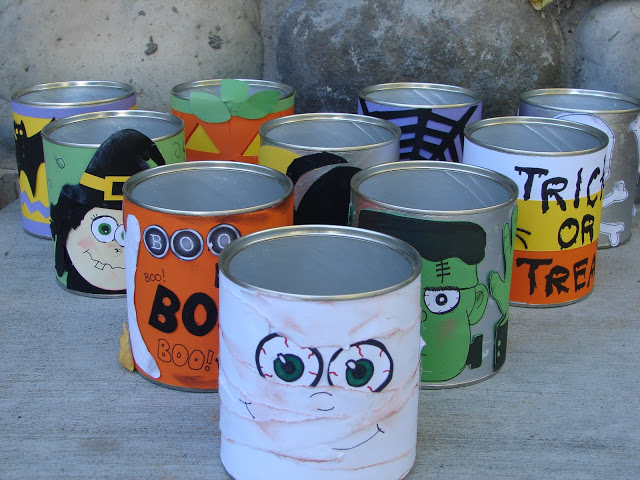 Pin the Boo on the Ghost
This is another one that I've played at a lot of school games AND games at home. Don't be intimidated by drawing the ghost – it is super simple – I promise!
Click here for the free instructions from The Pleasantest Thing.
While you're there, be sure to check out her Pumpkin Bean Bag Toss. This has been another favorite at our house.

DIY Witch Ring Toss
Let me be honest with you. If you show up to a classroom party with THIS, you will immediately be asked to serve at PTO president. If this is something you have always wanted, then please move forward. If this is your worst nightmare, then you should keep on scrolling. (Don't say you haven't been warned.)
See the full tutorial here from Sometimes Creative.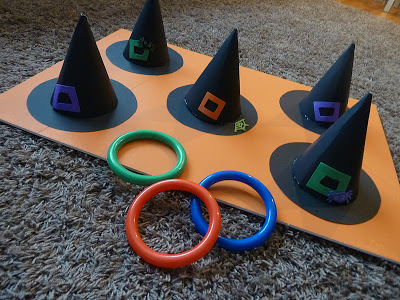 DIY Autumn Tic Tac Toe Table
This is the PERFECT game for a school Halloween party. You hardly need any supplies, it's super easy to set up in the classroom, and you can create multiple "stations" with it so that several kids can play at once.
This game was CLEARLY created by a teacher, which basically means that your child's teacher will love you forever for bringing such a clever game into her classroom.
Click here for the full instructions from The Techy Teacher.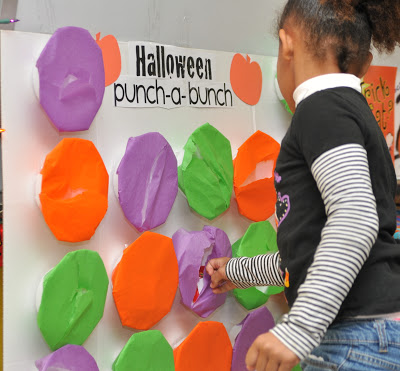 Pin the Spider on the Web
Not only is this basically the cutest game on the planet, it's also crazy easy to create. As a bonus, the creator is giving you free printables for the spiders. SO fun!
Click here for the full instructions (and free spiders) from Ella Claire Inspired.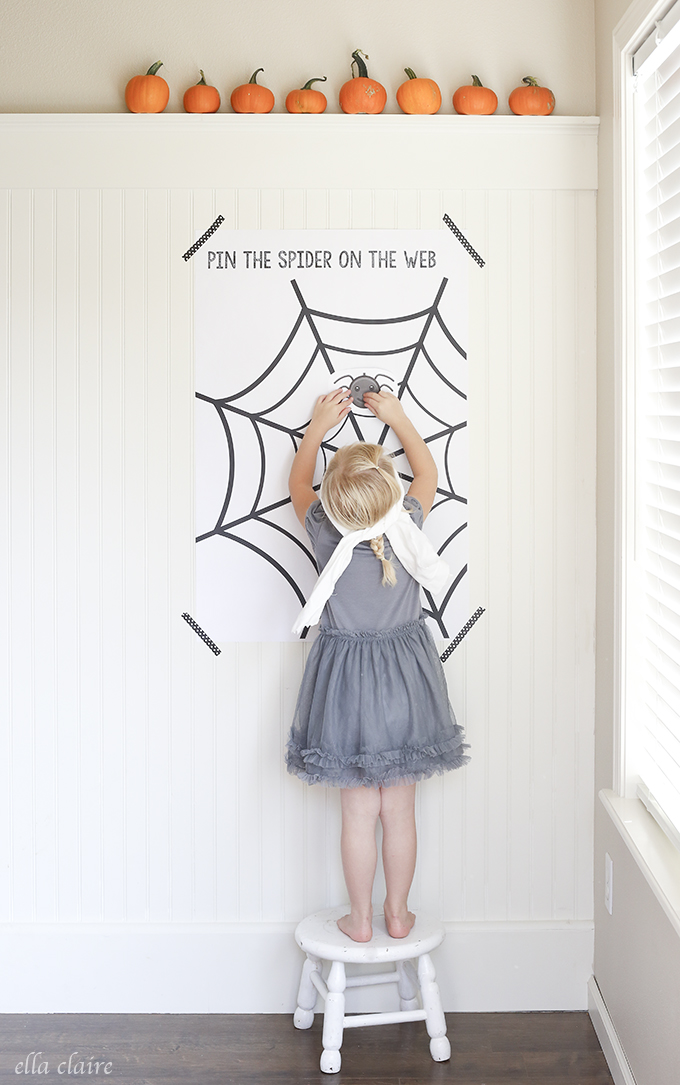 Witch Pitch
I think that witches are too often ignored or forgotten about when it comes to Halloween. I mean, it sometimes can feel like everyone is all about the ghosts and spiders and pumpkins. You know?
Help those witches feel better with this awesome witch pitch game.
Click here for the full instructions from Chica and Joe.

Halloween Concentration Game
This is a great game to include in your Halloween party arsenal. It's super fun and festive while also giving the kids a few minutes to calm down from their candy highs. Right?
Click here for the full instructions from Saltwater Kids.
DIY Cornhole Halloween Game
Your kids love cornhole and they love Halloween so what could be better than combining the two?
Not much!
Plus, these spiders are so cute and so fun that you might find the spiders to be the hit of the entire game.
Click here to see the full tutorial from Crafts Unleashed from ConsumerCrafts.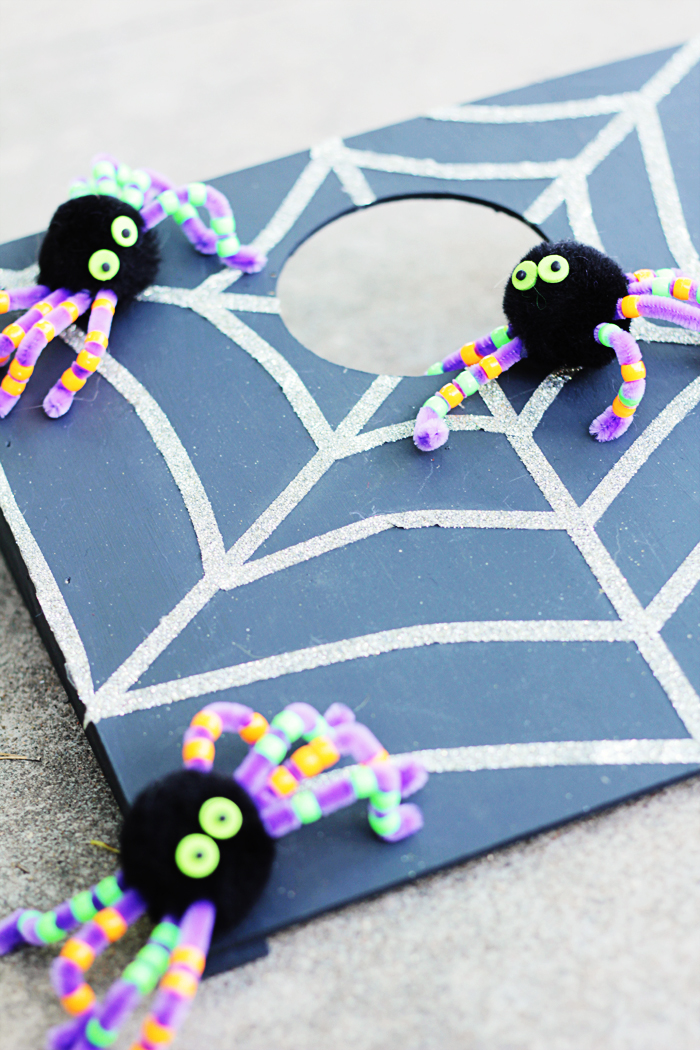 Pop Goes the Pumpkin
This one is from Martha Stewart, so you know it's going to be good. And it also got me thinking. Do you think she threw a totally kick-a$$ Halloween party in prison? I bet it was LIT!
Click here for the full instructions. 

DIY Halloween Bowling Set
Evite has more than just invitations – like this totally awesome Halloween bowling set. How fun is that?
Click here for the full instructions.

Water Squirt Halloween Game
Is this the best game EVER for toddlers and preschoolers? Yes. I think it actually might be! You probably have the supplies already sitting around your house, and your kids will have a blast!
See the full instructions here from Momma's Fun World.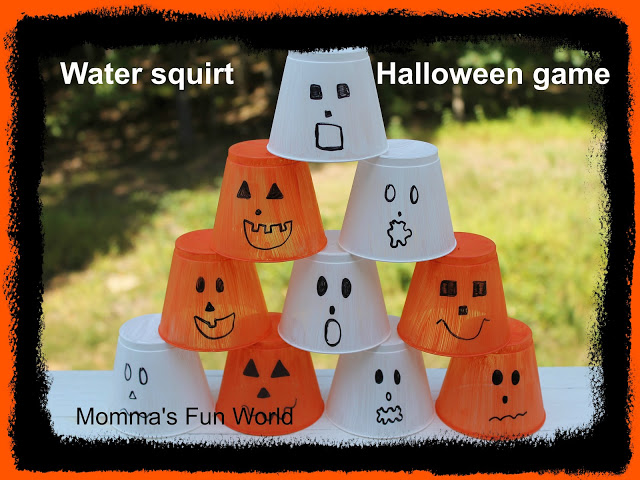 Halloween Toss
This fun and simple game will keep the kiddos entertained for quite some time, and you can even re-purpose it for future holiday games! Don't you love it when you can use the exact same supplies for several different holidays?
See the full instructions from Gets Bored Easily.

Secret Message Pumpkins
This is such a simple and adorable craft that should ABSOLUTELY be included in pretty much every class Halloween party. If your class party is structured in stations, this would be a great craft station to include!
See the full instructions from Reading Confetti.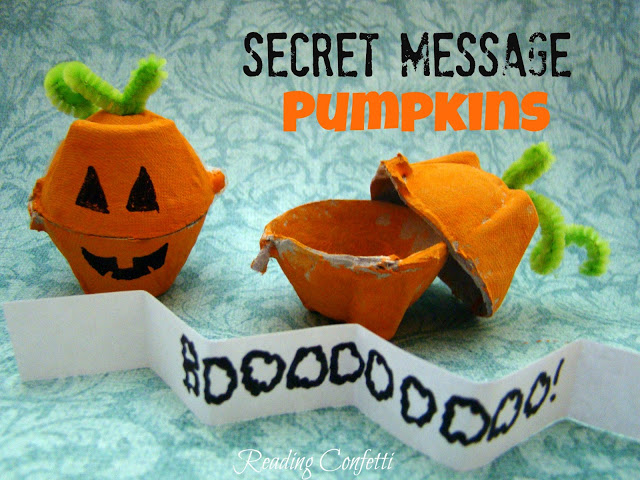 Halloween Treasure Hunt
My kids adore treasure hunts, and this Halloween treasure hunt is absolutely amazing. You'll receive a free printable and complete instructions to recreate this at your home (or in your classroom).
Click here for more details on this Halloween Treasure Hunt from Imagination Soup.

Ghost Bowling
There are so many bowling Hallowene games, but this one might just be the CUTEST ONE EVER. I mean, come on!
Click here for the full instructions and more details from No Time for Flashcards.

Balloon Catch
This is a great game to include in your party for preschoolers and toddlers. It would also be great at Sunday school. If you want to use this idea for older kids, simply increase the number of balloons they have to keep in the air.
Click here for the complete instructions from Vanilla Joy.

Monster Letter Hunt
This is another great one for toddlers and preschoolers, and you could easily modify it for other holidays. Cute, simple and fun = my kind of game!
Click here for the full instructions from Little Family Fun.

Minute to Win It Games
While these are not necessarily specific to Halloween, you could easily modify them to make them more festive for the season. For example, use orange and black cups, spiders instead of candy, etc.
They're perfect for parties of ANY age – even adults!
Click here for the complete list of Minute-to-Win-It games that you can customize for Halloween.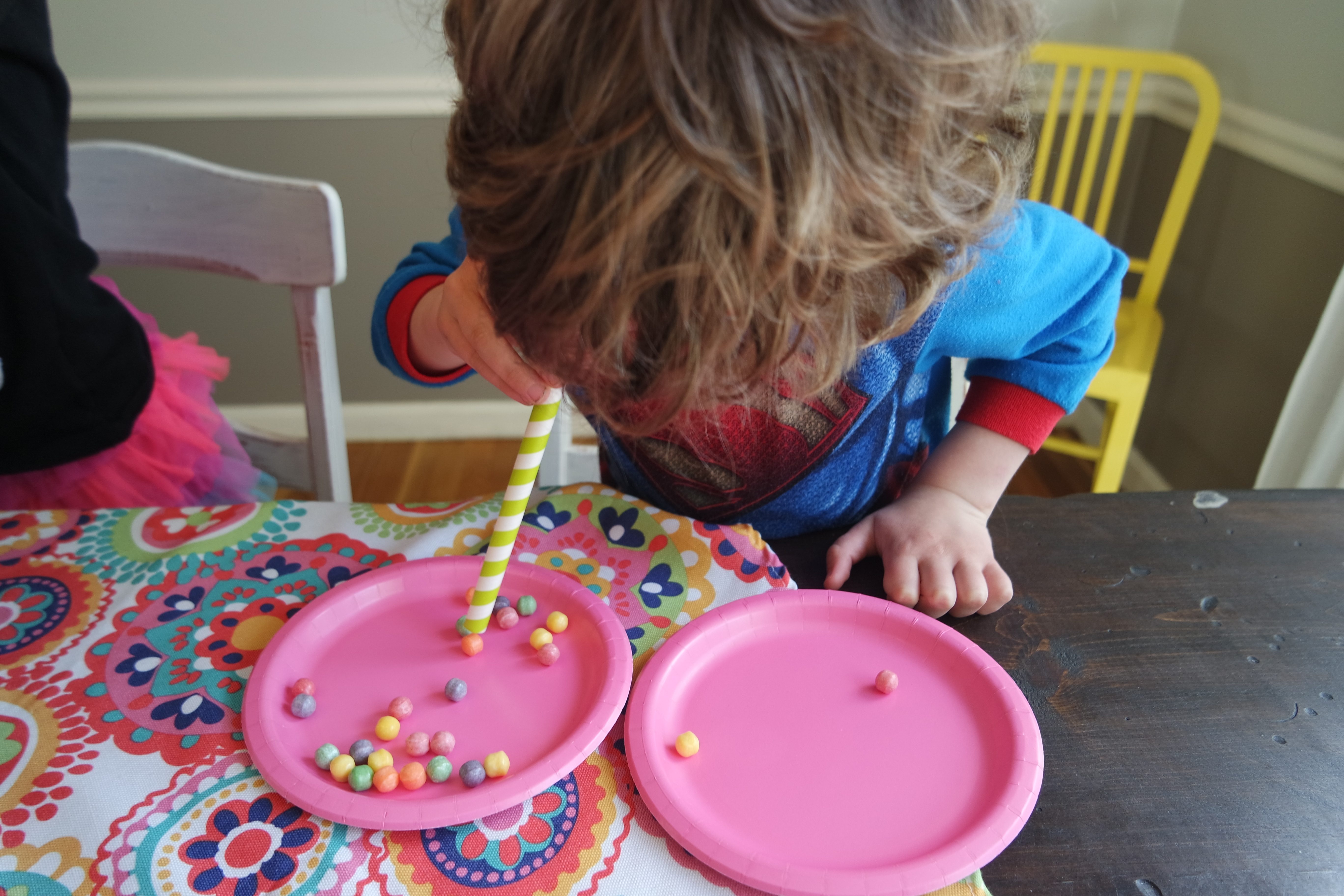 30 MORE Halloween Games
Haven't found exactly what you're looking for yet? Click here for 30 MORE Halloween Games!
Looking for More Halloween Inspiration?
You're in the right place! Halloween is one of my favorite holidays, and I love to decorate, create costumes and host parties! Click the links below for more Halloween tips and ideas.
Halloween Costumes!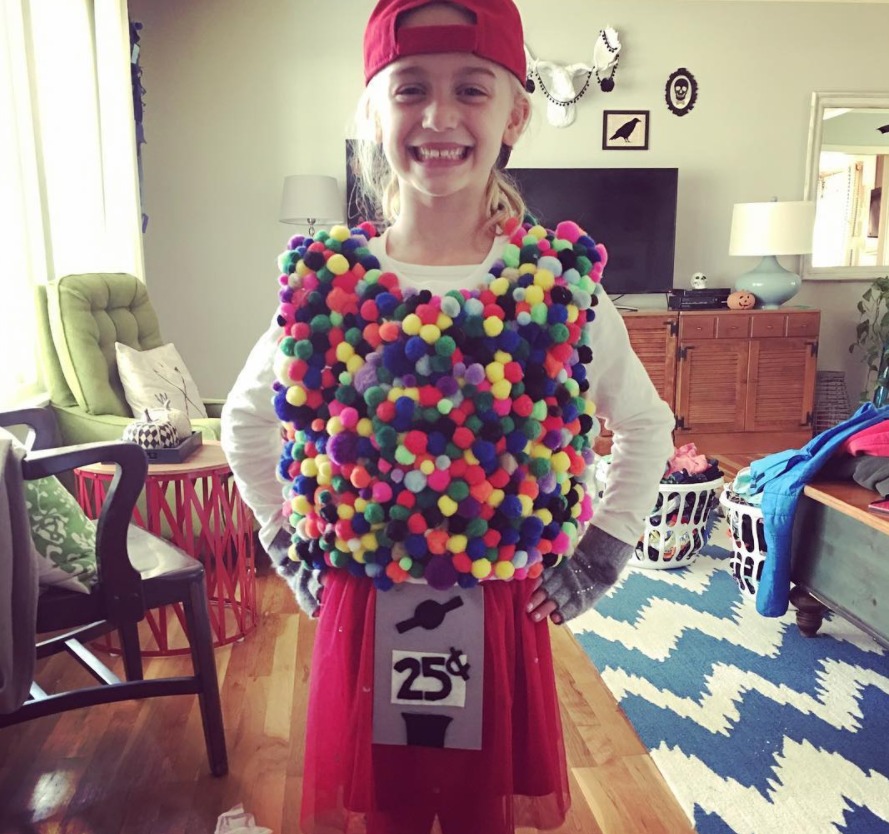 DIY Halloween Costumes for Kids
DIY Halloween Costumes for Dogs
Halloween Decorations!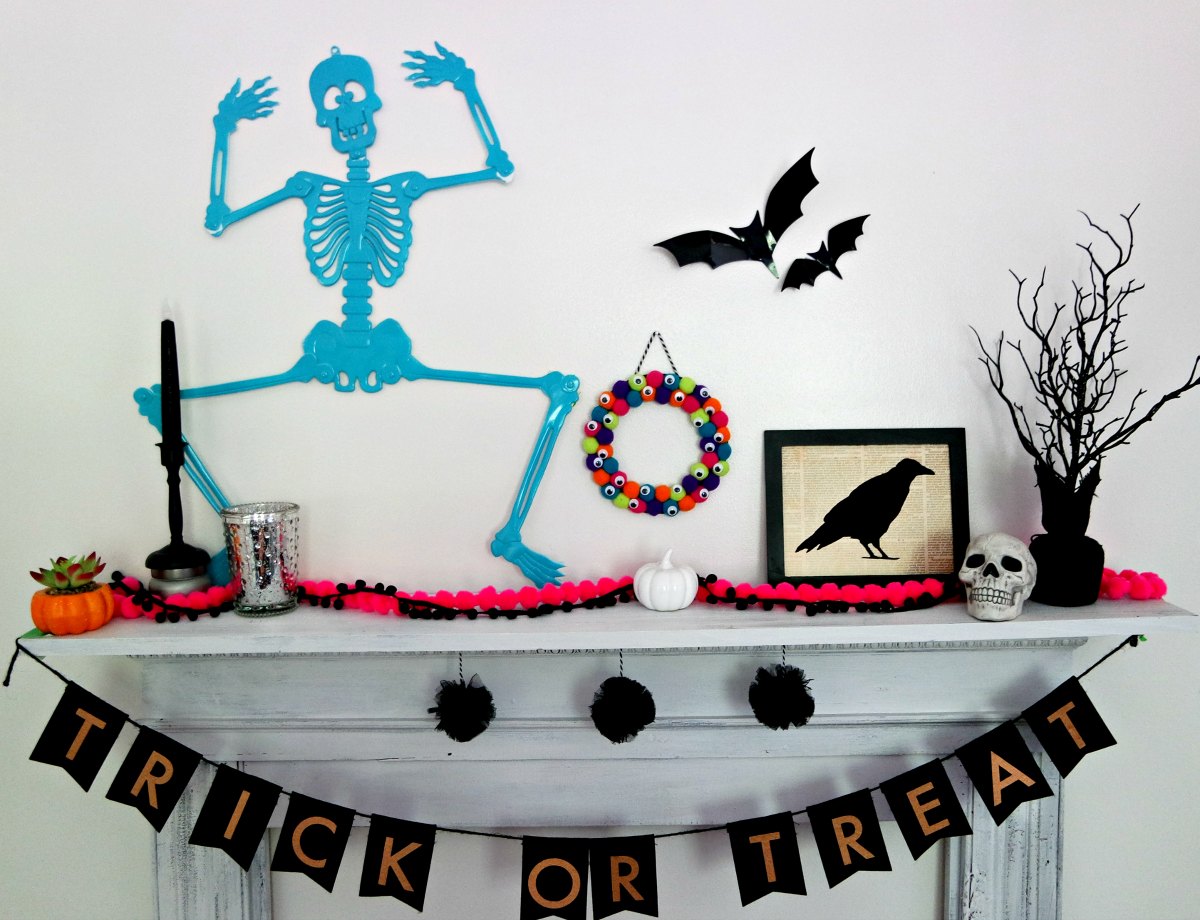 DIY Halloween Party Decor Ideas
Halloween Food!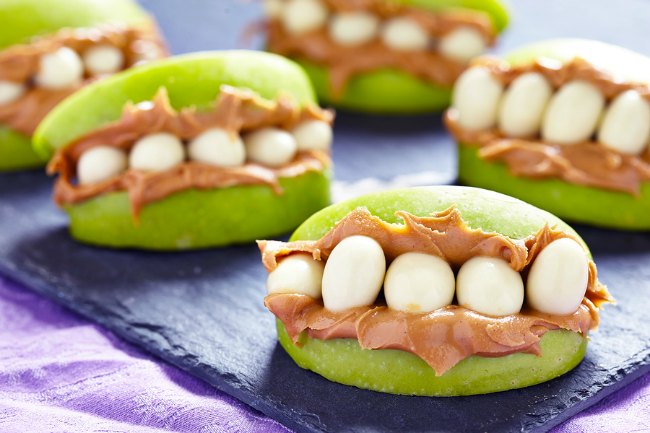 Looking for More Fun Minute to Win it Games?
We have games for every holiday, including Halloween, Christmas, Valentine's Day and even Earth Day. Click on the links below to see them all.
Have an Alexa? Click here for 26 super fun games your kids can play with Alexa.