Halloween
DIY Halloween Costumes for Dogs
By |


This is an Evite® paid post.
We brought our lovable Airedale Terrier home just over a year ago, and I don't know how we survived without him. He's part of just about everything we do as a family.
He loves car rides and playing games with the kids and taking walks… he loves it all as long as he's with us.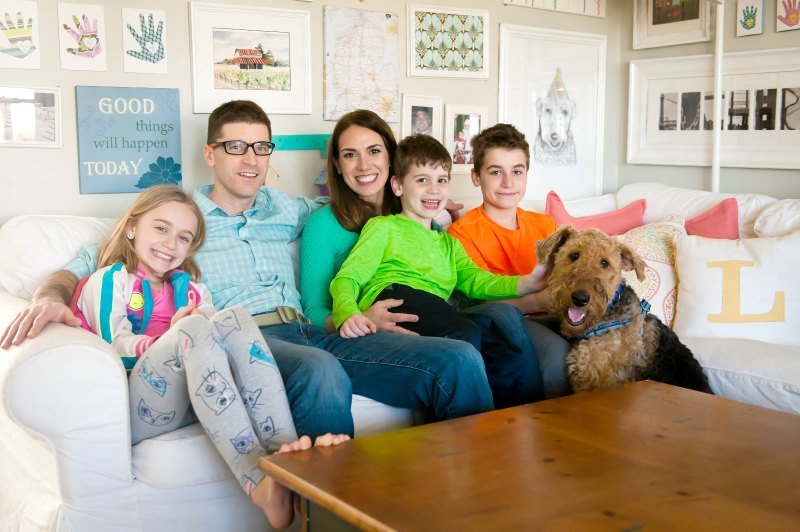 So naturally, when the kids learned that Evite® partnered with Rachael Ray™ Nutrish® Real Meat Treats for its first ever Howl-o-Ween Fashion Show, they were beyond excited!
A Halloween fashion show? For dogs? They were ALL IN!
Watch the video below to see who was crowned the first ever Howl-o-Ween champion. (And then click here to read more about the fashion show and see more pictures.)
DIY Halloween Costumes for Dogs
Inspired by the fashion show, the kids and I spent the better part of a day dressing our furry dog Chewie in fun Halloween costumes.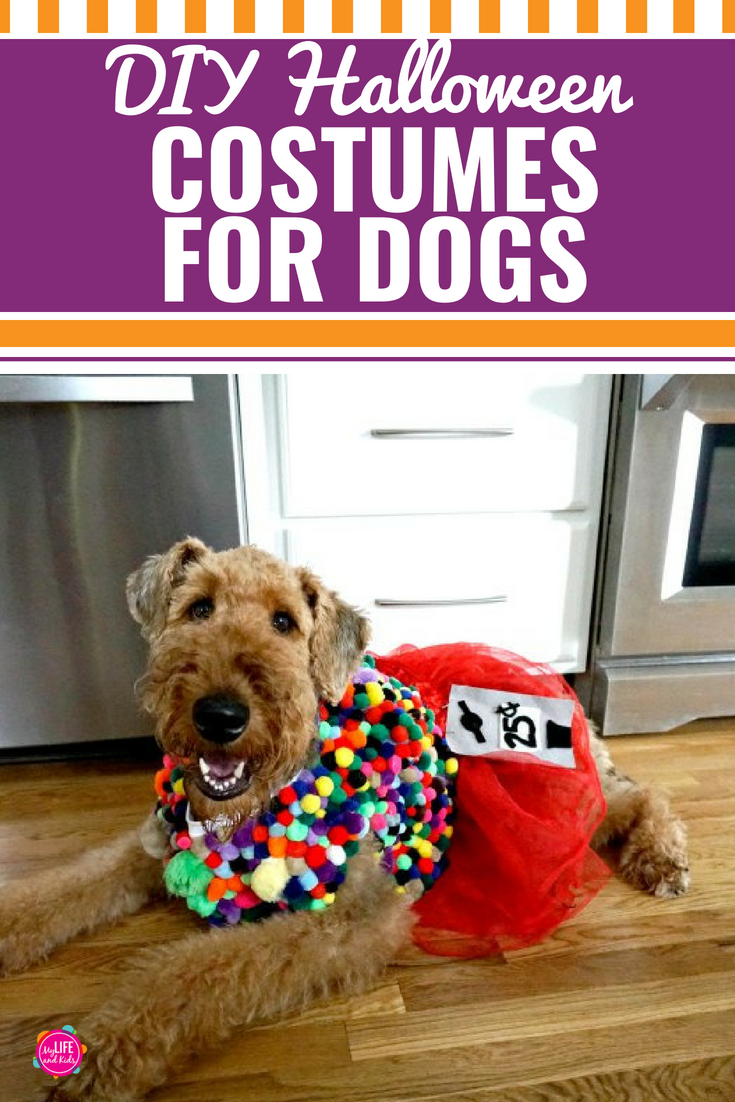 At first Chewie wasn't so sure about getting dressed up, but eventually he got the hang of it and seemed to really enjoy it, especially since we bribed him with Rachael Ray™ Nutrish® Real Meat Treats throughout each costume session.
Made with real meat and no artificial flavors or meat by-products (and with flavors like Sausage Bites, Meatball Morsels and Turkey Bacon), these treats have quickly become Chewie's favorites.
And knowing that they are all inspired by real recipes from Rachael's kitchen, I was nearly tempted to try one myself. (But don't worry, I was able to resist the temptation.)
Here are a few of Chewie's favorite Halloween costumes.
ARRRRRRF – Dog Pirate Costume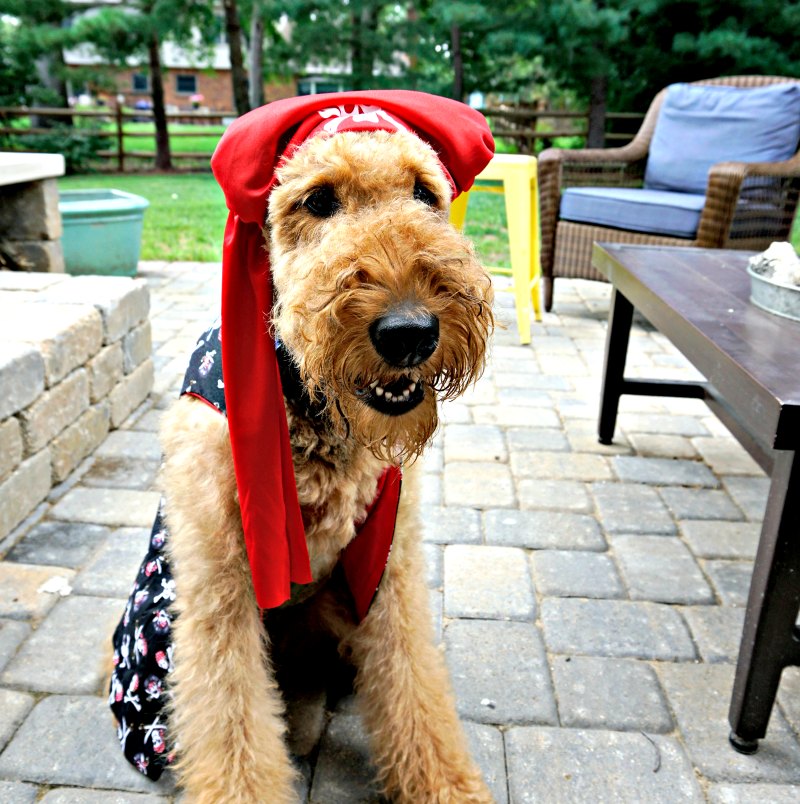 This was a very simple costume for us and for Chewie. Several years ago, my oldest son dressed as a pirate. While his outfit was a bit more elaborate than this, we were able to use pieces of it to make Chewie ready to walk the plank.
Specifically, he's wearing a pirate vest and a bandanna.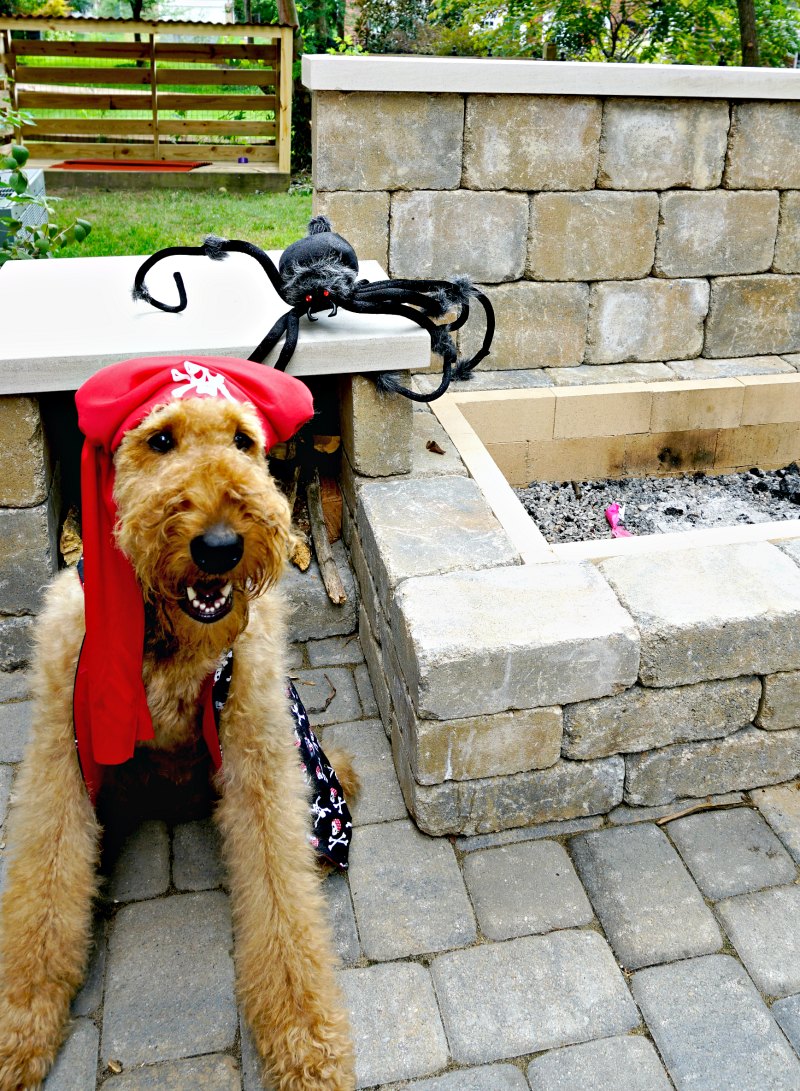 You could easily recreate this at home with a red bandanna tied around your dog's head. We didn't have an eye patch which initially felt like a total disaster, but we later decided that Chewie probably would have eaten the eye patch immediately.
All Business, All the Time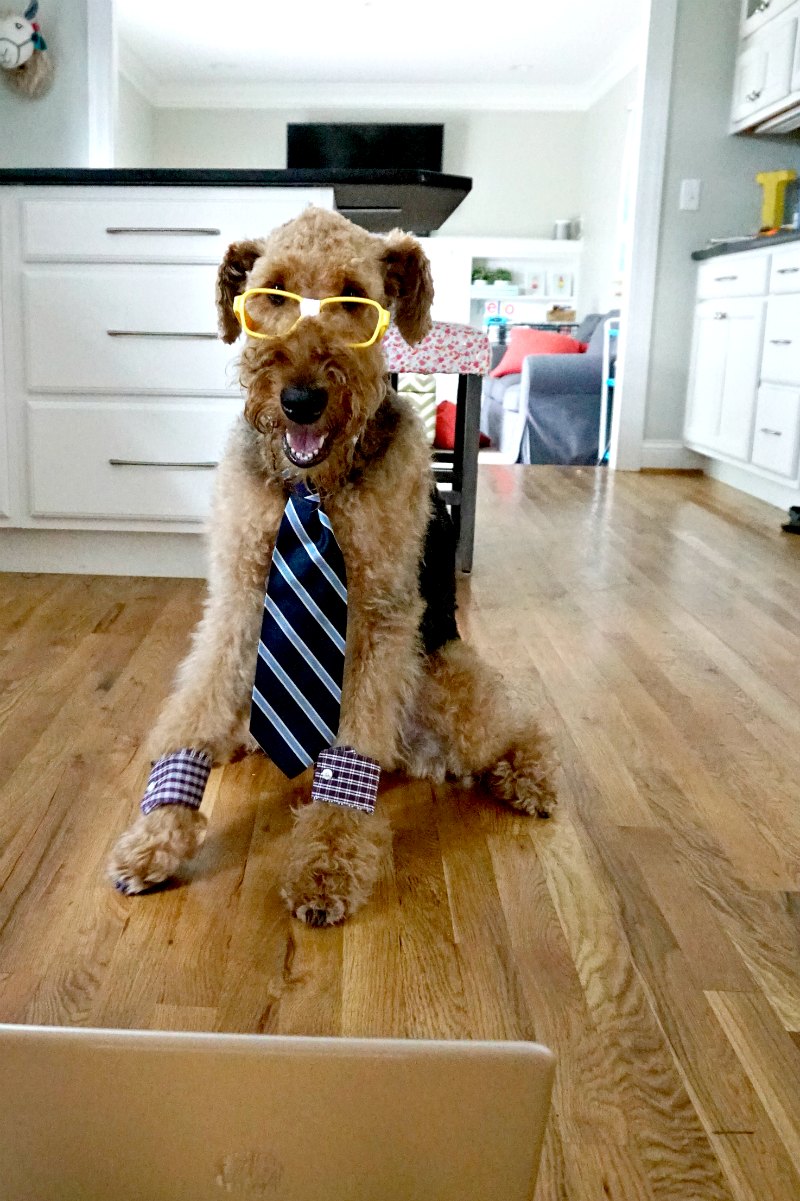 The kids' first costume idea was to dress Chewie like their dad. While we did cut the collar and cuffs off of one of his dress shirts (and borrow a tie from his closet), the similarities end there.
Although, my husband does wear glasses, so that's still a little similar.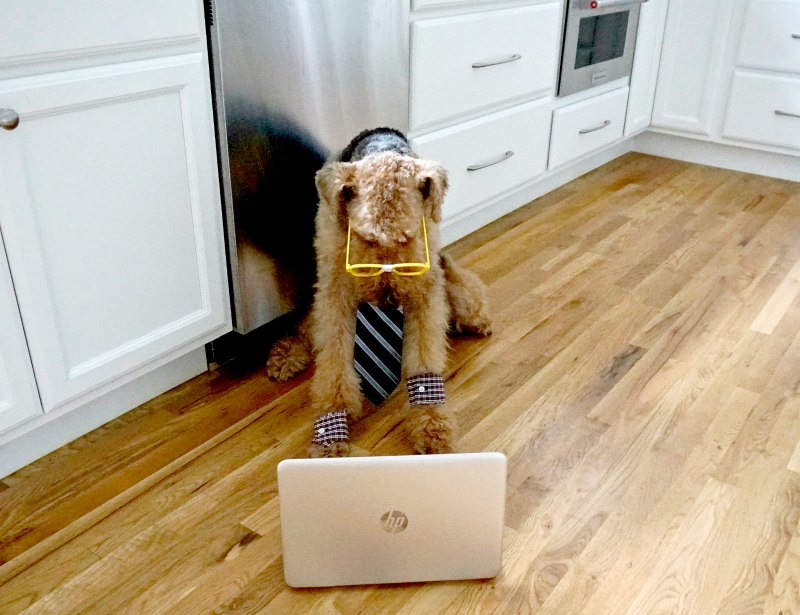 And Chewie is working on my husband's computer. So… maybe Chewie really is dressed like dad here.
If you want to dress your dog like a business man, simply cut the collar and cuffs off of a dress shirt. Button the cuffs around his front paws, and the collar around his neck. The tie is definitely the finishing touch.
Glasses are entirely optional. Chewie kept his on much longer than we thought he would.
Bat Dog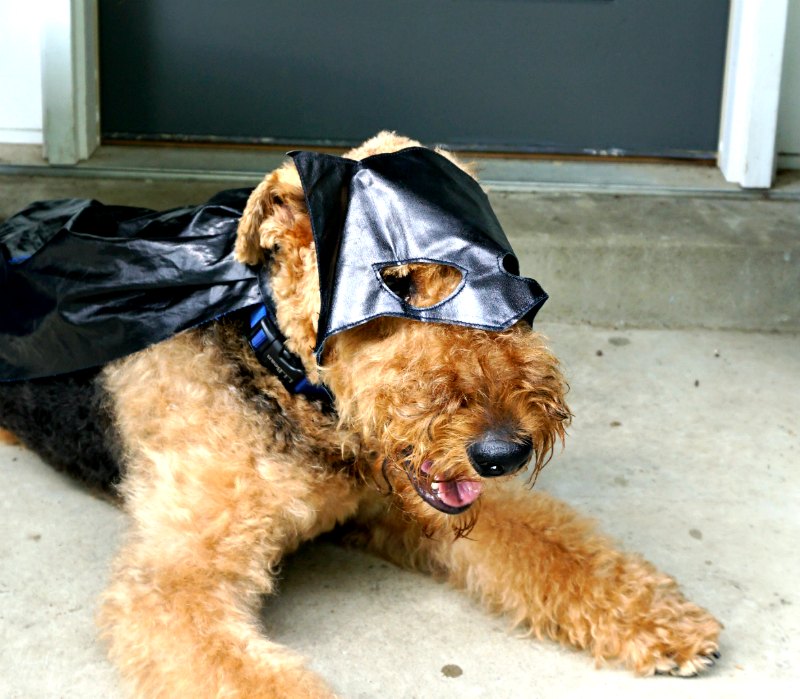 If you're like most parents, you probably have a bin of old dress up clothes somewhere in your house. Grab a cape and a mask, and your dog will be able to save the world with just one bark.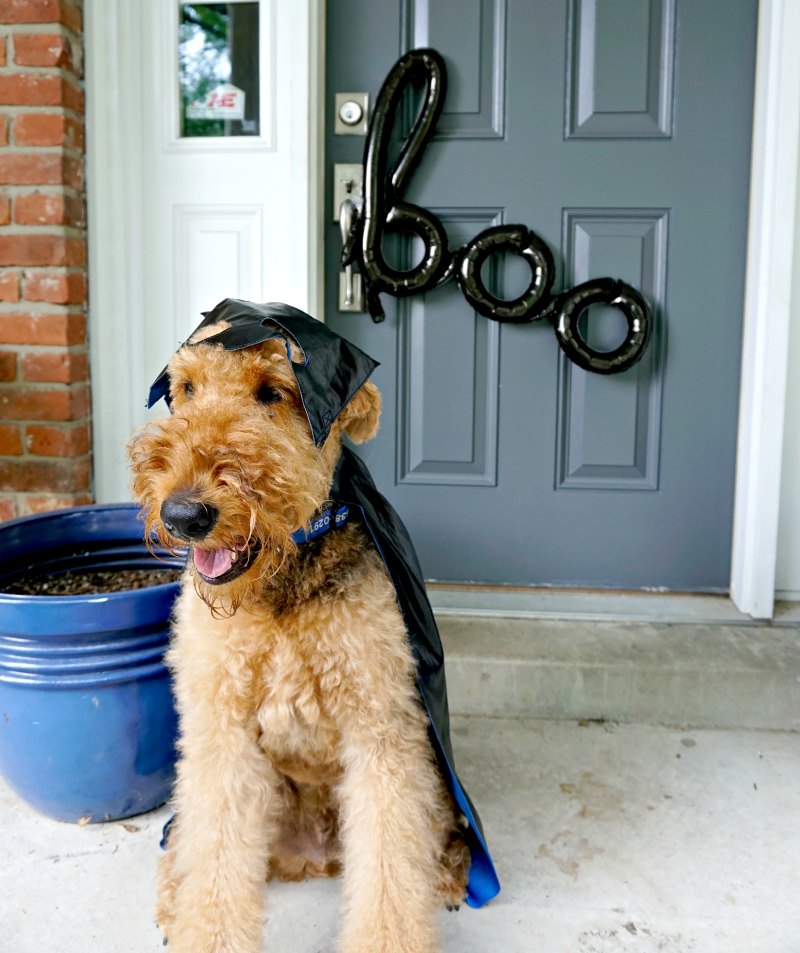 Chewie was not a huge fan of having the mask over his eyes, but we all agreed that it also worked really well pushed up on his forehead.
And – I think if Chewie could talk – he would say that he loved that cape with his entire heart and wishes we never made him take it off.
For When Your Dog Doesn't Want to Dress Up…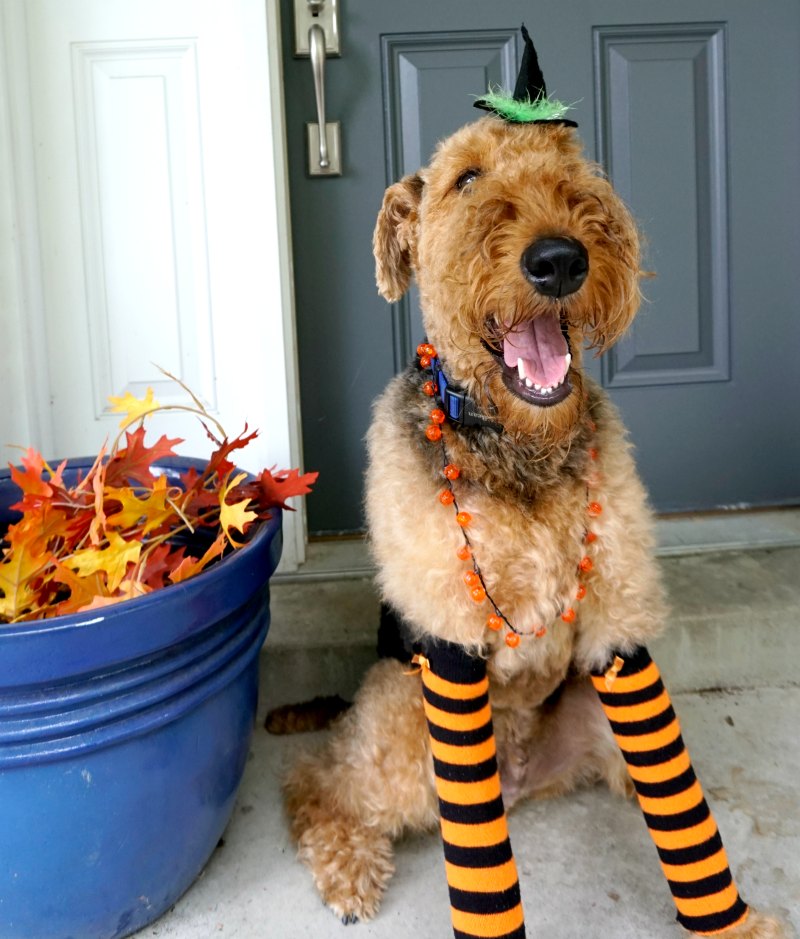 We've all had those days… when you're supposed to go to a Halloween party, but you just don't feel like wearing a full-blown costume.
Luckily, Chewie has a solution for that.
A light-up pumpkin necklace, a pair of striped leggings and a witch hat barrette complete his outfit.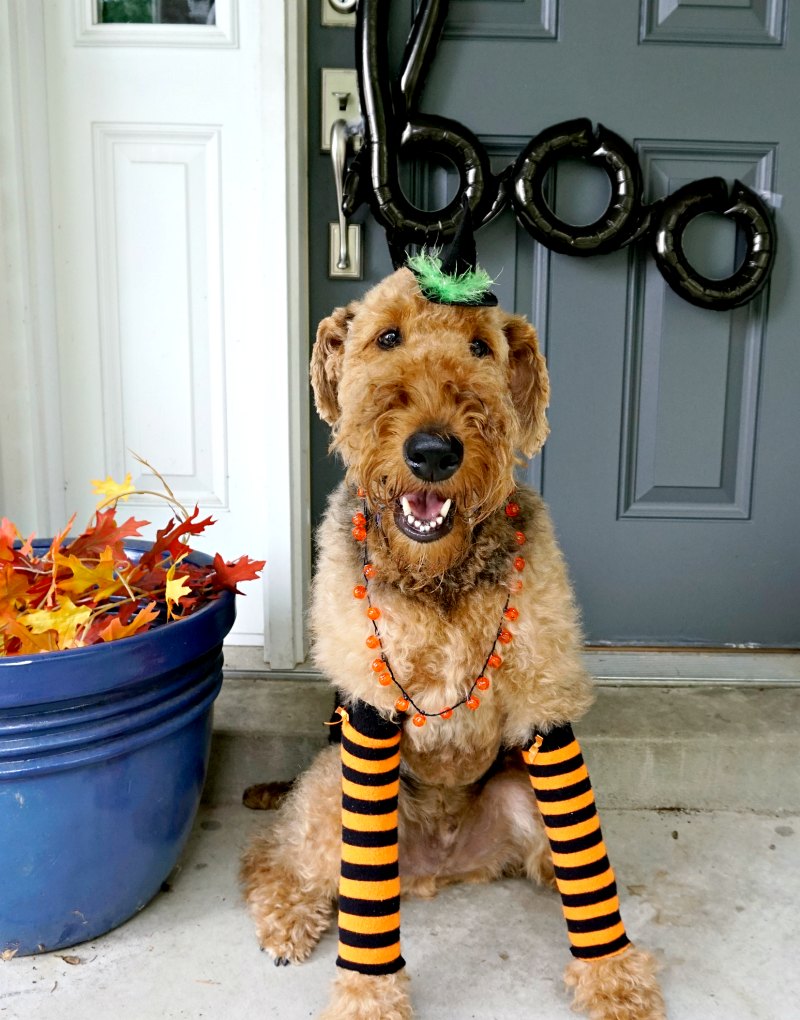 We made the leggings by cutting the feet out of a pair of my daughter's long socks. She said she didn't care because she might use them as leg warmers or arm warmers in the future (as long as Chewie isn't already wearing them that day).
Grab a necklace or a festive barrette or bow, and your dog will be ready for the season – even if he's not in the mood to dress up.
Get Your Gumballs!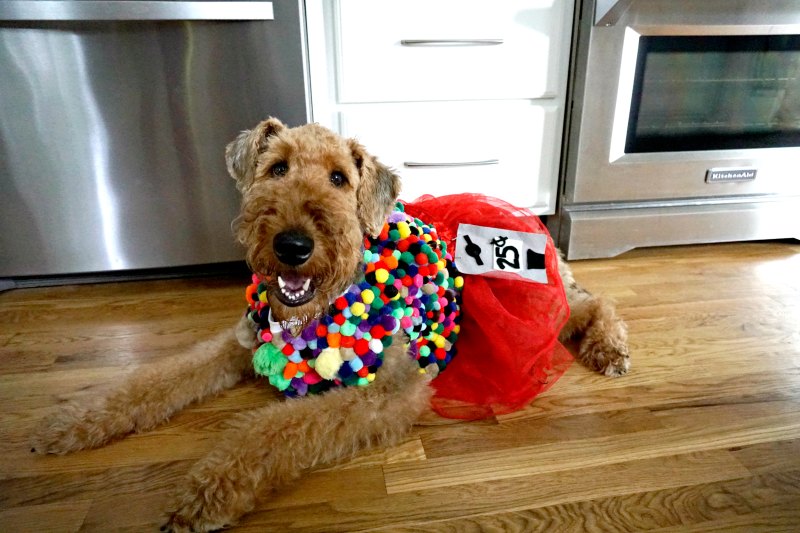 Yes.
You're seeing this picture correctly.
We did dress our dog up as a gumball machine.
And we think he looks amazing, don't you agree?
This was by far our most elaborate dog costume, made easier only because it's a costume that we made for my daughter to wear a few years ago. But you can easily make one for your dog this year!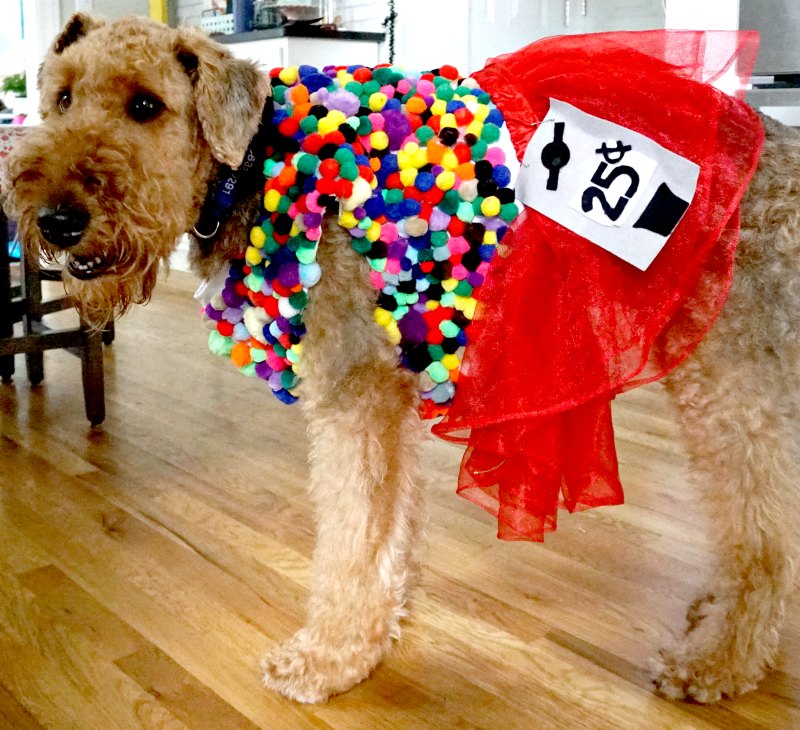 Take an old T-shirt and cut off the sleeves. (Make sure it fits your dog). Use a hot glue gun to glue pom poms all over the shirt. Slip on a red tutu and make a 25 cent sign out of felt. Safety pin it to the skirt, and you're finished!
Click here if you need more detailed instructions.
A Halloween Dog Parade
After all of the costume fun, the kids realized that Evite now has a dog party invitation. They immediately wanted to throw a dog party for Chewie.
Of course none of us wanted to wait for his birthday, so we'll be having a Halloween Dog Parade in October.
Click here to create your own dog party invitation from Evite.
Be sure to tag me on social media (@mylifeandkidsanna) if you use any of these costume ideas on your dog. Chewie can't wait to see your dog in costume!
And remember, if you need help getting your dog into the Halloween spirit, Rachael Ray™ Nutrish® Real Meat Treats should do the trick!
This post is sponsored by Evite. All opinions are my own.