I always look forward to Christmas.
Now that I have kids in school, I feel like half of my December is spent figuring out what games to play at the school Christmas parties. So I've compiled all of my research into one place so that you can quickly and easily find inspiration, instructions and supply lists in one place.
Watch the video below for inspiration and then keep reading to see game instructions and supply lists.
30 AWESOME CHRISTMAS GAMES FOR KIDS (AND ADULTS)
If you're in charge of planning the Christmas or Winter party for school, you'll love these 30 DIY Christmas games for kids and for adults. Whether you are planning a preschool party or need something for tweens and tweens, these games are perfect for all ages. (And I included Christmas Minute to Win It games too!)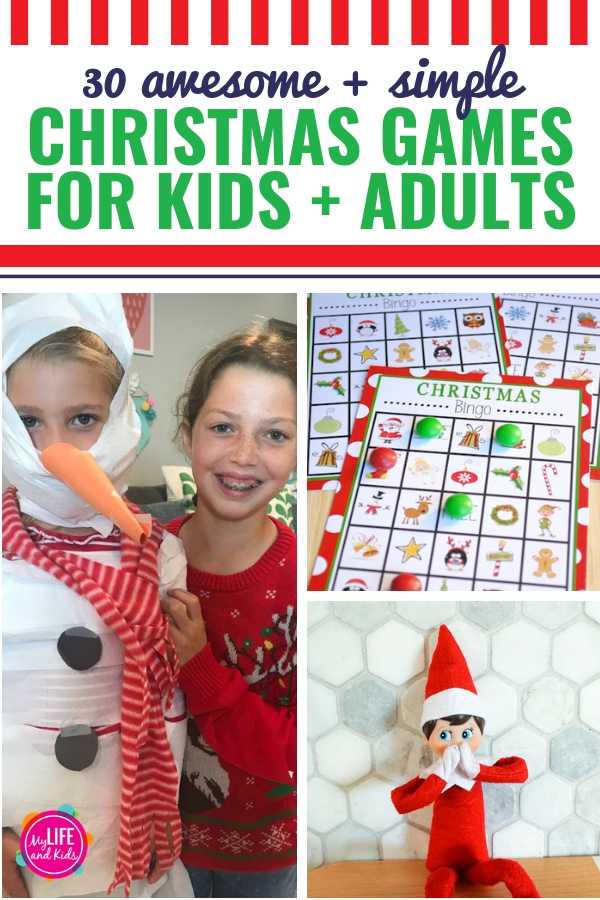 Snowman Mummies
I've played a version of this game in every class Christmas party I've ever hosted. The kids love it, it's super interactive, and the supplies are pretty simple.
Hint: rolls of toilet paper. Single ply works great!
Simply have the kids choose a partner. When you say go, they have one roll of toilet paper to wrap their partner from head to toe to become a Snowman. First one finished wins.
I think you'll quickly find that the kids don't care a single bit about who wins, it's just fun to dress each other up with toilet paper.
If you want to get really fancy, cut some buttons and a carrot nosee out of constrution paper, or simply bring in a scarf and hat to finish their snowman.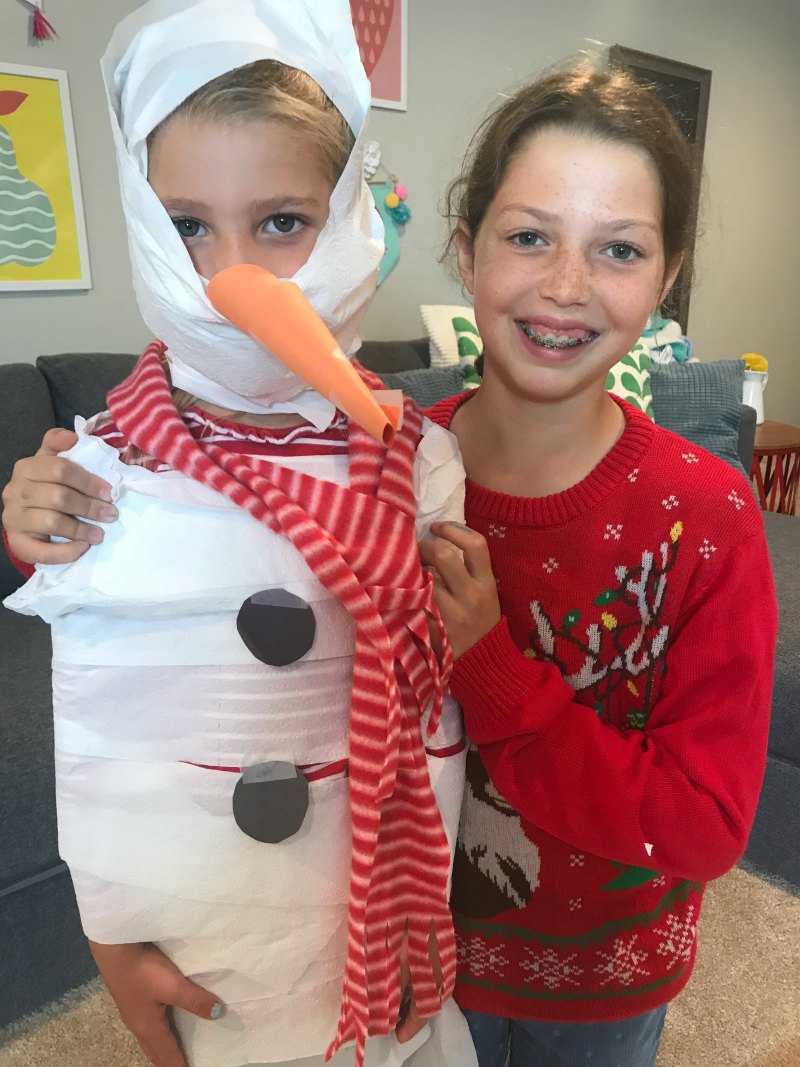 Shake Your Booty
You will need:
Cake box or tissue box – with a hole cut out
Belt (softball and baseball belts work really well!)
Ping pong balls
Cut slits in the side of the box and weave your belt through the box. Fill the box with ping pong balls and give your kids 60 seconds to shake them all out. No hands!
For older kids, use a tissue box. For my younger kids, the larger cake box and larger hole made it a little easier for them.
Make this more "Christmasy" by using green and red ping pong balls.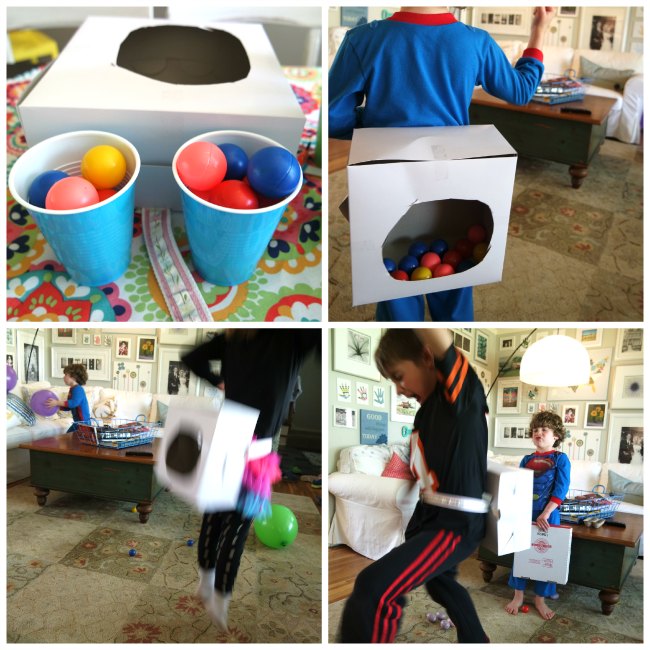 SNOWMAN SLAM
Your younger kids are going to love playing Snowman Slam. And your slightly older kids will love helping you create the game and set it up.
Click here to see the full instructions from Growing a Jeweled Rose.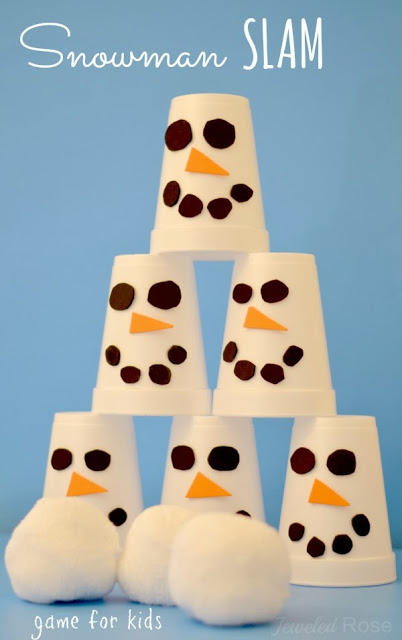 PUNCH A PRESENT
This could be a really fun idea to use in a classroom. Let each kid "punch" one hole to win a prize.
See the full tutorial at The Craft Patch.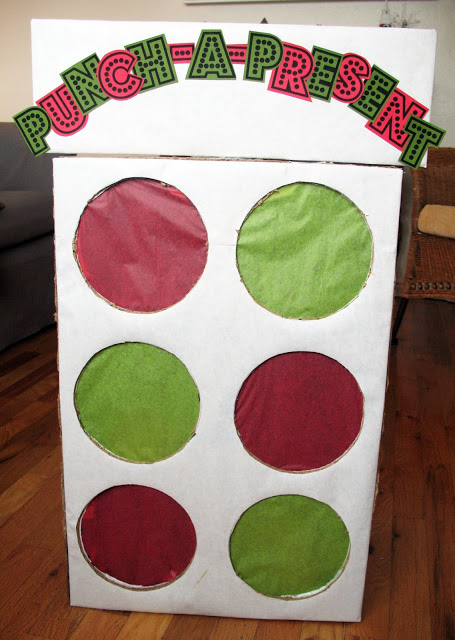 PIN THE NOSE ON THE REINDEER
This is such a cute idea, and the kids in your classroom will love it. If you don't have a spare bulletin board, just draw a reindeer on a piece of posterboard (or on the smart board) and have kids use tape and construction paper to pin on that red nose. Adorable.

ELF ON THE SHELF GAMES FOR THE WIN!
These fun Elf on the Shelf games will keep your kiddos entertained and having a blast at their Christmas party (or while you're trying to sneak away to do a little last-minute wrapping!)
Elf on the Shelf Coloring Pages
Decorate a Tree for your Elf on the Shelf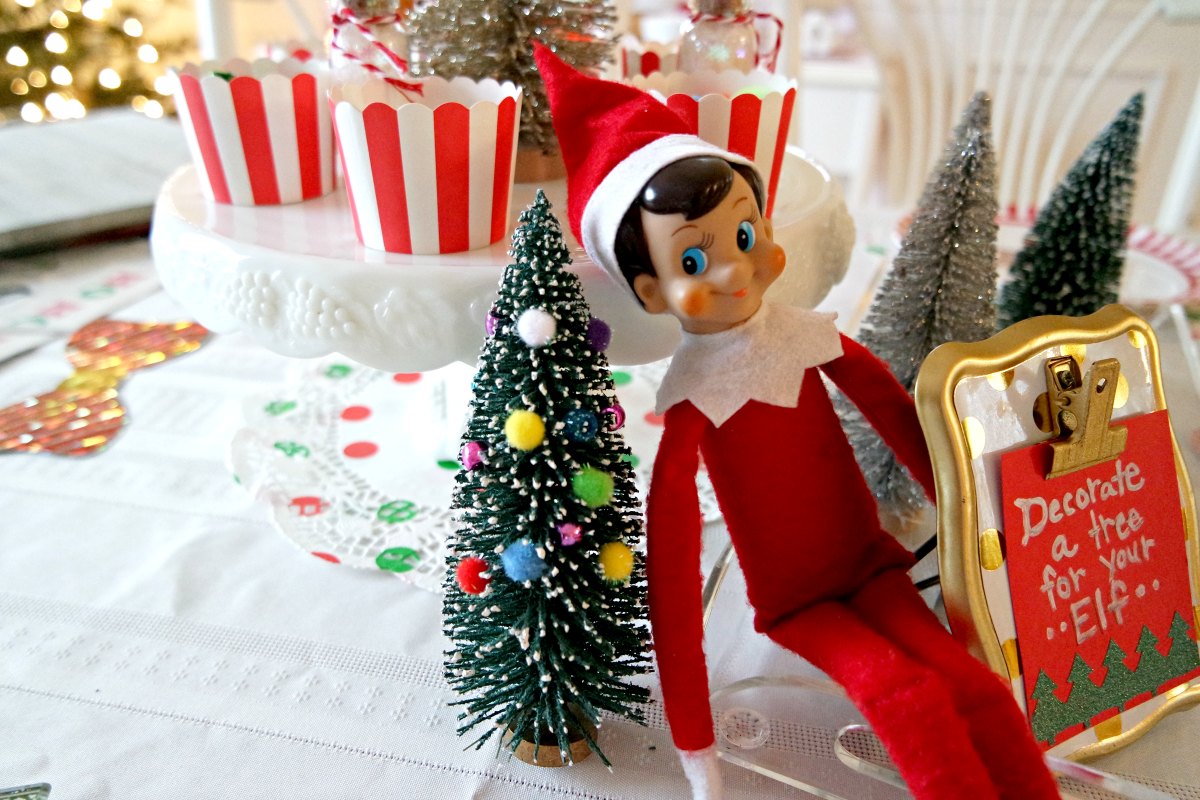 GOING ON A CANDY CANE HUNT
This could work in a classroom (hide 10 candy canes in the room at a time, and let 10 kids hunt for them. Then do it again.) But it's also the perfect fun activity to kill some time at home with your younger kids. If you have an Elf on the Shelf, you could have the elf do the hiding overnight and let the kids find them in the morning. (Click here for more amazing Elf on the Shelf ideas and free printables.)
Click here for the full candy cane hunt instructions.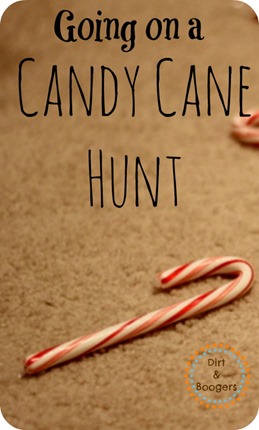 CHRISTMAS BINGO
If your classroom party is anything like the ones I've attended, sometimes it's nice to play a quieter game. Christmas bingo to the rescue.
Click here to grab your free bingo printables.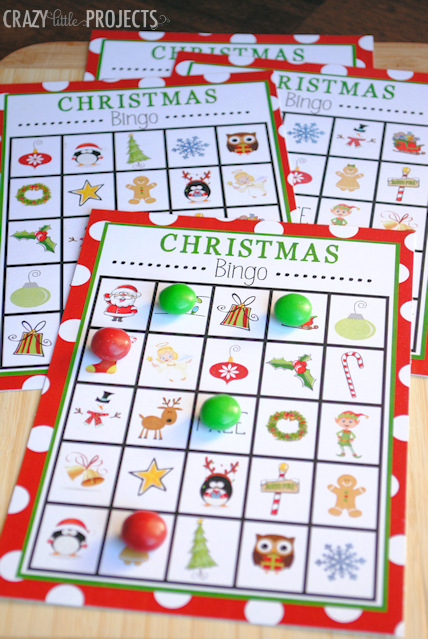 SILVER BELLS MEMORY GAME
This is pure genius, and I am going to have my kids play it all winter break long. That is all.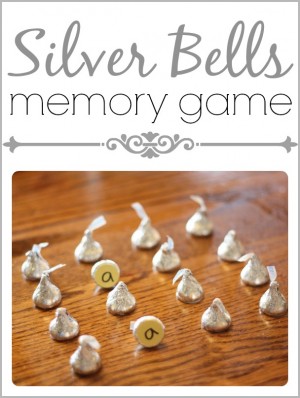 ADORABLE SNOWMAN GAMES FOR THE WIN
My kids go to public school, so I usually need to keep things winter-themed versus Christmas themed. These Snowman games are PERFECT for public schools!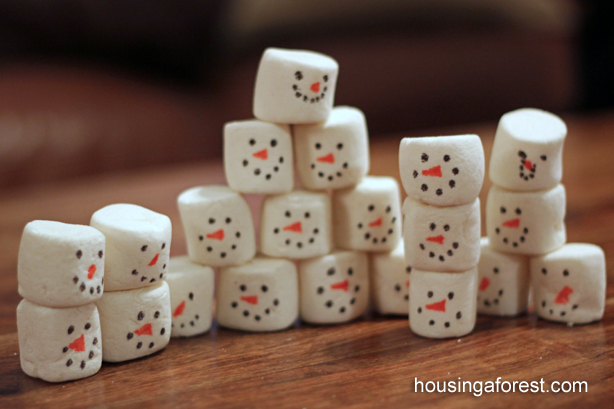 SNOWBLOWER GAME
Is there anything better than kids pretending to be snowblowers? Pretty much no.
Click here for the full tutorial for this fun game.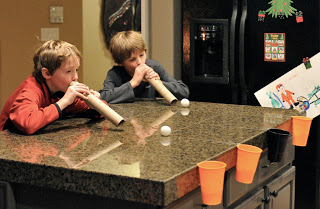 MITTEN MATCH UP
They'll be learning AND having a blast playing this mitten match up game.
Click here for the tuturial.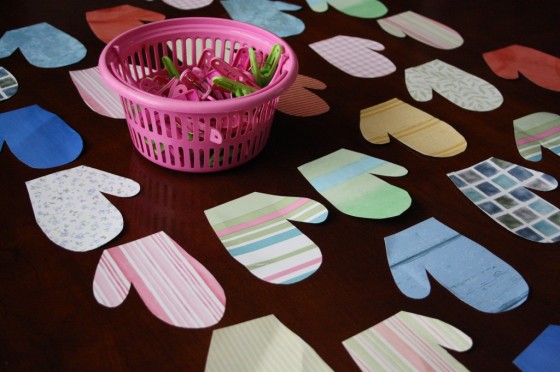 FISHING FOR CANDY CANES
This is adorable. The end.

BALANCING ORNAMENTS
This is a game you don't see too often, but clearly this family had a blast. See if you can incorporate it into your next classroom, church or family gathering.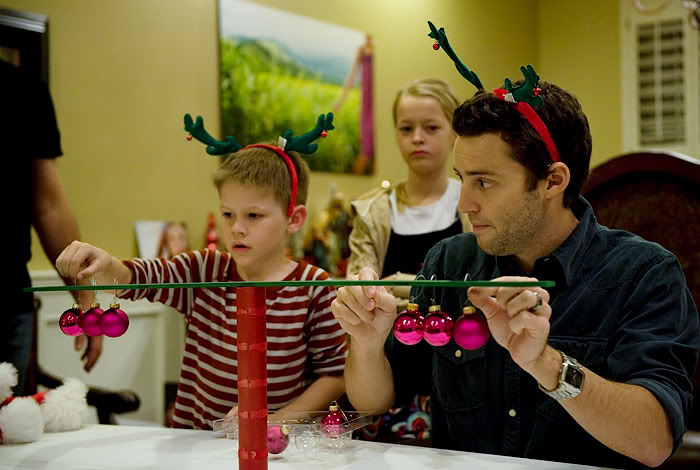 NORTH POLE GAME
This is one of those games that you will create once and then pull out for every classroom party ever. It's simple, interactive and festive.
Click here for the full instructions.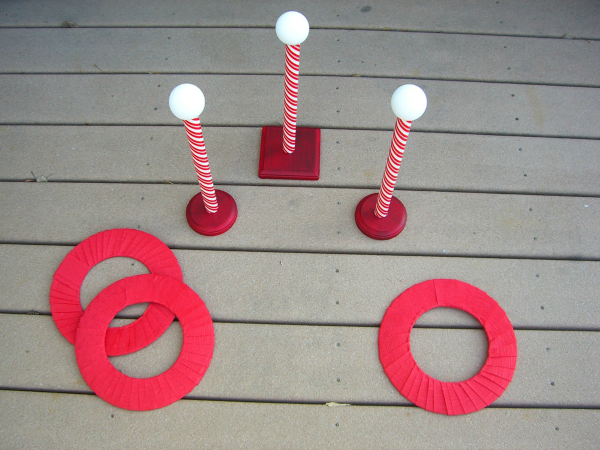 MINUTE TO WIN IT GAMES
While these are not necessarily specific to Christmas, you could easily modify them to make them more festive for the season. For example, use red and green cups, marshmallows instead of candy, etc.
They're perfect for parties of ANY age – even adults!
Click here for the complete list of Minute-to-Win-It games that you can customize for Christmas.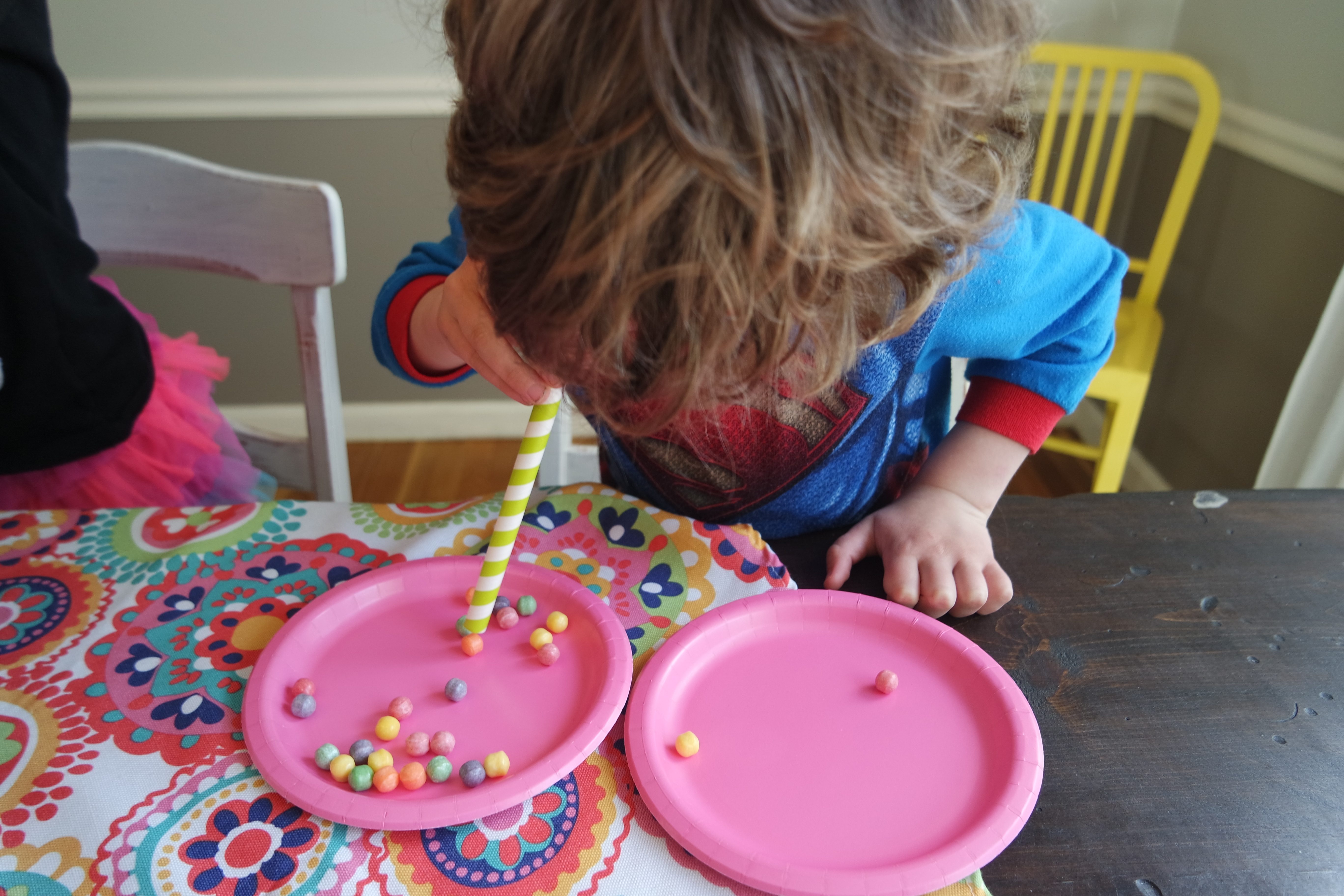 30 MORE CHRISTMAS GAMES
Haven't found exactly what you're looking for yet? Click here for 30 MORE Christmas Games!
LOOKING FOR MORE FUN MINUTE TO WIN IT GAMES?
We have games for every holiday, including Halloween, Christmas, Valentine's Day and even Earth Day. Click on the links below to see them all.
Have an Alexa? Click here for 26 super fun games your kids can play with Alexa.