Holidays
Valentine's Day Games for Kids
By |
Can we all just agree that Valentine's Day is such a fun day when you're a kid? There are sweet treats and so much pink. You get to make and receive Valentine's Day cards, and now they usually come with fun erasers or pencils or stickers or even candy.
And the best part? The games!
Watch the video below for inspiration and then keep reading to see game instructions and supply lists.
30 AWESOME VALENTINE'S DAY GAMES FOR KIDS (AND ADULTS)
Whether you're hosting a Valentine's Day party at home or helping to plan the classroom party at school, I have you covered with these 30 Valentine's Day games for kids and adults. I've even included a few Minute to Win It games that can easily be modified for this day of love. Perfect for preschoolers, elementary school kids and even tweens, teens and adults.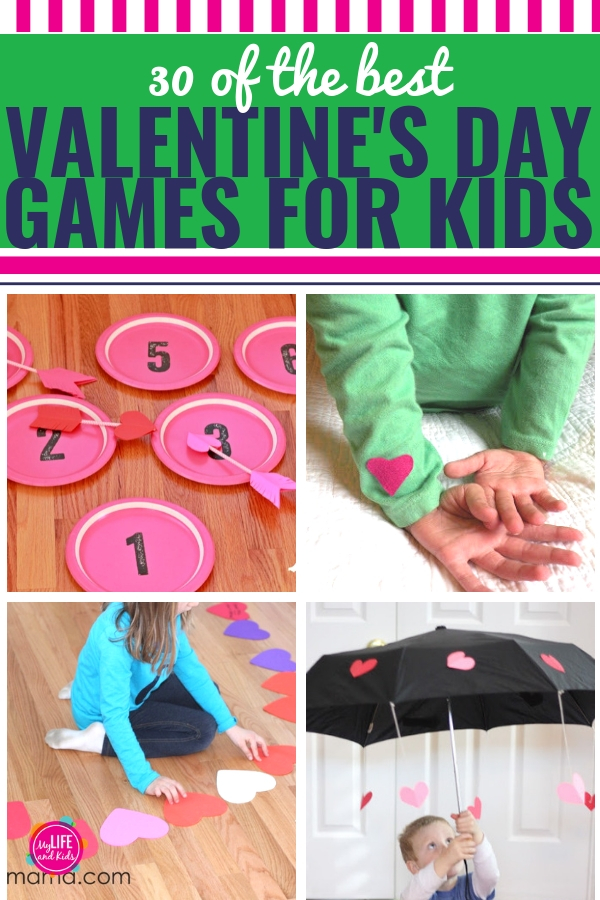 SPELL IT OUT RELAY
You will need:
4 sets of alphabet letters, divided into two baskets (2 full sets per basket)
Heart-themed words (like love, heart, cupid, etc.)
Divide your students into two relay teams. Both teams will receive a word. One person from each team will run to the basket of alphabet letters and find the first letter of the word. As soon as they find it, they'll lay it on the ground next to the basket, and run back to tag the next person in line. The next person will find the next letter and so on until the entire word is spelled out.
The first team to spell out the full word wins.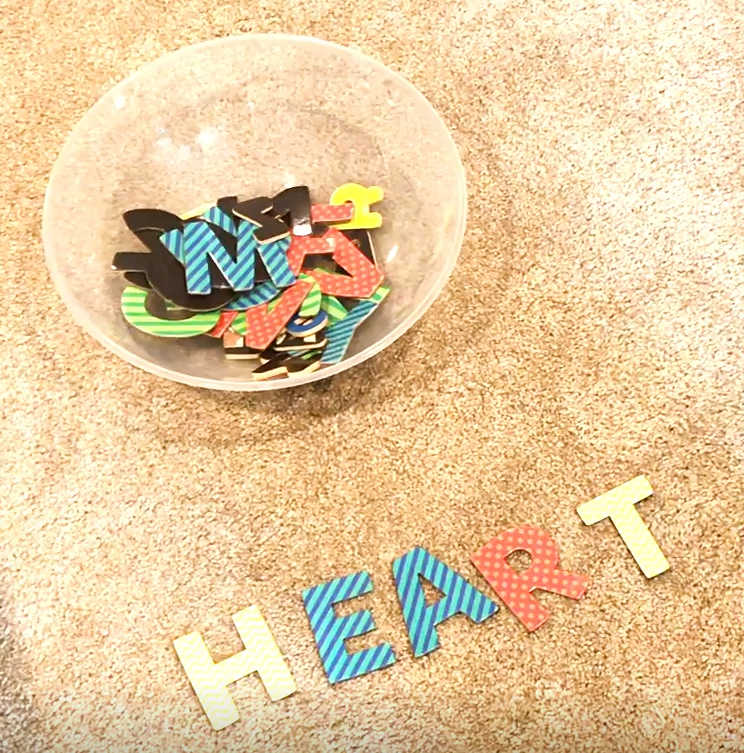 Shake Your Booty
You will need:
Cake box or tissue box – with a hole cut out
Belt (softball and baseball belts work really well!)
Ping pong balls
Cut slits in the side of the box and weave your belt through the box. Fill the box with ping pong balls and give your kids 60 seconds to shake them all out. No hands!
For older kids, use a tissue box. For younger kids, the larger cake box and larger hole maKe it a little easier for them.
Make this more heart-themed by using pink or red ping pong balls.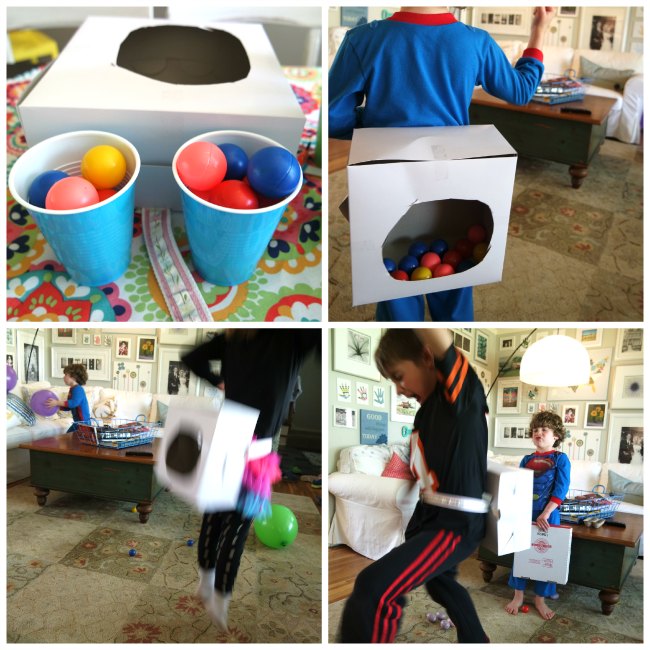 MINUTE TO WIN IT GAMES
While these are not necessarily specific to Valentine's Day, you could easily modify them to make them more festive for the season. For example, use pink and red cups, heart candy, etc.
They're perfect for parties of ANY age – even adults!
Click here for the complete list of Minute-to-Win-It games that you can customize for Valentine's Day.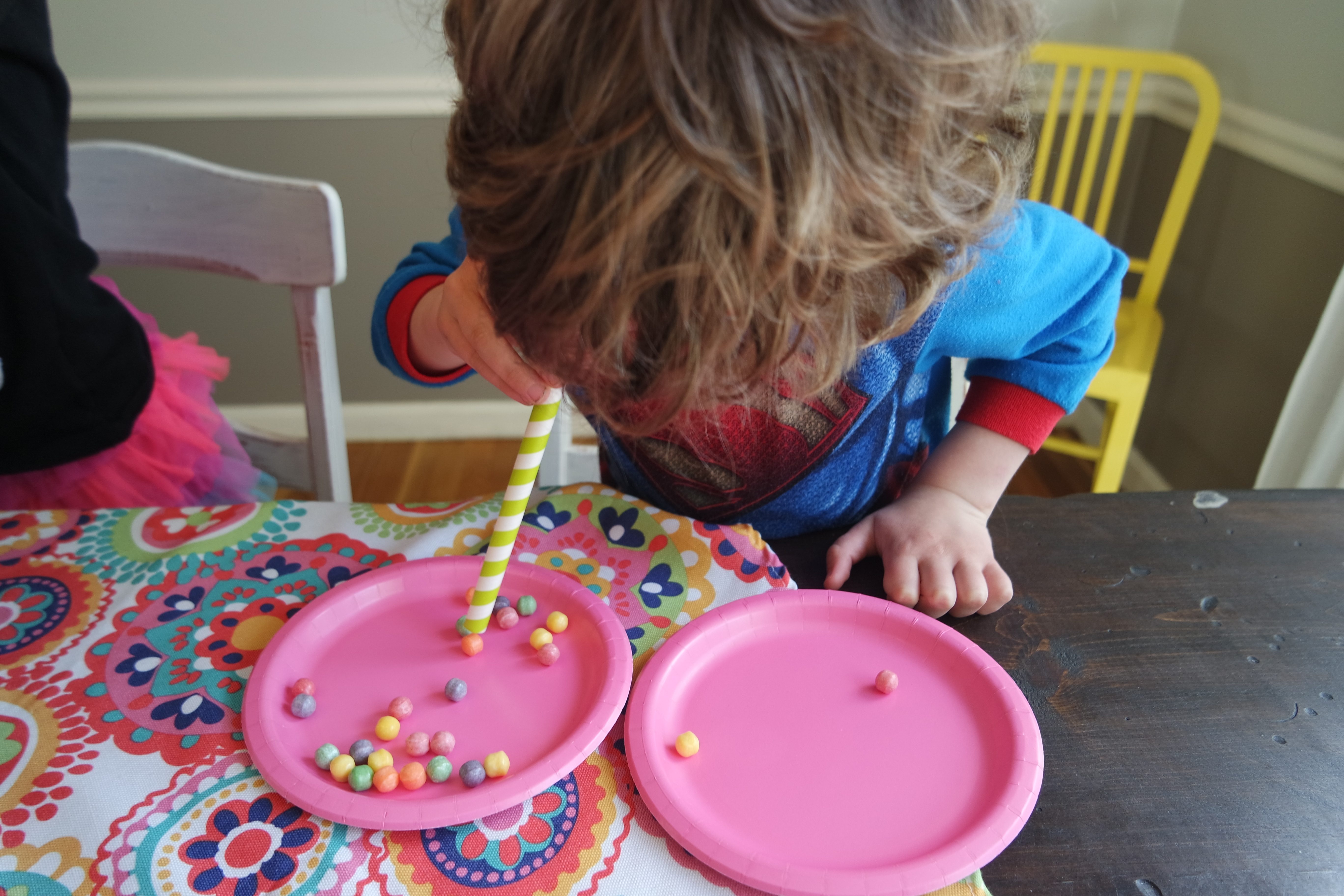 Looking for more Valentine's Day Minute to Win It games? This is a great resource too.
My Heart is Bursting
This sweet game will have your heart bursting, and the kids you're playing with are going to be thrilled at this fun way to get party treats.
Click here for the full tutorial and instructions.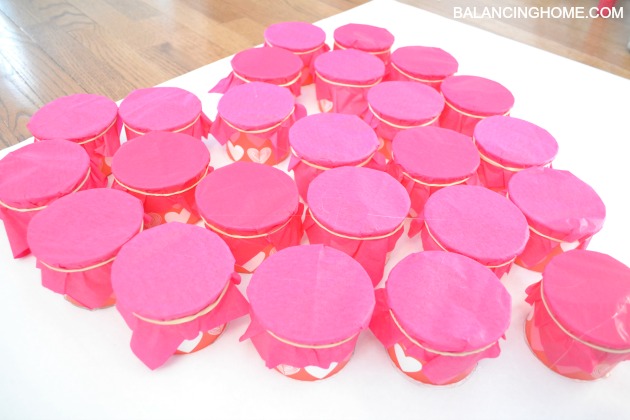 PIN THE LIPS ON MRS. VALENTINE
I laughed so hard when I saw this, and your kids will be too. You may have to draw Mrs. Valentine, but I'm sure you're up to the task. And there's a free printable for her lips.
Grab the full details (and those lips) right here.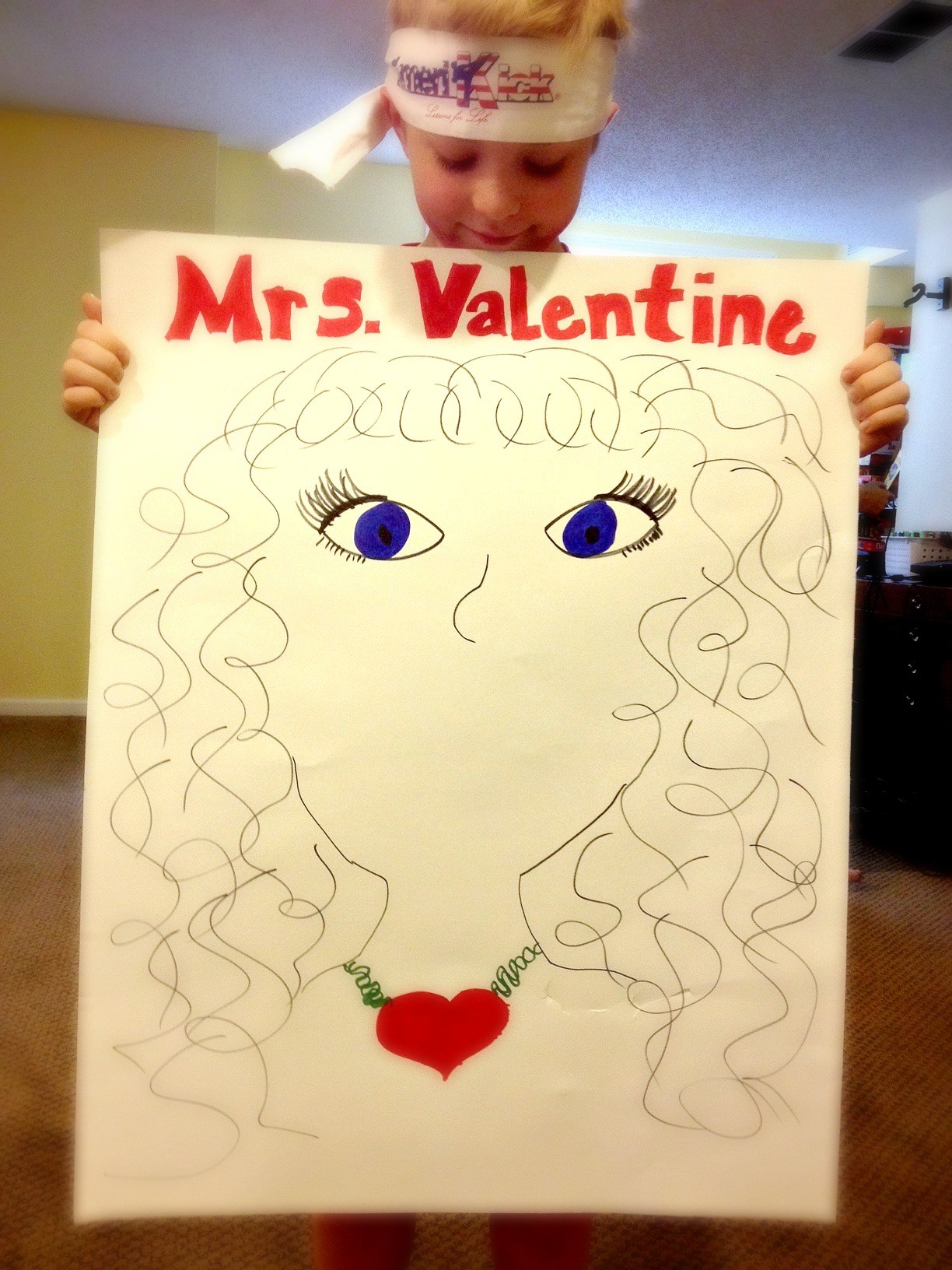 MUSICAL HEARTS
This game is so much more than musical hearts, and kids of all ages are going to love it. It would be a great game to play in gym class too!
Click here for the details from Teach Mama.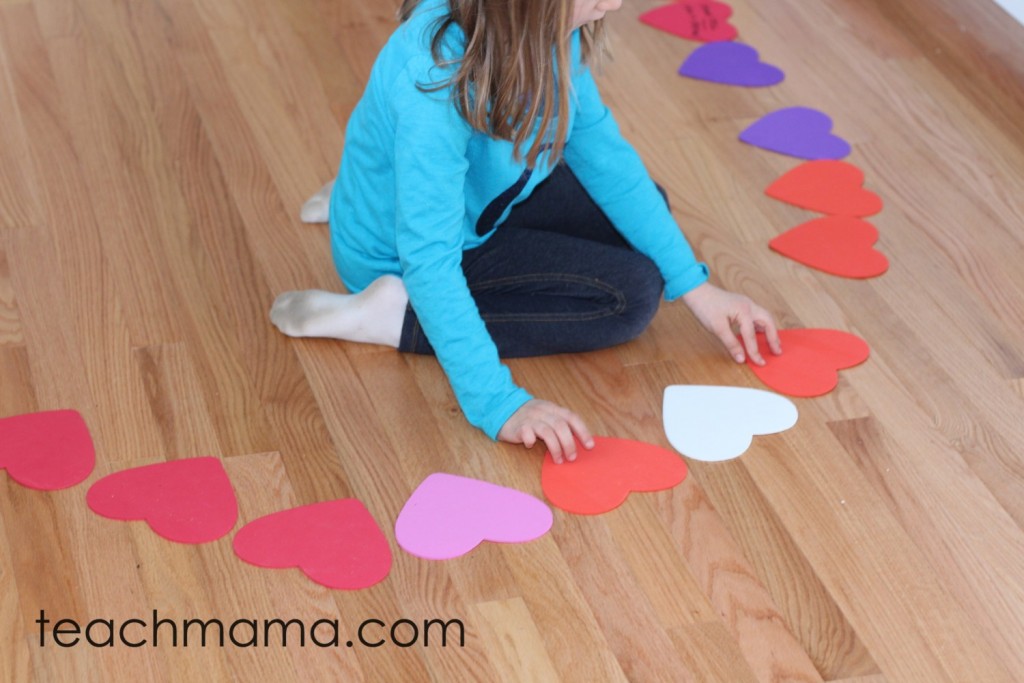 WHAT I LIKE ABOUT YOU
Talk about passing the warm fuzzies! This is a great game in the classroom, in a corporate meeting or even at your own dinner table. I won't give away all the details, but I guarantee that everyone will walk away from this little game feeling all sorts of love.
Click here to learn how to play What I Like About You.
CUPID'S ARROW TOSS
This game is nearly as adorable as it is fun. With just a small amount of prop creation, you'll be having a blast with this arrow toss game in no time.
Click here for the full tutorial and more details.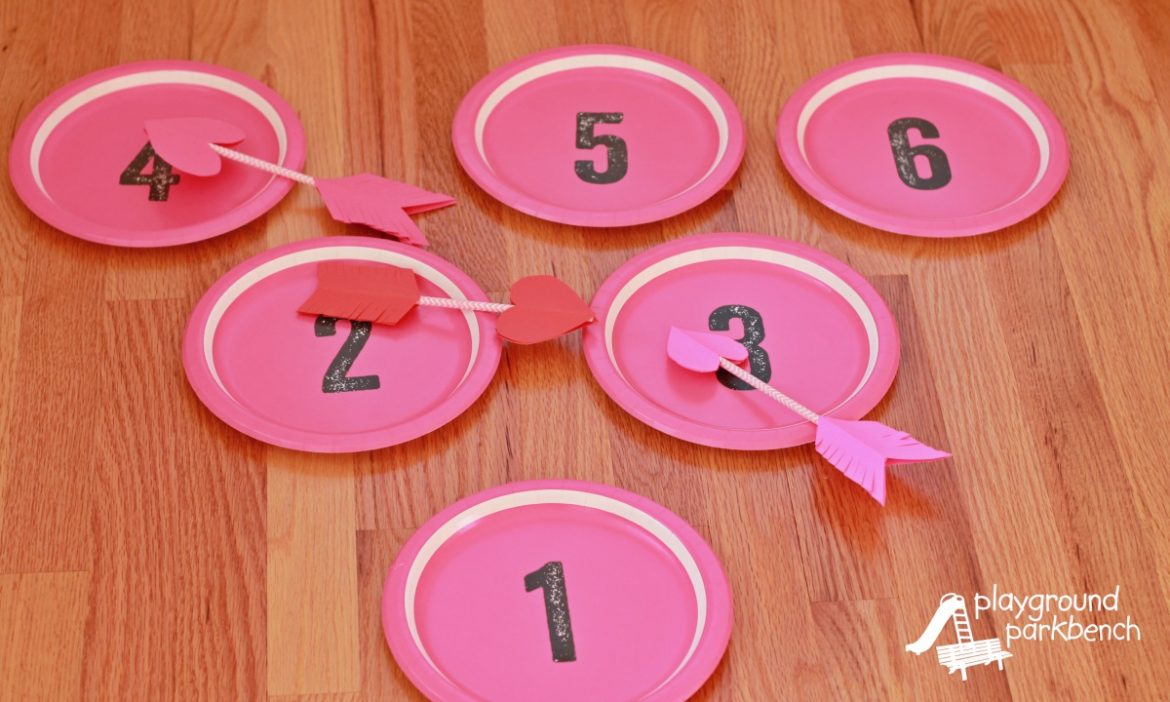 WEARING YOUR HEART ON YOUR SLEEVE
This game is such a great way to teach younger kids about what it means to wear your heart on your sleeve and why that can be hard – and also great.
Click here for the instructions.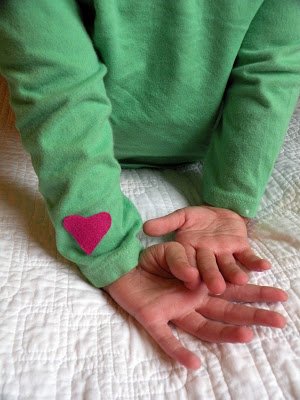 RAINING HEARTS CONVERSATION GAME
This game pretty much does it all. It teaches a lesson, incorporates a book and lets your kids have so much fun while celebrating Valentine's Day.
Click here for the instructions.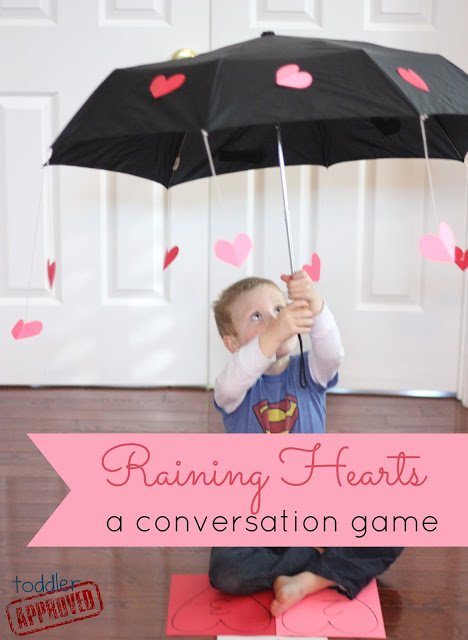 MORE FUN VALENTINE'S DAY GAMES TO PLAY
Valentine's Day Matchmaker Game
Valentine's Day Games Printables, Worksheets and "Desk" Activities
We all love Valentine's Day games, but sometimes you need a party station that's a little quieter and less interactive. Or sometimes you just want a simple Valentine's Day coloring sheet. I have you covered there too!
VALENTINE'S DAY MAD LIBS
These fun Valentine's Day Mad Libs will make your kids laugh, all while staying in the cupid theme. Who doesn't love Mad Libs?
Click here for the free download.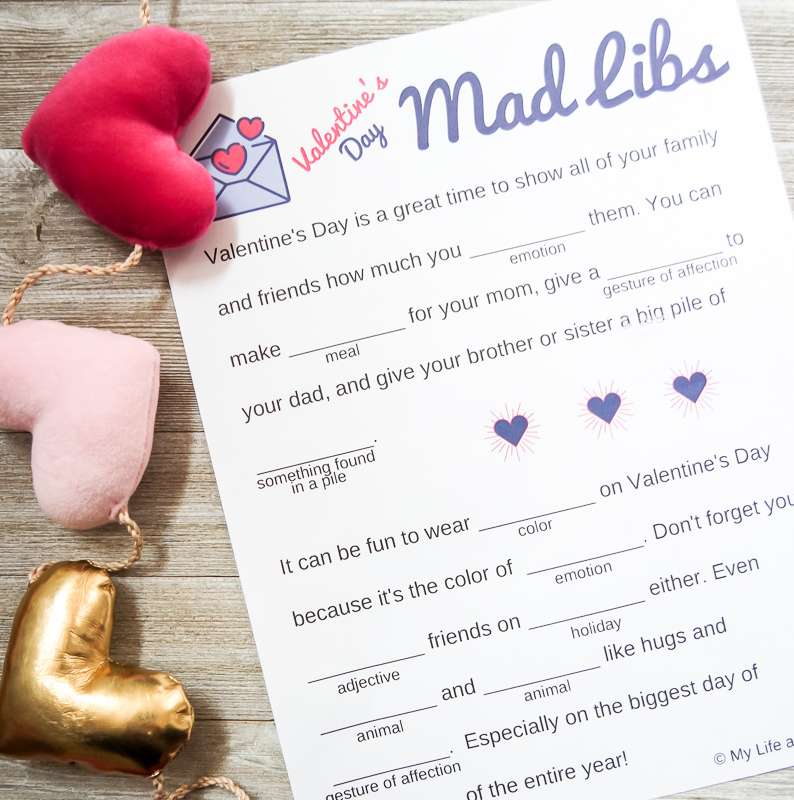 For more "quiet" activities, check out the links below:
Valentine's Day Coloring Pages
Roll and Cover Valentine's Day Game
Valentine's Day I Spy Worksheet
LOOKING FOR MORE GREAT IDEAS FOR VALENTINE'S DAY?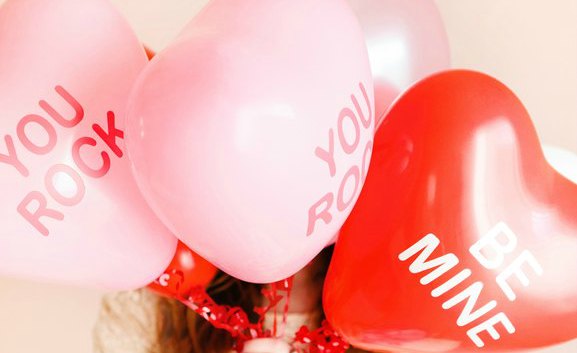 15 Valentine's Day Crafts That You Will Love. (Seriously – you're going to love these!)
Valentine's Day Date Night In Ideas
DIY Valentine's Day Decorations
Valentine's Day Crafts for Kids
LOOKING FOR MORE FUN GAMES FOR KIDS?
We have games for every holiday, including Halloween, Christmas and even Earth Day. Click on the links below to see them all.
Have an Alexa? Click here for 26 super fun games your kids can play with Alexa.