Christmas
35 DIY Ornaments to Make with Kids
By |
One of my absolute favorite things about the holidays is trimming our Christmas tree. I love revisiting with each ornament, and the homemade ornaments from my childhood are especially my favorite.
Making ornaments is a perfect activity to do as a family during the holidays – and the creations will stay with your kids into their adulthood!
If you're looking for DIY Christmas ornaments to make with your kids, you're in the right place. I'm sharing more than 35 of our favorite easy ornaments. Some use salt dough, others use glitter and glass, all of them can be personalized in some way, and some even use photos to make it even more personal. Added bonus! Several of them use supplies from Dollar Stores!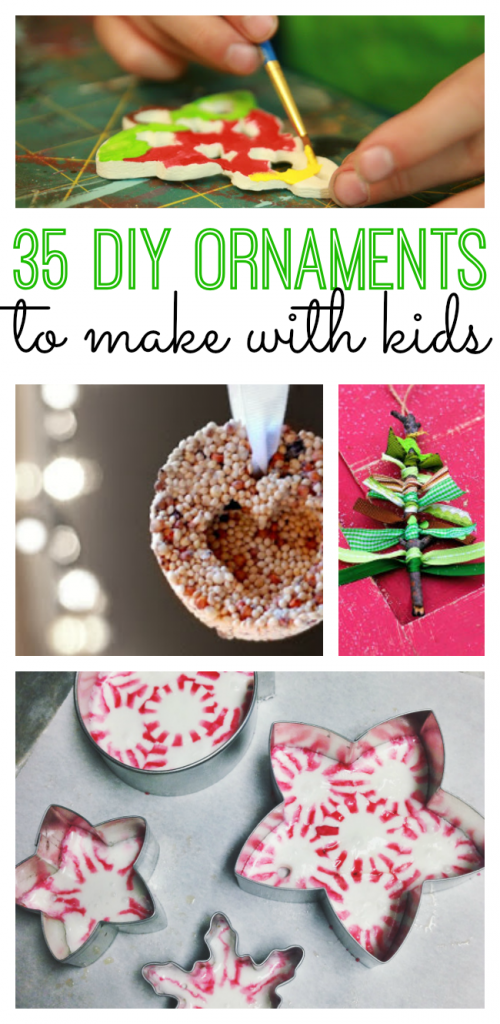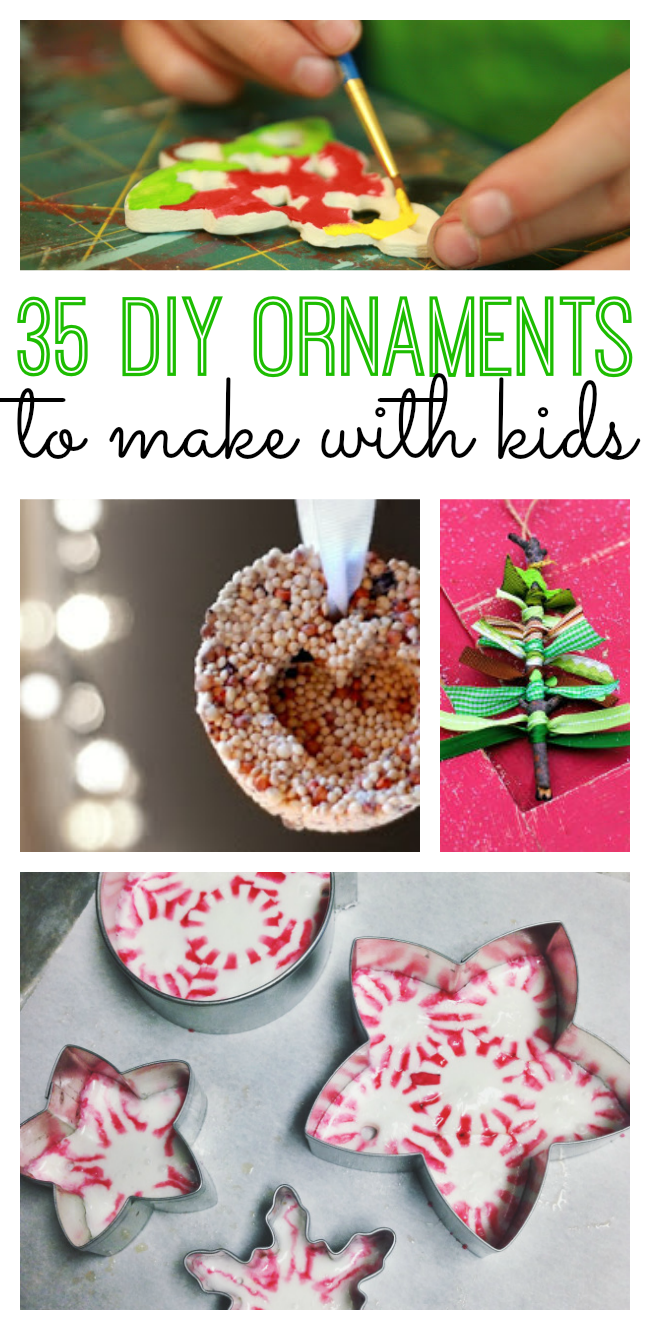 Three DIY Dollar Store Christmas Ornaments
Watch the video below to see how to make these three super simple Christmas ornaments – using supplies from the Dollar Store! And then click here for more details.
Candy, Dough and Saltdough DIY Christmas Ornaments
I've learned so much about ornament making. I used to think that Saltdough was the way to go, but now I'm realizing there are so many other options when it comes to creating ornaments.
PEPPERMINT CANDY ORNAMENTS
I had no idea you could use peppermint candy like this! Click here to see how to make your own peppermind candy DIY Christmas Ornaments.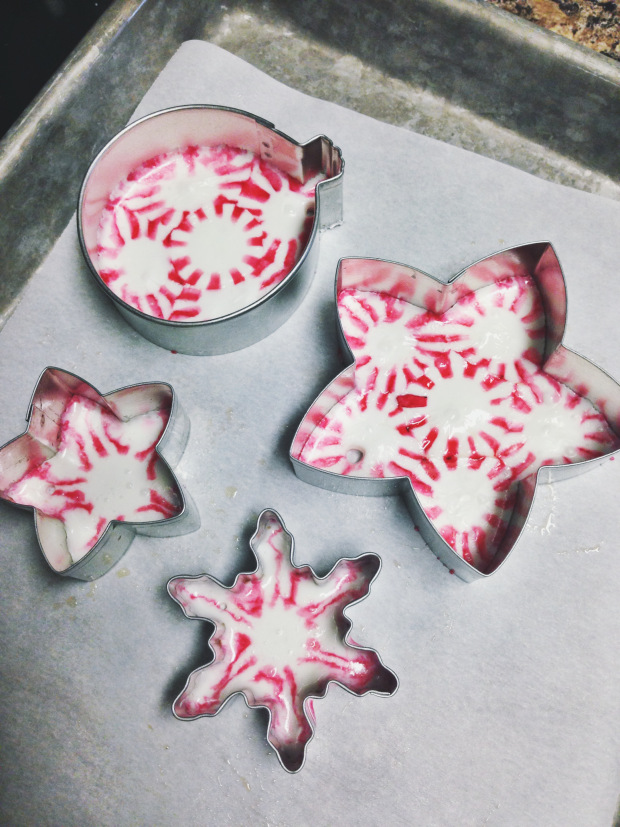 NO-COOK CINNAMON SCENTED ORNAMENTS
Ornaments that smell like cinnamon and don't require me to bake them? SIGN ME UP! Click here to see how to make these fun ornaments.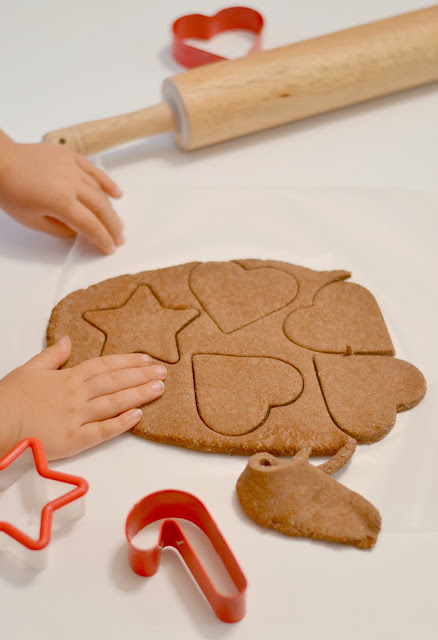 SALT DOUGH HANDPRINT ORNAMENTS
These adorable ornaments take personalization to the next level. Your kids will love them, and you'll love putting them on the tree year after year (even if you're also crying because your kids are no longer babies and they're growing up and they don't need you like they used to and now they don't even want to help you decorate the tree… GASP!)
Click here to make these ornaments that are sure to make you cry in about 10 years.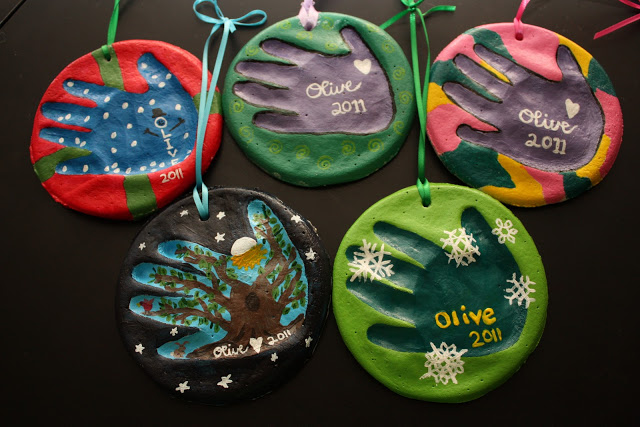 HOMEMADE CLAY ORNAMENTS
How is clay different than Salt Dough? I have no idea except that one is clay and one is salt dough. Is that helpful? I will say that this lady is saying that they're way better than salt dough!
Click here for the full tutorial on these fun and festive ornaments.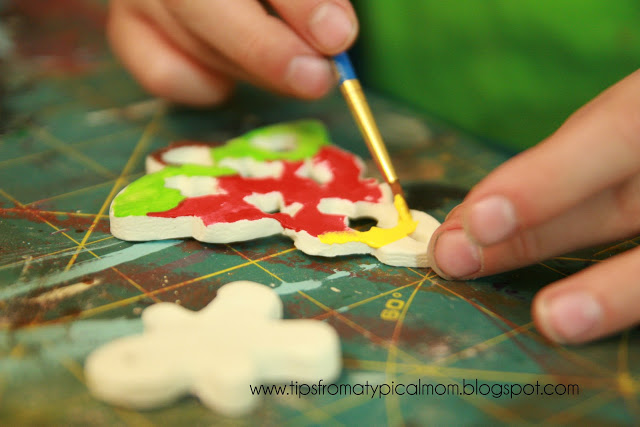 NO COOK BIRDSEED ORNAMENTS
The birds will love you forever if you make these ornaments for them and hang them on your outside trees. And you'll love all that winter birdwatching. Win-Win.
Click here for the full birdseed ornament tutorial.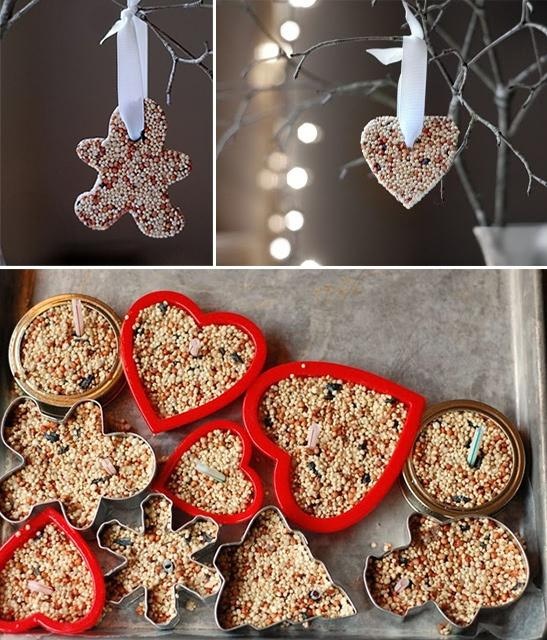 FUSIBLE BEAD ORNAMENTS
I realize that these may not fit into this category, but I think they look like some of the coolest ornaments ever. I'm always looking for a way to get rid of all the Perler beads in my house – without having to help my kids with the iron.
KIDDING! Full tutorial here.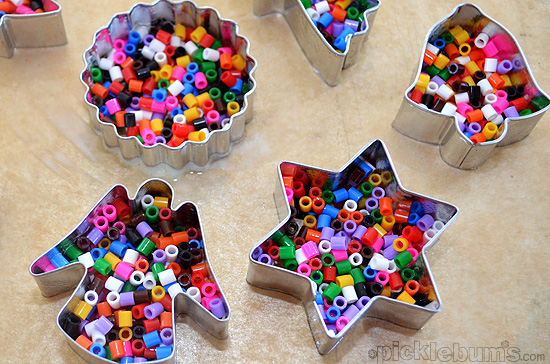 DIY ORNAMENTS USING PHOTOS
I love hanging pictures of my kids on the Christmas tree – and seeing how much they've grown and changed year after year. Some years I make it as simple as sticking a hook through their school picture. Other years, we tackle one of these ornament ideas together.
COOKIE CUTTER ORNAMENTS
So this picture is showing sweet paper and wrapping paper, but growing up we always made these with pictures instead. I still have several of them hanging on our tree now. Click here for the how-to details.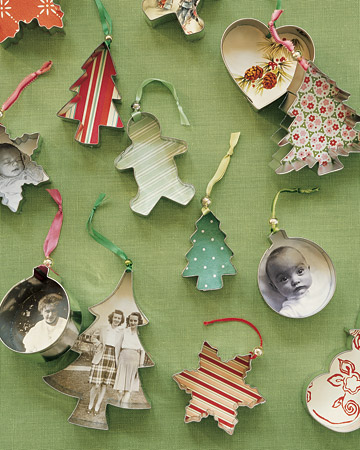 PHOTO CARD DIY CHRISTMAS ORNAMENTS
This super fun ornament idea will also give you an idea of what to do with all of your friends and family photo Christmas cards that you receive around the holidays. Why not turn them into a keepsake ornament for them? Bonus! These supplies all came from the Dollar Store! Click here for the full tutorial.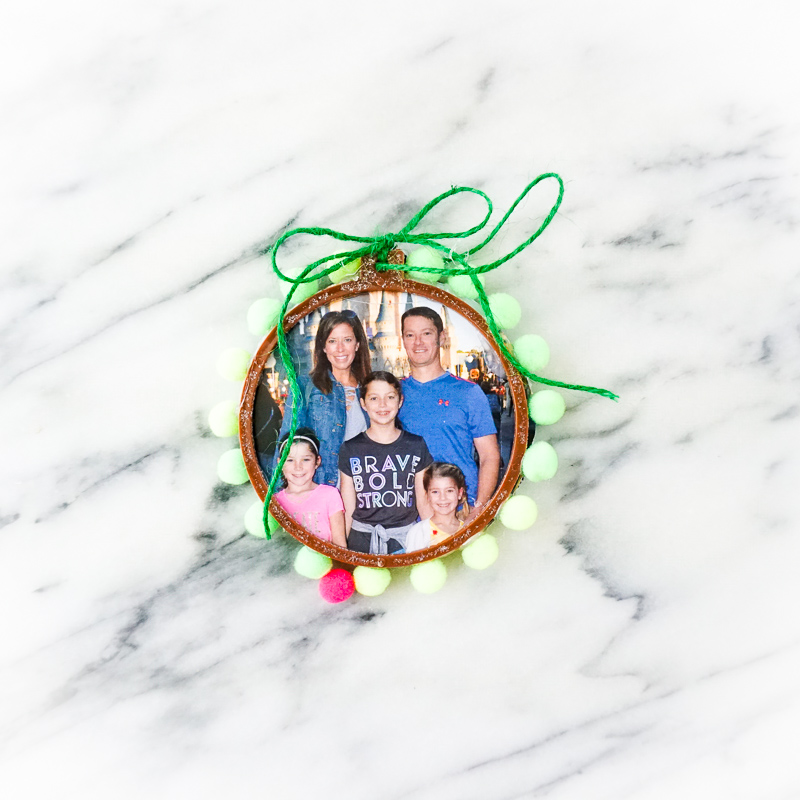 DIY CHRISTMAS ORNAMENTS USING GLASS BALLS
Glass balls are so popular during DIY Christmas Ornament projects, and it's obvious why. There are just so many different ways to personalize them! Here are a few of my favorites.
REINDEER THUMBPRINT ORNAMENT
These cutie ornaments are simple to make and totally personalized. It doesn't get much better than that! Click here for the full tutorial.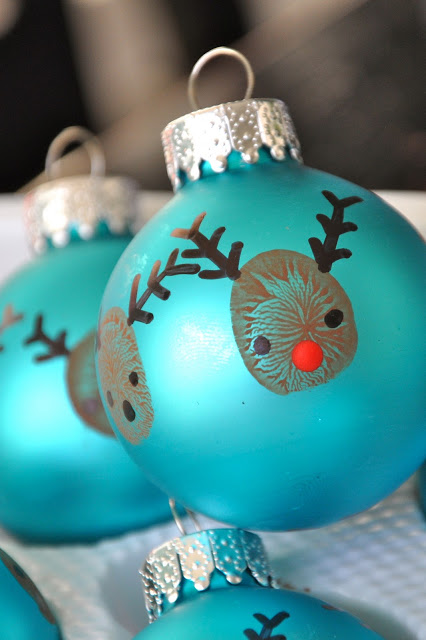 SPRINKLE FILLED ORNAMENTS
Do you know what's so great about this ornament? If you ever get in a bind while doing your holiday baking, you can always go grab some sprinkles off the tree! How great is that?
Totally kidding. But you won't want to miss this awesome DIY Ornament!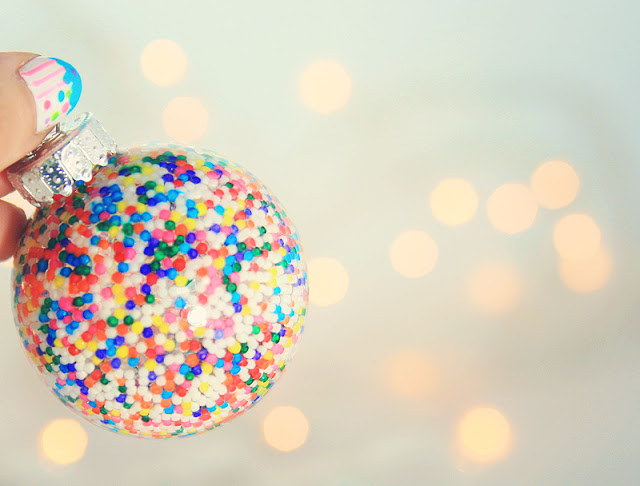 POM POM STUFFED ORNAMENTS
These are so fun and so easy to make. I love the added glitter too. Click here to learn the how-to.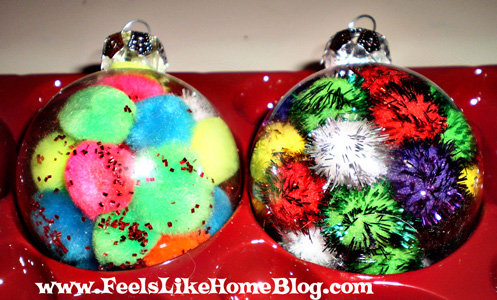 HANDPRINT SNOWMAN
How cute it this? It would be especially cute if you only have four people in your family because you could easily give each snowman a name. (Or if you really hate your little brother, you could just leave him out. )
KIDDING! Click here for the tutorial.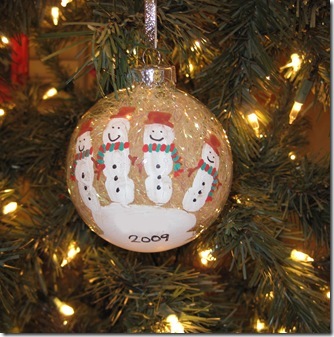 DIY GLITTER ORNAMENTS
Usually I steer my kids in the exact opposite direction of anything involving glitter, but this is an ornament I could get behind. Click here for details.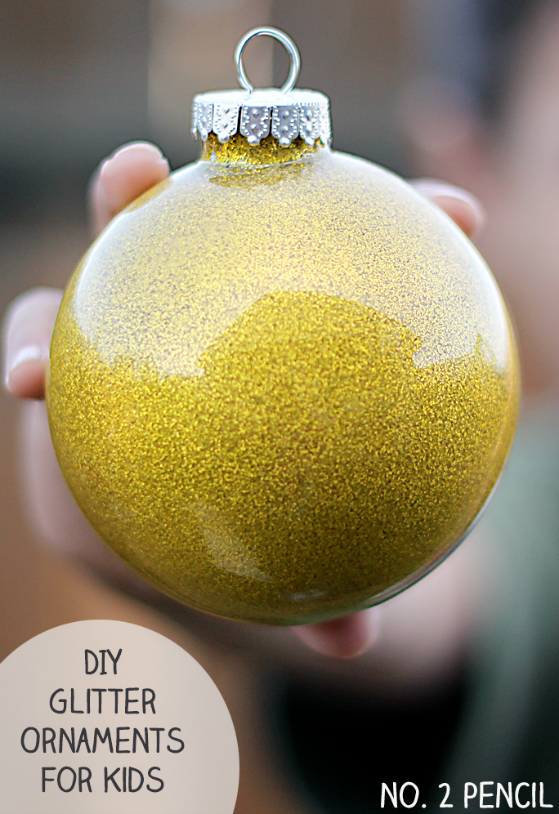 DIY CHALKBOARD ORNAMENT
Okay, so I just realized that a lot of these glass ball ornaments are actually plastic balls. GENIUS! This one is no exception, and I'm loving it. Full tutorial here.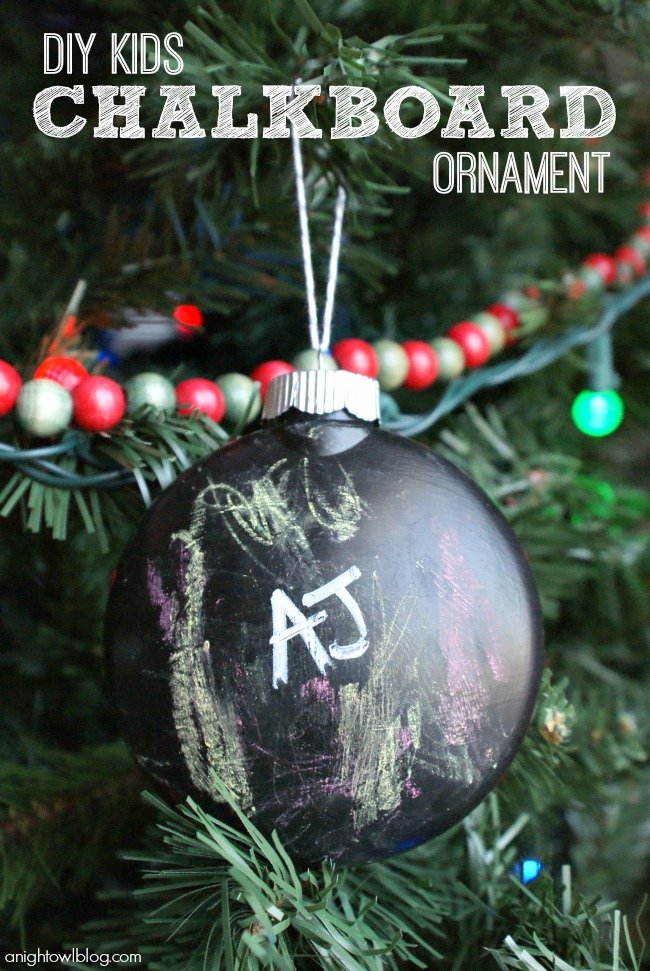 SUPER HERO ORNAMENTS
Your kids will love hanging these on the tree – especially if they made them! Click here for the tutorial.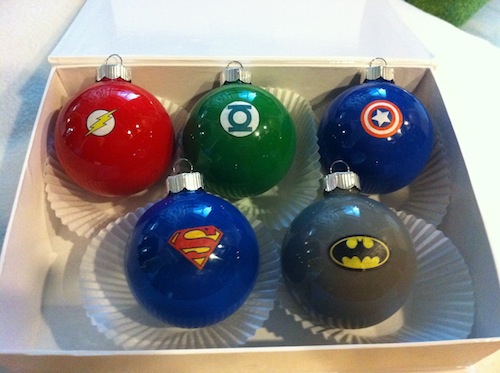 SANTA'S BELLY ORNAMENTS
Come on! How cute are these? I especially love Santa's belt! Learn how to make them here.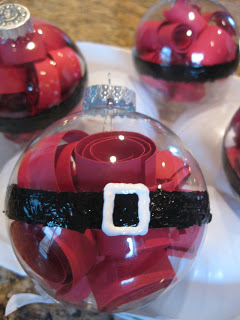 MELTED SNOWMAN ORNAMENT
This is awesome. My kids and I are definitely going to be making this. Full tutorial right here.

MORE DIY CHRISTMAS ORNAMENT IDEAS

Bottle Cap Snowman Ornaments by Kidsomania
Popsicle Stick Ornaments by Evite
Fabric Scrap Christmas Balls by Jillian in Italy
Faux Mirror Tile Ornaments by Bloesem Kids
Paint Chip Christmas Tree by A Little Craft in Your Day
Paint Brush Ornaments by Mud Pie Studio
DIY Character Ornaments by Crazy Little Projects
Button Trees by U.K. Lass in U.S.
Woven Cardboard Cookies by The Crafty Crow
Clothespin Reindeer by Scissors and Spoons
Ribbon Tree Ornament by Free Kids Crafts
Snowman Ornament by Kelsey Bang
Beaded Candy Cane Ornaments by The Fountain Avenue Kitchen
Popsicle Stick Sled by Tidbits
Easy Snowman Ornament for Kids by Crazy Little Projects
A Very Puzzling Rudolph by For What's It's Worth…or NOT
LOOKING FOR MORE CHRISTMAS IDEAS?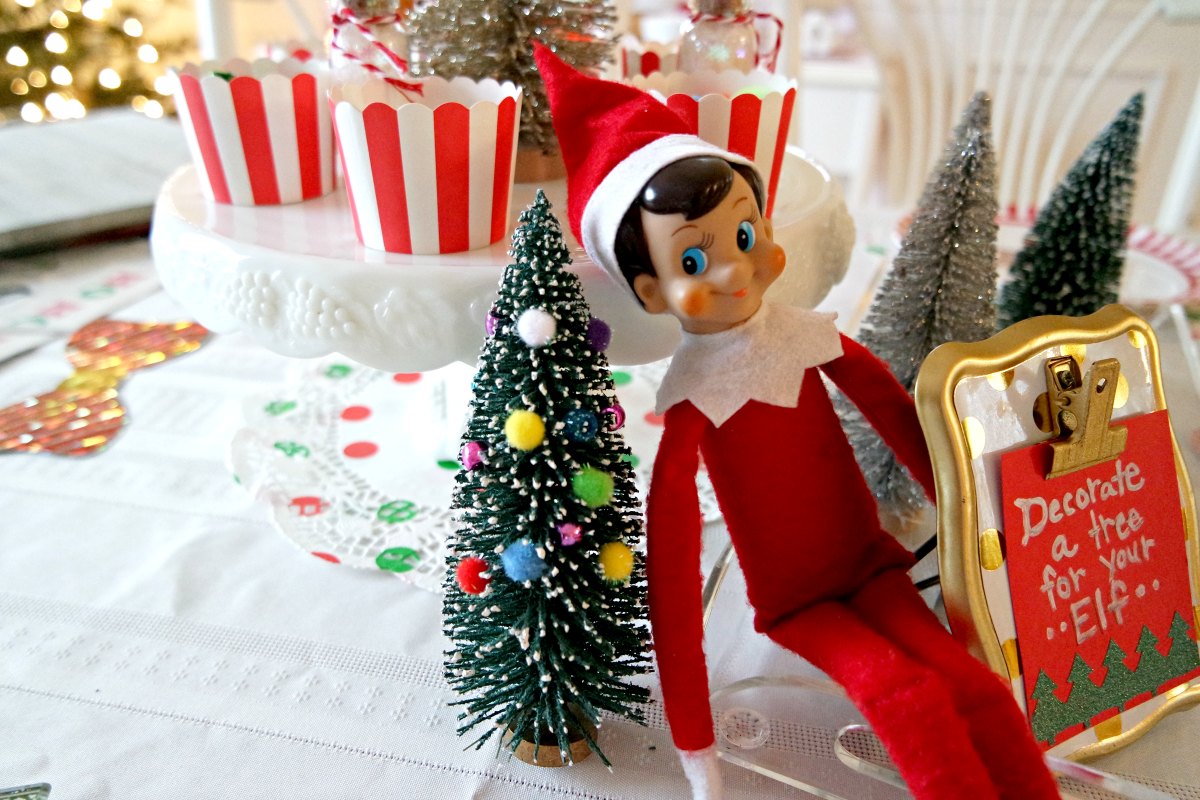 From Christmas Games to Christmas Cards and even some fun ideas for your Elf on the Shelf, we have you covered this Christmas Season.
Click here to see all things Christmas.