Heading back to school can be an emotional and crazy time. Amiright?
As parents, we're trying to juggle the responsibility of getting our kids back into a routine, keeping the masses of paperwork organized, while also adjusting to the huge shift in our family schedules.
Back to school can be hectic, but it doesn't have to be hard!
With three kids in school, I've learned a few things along the way that help to simplify the entire back-to-school process, while also keeping me sane.
And I'm sharing them all with you!
How I Mastered Back to School - And You Can Too!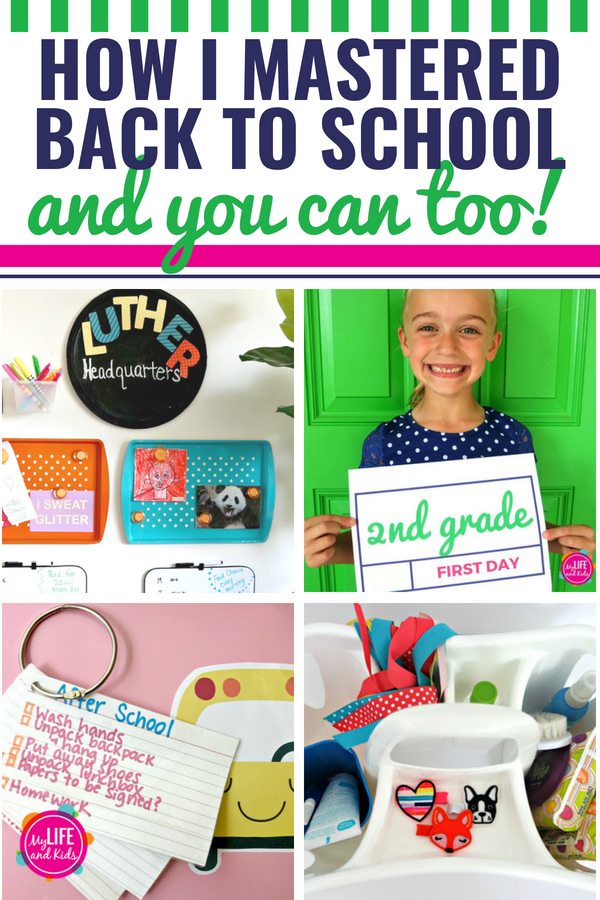 I feel like back-to-school is my "New Year." It's a chance to make a fresh start in the family. We can start new routines, have new expectations. There is hope and optimism and excitement. It's almost like I set "Back to School Resolutions" instead of New Year's resolutions.
Can anyone else relate?
So let's go through the changes we've made over the years that have made going back to school SO MUCH EASIER for our family!
Getting Organized for Back to School
Create a Command Center
Command centers do not have to be fancy or expensive or even large. Watch the video below to see how I set up a command center using supplies from the Dollar Store (and spent less than $20!)
Isn't it amazing? I now have a place to store all of the kids' papers and folders as they come home from school. They can keep their library books in one place (so we don't lose them. Ahem...)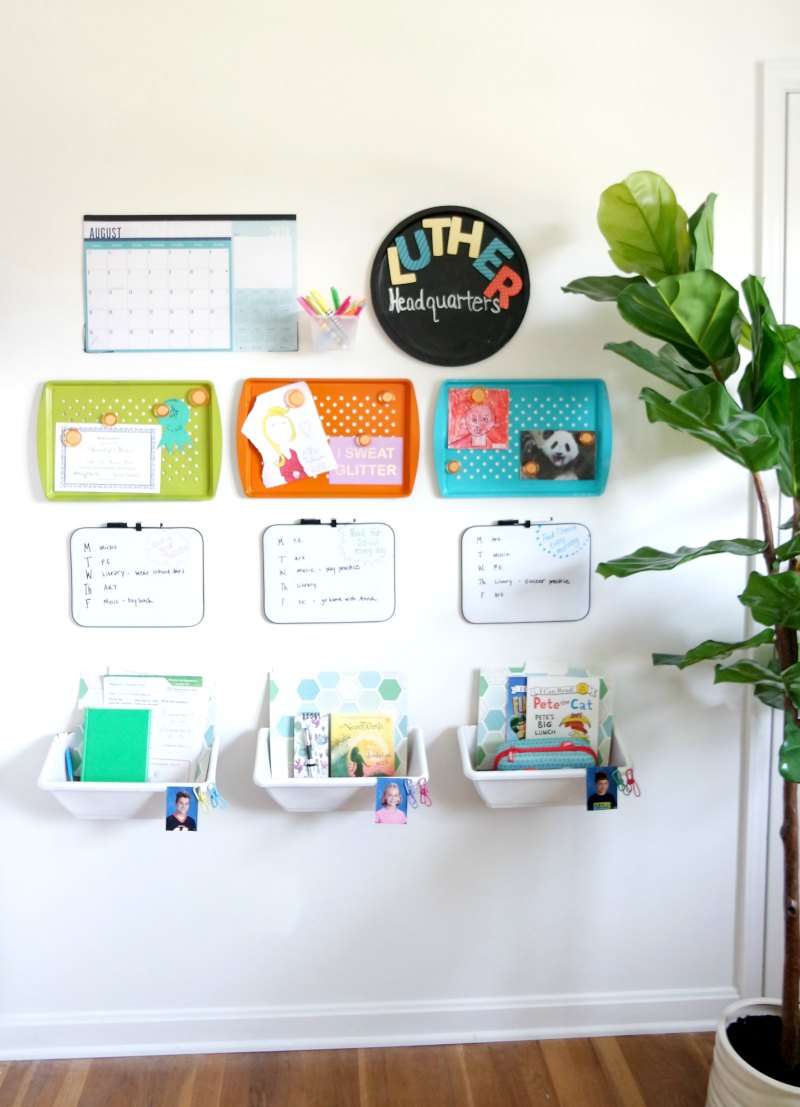 Click here to learn more about our Dollar Store Command Center.
Don't have room for something this large? No worries! I'm sharing my 10 favorite DIY Command Centers of all sizes right here.
Now let's talk about getting the clothes organized...
I always say I'm going to go through everyone's clothes over the summer and finally donate things that don't fit or that they just don't wear. I have grand plans of creating a capsule wardrobe for each kid so we aren't killing ourselves with piles of laundry or struggling to find a specific shirt in the sea of shirts each morning.
So far I have yet to do this. 😉
But I have found another solution that is really working for us!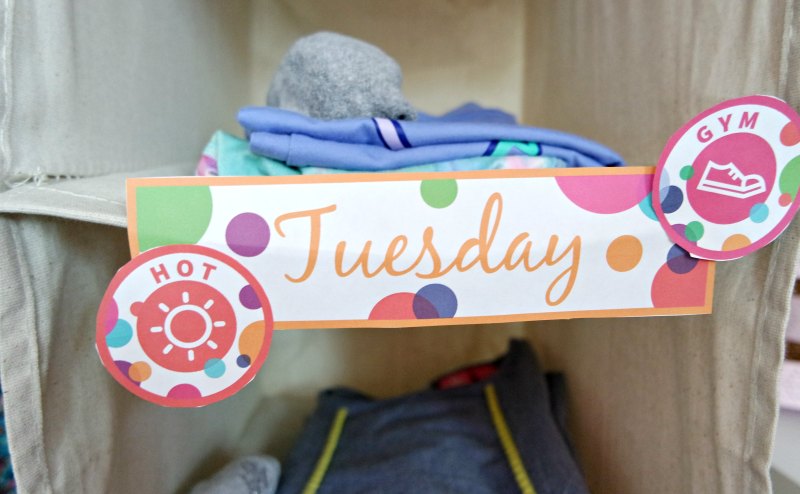 I have days of the week printables complete with weather and school specials icons. Each kid has a closet organizer or bins with labels.
On Sundays, we check the weather for the week, and they can lay out their clothes for the entire week - based on when they have gym, when it's going to be cold (and they'll need a sweater) and when it might rain.
Trust me when I tell you that these 15 minutes on a Sunday save us HOURS of time before school during the week!
Click here to read more about this system and to grab your free printables.
Every Kid Needs a Homework Box
Listen, I was really skeptical that something as simple as a homework box would make any kind of difference at our house, but after weeks of kids whining and coming up with gazillions of excuses about homework, I was willing to try anything.
Turns out, homework boxes were totally the answer at our house!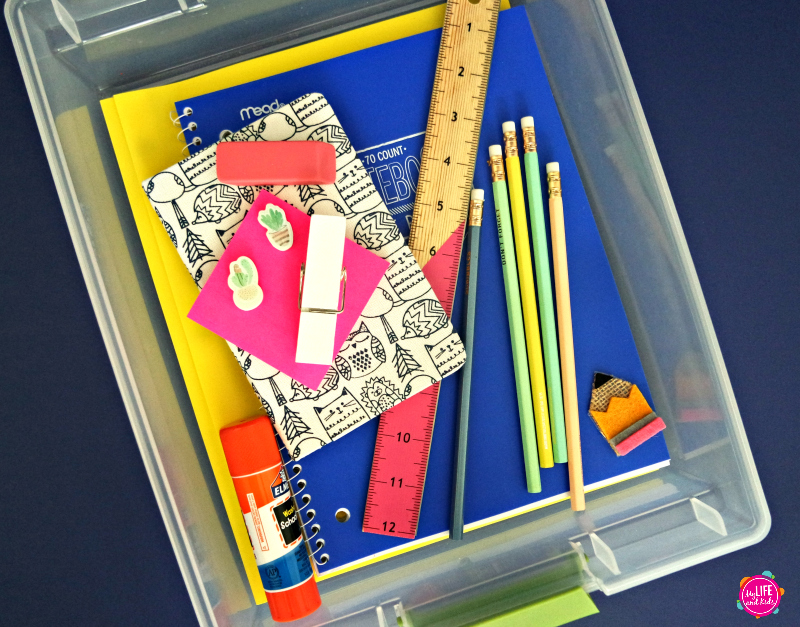 Click here to learn more about homework boxes, and why I think every kid needs one.
Never Miss the Bus Again with Get Ready Buckets
This is another simple solution to a frequent problem at our house - fights over who gets the bathroom in the morning.
Now each of our kids has their own Get Ready Bucket that they keep in their rooms. Woo hoo!
Watch the video below to see how to create one for your child, and then click here for more information!
Back-to-School Shopping
I *love* shopping for back-to-school. Like I said, it's like my little mini New Year, so just the smell of notebooks and folders and new pencils fills me with hope and excitement for the upcoming year.
I'm such a dork.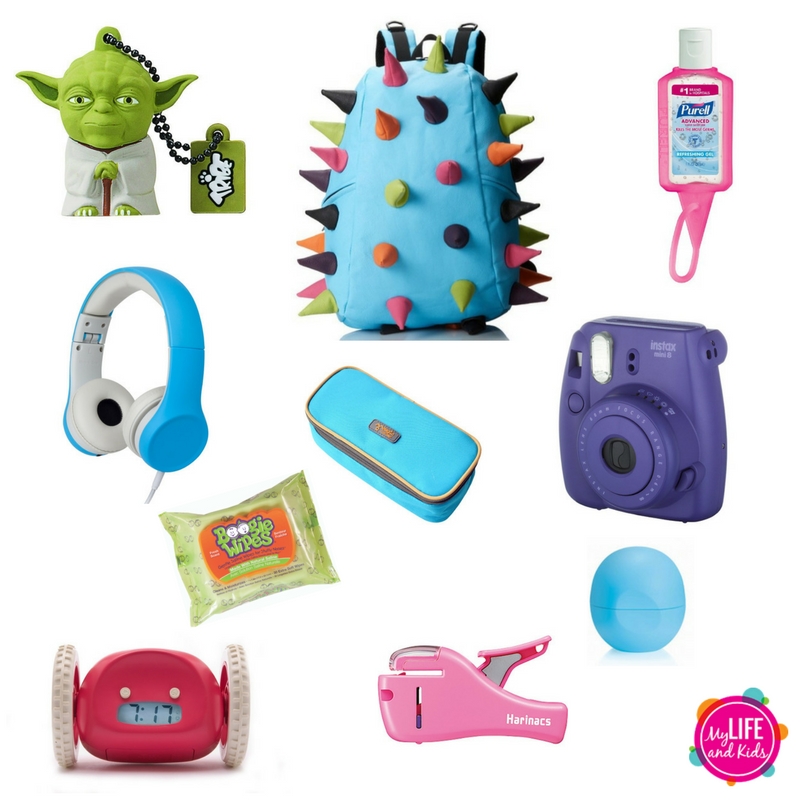 I also think it's a fun way to get kids excited to head back into the classroom.
If you're looking for inspiration, here are a few of my kids' favorite school supplies.
Also - before you start shopping for school supplies, be sure to read these shocking facts about teachers. It might inspire you to toss a few extra things into your cart.
Setting up Routines for Back to School
I LOVE me a good routine. In fact, I think a solid routine is the cure for a lot of the problems that we run into at our house.
The kids are monsters getting off the bus? There's a routine for that.
We feel like we're spending our weekdays running around like crazy people? There's a routine for that.
Did I mention that I love routines? Here are a few that have made a huge difference in our lives as we head back to school.
Routine Cards
A routine is awesome, but it doesn't really help at all if no one can remember what the routine is. Or if I have to spend half my life reminding my kids what to do next as part of their "routine."
Routine cards to the rescue!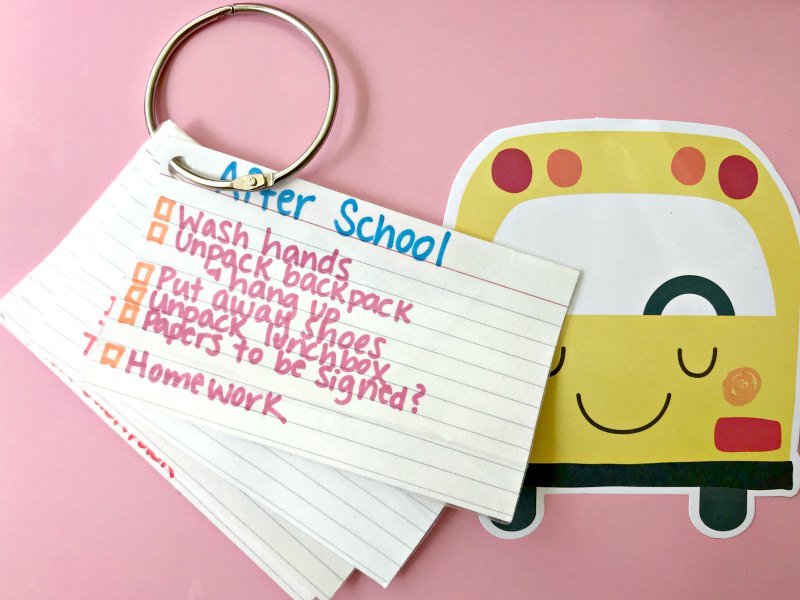 These simple routine cards have completely changed how I interact with my kids before school, after school and at bedtime. I love them!
Click here to see more about these routine cards, including some things you might want to write on yours.
After-School Routine
I don't know about you, but our after-school time used to be downright rough. The kids would stomp off the bus hot and hungry and exhausted.
And then they would yell at me while I tried my hardest to be a really good mom.
And then I'd start telling them how lucky they were to even have a mom to get them off the bus every gosh darn day, and how would they like it if I had a traditional job and they had to come home to an empty house every single day? (And then we would all agree that that actually sounded really nice, which WASN'T EVEN THE POINT.)
Like I said, they were a disaster.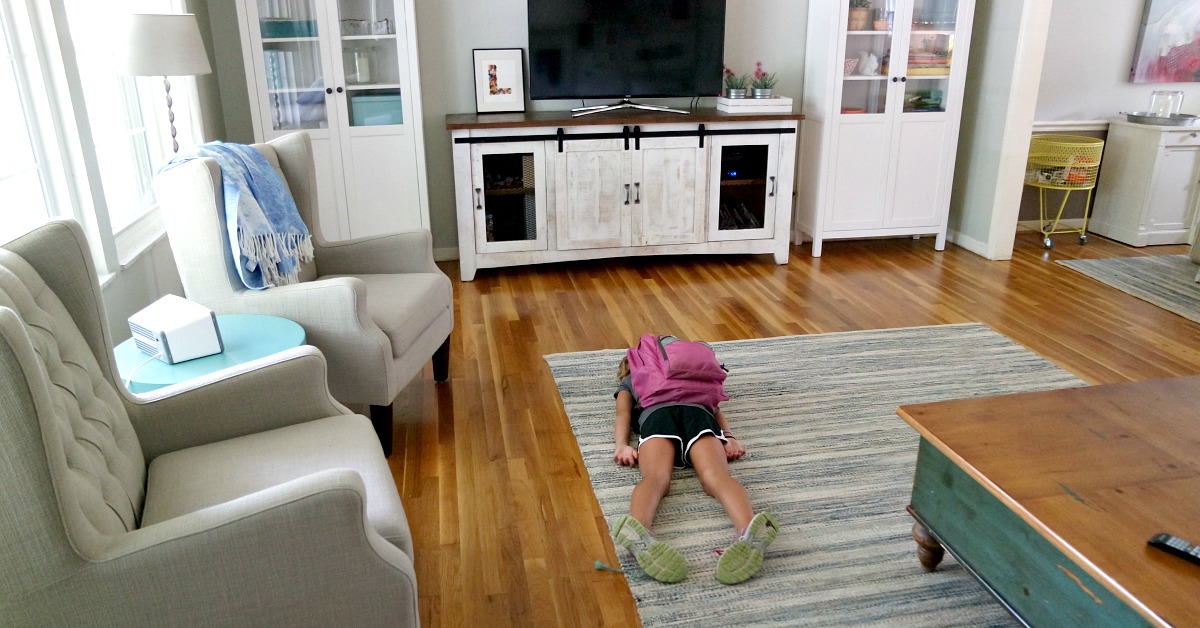 Thanks to a few changes we made last year, our after-school routines are SO MUCH BETTER! And my kids are actually glad that I'm there (and I am too.)
Click here to see how to drastically improve your after-school routine!
Packing Lunches
I hate packing lunches for reasons that I can't even explain. It doesn't even take that long, but I dread it like the plague.
And it never fails that my kids have a packed lunch on Monday and Tuesday and by Wednesday I'm telling them to find something (anything) for sale in that darn cafeteria that they can eat.
Repeat on Thursday and Friday.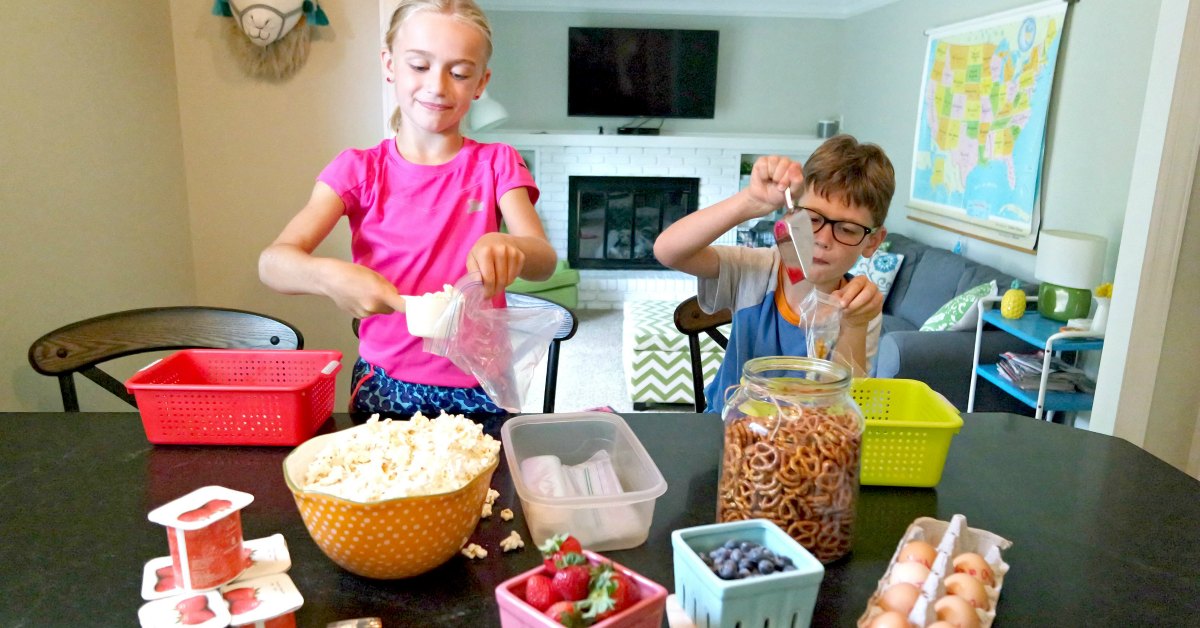 Two years ago we started a new lunch-packing routine, and it TOTALLY works! My kids consistently have a packed lunch for four days every week, and I barely have to do a thing.
Plus, we spend more time together in the kitchen, which is always a good thing.
Click here to see how to have your kids pack their own lunches every single week!
Making it a Great First Day (or Week) of School
The first few days (and weeks) of school always have my stomach in knots. I'm so excited for my kids to be out of the house, so I can actually get some work done.
And then I miss them by hour number two that they're gone.
I'm equally excited about their new teachers and classmates and nervous about their new teachers and classmates.
There is a lot of adjusting and learning that goes into those first few weeks of school, and I have to consistently remind myself that it will take time to get into the groove. Here are a few things that help...
How to Have a Great First Day of School
The first day of school is ALL about the prep if you ask me.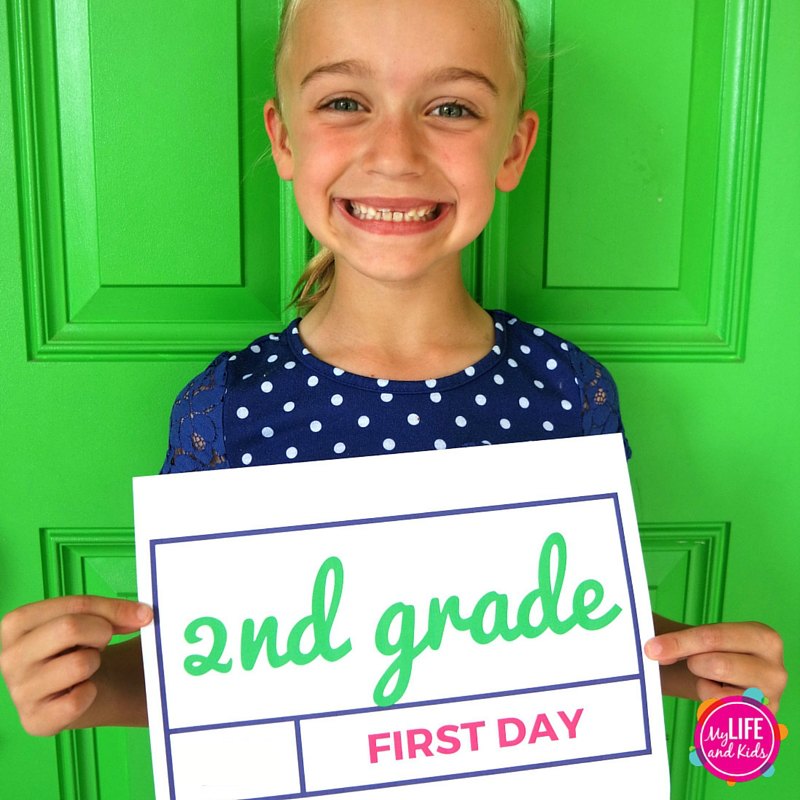 Click here for my very best tips for making it the BEST first day of school ever (for the kids AND for you!)
And Don't Forget About the Signs...
I used to think the pictures of kids holding first day of school signs all over social media was a little over the top.
Now that I have so many first day of school pictures stored on my computer, I have to say that the quick visual clue as to year and grade is SUPER helpful.
I'm a complete convert.
Click here to download the FREE first day of school printables that I created. If you don't love them, I've also linked to some of my other favorite free signs from other creators.
Back to School Games
Whether you're a teacher looking for games to play with your classroom or a parent looking to get the neighborhood kids excited about heading back to school through some backyard school games, I have you covered!
Click here to see the top 20 back-to-school games you can play with your kids.
Six Questions to Get Your Kids Talking After School
This isn't just about having a great first few weeks of school, but I find that I use them most during that time.
If you struggle to get your kids talking when they get home from school, here are six questions you need to ask them.
(Just don't be surprised if they start talking and never stop.) 😉
Let's Talk About Lunch...
I mentioned lunch already.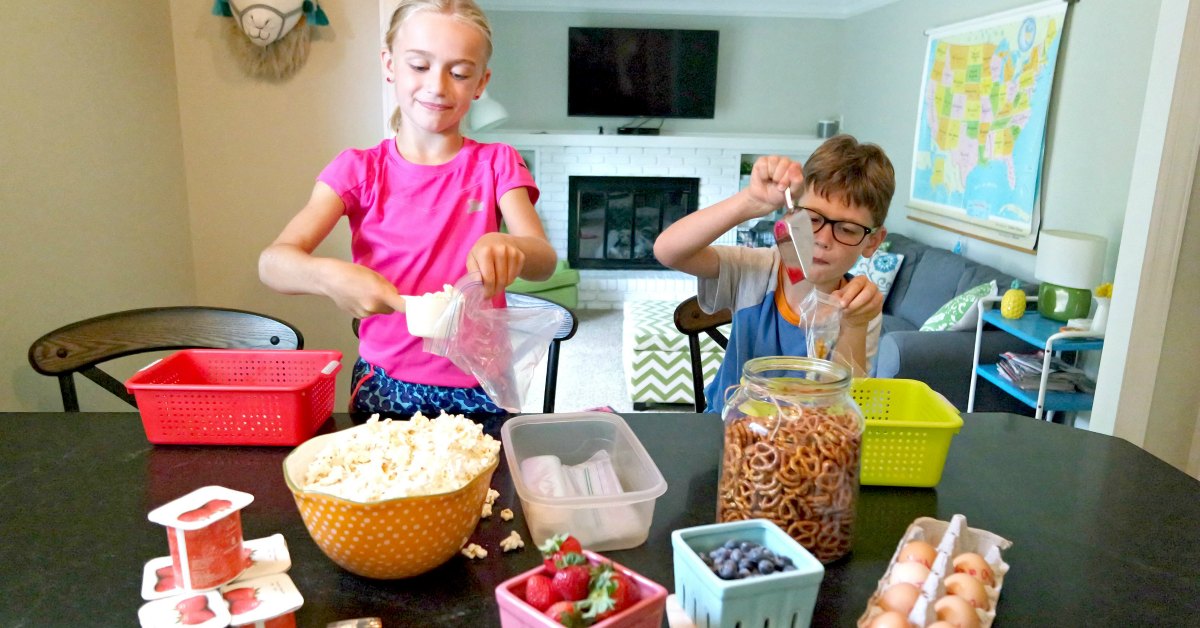 In case you missed it, click here to see how to have your kids pack their own lunches every single week!
But if you're the type that loves packing lunches (GO YOU!), then I have you covered as well.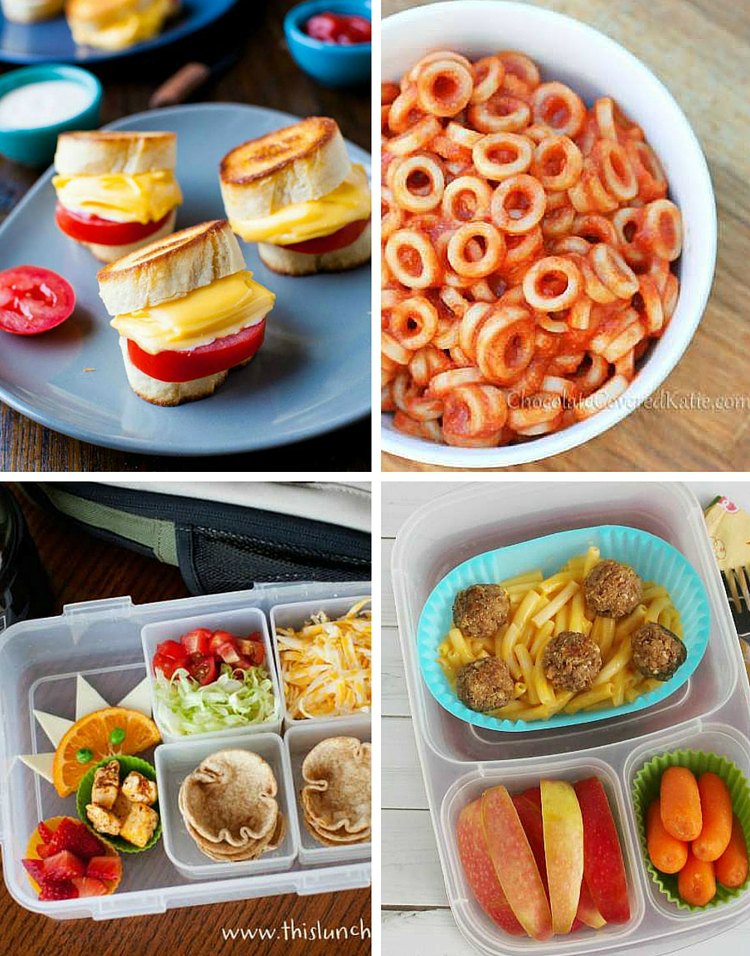 Click here for 30 great packed lunch ideas.
Want more?
Click here for 50 MORE great packed lunch ideas.
Back to School and Sports...
It never fails.
We're into a really good groove with back to school, and then fall sports begin.
Our entire routine is shot, and we're back to running around like crazy people.
Luckily with all three of my kids playing a sport each season, I've learned a lot about conquering routines even during busy sports seasons. Here are a few things that work for us...
How to Eat dinner during sports season
Dinner is one of the hardest parts about a busy sports' season (in my opinion). In this post, I'll break down the steps we take to make our lives as simple as possible while our kids are playing sports.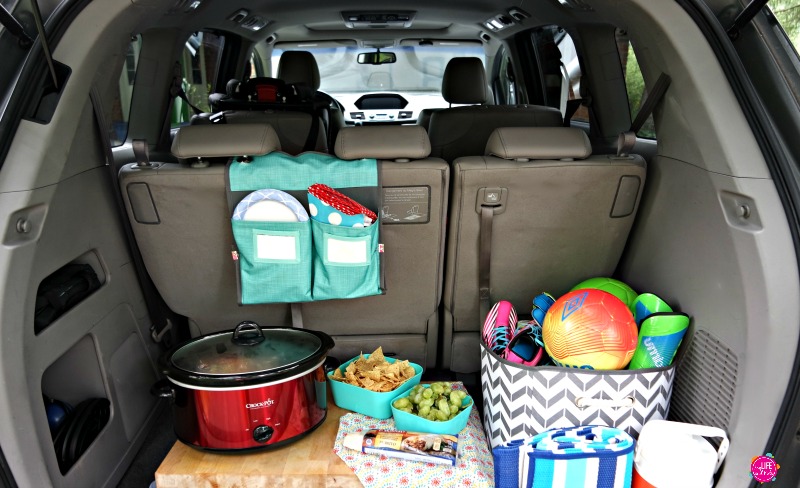 And yes, you can plug a crockpot into your minivan.
Click here to read how to pull together quick and easy meals every night of the week without completely going insane.
How to Win at Little League
After several years of coaching and having kids on little league teams, I'm sharing six tips for keeping your sanity all season long. (Even when you have three kids on three different teams and are coaching two of them.)
Click here to read more about how to win at little league.
Why you should consider coaching your kids
Other parents have more time than you.
Other parents have more coaching experience.
You've never played the sport before, so you can't coach.
I used to tell myself those same things.
But here's why my husband and I both think it's important to coach our kids (and why you might want to consider it too.)
Good Luck!
Good luck to you and your kiddos as you head back to school this year. I have no doubt that it will be your very best year yet!