The first day of school can be full of emotions.
Excitement.
Anxiety.
More excitement.
Fear.
Pure joy...
And that's just the parents.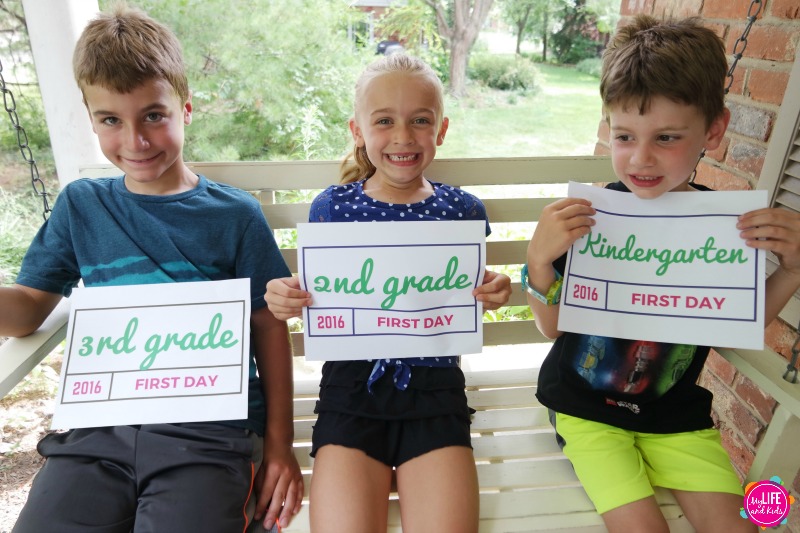 We all want the first day of school to go well for our kids.
We want to make sure we send them off with lots of hugs and smiles and reassurance that everything will be wonderful - rather than spending the morning yelling HURRY UP or searching for a missing left shoe.
If you're anything like me, there will be plenty of mornings like those throughout the school year - but hopefully not on the first day of school!
With three kids, I've learned a lot about how to have the first day of school be as great as possible, and I'm sharing all I've learned with you.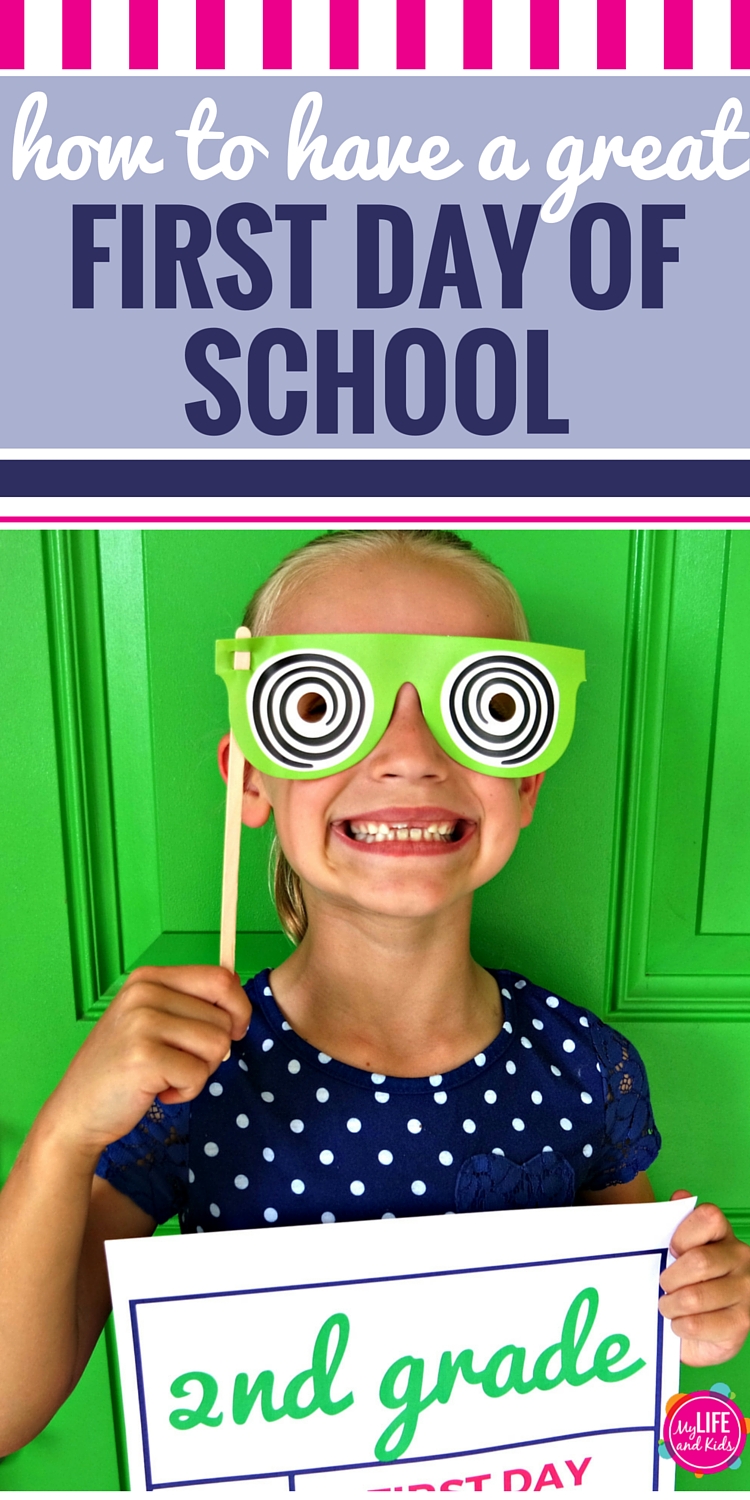 1. Start at least a week in advance
Preparing for the first day of school does not start on the first day of school. Or on the night before.
It really needs to start a week in advance.
If your kids are anything like mine, they've been staying up late and sleeping in each morning. As much as I don't want summer to end even a minute earlier than necessary, I will be spending our last week of summer attempting to get my kids back on a regular schedule.
No more shutting down the pool or having a snack at 9 pm for us. It's back to regular bedtimes and - I hate to say it - school day wake up times too.
The more we can get them used to a school schedule in advance, the better they'll feel on the big day.
2. Create Routine Cards
Routine cards have completely changed the way I interact with my kids before school, after school and even on the weekends.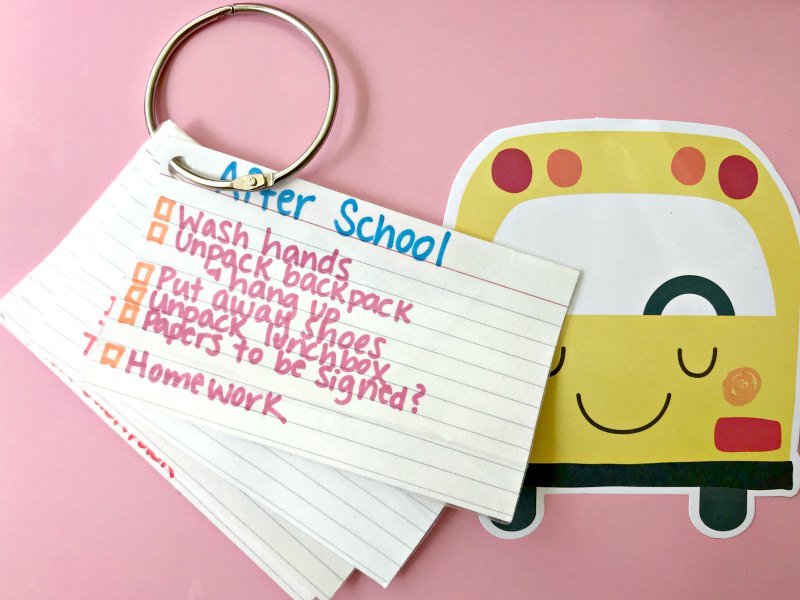 They are incredibly easy to make, and my kids love using them. We typically get off track during the summer, so the week before school starts, we usually sit down and create new ones for the upcoming year.
The kids help me decide what to put on each card, and we put them into practice for the entire week before school starts so we're ready on the big day.
Click here to see how to create routine cards for your kids (plus ideas for what to include on them).
3. Prep the Sunday Before
Whether your kids start on a Monday or on a Thursday (like mine do), start your routine on the Sunday before school starts. Hopefully you'll be able to keep this routine going all year long, and trust me when I tell you that your Sunday routine will save you HOURS during the week. (You're welcome in advance!)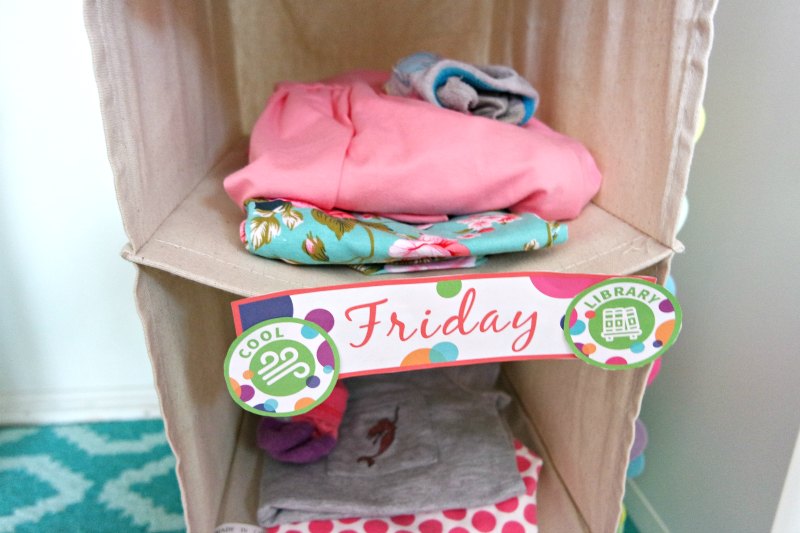 This is the time to help your child pick out their clothes for the entire week.
Click here to see how we do it, and to download some fun printables to keep you organized.
This is also when you should have your kids pack their own lunches for the week. (Yes, for the entire week.)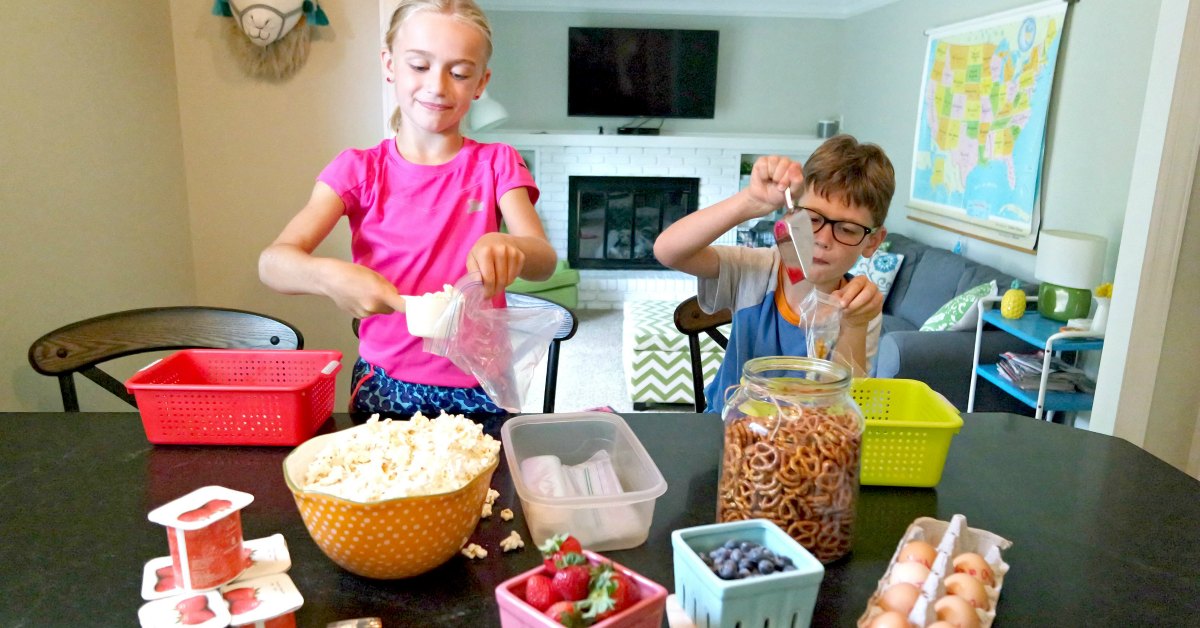 It's a lot easier than it sounds, and you are going to LOVE the results!
Click here to see how you can teach your kids to pack their own lunches for an entire week at a time.
4. Prep (More) the Night Before
The night before the first day of school is an important night. My kids always have a hard time falling asleep, and they need a little extra reassurance - both to calm their fears and also bring their excitement level down enough for them to fall asleep.
It's also the one night where I do everything I possibly can to make the morning as smooth as possible. This includes packing backpacks, making sure clothes are laid out in advance, packing lunchboxes, charging my phone (or camera) and setting an alarm.
I would love to tell you that I do all of these things EVERY school night, but that just doesn't happen as often as it should.
5. Give Yourself Plenty of Time
I wake the kids up about 30 minutes earlier than normal on the first day to make sure we have enough time to take pictures, brush teeth and manage any back-to-school drama (like my son deciding that underwear is optional or my daughter deciding that the braid I put in her hair isn't what she really wanted.)
It also gives us a little extra time to get out the door without yelling (see #1.)
The routine cards come in REALLY handy on that first day of school!
6. Don't forget those Pictures
One of my favorite parts of the first day of school is taking pictures before the kids hop on the bus. They end up being pictures that we look back on often, comparing how they've grown from year to year.
I usually don't do any of the cute poses or fancy ideas that I see on Pinterest, but as they're getting older, I can see how helpful some age and date clues in the picture would be. So this year I created some simple signs for them to hold, and we even incorporated a few props to make the pictures a little more fun.
Miles is heading to third grade.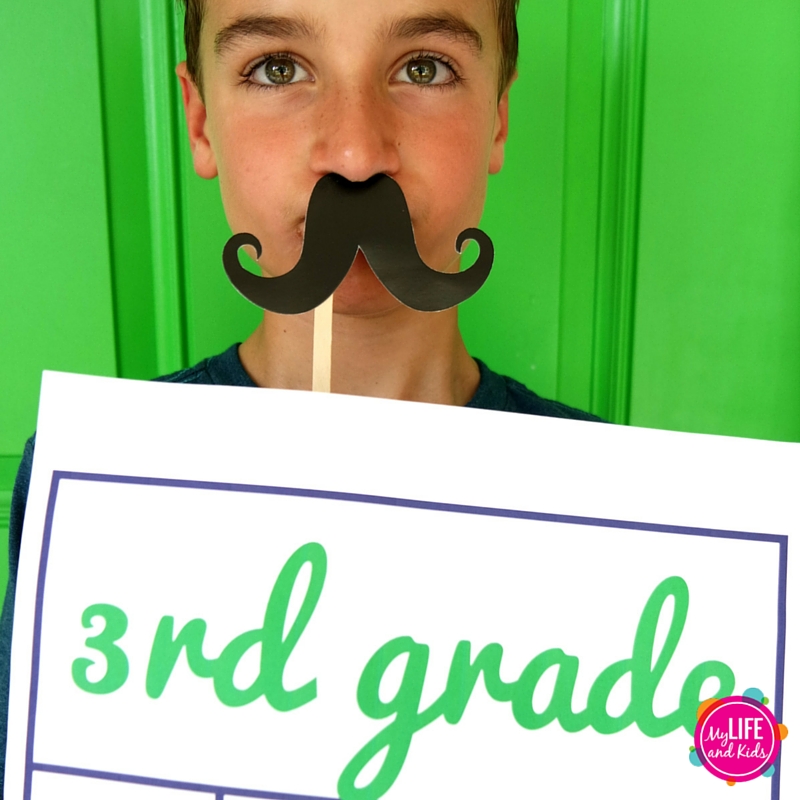 Alice is off to second grade.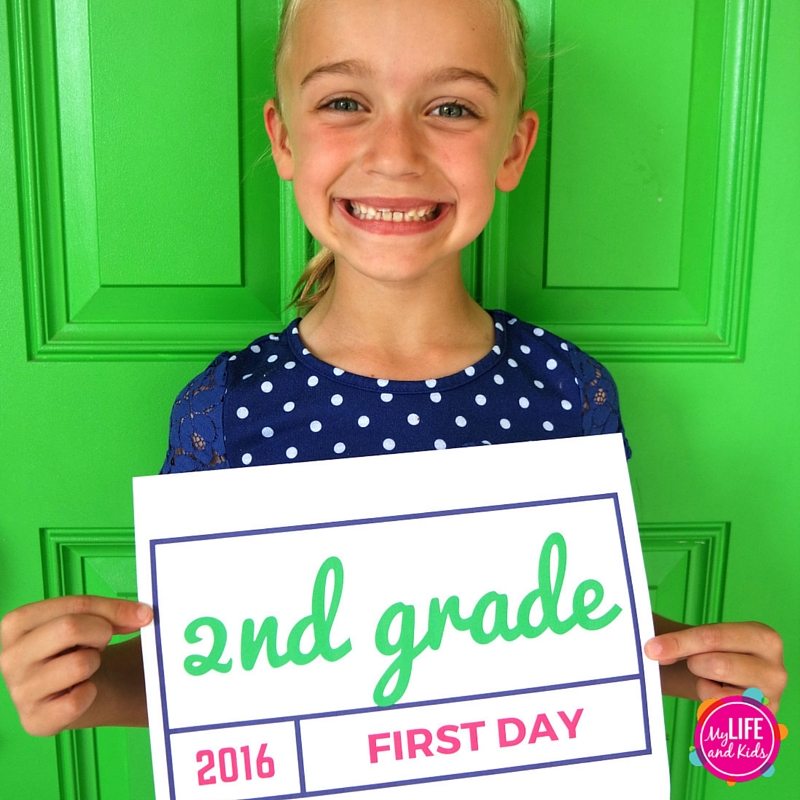 And wild Simon is off to Kindergarten.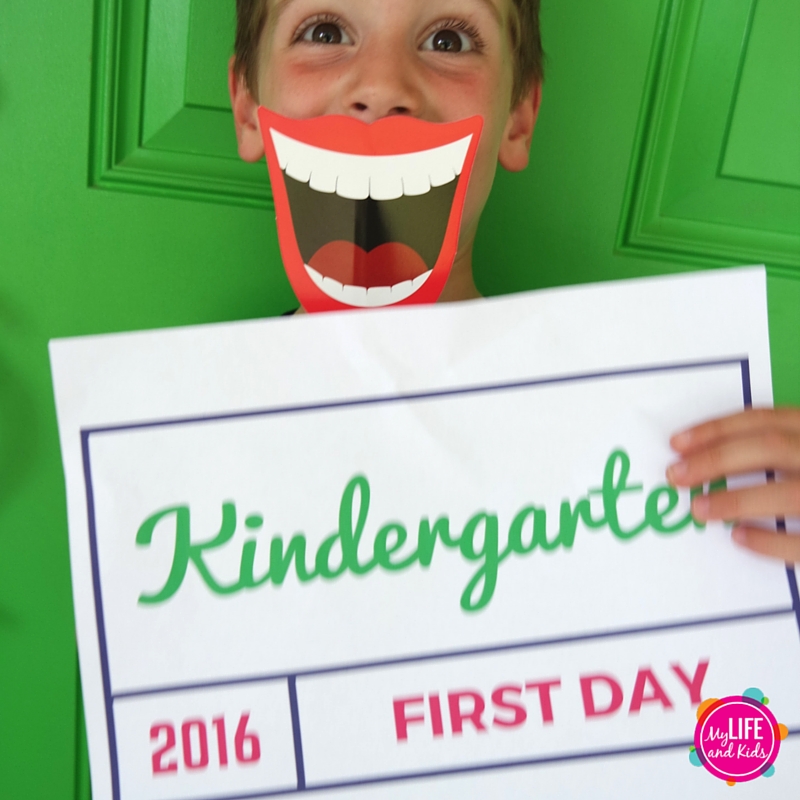 I updated these pictures for the 2018-2019 school year, and I also shared some of my other favorite first day of school signs.
You can download your choice of FREE first day of school signs here. (Updated for the 2019-2020 school year.)
7. Perfection Is NOT the Goal!
If you know me at all, you know that perfection does NOT exist at our house.
Not even a little bit.
Most of the time, I can't even get my youngest to get dressed.
And it's possible that one of my kids got off the bus after the first day of school last year, and that's when I realized that his shirt was on backwards.
All day.
Give Yourself a Break
If you can't get it together to take pictures on the first day of school - or you run out of time - it's not the end of the world. No one will know (or care) if you take those pictures on the 3rd day of school or even a month later. (I promise!)
Scale Back
Take a look at your own plans and expectations for the day, and see where you can scale back. Maybe you decide not to care if your son's socks match or if your daughter's hair rivals the art we see on Pinterest.
The most important thing in having a great first day of school is greeting the day with excitement for your kids, giving them lots of hugs, and reassuring them that they're going to have a wonderful day.
Back to School Checklist
If you're anything like me, and you need to put as many things in your life on autopilot as possible, here's your checklist to follow to have a great first day of school.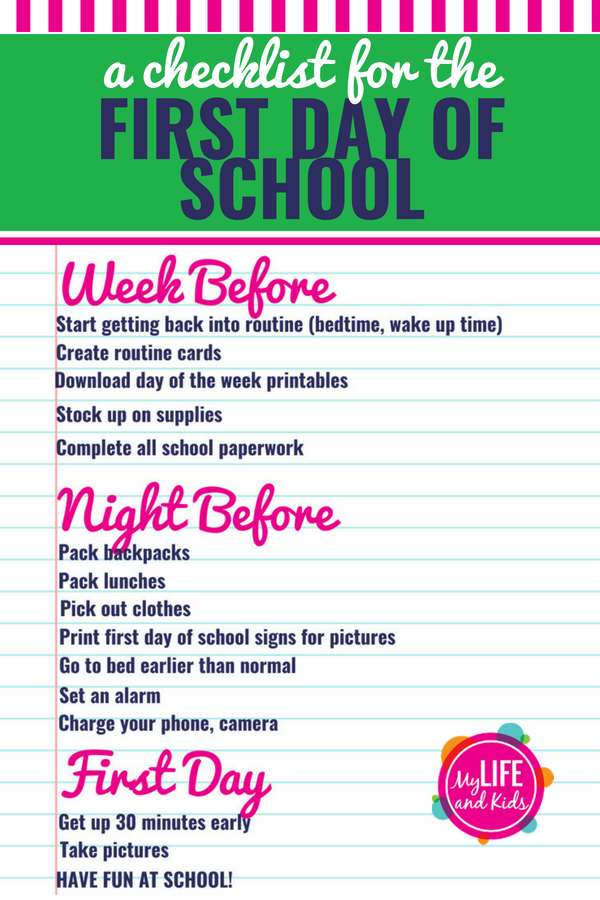 Mastering Back to School Together
Back to school can be hectic, but it doesn't have to be hard!
With three kids in school, I've learned a few things along the way that help to simplify the entire back-to-school process, while also keeping me sane.
And I'm sharing them all with you!
Click here to see how I mastered back to school, and you can too!
Including:
The organizational systems we have in place
The routines we use (and how we remember them)
Why my kids haven't missed the bus in three years
How to have the best first day of school EVER
How to put an end to homework battles
How I get my kids talking (and talking and talking and talking) every day after school
How we manage busy sports seasons without going insane
The simple tech hack that EVERY parents needs to know
And so much more!
Plus you can see how I made this amazing command center that keeps me crazy organized - using supplies from the Dollar Store!
Pretty great, huh?!?
Click here to see the 18 things I'm doing to master back to school, and how you can do them too!