Back to School
How to Completely Change Your After-School Routine For the Better
By |
A few years ago when my kids were just starting grade school, I had big plans for our after-school routine. There would be homework and conversations. There would be no television and lots of family time.
I would greet them off the bus with homemade cookies, they would quickly take off their shoes, unpack their backpacks, wash their hands and join me in the kitchen to tell me about their days. Then they would sit at the counter doing their homework while I lovingly prepared dinner.
HAHAHAHAHAHAHAHAHA
That has never happened once.
The reality is that when my kids get home from school, they're exhausted (although they won't admit it).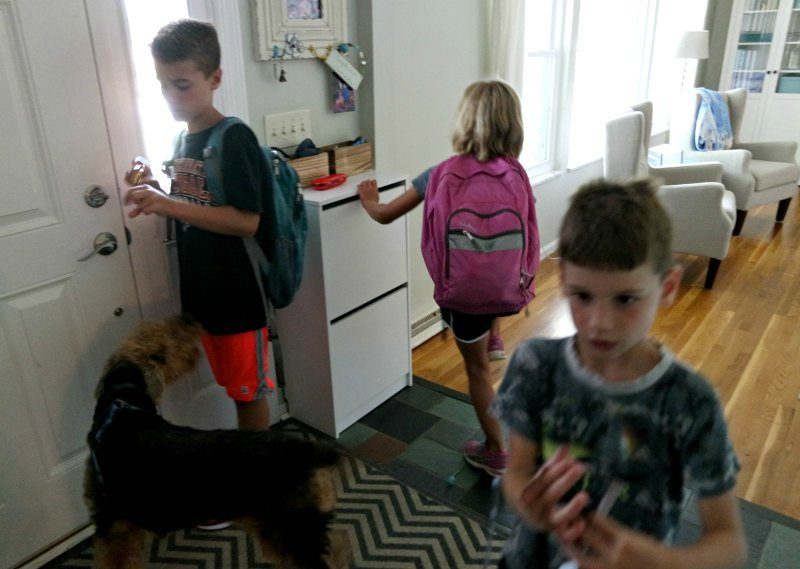 The dog is overly excited to see them. They all swear they don't have homework and seem to forget that they're supposed to take off their shoes or empty their lunchboxes.
Usually someone does a face plant on the floor and remains there for a very long time before having enough energy to make it any further into the house.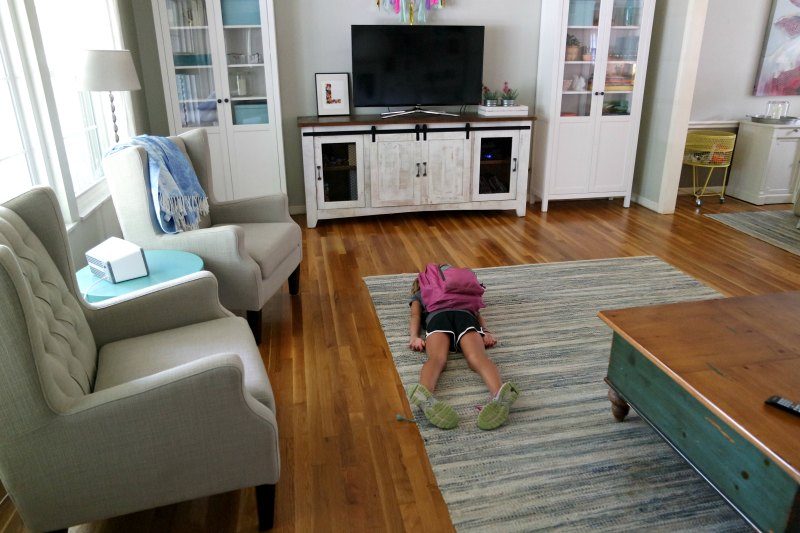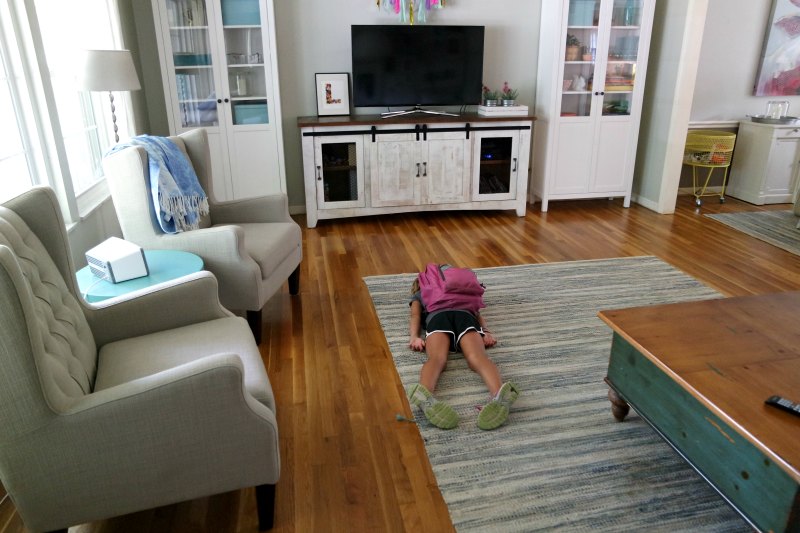 Getting home from school can be hard!
5 Steps to the After-School Routine that Works for Us
After several years of trial and error, we finally have an after-school routine that works. It's simple yet effective. And while it's not the perfect time that I always envisioned, it's pretty darn good. Here is how I do it.
1. Get them in the door
Yes, sometimes just getting them in the door can be hard. I used to be so caught up in our "routine" that I would be telling my kids what to do the second they walked into the house. My daughter would be trying to tell me something that happened on the bus, and I would be telling her to put her shoes in the bin and wash her hands.
I try to remind myself that they have had someone telling them what to do for the last 8 hours. I can wait a few minutes before reminding them that the dog might eat their shoes if they don't put them away.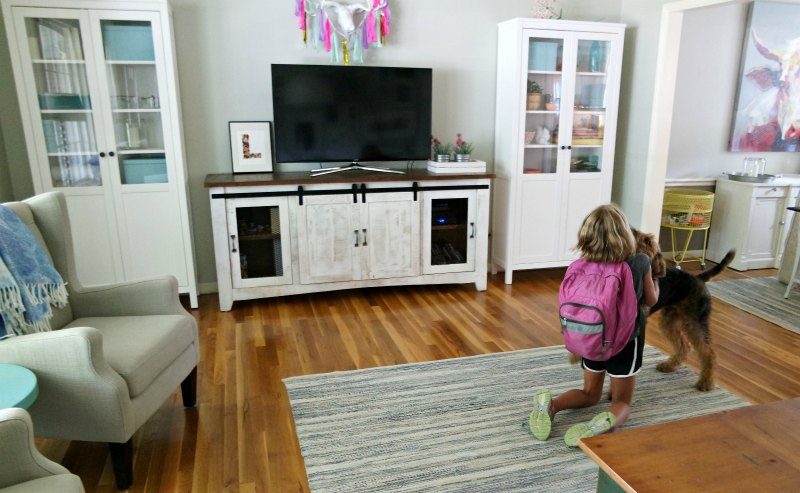 Now when they walk in the door, I simply greet them. And then I listen. And then…
2. Feed them. Fast.
By the time my kids are getting home, it has been hours since they've eaten.
They're STARVING. And HANGRY.
They're literally incapable of even unpacking their backpacks before they eat. I've found that feeding them immediately (hopefully after they've washed their hands), makes a huge difference in how the next hour of our evening goes.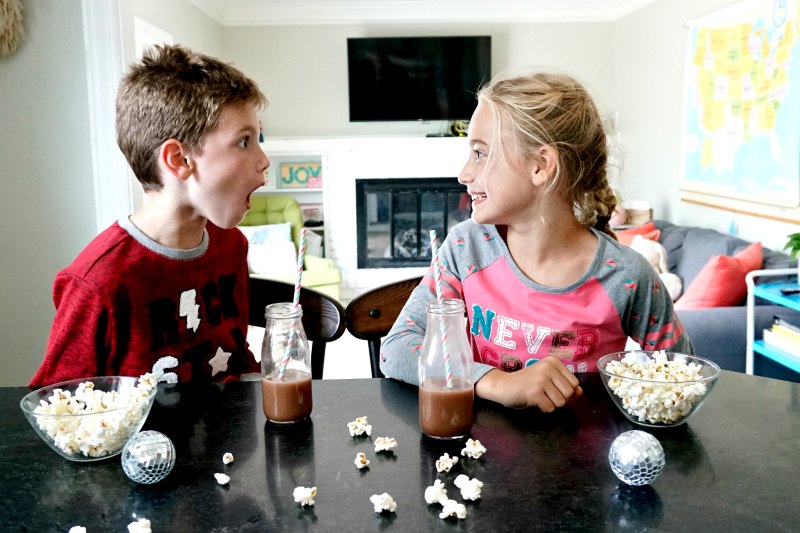 3. Let Them Decompress
This is the point in our routine when I used to start demanding that homework be pulled out and pencils get sharpened. Now, I give the kids time to decompress and zone out for awhile.
Every afternoon is a little bit different. Sometimes they watch television, sometimes they take a bike ride or walk the dog.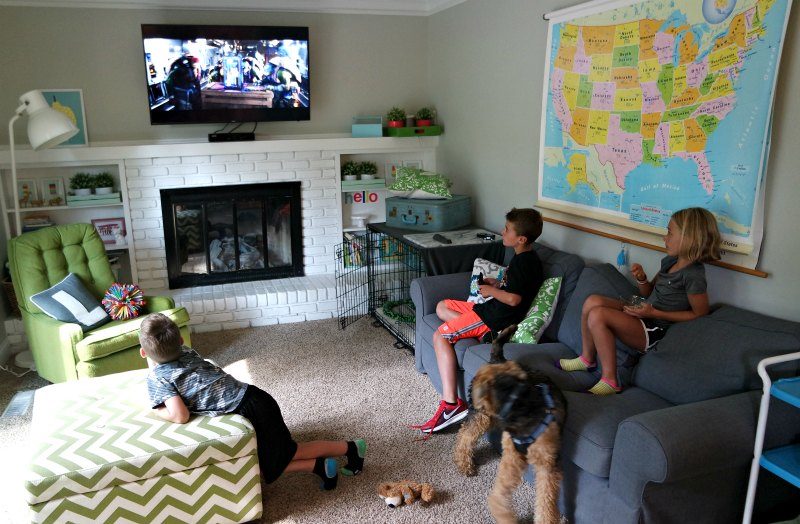 I know that my husband and I need a little time to decompress after a full day of work, so it's only natural that the kids need it too. Giving them some time to do what THEY want to do makes for a much more peaceful evening for us – especially when it comes to homework.
And it gives me a chance to wrap up my work day and send a few last-minute emails before I shut my computer down for the night (or at least until they're in bed.)
After they have some downtime, I usually start asking a few questions to get them talking.
Here are the six questions that can guarantee more than a one-word response (even from my boys)!
4. Routine Cards for the Win
After 20 – 30 minutes of down time, everyone grabs their routine cards to follow through on their after-school "tasks".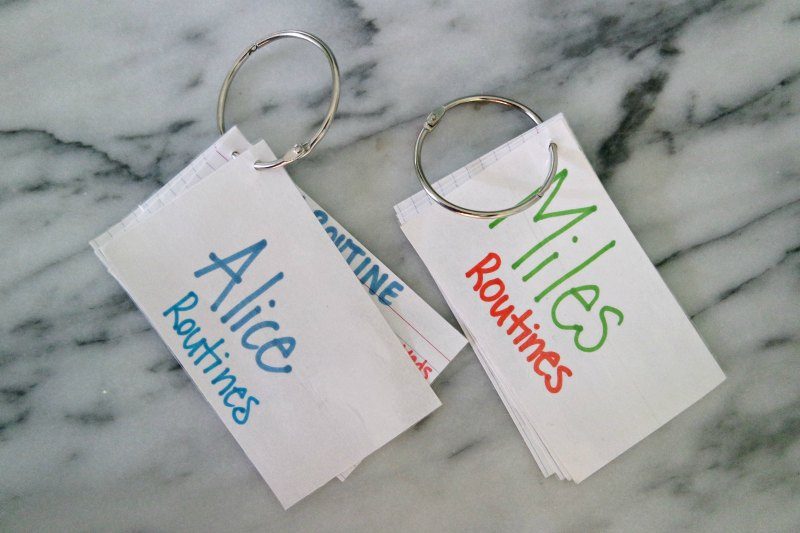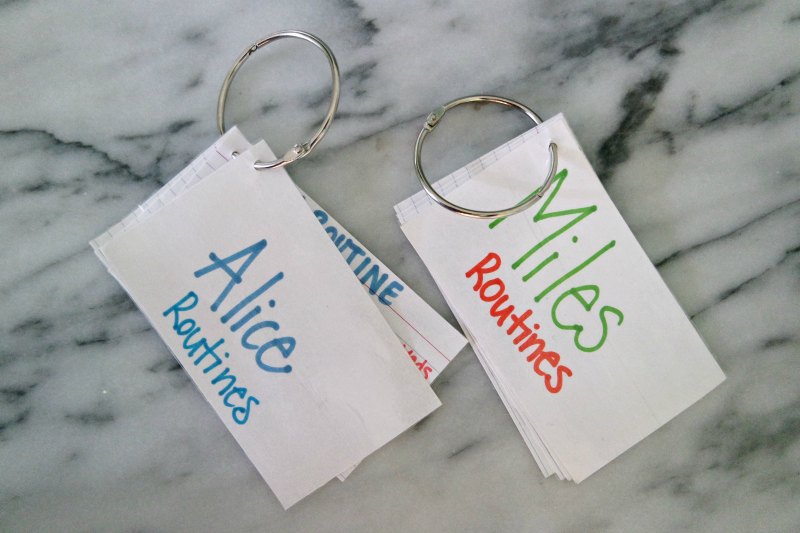 I created super simple routine cards for each kid (they have a card for morning, after-school, bedtime and chores). For their after-school routine, they need to put away their shoes, empty their backpacks and hang them up in the closet, put away their lunchboxes and get started on their homework.
I laminated each card (with packing tape) so that they can check things off as they go.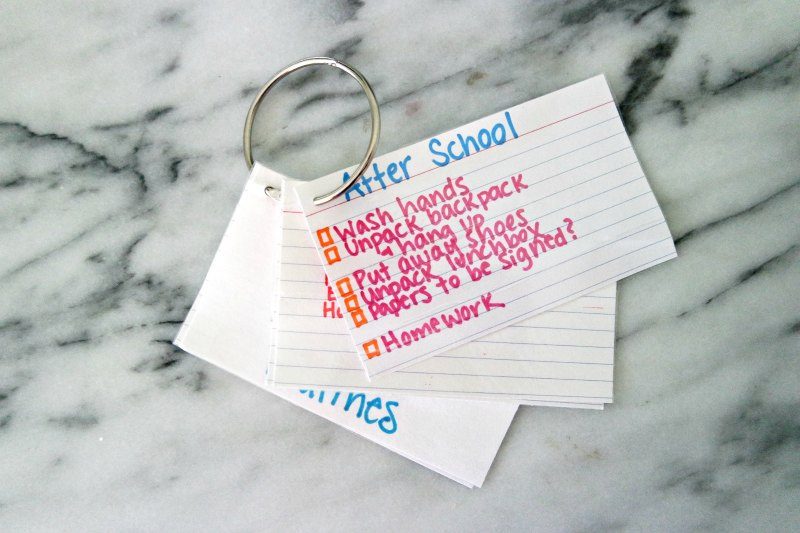 This is especially helpful for my youngest who needs step-by-step instructions. Instead of me telling him what he needs to do over and over and over again, he can just follow the list.
I get a TON of questions about these routine cards, so I created an entire blog post all about them. (Plus some ideas on what to put on your routine cards.)
5. Homework Boxes Save My Life
And then we move onto homework. I let the kids choose where they feel like they work best. Usually this is at the kitchen counter, but sometimes they choose to work at the desk in their rooms.
After hearing countless excuses of why they couldn't do their homework (I don't have a pencil, I lost the book we were reading, I left my notebook at school, etc.), I finally created homework boxes.
Click here to learn more about homework boxes and why I think every kid needs one.
 Mastering Back to School Together
Back to school can be hectic, but it doesn't have to be hard!
With three kids in school, I've learned a few things along the way that help to simplify the entire back-to-school process, while also keeping me sane.
And I'm sharing them all with you!
Click here to see how I mastered back to school, and you can too!
Including:
The organizational systems we have in place
The routines we use (and how we remember them)
Why my kids haven't missed the bus in three years
How to have the best first day of school EVER
How to put an end to homework battles
How I get my kids talking (and talking and talking and talking) every day after school
How we manage busy sports seasons without going insane
The simple tech hack that EVERY parents needs to know
And so much more!
Plus you can see how I made this amazing command center that keeps me crazy organized – using supplies from the Dollar Store!
Pretty great, huh?!?
Click here to see the 18 things I'm doing to master back to school, and how you can do them too!