I love it when something super simple has a HUGE impact on my life.
Or when what feels like a massive problem that might require medical intervention actually turns out to be something that requires an incredibly simple solution.
Like the time that I was pretty sure I had skin cancer due to the sudden appearance of a new mole on my face. I was researching my chemotherapy options while trying to figure out how to break the news to my kids when I discovered that it was just some chocolate.
Seemingly massive problem.
SUPER simple solution.
Those are my favorite.
Our Huge Homework Problem...
When my kids were first starting school, I envisioned our after-school routine to be really simple.
They would come home from school.
They would do their homework.
The end.
How hard could it possibly be?
Turns out, VERY hard.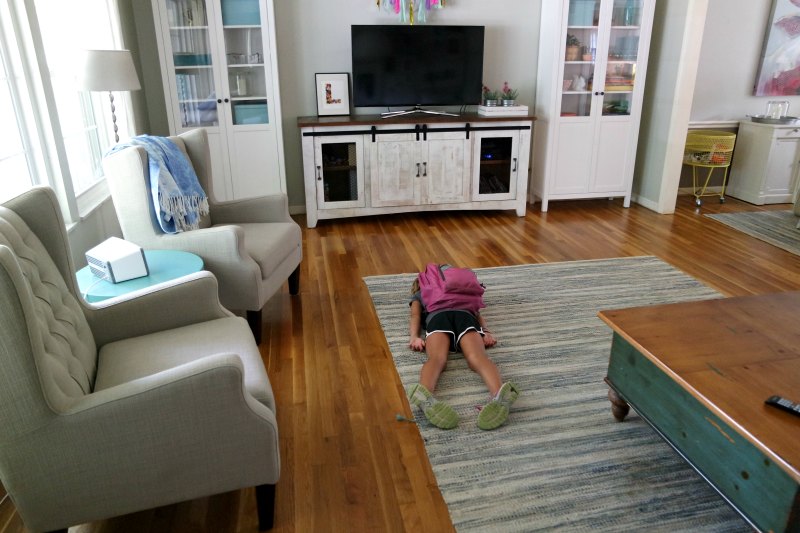 They get off the bus, and they're angry and hot and hungry.
Everything is wrong.
They can barely get in the door, let alone think about homework.
Sometimes I can't even get them off the living room floor.
Luckily, I figured out a great after-school routine that is WORKING and results in a lot less time face planting on the living room floor. (Read more about our routine here.)
But that routine didn't necessarily help us when it came to homework...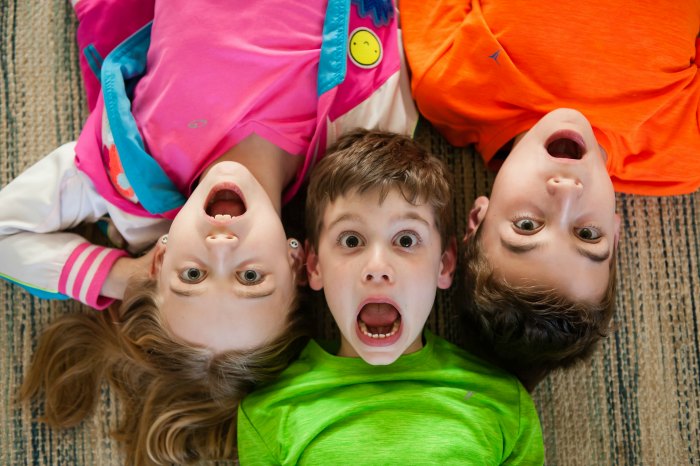 In fact, this is when I learned that my kids are quite gifted when it comes to reasons WHY they can't do their homework:
They can't find a pencil
They need a ruler, and we don't own any
Their pencil isn't sharp enough
Their eraser broke
They need notebook paper, and there isn't any
They're supposed to color things in, and they have nothing to color with
They're supposed to practice math facts, and they can't find flashcards
They have to cut something out, and there are no scissors
And so on...
And so on...
And so on...
This is not a problem that requires a complex solution!
Of course, I immediately approached this issue with full intensity. I researched and talked to friends and family members.
I tried out homework stations and created homework charts.
I tried sitting with each individual child and doing homework with them.
I thought about calling the doctor and emailing the teachers to find out why on earth my kids were so adamant that they were NOT going to do their homework.
I even tried setting up a reward system.
HAHAHAHAHAHAHAHAHAHAHA
Yes, if you have kids, I'm sure you're laughing right about now. Because as it turns out, the solution was much simpler than all of that.
Introducing Homework Boxes
Homework boxes are just what they sound like. It's a box that I have filled with everything the kids might need in order to complete their homework.
When it's time to do their homework, (which is part of their after-school routine. See more on that after-school routine here.) they simply grab their homework box and get to work.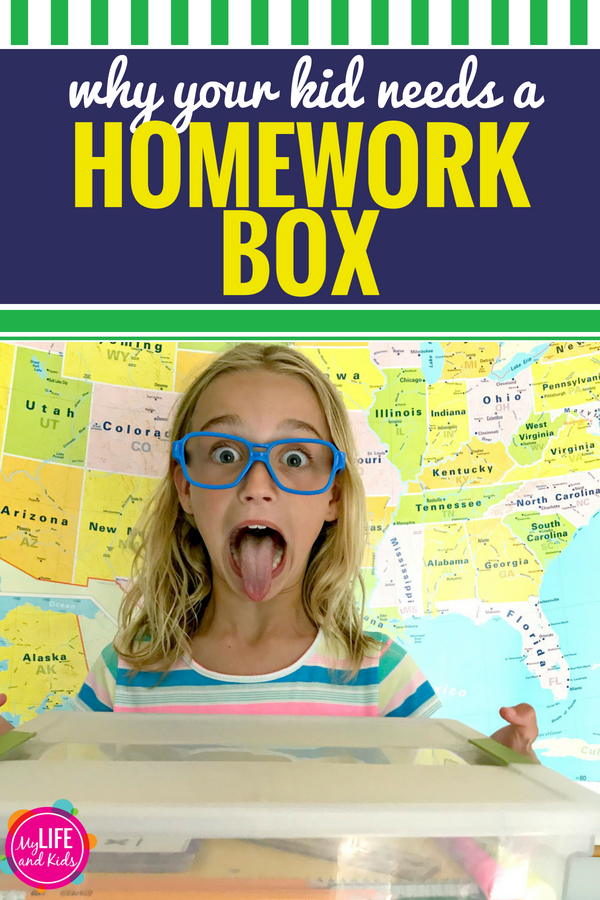 I know it sounds too simple to actually work (sort of like being able to wash that "cancerous" mole off my face), but it actually makes a HUGE difference.
Choosing Your Homework Box
In order to create a homework box, you'll need a box.
Shocking, I know.
I've tried several different options over the years, and I keep going back to a simple plastic box with a lid that locks into place. We've had these for two years now, and they're still going strong. See an example on Amazon here.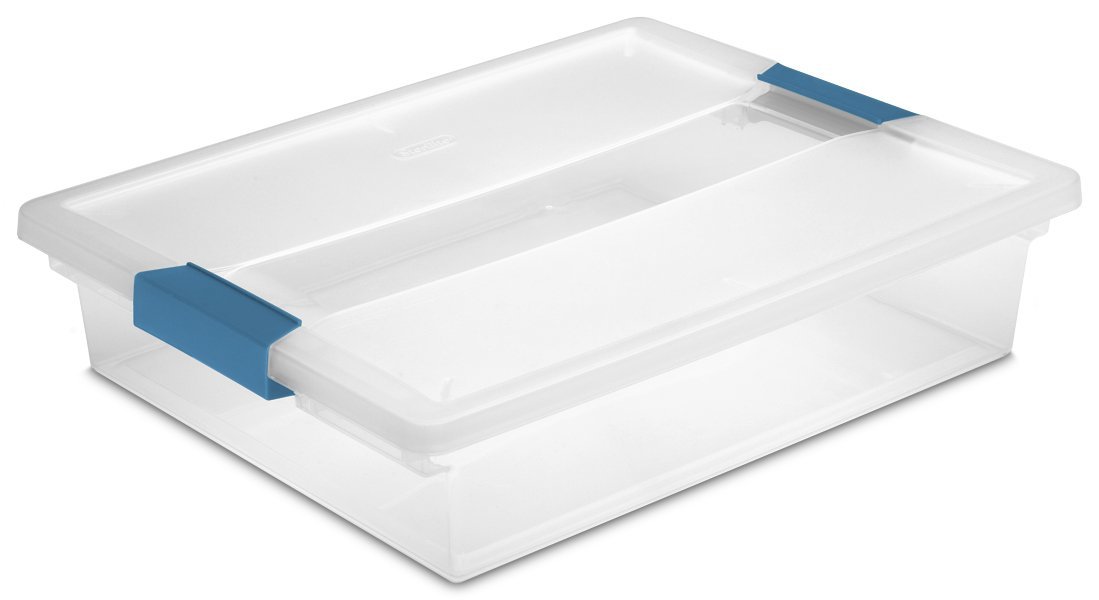 What to Put in Your Homework Box
I've found that the best way to create a homework box that works is to get my kids involved.
At the beginning of the school year, we look at their schedule and supply list and work together to figure out what they may need. (And sometimes we add things as the year goes on.)
Usually, we include the following:
Markers, crayons and/or colored pencils (depending on the age of your child)
Glue stick
Ruler (they rarely need this, but we're covering all of our bases here!)
Extra pencils (sharpened)
Erasers
Highlighters
Notebooks
Plain paper
Scissors
Stapler (don't forget the staples)
Tape (you seriously never know)
Calculator (especially as your kids get older)
Flashcards
Reading logs or charts (if your child has one)
Folder (for keeping weekly homework in one place)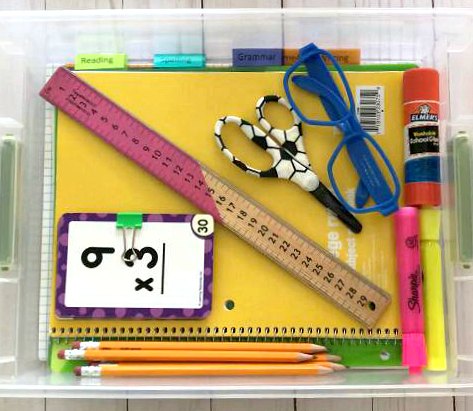 See How to Make Your Own Homework Box
I'm so in love with homework boxes, that I even made a little video to show you how to make your own.
Homework Box Frequently Asked Questions
I know,  you think I might be crazy because this all seems pretty simple and how many questions could there possibly be about a homework box?
Well, more than you would think actually. So I'm compiling them all here for you.
→I have all of these supplies in my house. Why do I need to put them in an "actual" box?
I was a total doubter about this and tried a million other things before I went all in on the homework box idea. It just seems too simple to actually work, right?
The truth is, having their very own box of supplies that is their designated homework box, helps my  kids feel "official." They have supplies that are part of their routine, and it helps to get them a little more excited about homework.
At our house, these supplies ONLY come out when it's time to do homework. We don't use the scissors for craft projects or grab the markers anytime we want to color. It's homework only!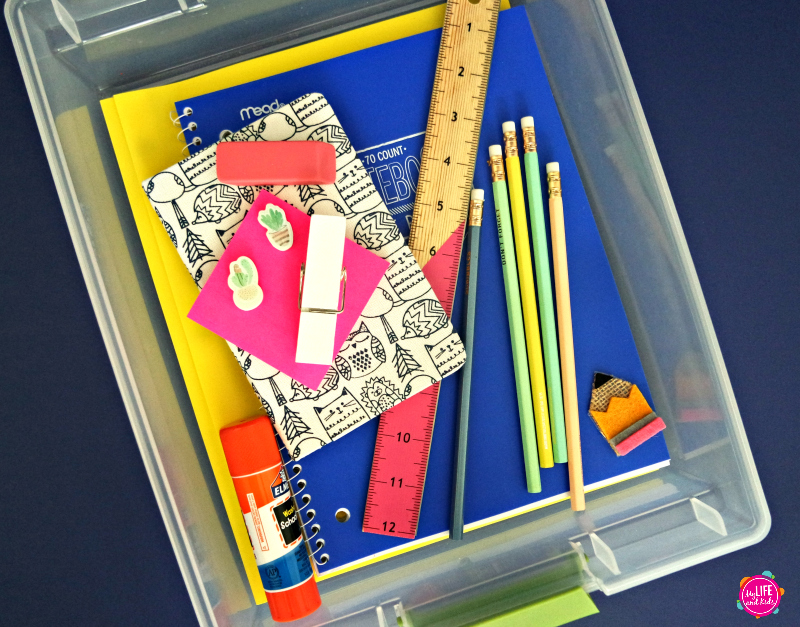 →So each kid needs their OWN homework box?
Yup. They definitely do. For all of the reasons above. Otherwise you could just keep everything in a cabinet for them to help themselves when they need it. But that would just make way too much sense.
→Where do you keep the homework boxes?
Back when I had a lot more room in my house, I had a designated command center that held all of our homework boxes.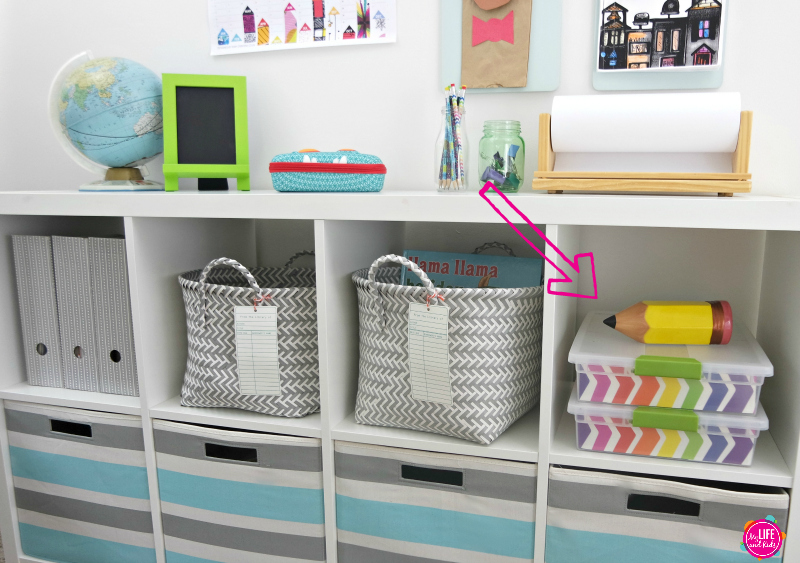 It was downright dreamy.
We have since downsized our command center (you can see the new one here. It's all made from supplies from the Dollar Store!)
Now we keep the homework boxes in the hall closet. Although in reality, they usually end up sitting on the kitchen counter or the dining room table during the week so the kids can quickly grab them and get to work.
→Did you seriously think you had skin cancer, and it was chocolate?
Ahem... It's not something I'm proud of. Can't we all just be thankful that it was chocolate?
Mastering Back to School Together
Back to school can be hectic, but it doesn't have to be hard!
With three kids in school, I've learned a few things along the way that help to simplify the entire back-to-school process, while also keeping me sane.
And I'm sharing them all with you!
Click here to see how I mastered back to school, and you can too!
Including:
The organizational systems we have in place
The routines we use (and how we remember them)
Why my kids haven't missed the bus in three years
How to have the best first day of school EVER
How to put an end to homework battles
How I get my kids talking (and talking and talking and talking) every day after school
How we manage busy sports seasons without going insane
The simple tech hack that EVERY parents needs to know
And so much more!
Plus you can see how I made this amazing command center that keeps me crazy organized - using supplies from the Dollar Store!
Pretty great, huh?!?
Click here to see the 18 things I'm doing to master back to school, and how you can do them too!
This post contains an affiliate link.