With three kids, I'm always looking for ways to simplify our lives. Especially when it comes to our crazy, hectic mornings.
Sometimes I feel like I've run a full marathon by the time I've gotten two kids on the bus and one kid dropped off to preschool - without anyone forgetting a library book or a lunch or... shoes.
(Don't even ask.)
So when my neighbor mentioned her "Get Ready Buckets," I insisted that she tell me more. And the more she told me, the more I knew that it could make a huge difference in our lives!
A Get Ready Bucket holds everything your child needs to get ready to leave the house. This might include toothbrush, toothpaste, hairbrush, lotion, sunscreen, etc.
After several weeks with our Get Ready Buckets, I'm happy to say that they have made a huge difference in our lives for a few reasons:
We're not overly particular about which bathroom our kids use as long as they don't miss the bus. The buckets have been a great way for the kids to stay portable and take their supplies to any available bathroom.
My daughter never brushes her hair in the bathroom, but every morning she would either need to kick someone out of the bathroom so she could grab her hair supplies - or we'd all be running around looking for them because they didn't get put away after the last use. Now, she just grabs her bucket and can do her hair wherever she wants.
My parents were in town last weekend, and they typically use the kids' bathroom when they stay with us. This time, my parents didn't have to deal with any kids barging in to brush their teeth or find their chapstick - because everything my kids needed was in their Get Ready Buckets.
How to Make Get Ready Buckets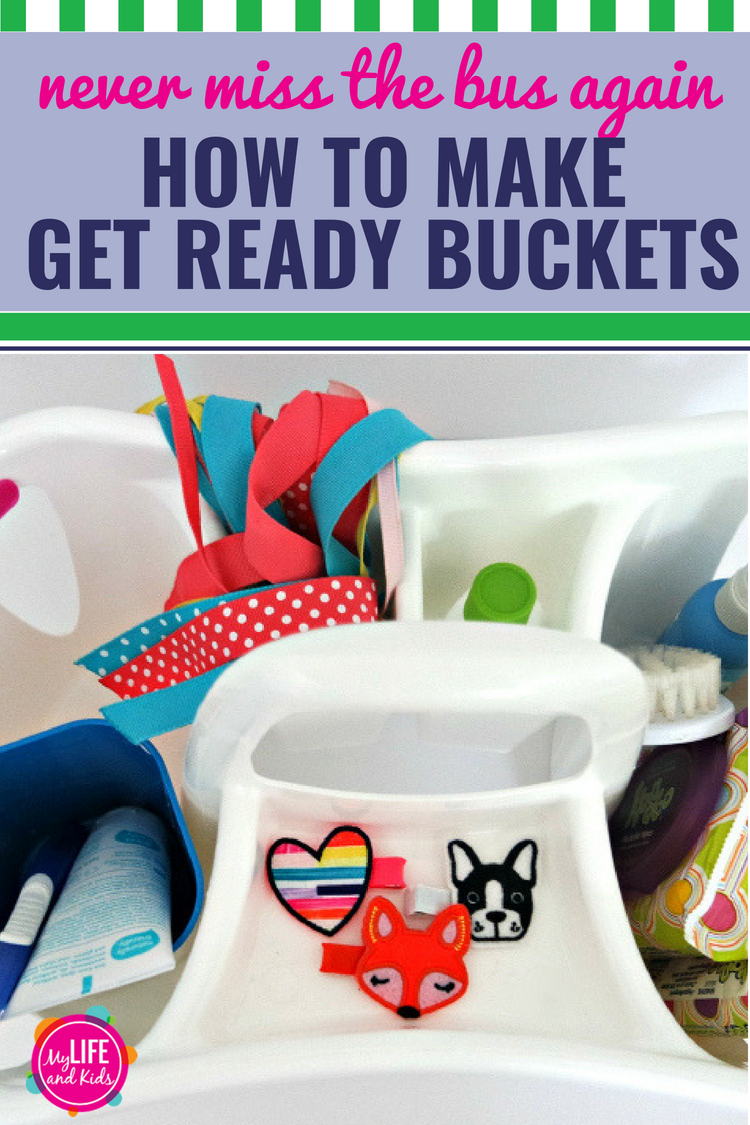 With the right supplies, Get Ready Buckets are very simple to create. First you'll need a shower caddy. You can pick these up pretty much anywhere these days. (Here's an example from Amazon.)
Once I had our caddies purchased, it was simply a matter of finding their current morning routine supplies. After what felt like hours, I did finally track down my daughter's hairbrush and hair ties.
Then, I created a Get Ready Bucket for each of my three kids, including everything they need to get ready in the morning.
Watch the video below to see how I did it. And then keep reading to see what each kid has in their basket.
Miles, age 8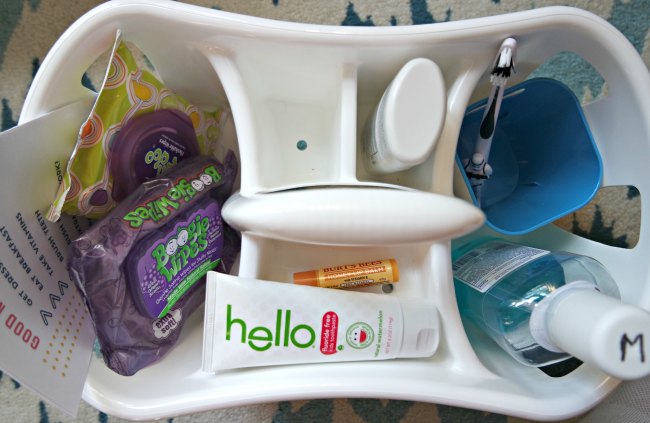 Miles's caddy includes the following:
Toothpaste
Toothbrush
Mouthwash
Deodorant (which he doesn't need but likes to pretend he needs)
Chapstick
Flushable wipes
Saline nose wipes (his allergies are terrible)
Good Morning Checklist (more on that later)
Miles says the kids' bathroom smells bad (he's pretty much right), so he's been taking his Get Ready Bucket to my bathroom to get ready each morning.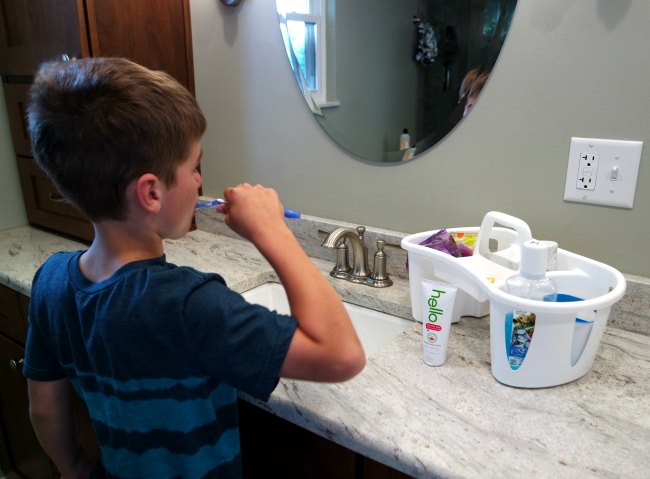 I have no problem with this as he's very good about putting everything back in his Get Ready Bucket and stashing it in his room before hopping on the bus.
Now that he's 11, he has a few more things in his Get Ready Bucket, including his hair gel and his favorite shower gel and loofah. Yes, we even let the kids play musical showers if they need to. Basically they're just getting ready for college (minus the shower shoes.)
Alice, age 7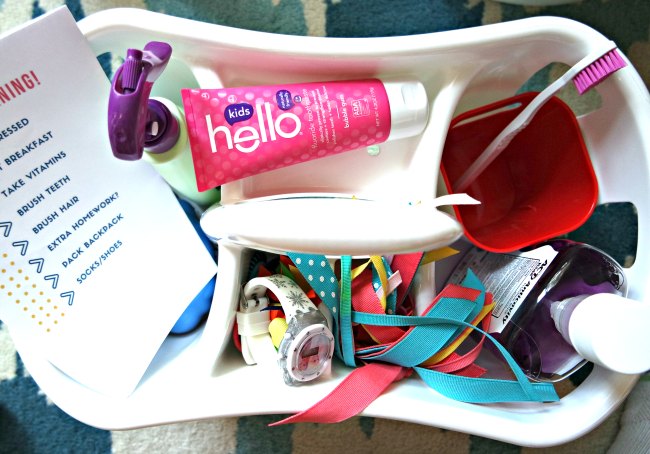 Being the only girl, Alice's caddy is packed a little fuller than the boys'. Hers includes:
Toothpaste
Toothbrush
Mouthwash
Watch
Hair Detangler
Hairbrush
Hair ties
Barrettes
Good Morning Checklist
I've been finding her brushing her hair in bed a lot lately.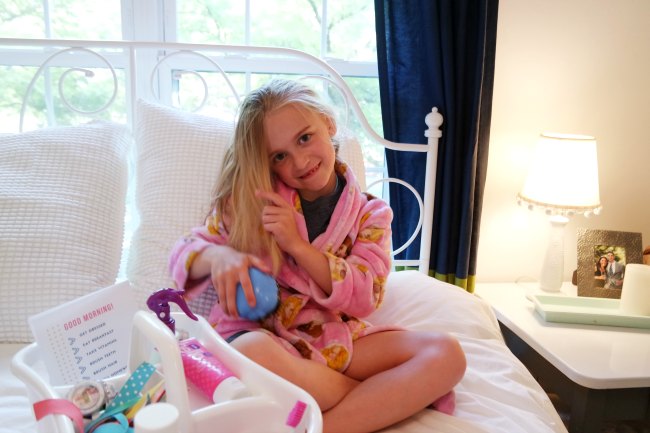 This is a huge change from when we would all be searching for her hairbrush two minutes before the bus was supposed to arrive, and I would inevitably have to scrape it into a pony tail while we ran down the driveway.
Now that she's older, there are a few more things in her caddy, but it hasn't changed too much.
Simon, age 5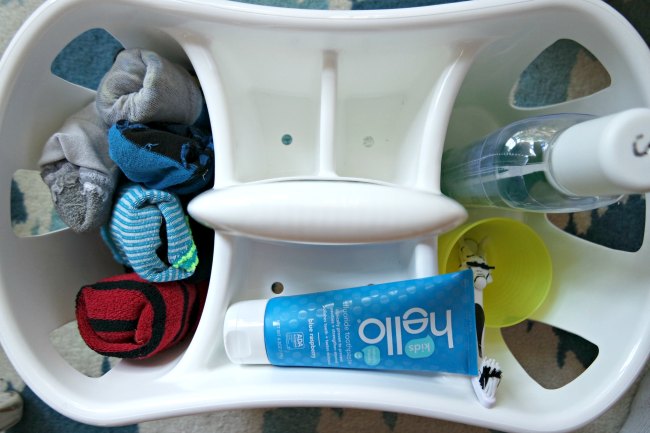 Simon doesn't require much "get ready stuff" yet , so I've been using the extra space in his caddy for something very important: SOCKS!
Since he doesn't like to be upstairs alone, now he can take his caddy into the powder room near the kitchen to brush his teeth before school.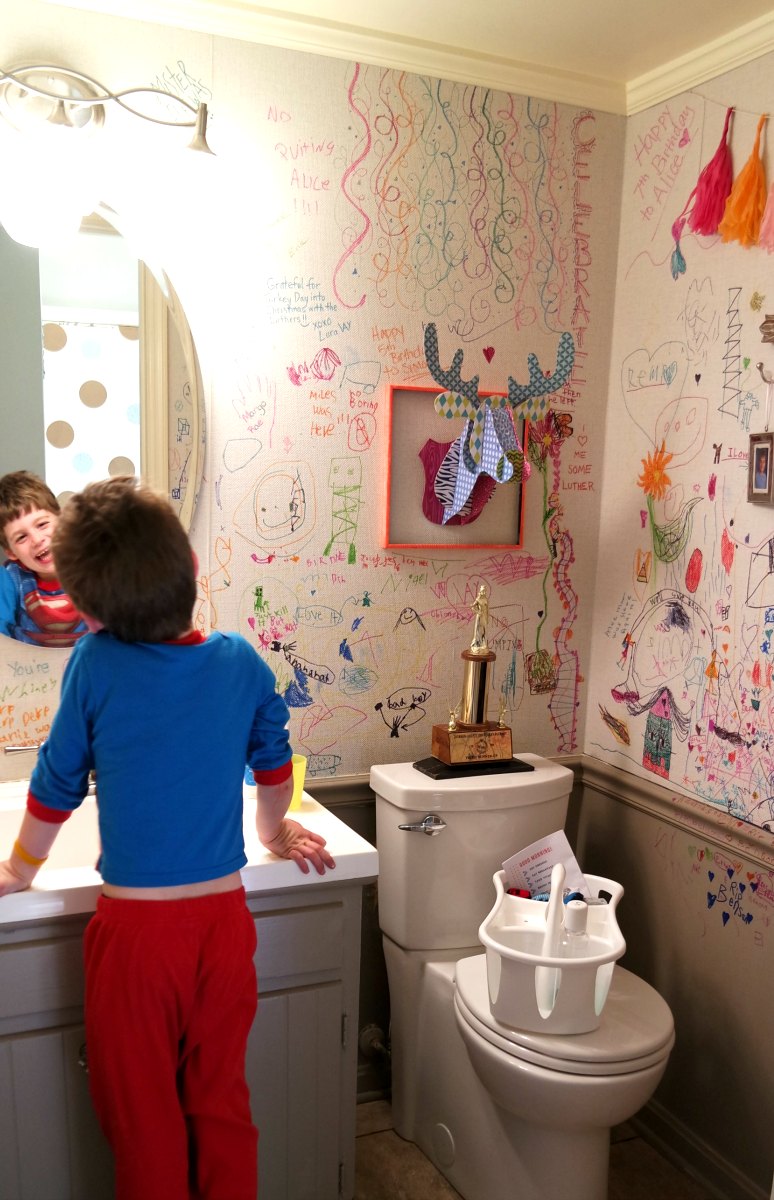 And now he can put his socks and shoes on near the door (without having to run upstairs alone to find socks.) We've almost been on time to school for this reason alone!
Simon is older now, but we still keep his caddy full of socks. And LOTS of hair gel. LOTS of hair gel.
Good Morning Checklist
I created a good morning checklist to keep in each Get Ready Bucket to help the kids remember everything they need to do before they leave the house.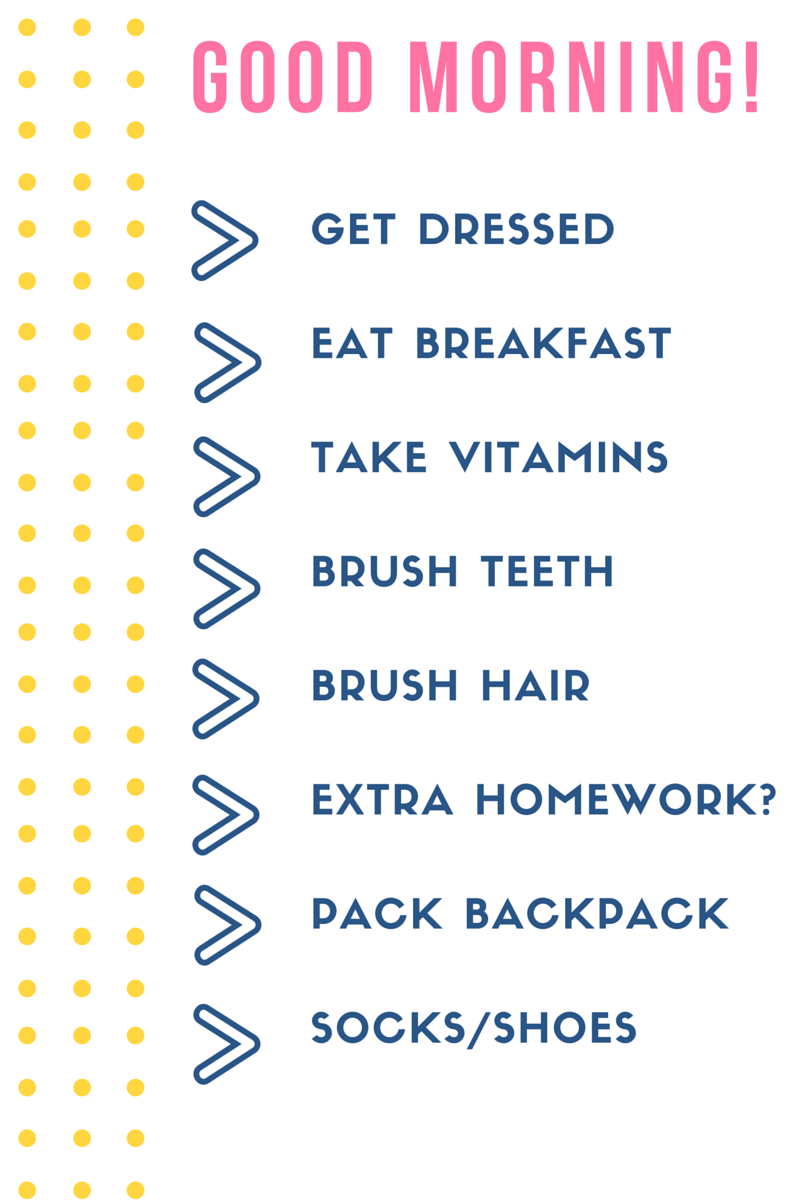 This has been especially helpful for Miles and Alice. I went ahead and laminated theirs, and they get to check off what they've done with a dry erase marker each morning.
Miles and I even had time to play a little basketball before the bus came last week because he was ready for school so much earlier than normal.
You can click here to download a free printable Good Morning Checklist.
In the past couple of years, we ditched the good morning checklist to use our routine cards instead. They're smaller, easier to transport, and they have all of their daily routines - for morning, afternoon, before bed, etc. Click here to learn more (they're SO easy to create!).
Mastering Back to School Together
Back to school can be hectic, but it doesn't have to be hard!
With three kids in school, I've learned a few things along the way that help to simplify the entire back-to-school process, while also keeping me sane.
And I'm sharing them all with you!
Click here to see how I mastered back to school, and you can too!
Including:
The organizational systems we have in place
The routines we use (and how we remember them)
Why my kids haven't missed the bus in three years
How to have the best first day of school EVER
How to put an end to homework battles
How I get my kids talking (and talking and talking and talking) every day after school
How we manage busy sports seasons without going insane
The simple tech hack that EVERY parents needs to know
And so much more!
Plus you can see how I made this amazing command center that keeps me crazy organized - using supplies from the Dollar Store!
Pretty great, huh?!?
Click here to see the 18 things I'm doing to master back to school, and how you can do them too!