I've mentioned in the past that my mom was an elementary school counselor for more than 30 years. Which meant I always had someone to talk to growing up.
It also means that I can remember going to the store on the way to school to buy underwear, socks and soap for some of her students.
I can remember kids coming to live with us for the weekend when something not so great was happening at their homes.
I can remember spending weekends buying winter hats, coats, boots and snow pants - stocking up my mom's office for the kids that would need gear to stay warm.
All of this was part of my life growing up, so when I read a few statistics about teachers, I shouldn't have been surprised.
But I was shocked.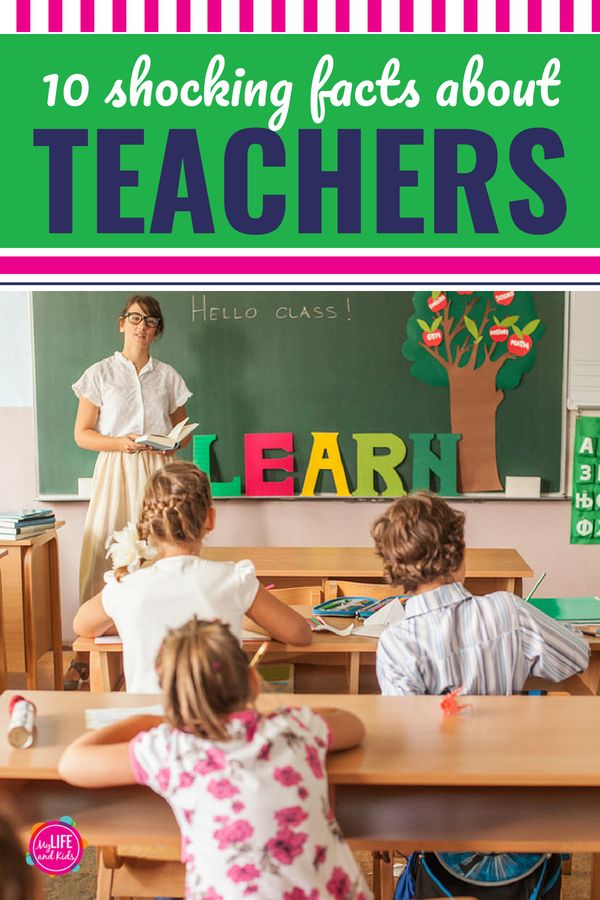 10 Shocking Facts about Teachers
Did you know that 9 out of 10 teachers have purchased school supplies for their students with their own money?
Did you know that over 15 million children in the US live in households that can't provide all the resources they need to succeed in school?
Did you know teachers spend an average of $13,000 of their own money over the course of their career - to buy school supplies for their classrooms?
Here are a few more stats that might surprise you...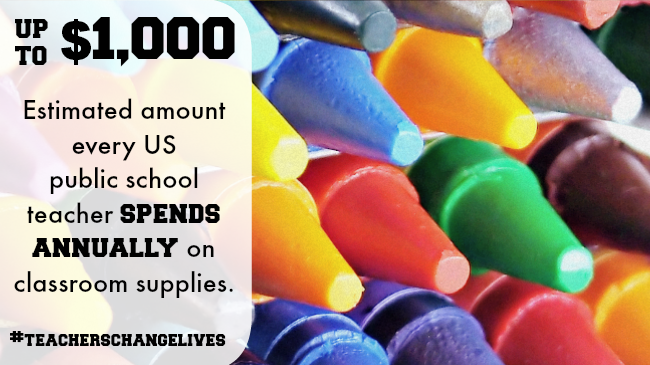 Up to $1,000: estimated amount that EVERY US public school teacher spends ANNUALLY on classroom supplies.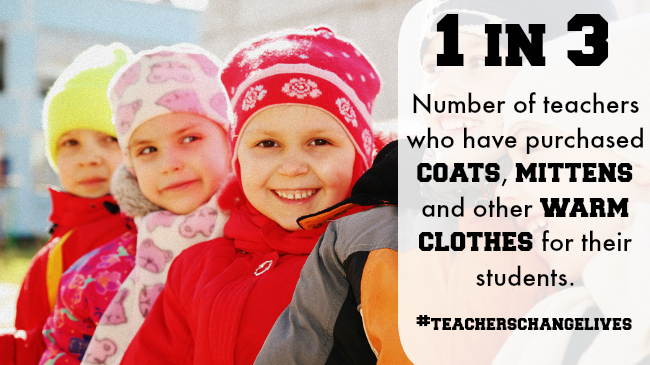 One in Three: Number of teachers who have purchased coats, mittens and other warm clothes for their students.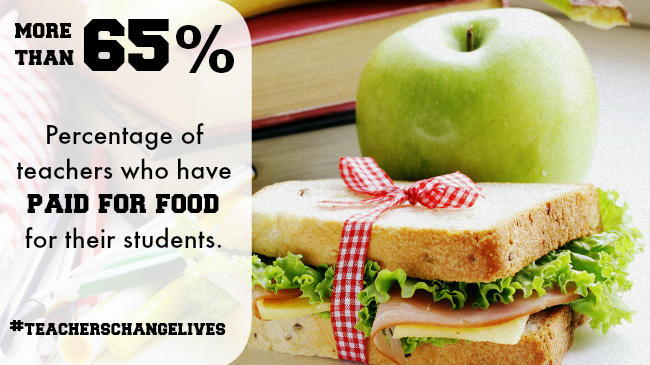 More than 65%: Percentage of teachers who have paid for food for their students.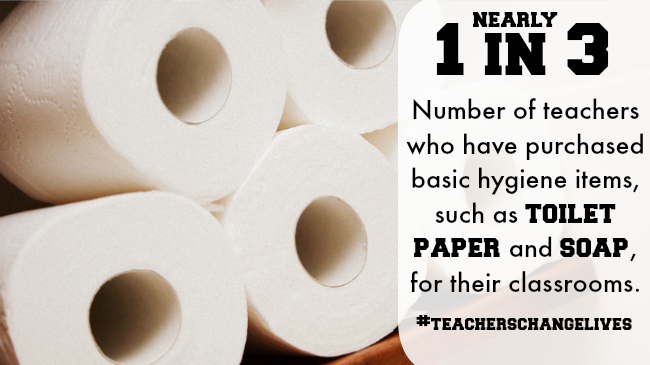 One in Three: Number of teachers who have purchased basic hygiene items such as toilet paper and soap for their classrooms.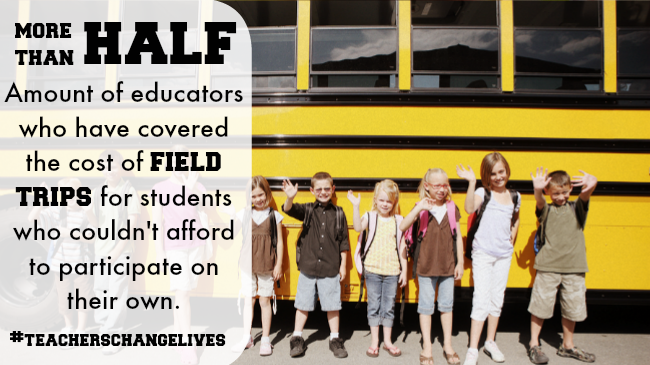 More than Half: Amount of educators who have covered the cost of field trips for students who couldn't afford to participate on their own.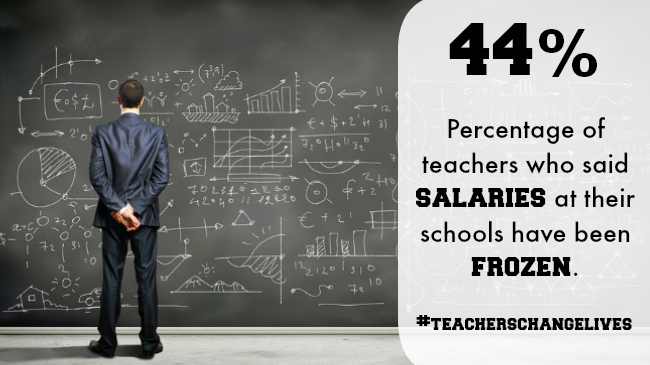 44%: Percentage of teachers who said salaries at their schools have been frozen.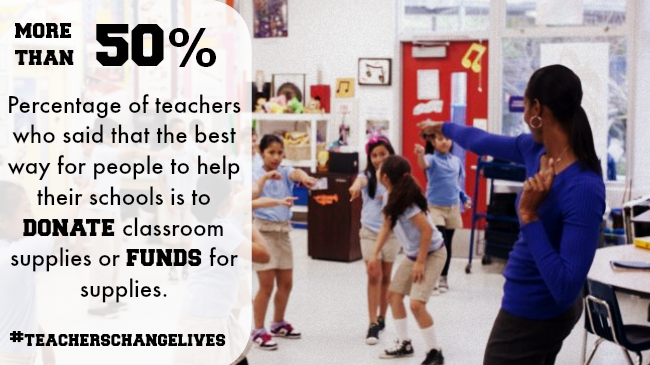 More than 50%: Percentage of teachers who said that the best way for people to help their schools is to donate classroom supplies or funds for supplies.
Did these statistics shock you? Are you a teacher? Did you have a teacher help you out when you were growing up?
If you're looking for a few ways to help the special teachers in your lives, be sure to ask them what they need to make their students' lives better.
Click here for a few teacher gift ideas to thank a special teacher in your life.
Mastering Back to School Together
Back to school can be hectic, but it doesn't have to be hard!
With three kids in school, I've learned a few things along the way that help to simplify the entire back-to-school process, while also keeping me sane.
And I'm sharing them all with you!
Click here to see how I mastered back to school, and you can too!
Including:
The organizational systems we have in place
The routines we use (and how we remember them)
Why my kids haven't missed the bus in three years
How to have the best first day of school EVER
How to put an end to homework battles
How I get my kids talking (and talking and talking and talking) every day after school
How we manage busy sports seasons without going insane
The simple tech hack that EVERY parents needs to know
And so much more!
Plus you can see how I made this amazing command center that keeps me crazy organized - using supplies from the Dollar Store!
Pretty great, huh?!?
Click here to see the 18 things I'm doing to master back to school, and how you can do them too!