Back to School
Free First Day of School Signs
By |
These free first day of school signs make pictures a breeze as the school year starts. I hate looking at old pictures and trying to remember what grade everyone was going into based on their clothes (or the date on the back of the pic). I've rounded up the best back-to-school free printables (and my favorite About Me Printable) so that you never have to try to guess what year it was or what grade your kids were going into. From kindergarten to senior year, simply download, print and head back to school.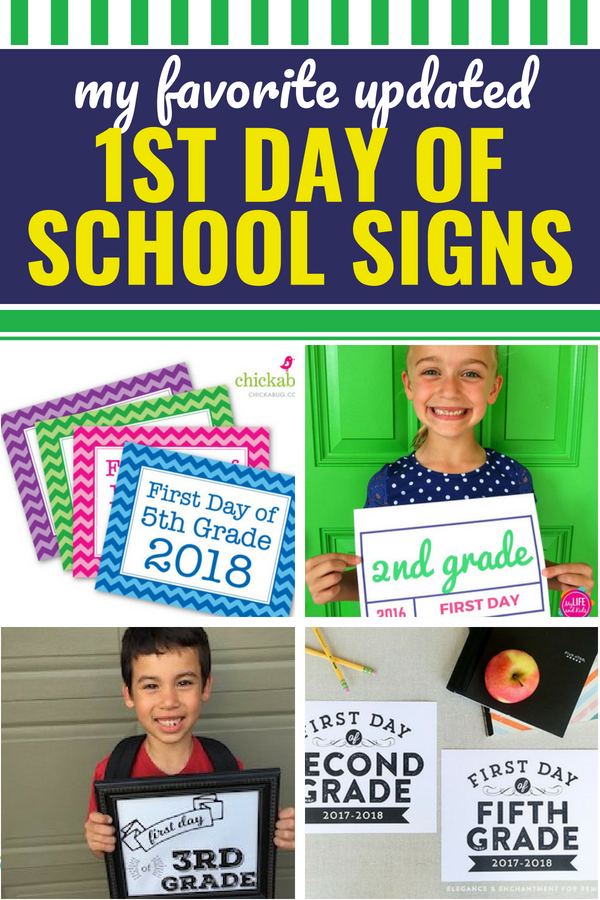 FREE FIRST DAY OF SCHOOL SIGNS
If you're anything like me, you are rushing around like a crazy woman on the first day of school. No matter how much I try to tell myself that I'm going to be organized, there's always something that I forgot to prep the night before. Last year, it was the signs for the pictures.
Don't be like me.
Choose your favorite design from the round up below, and print them NOW. And then save this post so that you can come back to it at the end of the year to print the last day of school signs – because that is adorable.
My Life and Kids
Naturally I hope you like my signs the best. You can see them with my daughter below, and then click here to grab the updated set for the 2019-2020 school year.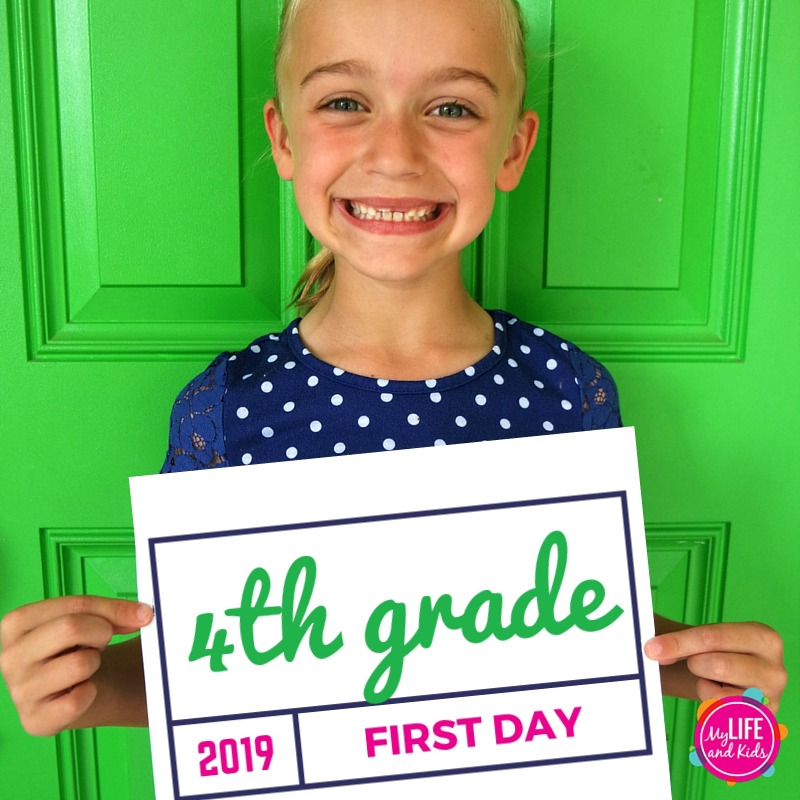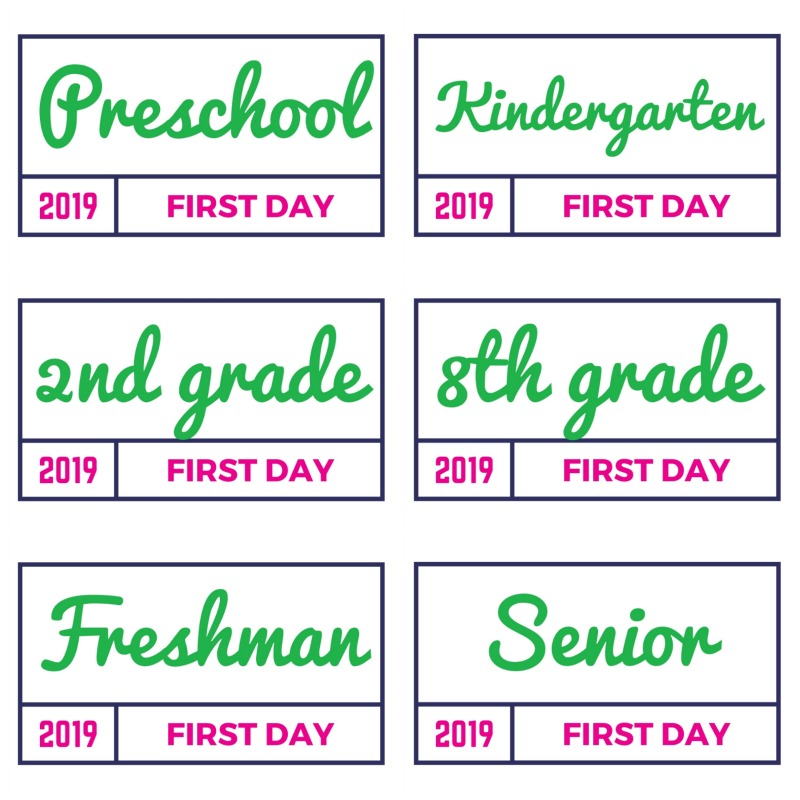 Click here to download the 2019/2020 school year signs.
Click here to download the LAST DAY OF SCHOOL signs for 2020.
Looking for more great options for Back-to-School Signs?
It's okay. My style isn't for everyone. Luckily, there are a gazillion more great options for free first-day-of-school signs.
Paper Trail Design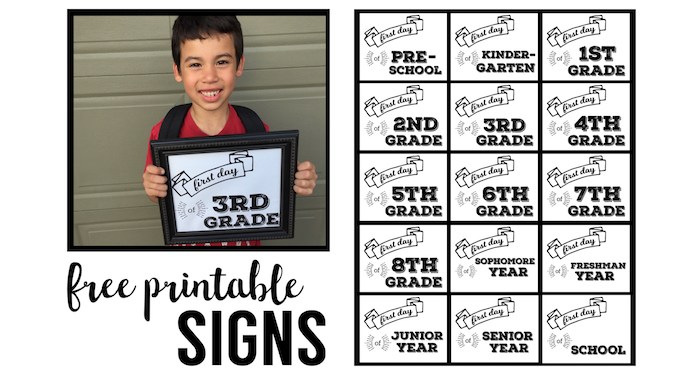 Click here to download these first day of school signs.
Remodelaholic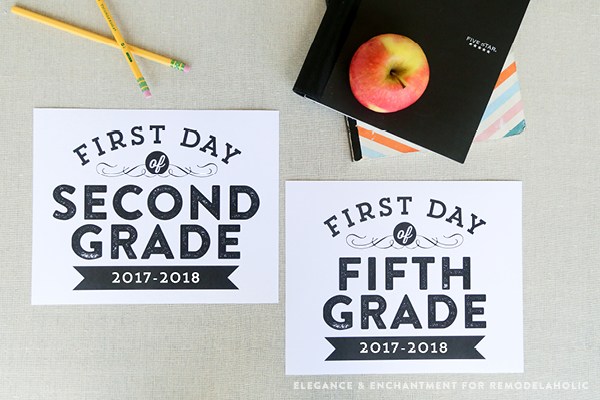 These have not been updated yet, but if you scroll to the bottom of her post, she walks you through how to download a set and customize them with your own date. How great is that?
Click here for all the details on how to update these and download them for free.
Happiness is Homemade
Looking for an All About Me Printable?
If you're looking for an All About Me printable for the first day of school, these are my favorite.
And of course, they're free to download!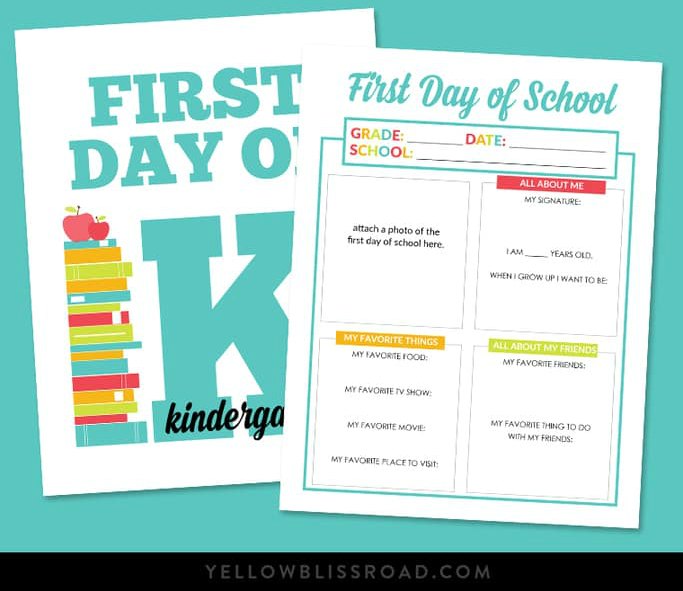 Mastering Back to School Together
Back to school can be hectic, but it doesn't have to be hard!
With three kids in school, I've learned a few things along the way that help to simplify the entire back-to-school process, while also keeping me sane.
And I'm sharing them all with you!
Click here to see how I mastered back to school, and you can too!
Including:
The organizational systems we have in place
The routines we use (and how we remember them)
Why my kids haven't missed the bus in three years
How to have the best first day of school EVER
How to put an end to homework battles
How I get my kids talking (and talking and talking and talking) every day after school
How we manage busy sports seasons without going insane
The simple tech hack that EVERY parents needs to know
And so much more!
Plus you can see how I made this amazing command center that keeps me crazy organized – using supplies from the Dollar Store!
Pretty great, huh?!?
Click here to see the 18 things I'm doing to master back to school, and how you can do them too!