Back to School
School Supplies Your Kids Will Love
By |
My favorite part about back to school is definitely shopping for school supplies. The fun colors, the smell of the paper, the gazillions of ways to get organized…
Yes, it's possible that I have a problem.
I see back to school as a sort of "new year" for our family, and school supplies always fill me with hope and optimism for great routines, fun experiences and a wonderful year.
It can also be a great way to get kids a little more excited to head back to school…
So the kids and I have pulled together some of our favorite supplies for heading back to school.
Cool School Supplies for Cool Kids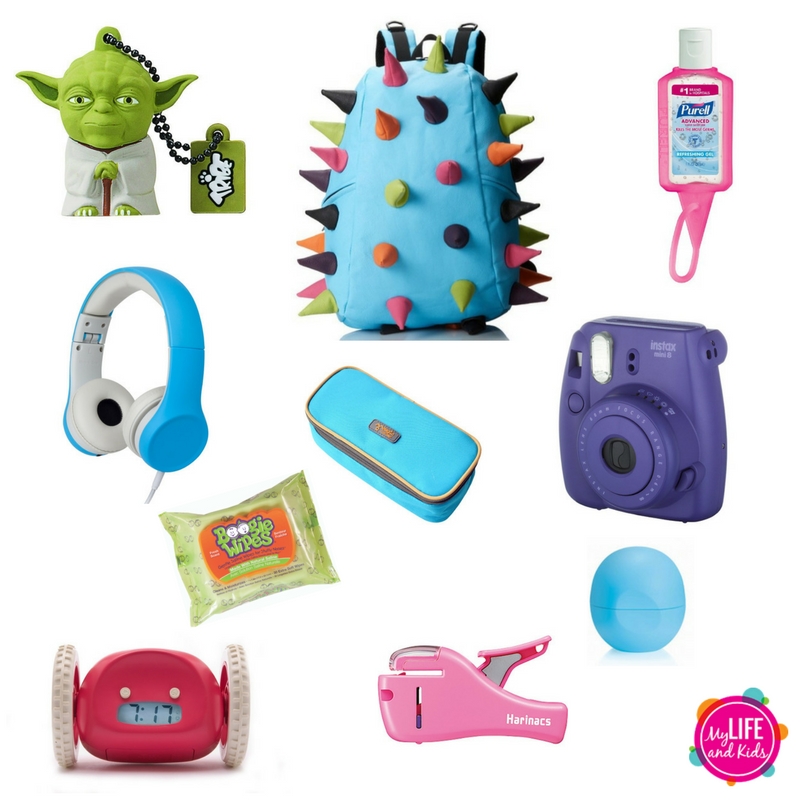 Star Wars, Yoda, 8 GB USB Memory Stick Flash Pen Drive – How cute is this little guy?
Madpax Backpack – Your kids will be toting their supplies in style with this backpack!
Purell Jelly Wrap Travel Size Hand Sanitizer – keep the germs away with this handy travel size to clip onto a backpack or lunchbox.
Snug Play+ Kids Headphones Volume Limiting and Audio Sharing Port – what's not to love?!?
1 X Cool Pencil Case by Color Love Pencil Case – enough said!
Fujifilm Instax Mini 8 Instant Camera – our house is officially obsessed with this camera.
Boogie Wipes – These natural saline wipes are exactly what my kids need to soothe sore noses during cold and flu season.
EOS Organic Lip Balm – My kids can't get enough (and I can't either.)
Clocky Alarm Clock on Wheels – never be late for school again with Clocky.
Kokuyo Harinacs Japanese Stapleless Stapler – pretty much the coolest stapler ever. No staples needed.
Cool Lunch Supplies for Cool Kids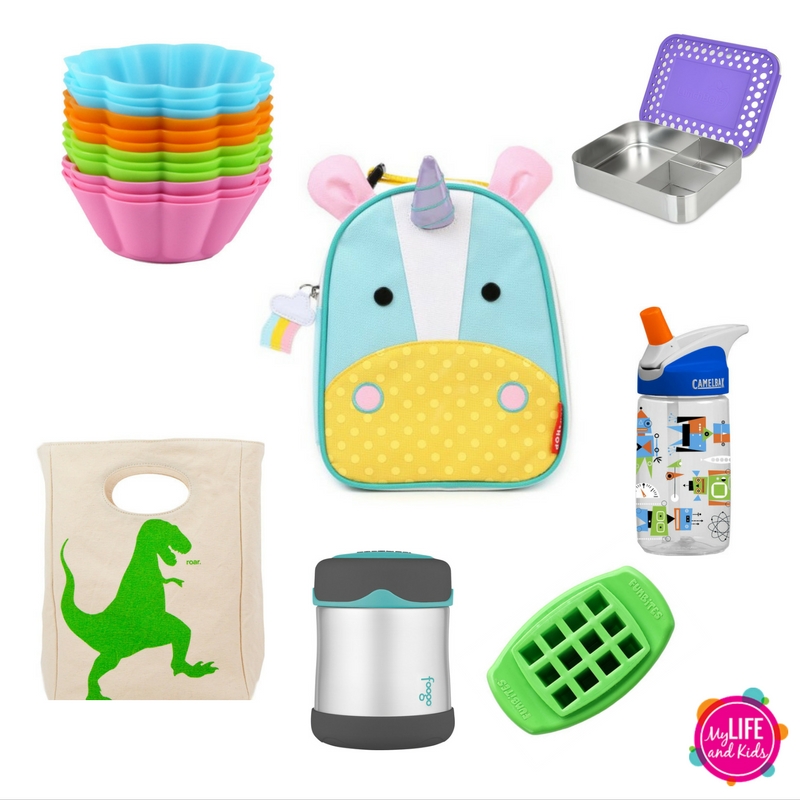 Bakerpan Silicone Cupcake Holders – a fun way to keep food separated in lunchboxes.
Skip Hop Zoo Lunchie Insulated Lunch Bag – seriously adorable!
CamelBak eddy Kids .4L Water Bottle – my kids love their CamelBak water bottles.
LunchBots Bento Trio LARGE All Stainless 3 Section Food Container – the ultimate in bento style.
Fluf Organic Cotton Lunch Bag – RAWR!
THERMOS FOOGO Vacuum Insulated Stainless Steel 10-Ounce Food Jar – Pack soup, oatmeal and even hotdogs for lunch with your Foogo.
FunBites Shaped Food Cutter – this is just the most awesome food cutter ever. Use it on fruit or sandwiches.
And be sure to click here to see how my kids pack their OWN lunches every week. It's life changing!
Mastering Back to School Together
Back to school can be hectic, but it doesn't have to be hard!
With three kids in school, I've learned a few things along the way that help to simplify the entire back-to-school process, while also keeping me sane.
And I'm sharing them all with you!
Click here to see how I mastered back to school, and you can too!
Including:
The organizational systems we have in place
The routines we use (and how we remember them)
Why my kids haven't missed the bus in three years
How to have the best first day of school EVER
How to put an end to homework battles
How I get my kids talking (and talking and talking and talking) every day after school
How we manage busy sports seasons without going insane
The simple tech hack that EVERY parents needs to know
And so much more!
Plus you can see how I made this amazing command center that keeps me crazy organized – using supplies from the Dollar Store!
Pretty great, huh?!?
Click here to see the 18 things I'm doing to master back to school, and how you can do them too!
Pin It!

This post contains affiliate links.