If you're here, then you've probably already read this post. If you haven't, go read it. I'll wait.
28 Things That Women Should NEVER (Ever) Do In February.
Okay - so we've established that February sucks.
February is a liar.
February is going to tell you that you are the worst. You are a terrible parent, and your clothes are ugly, and you should get a divorce and possibly rage drive your car into another car.
Do not do those things.
We are going to get through February together, and we are going to bookmark this page and come back to it every single February so that we are not caught off guard again. Okay?
Okay!
So grab your February accountability friend, print out this list, and get to work. We can survive and thrive in February and make it to March fully intact.
Right?
Right!
28 Things That Every Woman Should Do in February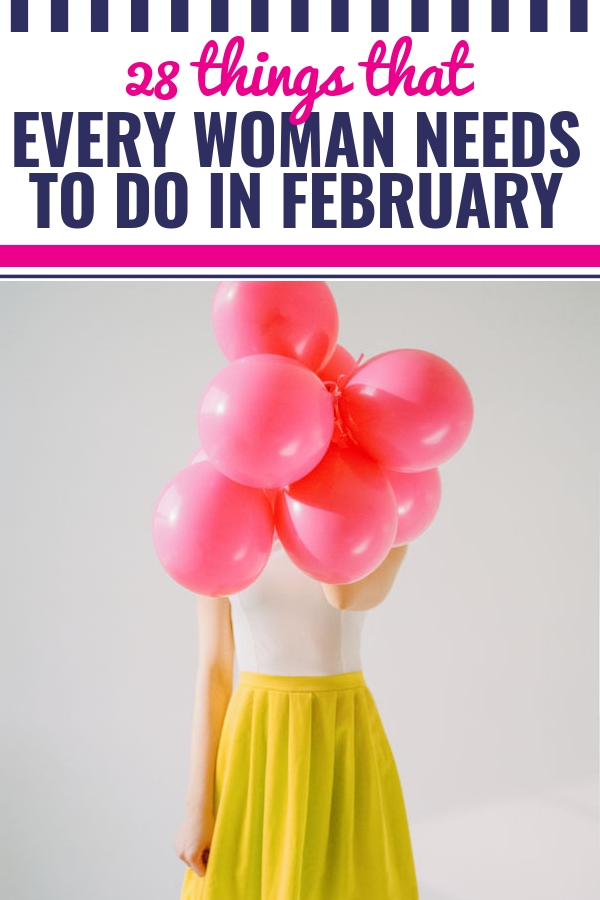 Start a new workout plan. You probably already failed your New Year's resolutions, now is the time to re-commit. Do something 3-4x per week. If you're looking for something that you might actually ENJOY, I cannot say enough good things about Tribe Fitness. This is NOT sponsored, but I hate exercise, and I have consistently worked out with Damien 5 days a week for over a year. You can take all the classes at home, and your first week is free! Click here to learn more.
Take your vitamins - especially Vitamin D. I'm serious. It will help you. Do it every day. This is what I take.
Listen to happy music whenever possible. (Here are 50 happy songs that will help pull you out of your February Funk.)
Start using your happy light. If you don't have one, get one. It helps - especially if you use it daily. This is the one I use.
Get up every morning, get dressed, and pretend that you're going to leave the house even if you aren't. Don't let February keep you in your pajamas all day. She doesn't get to make those decisions for you.
Start a gratitude journal. I know, gag me. But February demands drastic measures. Every day write down three things that you're grateful for - even if one of those things is that you're now one day closer to March.
Start a family game night once a week. We've been playing Exploding Kittens, and it's fun.
Make your husband's day - at least three times this month. (I'm talking about THIS - not that.) Ahem.
Treat ourself to a new outfit if it's in your budget. (Here are some of my favorite Amazon clothes for under $30.)
Treat your face to this. It's dreamy.
While you're at it, treat your back to this. It is also dreamy.
Try yoga. I'm not going to try yoga, but you should.
Go shopping at Trader Joe's and try something new. I mean, seriously. Is Trader Joe's not one of the most amazing places on Earth (once you get past the parking lot)?
Try to eat clean(er). It's only 28 days, we can eat clean for 28 days right? Here are some of my favorite clean eating recipes for beginners.
Join my amazing Facebook Group, My Life and Balance. We're holding each other accountable for things like making a weekly meal plan, drinking more water and getting outside. Plus my amazing yoga instructor sister-in-law does free stretch sessions every Tuesday. Click here to join.
Set a goal to accomplish something in these 28 days. That might be just not going all FEBRUARY on someone - but it could also be something like improving your photography skills or learning how to play the harmonica.
Take your kids skiing. Or even better, have someone else take your kids skiing while you stay home where it is warm. (Here are some tips on taking your kids skiing.)
Host a virtual Favorite Things party. (Here's how they work.)
Get in a sauna or somewhere WARM. Stay there for as long as possible. Maybe even the rest of February.
Find an amazing therapist. Talk. Continue going after February is over if you need to.
Detox from television. OR binge watch a new show. Do whichever feels right.
Set up a coffee or lunch date with a friend once a week. If you can't sit outside, then plan to do it virtually. Schedule it now.
Try these tips to get your energy back. They work.
Try to spend 30 minutes outside every single day. Even if it's cold or raining. Even if you just sit in a chair under a blanket and watch Tik Tok.
Perform a random act of kindness. Bonus if you do this with your kids.
Play hooky for a day (if you can). Or at least for part  of your day - even if it's just taking a break from making kids' lunches.
Schedule a date night. Even if that means that you put the kids to bed early and sit in the basement with your significant other. (It's amazing how low my standards have become for date night over the past year.)
Work with a life coach. (This is who I recommend. She's amazing!)
WE WILL SURVIVE FEBRUARY TOGETHER!
This post contains affiliate links.