Laughs
I forgot to feed my son breakfast
By |
I will be the first to admit that our mornings are a little hectic around here.
Somehow, back in the days of me working full-time, I managed to get myself up and dressed, get two toddlers up and dressed – and we would all be buckled into the car and heading for daycare and work no later than 7 am every single morning.
Pretty sure I even managed to shower on those mornings.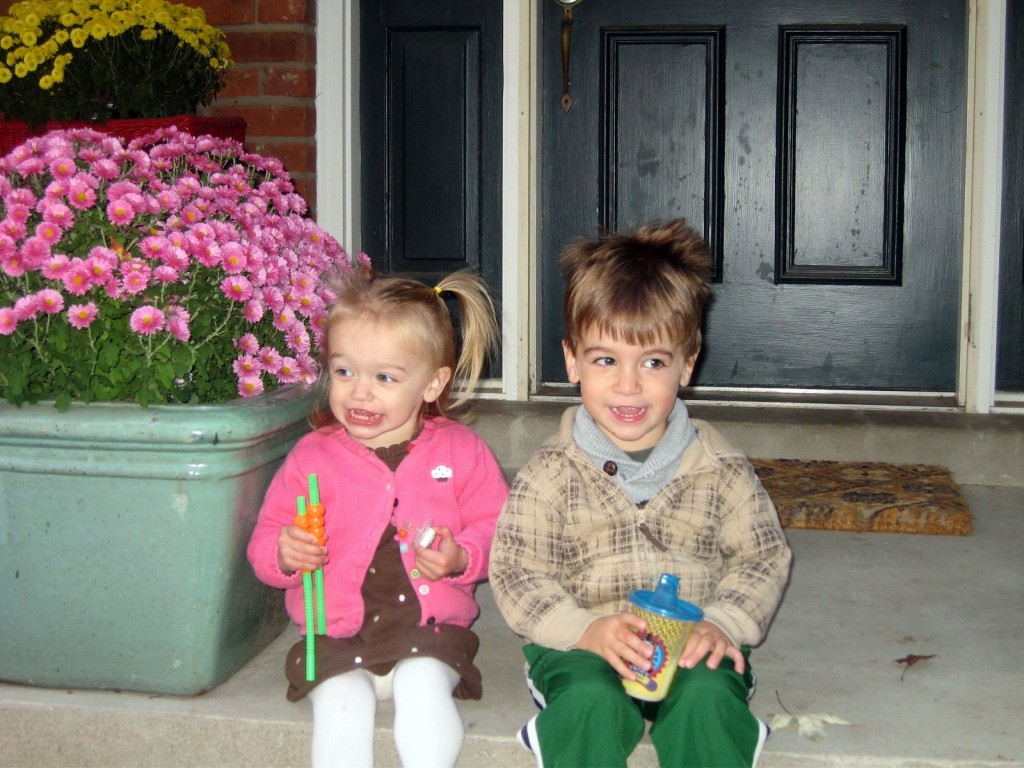 (This was their last day of daycare. Could they have been any cuter?)
I no longer work outside of the home, and I have one kid to get on the bus and another kid to drop off at preschool and another one who is an all-star at making messes – but I don't have to shower or look decent or do much of anything in the mornings really. Yet things are more chaotic now than ever.
Someone always wants to start a "project" before 7 am.
"I'm just going to need some string, an empty egg carton, a toilet paper holder and some scissors. Okay, mom? Can you get that for me? RIGHT NOW?"
And someone always needs socks.
Or pants.
Or help getting the toothpaste opened.
And at least one morning every week I have a fairly important conversation with one of my kids. Last week's conversation went something like this:
Miles (age 6): Mom – do we have the same skin?
Me: Yup. We sure do.
Miles: But – just the same color, right? Not the same texture.
Me: We have the same skin, buddy.
Miles: But – my forehead feels really smooth. And your forehead (feels my forehead) is really bumpy.
Me:
Miles: And it has all those lines on it.
One…
two…
three…
four…
five…
six…
It's just really hard to count them all because they're so close together.
Me:
Miles: It's a lot like the rings of a tree. You know how when you cut a tree down, you can count the rings to see how old the tree is? It's like that with the lines on your forehead.
Yes – conversations like that take up a large part of my mornings.
But somehow, despite all of the crazy and the chaos, we have yet to miss the bus. Score!
I have yet to drop my daughter off at preschool more than 15 minutes late. Okay, 20…
And the 3 year old gets out of his pajamas and dressed at least twice a week. Double score!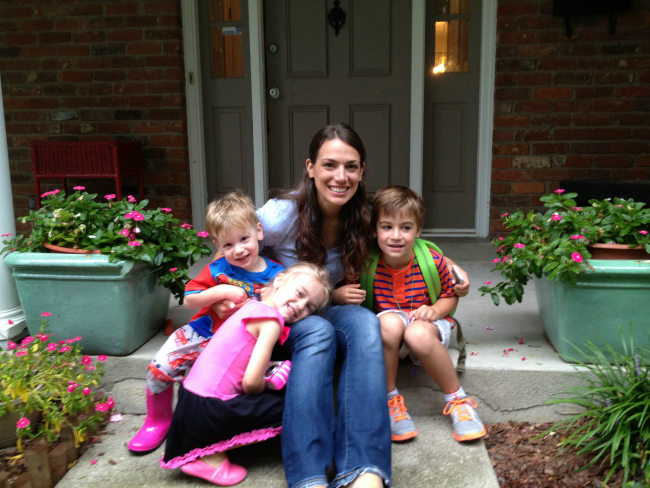 In fact, I'm not going to lie. I was starting to feel a little cocky last week. I was pretty much feeling like I had this mom thing totally figured out.
Did I have wrinkles on my forehead resembling a dead tree's rings? Yes.
Did my 3-year-old ask me why he had to wear his pajamas all day? Possibly.
But were my kids fed, happy and healthy? Yes.
Boom – I was winning.

And then my kindergartner got off the bus last week and said,
"Mom – you forgot to feed me breakfast this morning."
BANG CRASH SMASHHHHHHHH
That was the sound of my Mother of the Year award shattering into a million pieces on our driveway.
Me: What? I didn't feed you breakfast?
Him: Nope. You forgot.
Me: Did dad feed you breakfast?
Him: No. He said you would.
Me: Did you ask me for breakfast?
Him: No – but I thought you were making it for me, but then you ate it yourself.
Which I did recall eating a bowl of cereal much earlier in the morning than usual…
So – yes – I'm the mom that sent her sweet little kindergartner to school without breakfast.
That would be me.
But here's the great news – I'm not alone! No – I'm not.
In fact, in a recent survey conducted by Eggo, it was found that a whopping 37% of moms would use the term traveling circus to describe their morning routine. And 22% compared their mornings to a fire drill in a movie theater.**
Yup – sounds about right.
And it's almost like my son's school reported me to the official "Eggo Office" for neglecting to feed my child breakfast, because the very next day I received an email from them asking if I'd like to try their brand new Eggo Bites™.
Ummm… YES, PLEASE!
Eggo Bites™ are the new favorite breakfast meal around here – and I'm quite confident that I'll never forget to feed my kids again. These portable pouches are microwaveable and filled with bite-sized, flavored waffles or French Toast Bites.
It's safe to say that my kids are 100% obsessed.
And so am I. Not only are my kids getting a hot breakfast every single morning, we now have way more time for projects before school. And important discussions – that hopefully have nothing to do with my forehead wrinkles.
In fact, yesterday my kids ate breakfast twice.
And I still had time to glue my Mother of the Year award back together before the bus came.
Trust me when I tell you you're going to want to try the new Eggo Bites!
Visit www.leggomyeggo.com or www.facebook.com/Eggo for more information on the new Eggo Bites™ and other food offerings from Eggo.
**Survey results courtesy of Impulse Research Corp, Eggo Bites Survey 2014
This is a sponsored post. All opinions are my own.