Kids Activities
Taking the Kids Skiing? The Gear to Buy and to Rent
By |
We've been skiing with our kids for about three years now, and they love it.
I should probably pause here and say that MY HUSBAND has been skiing with our kids for three years now, and THEY all love it.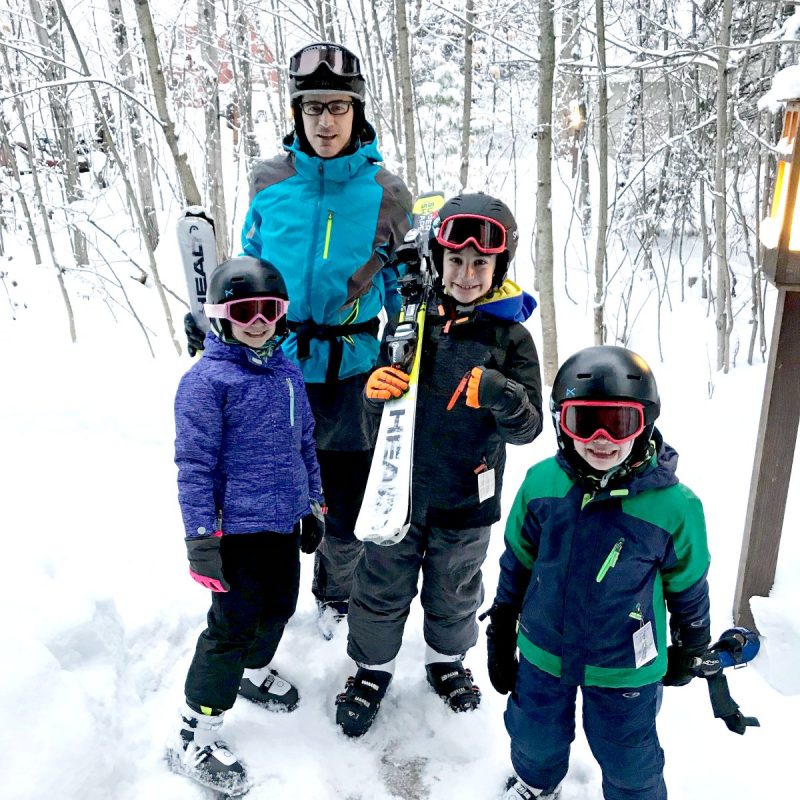 I have tried skiing, and I've found that it's not really my favorite activity, but every now and then I'll head out with them.
As someone who didn't grow up downhill skiing, I was really surprised (and overwhelmed) with the gear that skiing requires. So I'm sharing what I've learned with you.

Whether you're heading to your local slopes or hopping on a plane out west, this is a list of the gear you'll want to buy and what you'll want to rent.
Ski Gear to Buy – Clothing
The first time we went downhill skiing, I bundled the kids up like little snowmen. Turns out, that's not really the plan. Unless the temperatures are miserable, the kids will work up a sweat while skiing, and you don't want them to get overheated.
No multiple socks, turtlenecks and five pair of pants.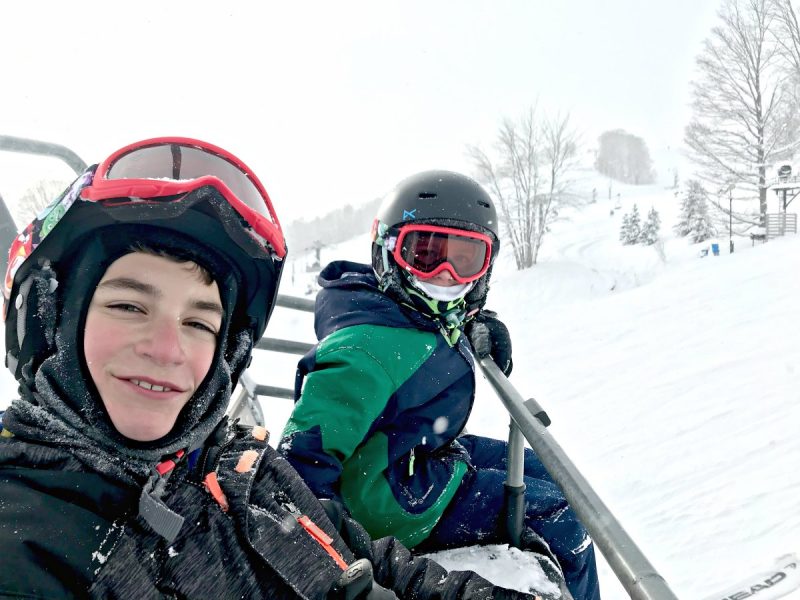 Now, the kids wear a pair of long underwear, a pair of comfortable pants (not jeans) and a sweatshirt. Growing up in Michigan, I felt so under-dressed wearing this the first time I went skiing. But I found that my husband was right for once, and I was the perfect temperature.
⇒This is the long underwear we buy.
We also invested in a pair of wool ski socks for each kid. They have special padding in the shin so that ski boots are a little more comfortable, and they're wool so they stay dry and don't stink – even when you wear them five days in a row.
⇒These are the socks that our kids wear.
Ski Gear to Buy – Outerwear
On the outside, you'll want a pair of snowpants, and a nice winter jacket. We buy ours at Target. The main things you want to look for are coats that are waterproof and windproof – which is fairly standard.
When you're picking out snowpants, make sure that they're big enough. Your kids will need to be able to easily bend their knees. It's possible that I learned this one the hard way. Ahem…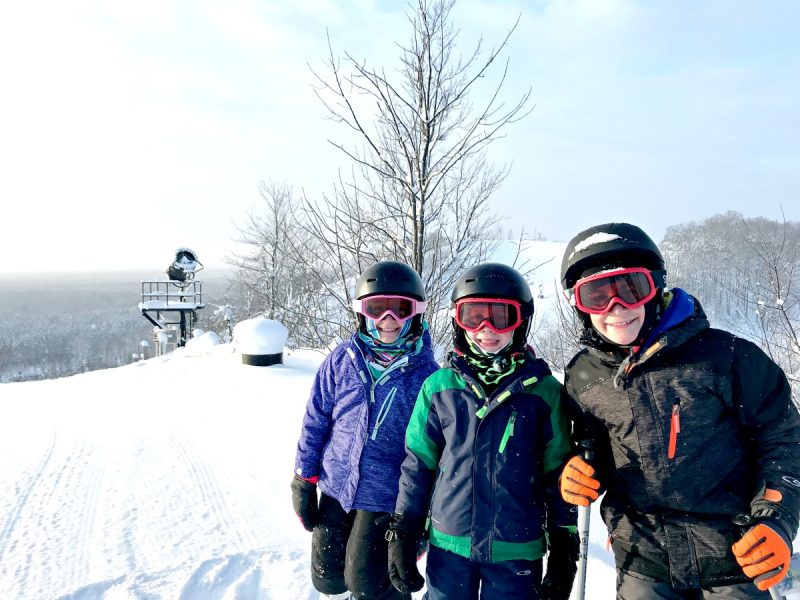 Mittens and Gloves
You'll also want a pair of warm gloves or mittens that are waterproof. Mittens will keep their hands warmer, but once they graduate to using poles, it's not as easy to hang on. (Yes, that was something else that surprised me. Kids don't use poles when they're starting to ski.)
Balaclavas or Gaiters
These are way better than scarves because they can be worn over their entire head and their face if needed. They help protect the kids' faces from the wind while also warming the air before it hits their nose.
Our kids aren't the best with keeping track of their winter gear, so we keep their balaclavas in a bin in the basement, and they only come out when we go skiing.
⇒Our kids wear these balaclavas.
Goggles
Yes – they need goggles. This will keep the snow out of their eyes while also providing some sun protection. And trust me – life on the mountain is just easier with goggles.
⇒These are the goggles that our kids wear.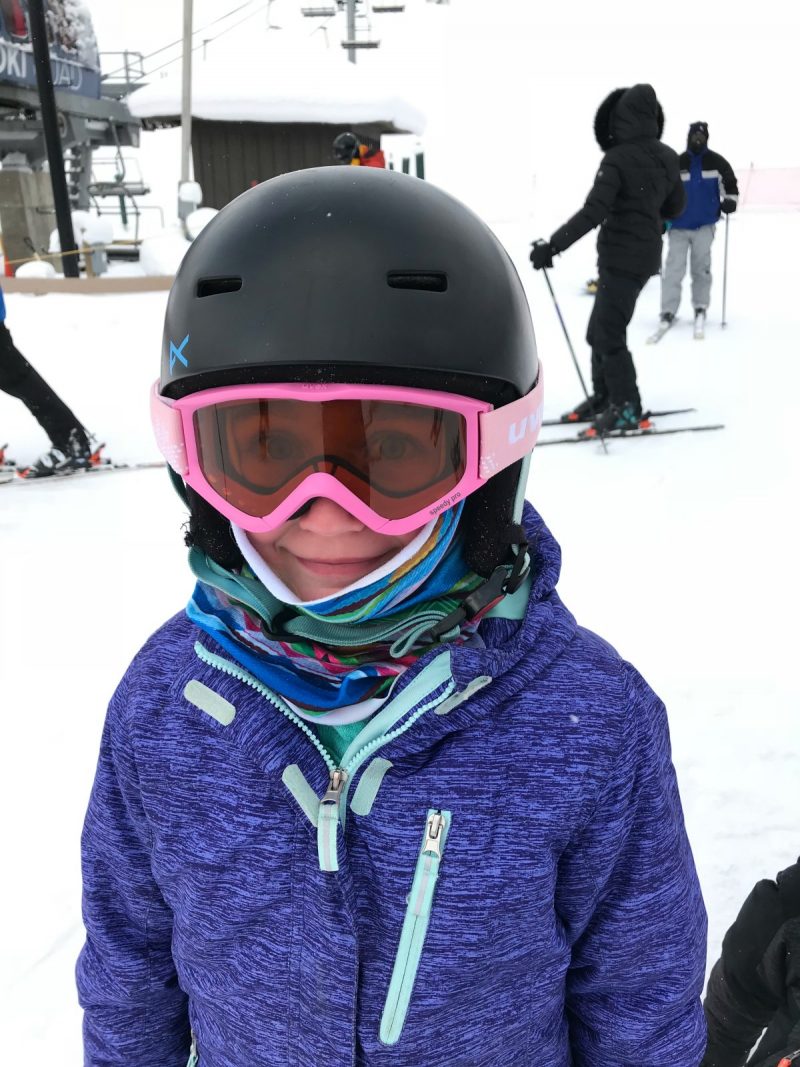 Ski Gear – Little Things to Buy
After spending so much on gear, I really thought that enough was enough. But these two items have been lifesavers on the slopes.
Dermatone – load up on this and smear it on your kids' faces before they zoom down the slopes. This will protect from windburn, frostbite and sunburn, and it really makes a huge difference.
Hand Warmers – These hand warmers can be the difference between a kid wanting to ski for 7 straight hours and a kid whining after 2 hours because their hands are so cold. Open a new pair each day, and slide them into their gloves or mittens.
⇒Grab your Hand Warmers here on Amazon.
Ski Gear to Rent
Ski boots and Skis – you'll want to rent these until your kids are fully grown. Check with the mountain to see if they have any deals on ski rentals for kids. Oftentimes kids under 6 are free or lift passes for kids are discounted if you're also renting.
Helmets – these are non-negotiable. I don't think I saw a single person skiing without a helmet during our last trip – especially kids. Not only do they protect those noggins, they keep heads warm and help to keep on those goggles. This is another item that you should rent until your kids are full grown.
As long as you plan to rent your heavy equipment, a small(ish) investment in other gear could have your kids loving downhill skiing as much as you do.
Or as much as your husband does.
The Complete List of Gear and Where to Buy It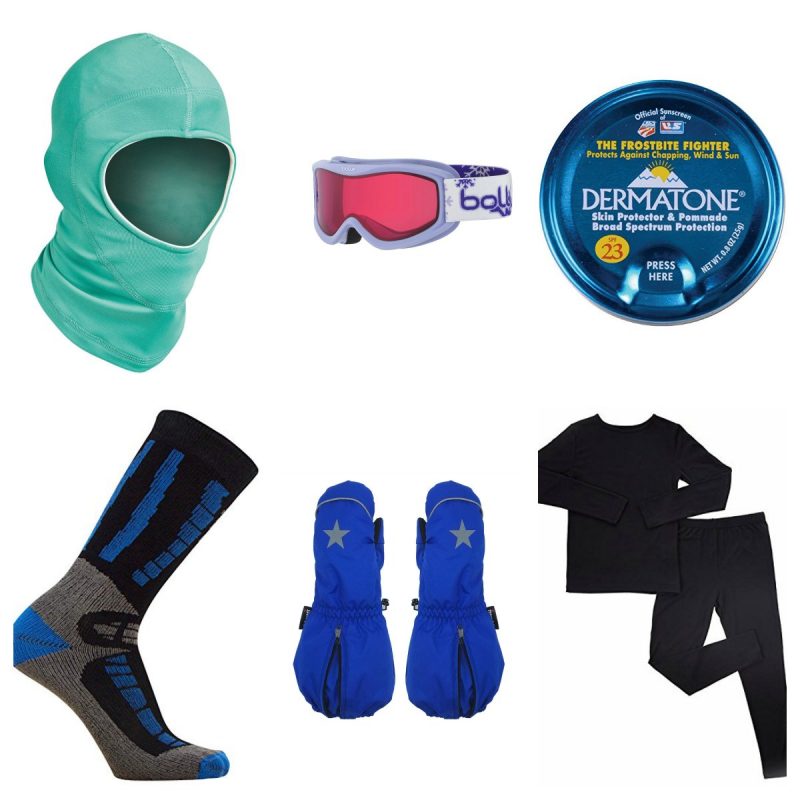 Ski socks (one pair per kid)
Balaclava (one per kid)
Hand Warmers (one pair per day per person)
This post contains affiliate links.