Between homework, track practice, dance lessons and… homework – our weekdays can feel downright hectic sometimes. So last Friday, I teamed up with Papa John's to plan a very special after-school Minute to Win it pizza party for the kids.
They loved it – and so did I! It was a great way to celebrate Friday – and the start of a fun family weekend.
We LOVE Papa John's pizza because of its great taste and quality ingredients!
The kids love their pepperoni and sausage pizza, and my husband and I love their veggie options. The kids think we always order Papa John's because it tastes so good.
What they don't know is that we also order it because Papa John's has NO trans fats, no MSG, no BHA or BHT, no fillers in their meat toppings and no partially hydrogenated oils. And that's important to us!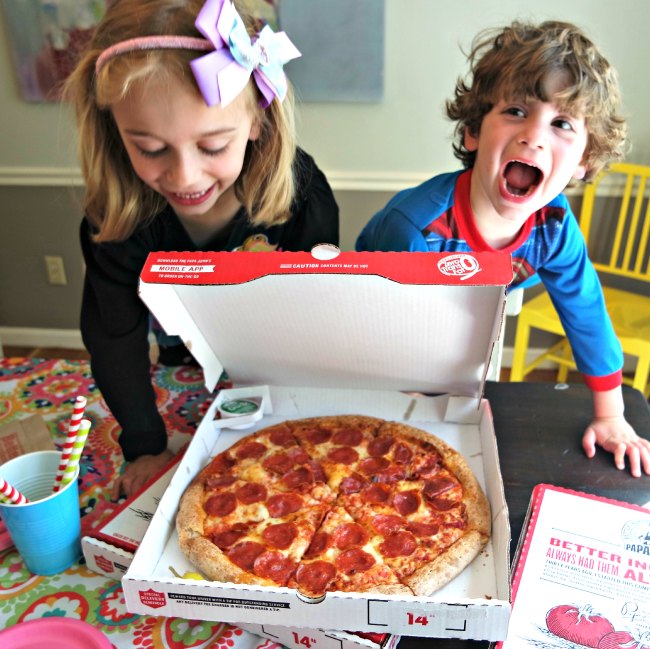 The pizza was delivered right when the kids got home from school. After chowing down, they were ready for the party games to begin!
Minute to Win It Games for Kids
With a 7, 6 and 4 year old, we created some special Minute to Win It Games that are perfect for kids. You'll need a stopwatch or timer (I used an app on my phone). I had all three kids do a different game at the same time – and then rotate. But you could also have the kids watch each other – or get enough supplies for everyone to do the same game at the same time.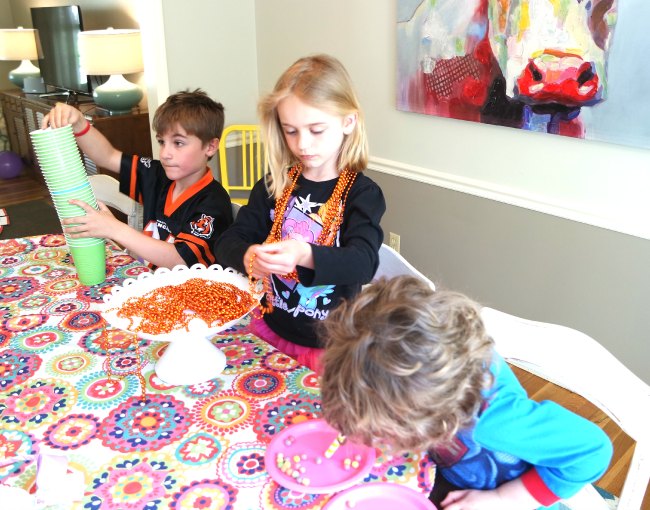 The kids played these games LONG after the official Minute to Win It party was over, and they're already making plans to invite the neighbor kids over for another Minute to Win it Pizza Party!

Candy Straws
You will need:
two plates
straws
small candy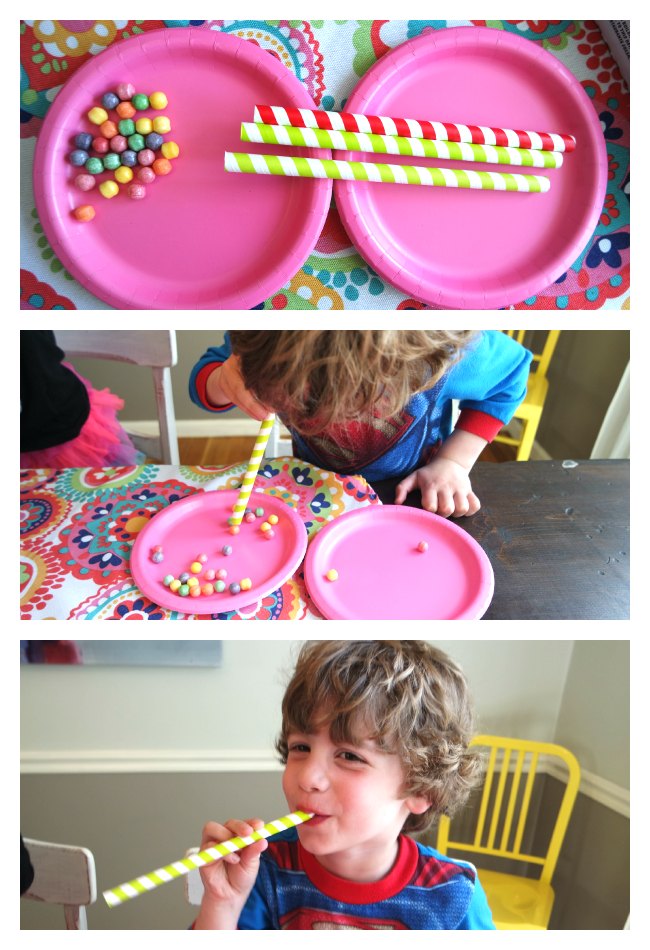 Put all of the candy on one plate. Have your child suck candy into the bottom of the straw and blow it onto the other plate. Their goal is to move all the candy from one plate to the other in 60 seconds or less. Vary your amount of candy based on the age of the child.
Cup Race
You will need:
35 plastic cups of same color
1 plastic cup of a different color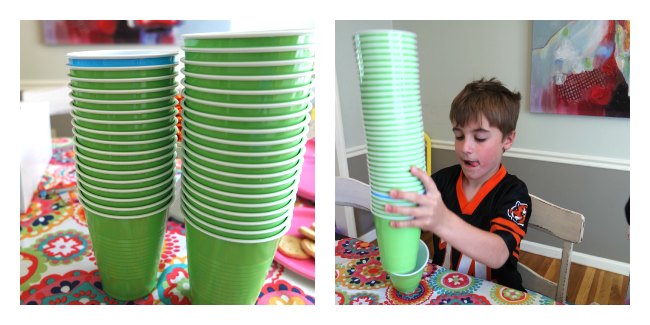 Stack the cups with the single colored cup on top. The child needs to restack the cups one-by-one until the colored cup is at the very bottom.
Necklace Challenge
You will need:
20 plastic necklaces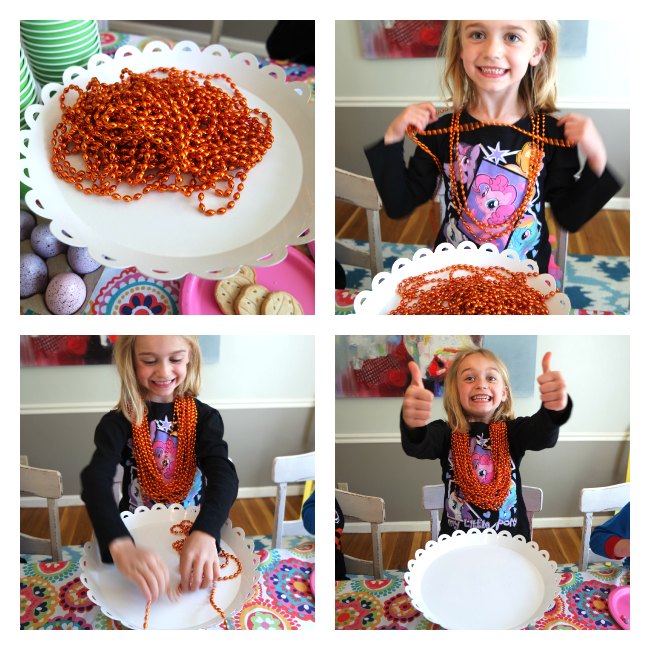 Your child has 60 seconds to put on all the necklaces.
Pizza Box Puzzle
You will need:
Papa John's pizza box cut into nine pieces
Cut the top of your Papa John's pizza box into nine equal pieces and mix them up. Your child has 60 seconds to put them back together again.
Cookie in Your Eye
You will need:
One cookie for every participant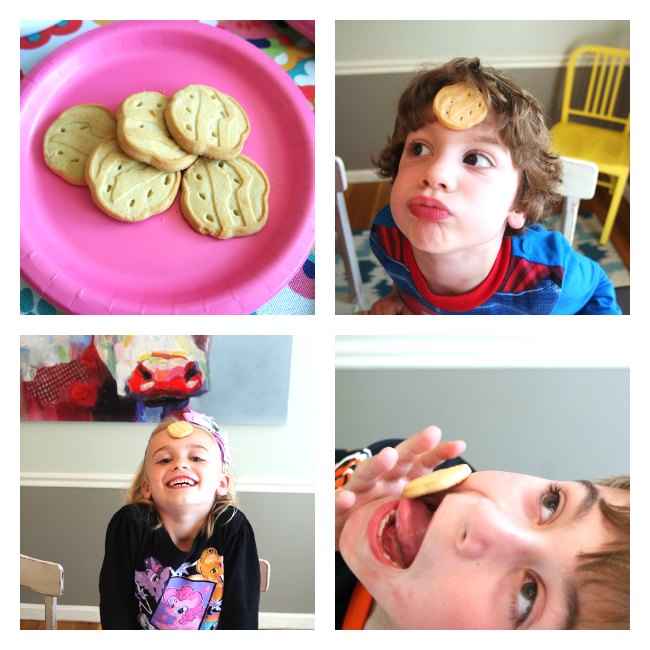 Start by placing a cookie on each childs' forehead. They have one minute to wiggle it down and into their mouth. No hands! It's a lot harder than it looks!
Balloon Toss
You will need:
2 – 3 balloons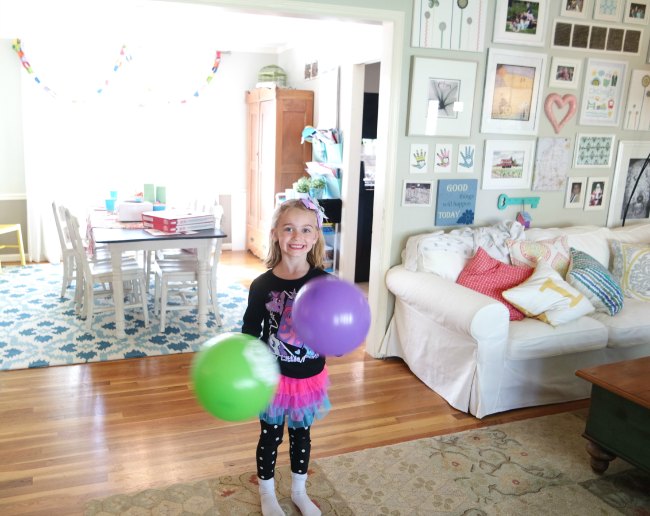 Your child has to keep two balloons in the air for 60 seconds. For older kids, add a third balloon.
Shake Your Booty
You will need:
Cake box or tissue box – with a hole cut out
Belt
Ping pong balls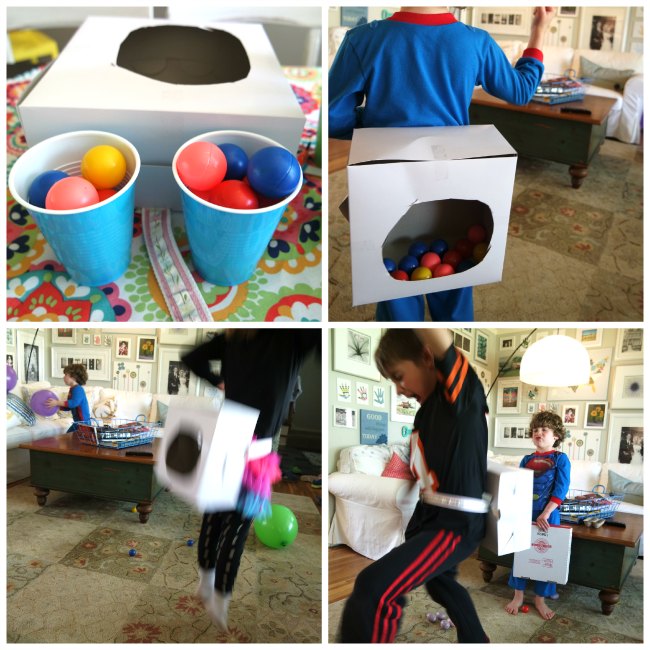 Cut slits in the side of the box and weave your belt through the box. Fill the box with ping pong balls and give your kids 60 seconds to shake them all out. No hands!
For older kids, use a tissue box. For my kids, the larger cake box and larger hole made it a little easier for them.
Pizza Box Egg Race
You will need:
Papa John's pizza box
6 – 10 plastic eggs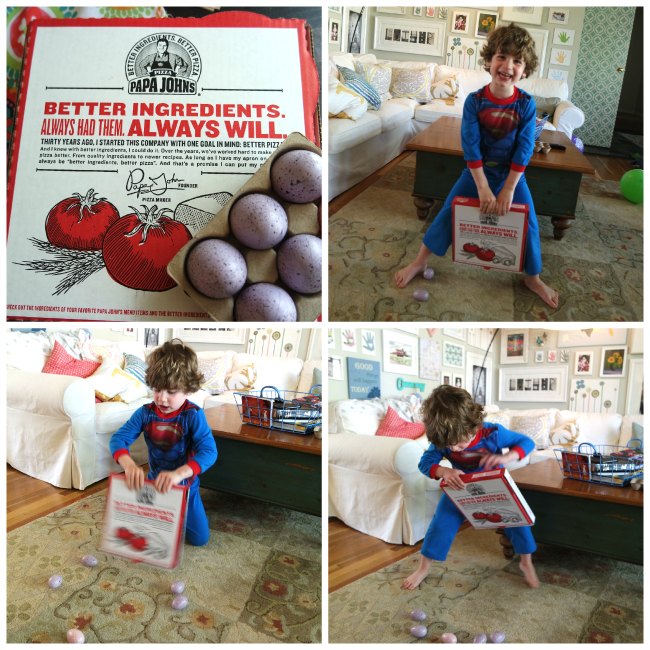 Place the eggs on the floor and give your child 60 seconds to fan the eggs with the pizza box and move them to the finish line! This is especially great for younger kids.
Plan Your Minute to Win It Pizza Party!
Celebrate with your family and friends by hosting your own Minute to Win It pizza party. Don't forget to include Papa John's in your celebration. Finally, a pizza you can feel better eating! "Better Ingredients. Better Pizza."
Papa John's knows that, for you, it's not just a better pizza. It's a family gathering, memorable birthday, work celebration or simply a great meal—and it's their goal to make sure you always have the best ingredients for every moment.
Papa John's has NO trans fats, no MSG, no BHA or BHT, no fillers in its meat toppings and no partially hydrogenated oils. To learn more, visit www.papajohns.com/better.
This is a sponsored conversation written by me on behalf of Papa John's. Papa John's provided the pizza featured in this conversation to me free-of-charge. The opinions and text are all mine.