Are you looking for a way for your kids to play Halloween games with their friends while remaining socially distanced? My daughter created this post for how to host a virtual Halloween Party complete with ideas on what to wear, what to eat and five Halloween games that you can play virtually with friends. Whether you connect via zoom, Facetime, Google Meet or another online platform, the kids are sure to have fun at this virtual Halloween party.
How to Set Up Your Virtual Halloween Party
Creating a Virtual Halloween Party can be as easy as finding a day/time and sending an email to your friends. The host will need to create a "meeting" on either Zoom, Google Meet or another online video conferencing platform.
Then, send your friends an email with the meeting link along with the date/time of the party. You'll also want to let them know what to wear, what food to have prepared and what supplies they'll need to have ready for the virtual Halloween games. (Don't worry, we'll walk you through all of this below).
On the day of the party, the host simply needs to log in a few minutes early and get ready to party!
What to Wear to Your Virtual Halloween Party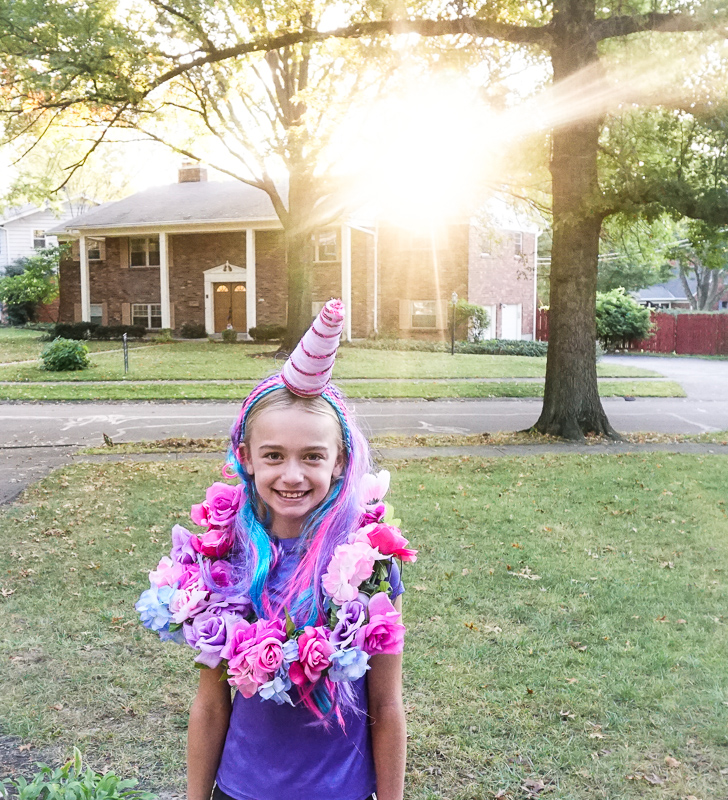 This is simple - obviously everyone should wear their Halloween costumes for the Virtual Halloween Party!
Need costume ideas?
Click here to see how to make your own DIY Gumball Machine Costume.
Click here for easy, Last-minute DIY Halloween Costumes you can make using supplies from the Dollar Store.
And click here to see some of our favorite DIY Halloween Costumes.
What to Eat at Your Virtual Halloween Party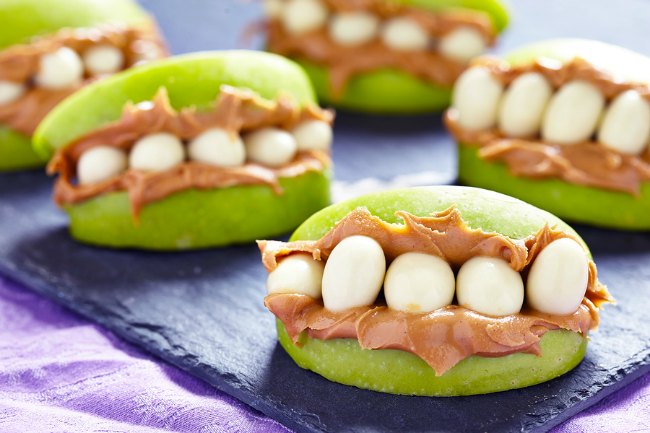 While you don't have to eat at your virtual Halloween party, sometimes having a themed food can help bring the party atmosphere to life. This can be as simple as all of the parents agreeing to order pizza at the same time, so the kids can eat pizza while they play. Or they can all agree on what they'll serve for dinner (like hot dogs) or the kids can just all bring their own favorite snack.
Looking for a fun recipe to share?
These Monster Mouth Snacks are super easy to make and even more fun to eat!
5 Halloween Games You Can Play Virtually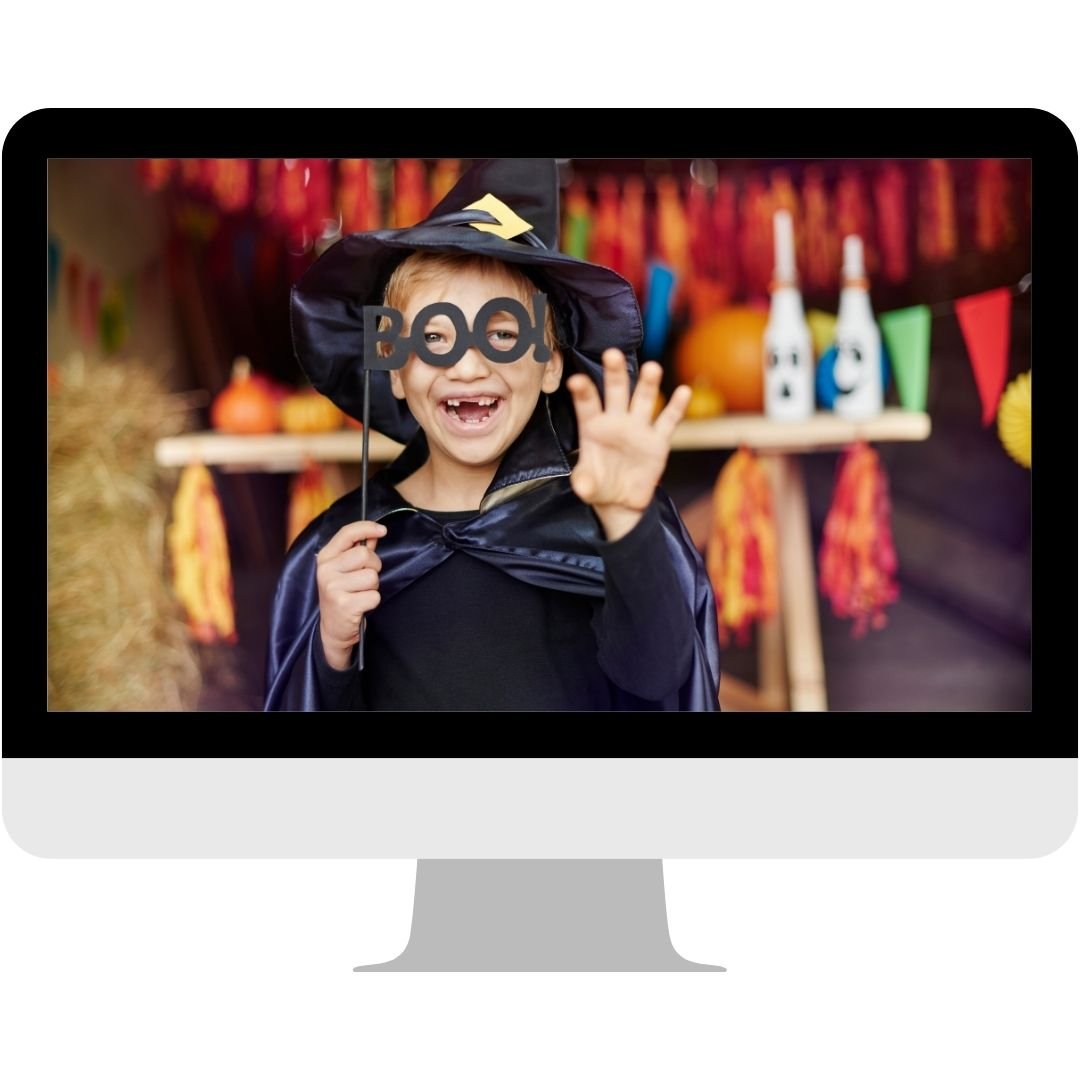 #1 - Halloween Scavenger Hunt
PREP: Have the "host" of the party brainstorm a list of Halloween items that can be found around the house. Write them on individual slips of paper.
HOW TO PLAY: Have the host call out one of the items. Everyone else runs around their house trying to find the item. The first person back with the item wins that round. If someone doesn't make it back after one minute, they're out of the game. The last person still in the game wins.
SCAVENGER HUNT ITEM IDEAS: pumpkin, witch, broom, something slimy, Halloween costume, ghost, Halloween decoration, Halloween food.
#2 - Halloween Bingo
The rules to this game are easy, and will be perfect for any virtual Halloween party. All you need to play this game is a Halloween themed bingo board and some cut out ghosts small enough to cover one of the squares. Make sure everybody has their home-made board and markers ready, and pick one person to call out the Halloween items. If you don't have the item that the person called, you don't use any of your markers. This boo-tastic game ends when somebody calls out Bingo.
PREP: Have everyone take a few minutes to draw a Bingo Board with four squares across and four squares down. It doesn't have to be perfect! Next, everyone can write in a Halloween themed item that they think might get called out during Halloween Bingo.
The "host" of the party should write Halloween Bingo words onto indivdiual sheets of paper to draw out of a hat.
HOW TO PLAY: When everyone is ready, the host will draw slips of paper out of a hat and call out the Halloween item. If you have it on yoru Bingo card, cover it with a piece of paper or a sticker. If you don't have it on your paper, wait until the next item is called. The game ends when someone has four squares covered in a row either horizontally, vertically or diagnolly.
BINGO WORD IDEAS: witch, hat, black cat, broom, witch's brew, potion, costume, candy, trick or treat, scary movie, ghost, boo, pumpkin, bones, carving pumpkins, jack o lantern, rats, glow, scream, mummy, October, full moon, skeleton, haunted house, corn maze, etc.
#3 - Virtual Halloween Costume Parade
This Halloween contest is perfect if you aren't going to be able to Trick-or-Treat this year. It allows you to show off your Boo-tastic costume to all of your friends. Take turns with everyone sharing about their Halloween costume - what they are, where they got it or how they made it and any special features (like glowing in the dark). Everyone can ooh, ahh and clap for each other's costumes. If you want to take this up a notch, ask a parent to judge the costumes and award virtual prizes for best dressed, scariest, most homemade, easiest to put on, etc.
#4 - Halloween Drawing Contest
PREP: Everyone will need paper and drawing materials. Someone in the group will need a timer.
HOW TO PLAY: Take turns calling out a Halloween item to draw. Once the item is called out, set the timer for 3 minutes for everyone to draw. At the end of 3 minutes, everyone holds up their drawing.
OPTIONAL: If you want to make it a competition, have the person calling out the item to be drawn choose their favorite drawing.
WHAT TO DRAW IDEAS: witch, hat, black cat, broom, witch's brew, potion, costume, candy, trick or treat, scary movie, ghost, boo, pumpkin, bones, carving pumpkins, jack o lantern, rats, glow, scream, mummy, October, full moon, skeleton, haunted house, corn maze, etc.
#5 - Scary Stories
This is simple. Everyone can take turns telling their favorite scary story. Optional: Everyone can turn off their lights to up the scare factor.
Looking for more Halloween Games to Play?
We're sharing more than 30 Halloween games for Kids. Several of these can be modified to be played virtually.