My kids are back in school, and that means we're also right back into sports.
This is good. And it's also bad.
It's good because my kids love sports (currently they're all playing soccer), and I love watching them play. I love that they're learning teamwork and getting a ton of time outside. Plus, it's fun to socialize with the other kids on their teams and their parents.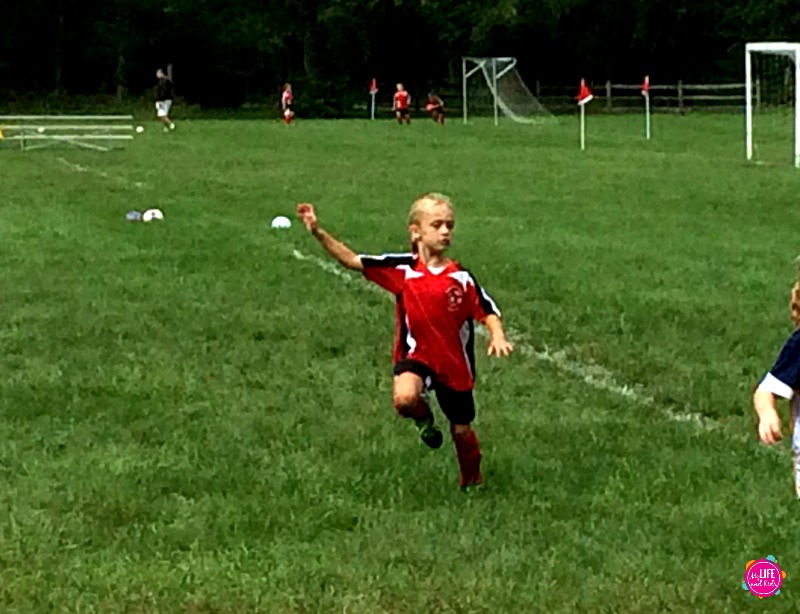 But it's also bad. Because I am hyper-sensitive to not over-scheduling my kids (only one sport per kid per season.) But when you factor that by three kids, we are totally and utterly over-scheduled as a family.
With three kids and three different sports teams, we're at practice somewhere four days a week. We have up to five soccer games every weekend. It's a lot!
Five Tips for Surviving Busy Sports Seasons
After living this life for for the last three years, I've learned a few things that help me keep my sanity during soccer season, and I'm teaming up with El Monterey to share my tips with you.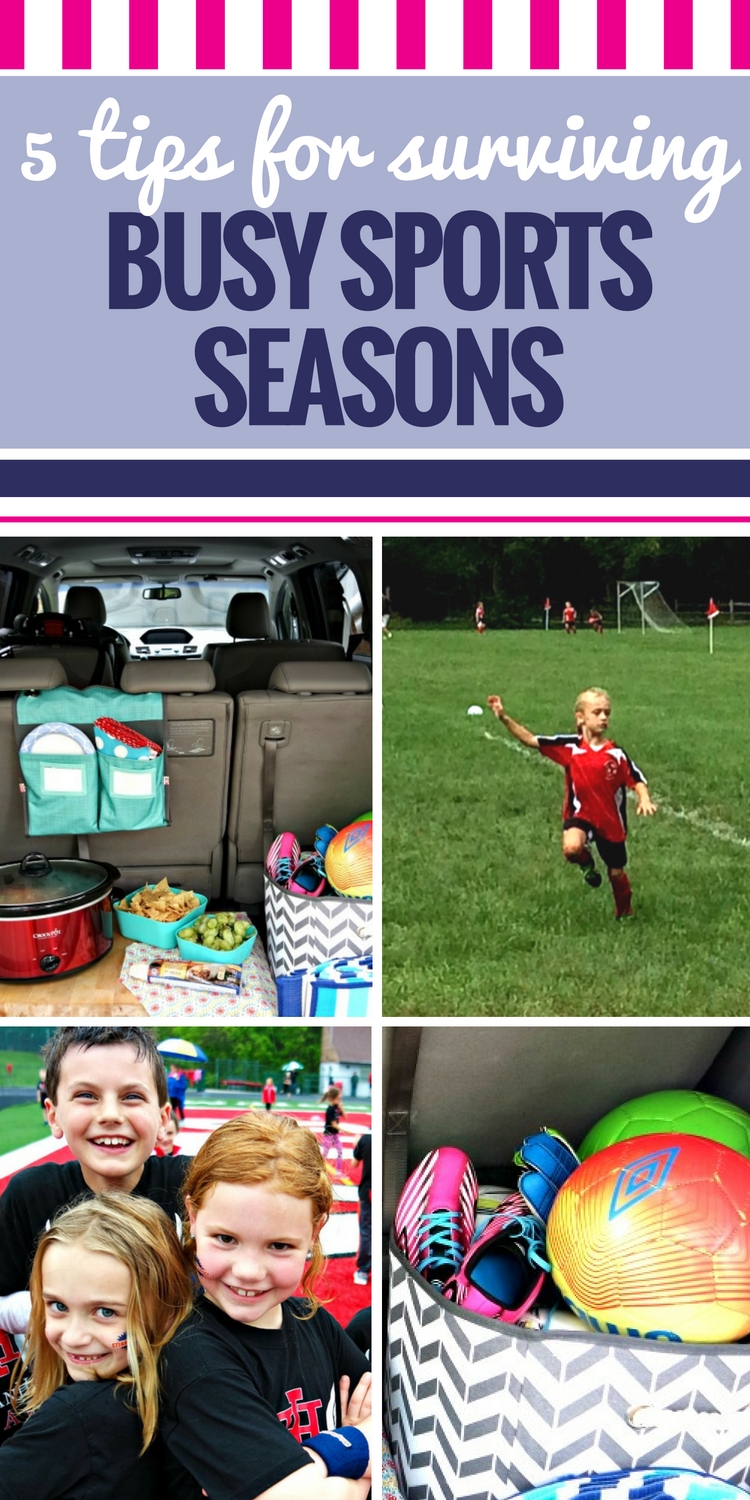 1. Make Friends
You may be surprised that this is number one on my list, but if you're going to be stuck at soccer fields practically every single night of your life, it might as well be enjoyable.
Make friends with the other parents. A lot of them.
Eventually, this could lead to carpooling help or sharing potluck meals at the soccer fields. At the very least, it will make it that much more fun when you have a 5-hour soccer tournament.
2. Schedule, Schedule, Schedule
I usually struggle through the first week of soccer practices, and then I get out my pen and paper and figure out the best way to handle things. Figure out when you're going to eat dinner, do homework and spend time as a family. And write it down.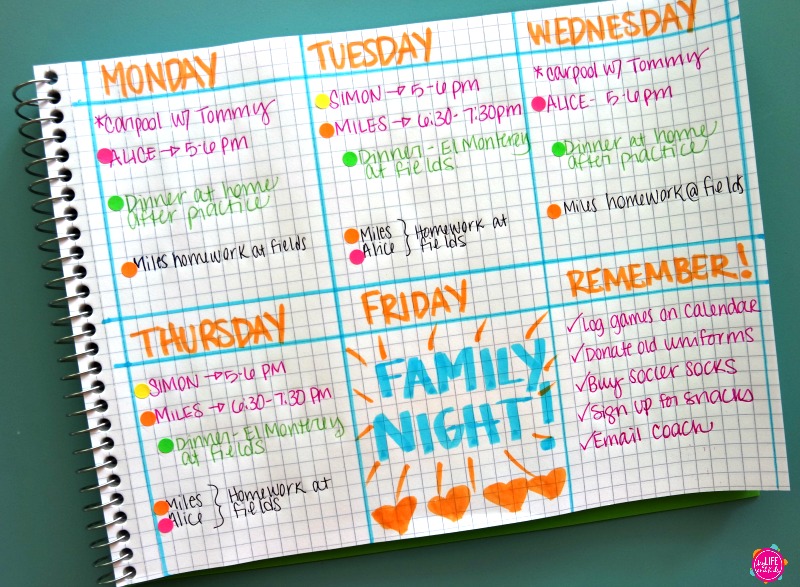 Miles and Alice take turns doing their homework at the soccer fields, one of them sitting with me to do homework while the other one is at practice.
3. Plan Your Meals
One of the biggest challenges we have is figuring out when to eat dinner. Two nights a week, we're going straight from school to the soccer fields for two hours worth of practices that don't end until 7:30 at night.
It's not realistic for the kids to get by on snacking all evening, and if we have any chance of getting them showered and to bed at a decent hour, eating dinner when we get home at 8 pm is not an option.
Luckily, El Monterey has rescued me again (yet again.) See the other times they've rescued me here and here.
Eating at the soccer fields is easy when you set up an El Monterey Burrito Bar in the back of the minivan.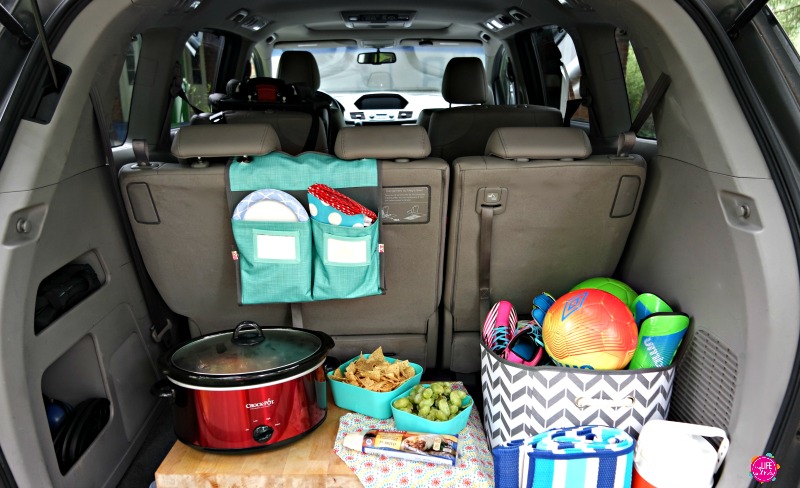 About an hour before the kids get home from school, I pop some El Monterey Frozen Burritos in the oven.
Their favorite is El Monterey Steak & Cheese Frozen Burritos. But sometimes I mix things up with Breakfast Burritos too.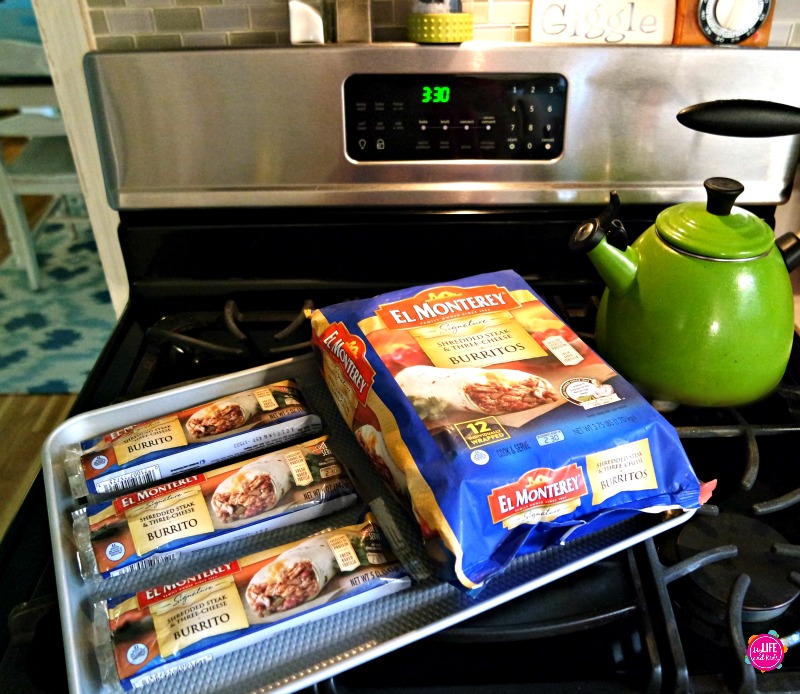 You can also cook them in the microwave, but when I'm feeding the entire family, I've found the oven to be super simple and fast.
I especially love that I can cook the burritos right in their packaging (just open one end first.)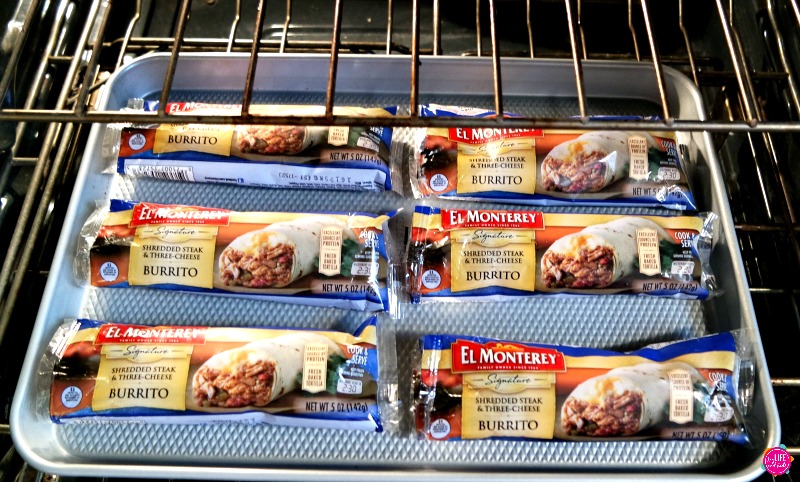 While the burritos are baking, I preheat my crockpot. Then, I keep the cooked burritos (still in their bags,) in the crockpot on warm.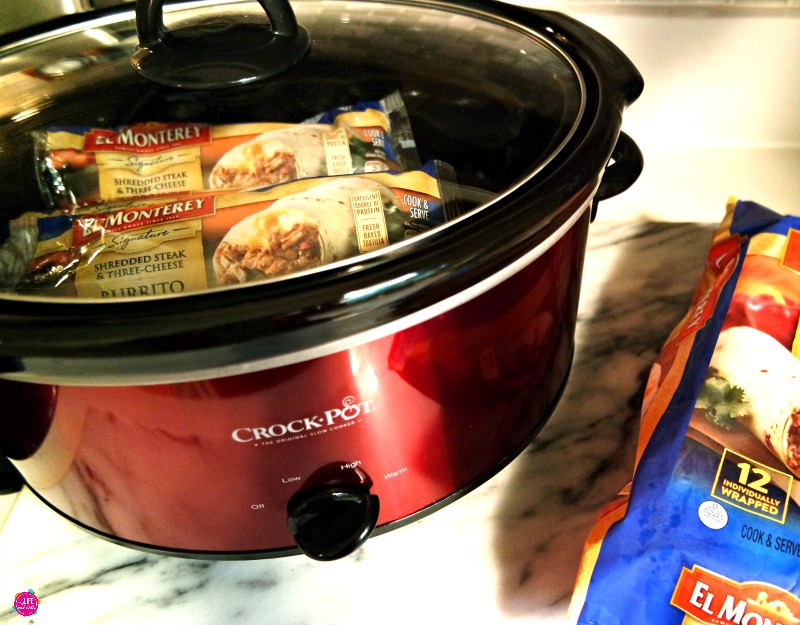 When it's time for soccer practice, I simply transport the crockpot to the back of my minivan. My minivan has a power outlet, so I can plug my crockpot directly into the car. If you don't have one of these, you can do a quick search online to purchase a power inverter.
Once at the soccer fields, I set up a little burrito bar in the back of the minivan so that the kids (and my husband and I) can eat between practices.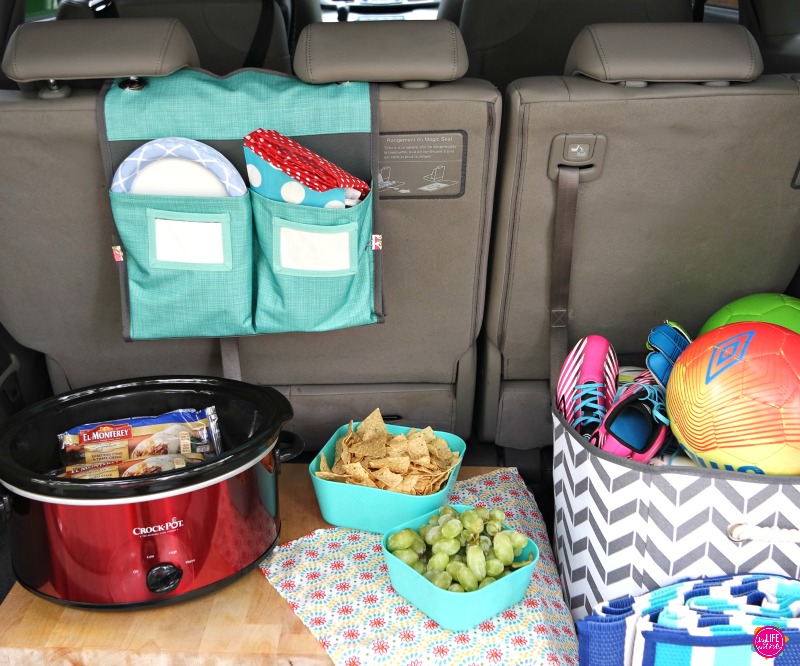 Miles usually eats while Simon is practicing. Simon eats while Miles is practicing. And Alice, Even Steven and I eat whenever we feel like it.
I love that I can quickly and easily feed my kids a hot meal – with real steak and cheese – even when we're spending hours at a soccer field. YUM!
4. Volunteer to Coach
Okay – I know you're going to think I'm crazy here. But my husband and I quickly learned that if we volunteer to coach one of our kids' teams, we can control our practice times.
Which means we can hopefully get practices for two of the kids on the same nights, and hopefully spend at least one night a week at home instead of soccer practice.
Last year I coached Simon's team. Most of my time was spent keeping kids off the playground and on the soccer field and trying to help them figure out which goal was ours.
This year, Even Steven is coaching Miles's team AND Simon's team – as we quickly realized that I have no clue how to play soccer, let alone teach kids how to play soccer.
5. HAVE FUN
Even though we all know this, it's worth repeating at the start of every season (even for me.) This is about your child having fun.
This is not about your child getting a college scholarship or going professional or joining an Olympic team. If you need to miss a practice or a game, miss a practice or a game. If your child would rather watch her teammates than play in a game here or there, that's okay too.
There will be a time for sports to become intense (unfortunately). When they're little, it's all about learning how to play, how to be a good sport and how to have fun.
Head Back to School with El Monterey Frozen Foods
Simplify your school year with El Montery Frozen Burritos – and feel good about what you feed your family. Learn more here. And be sure to follow El Monterey on Facebook, Twitter, Instagram and Pinterest.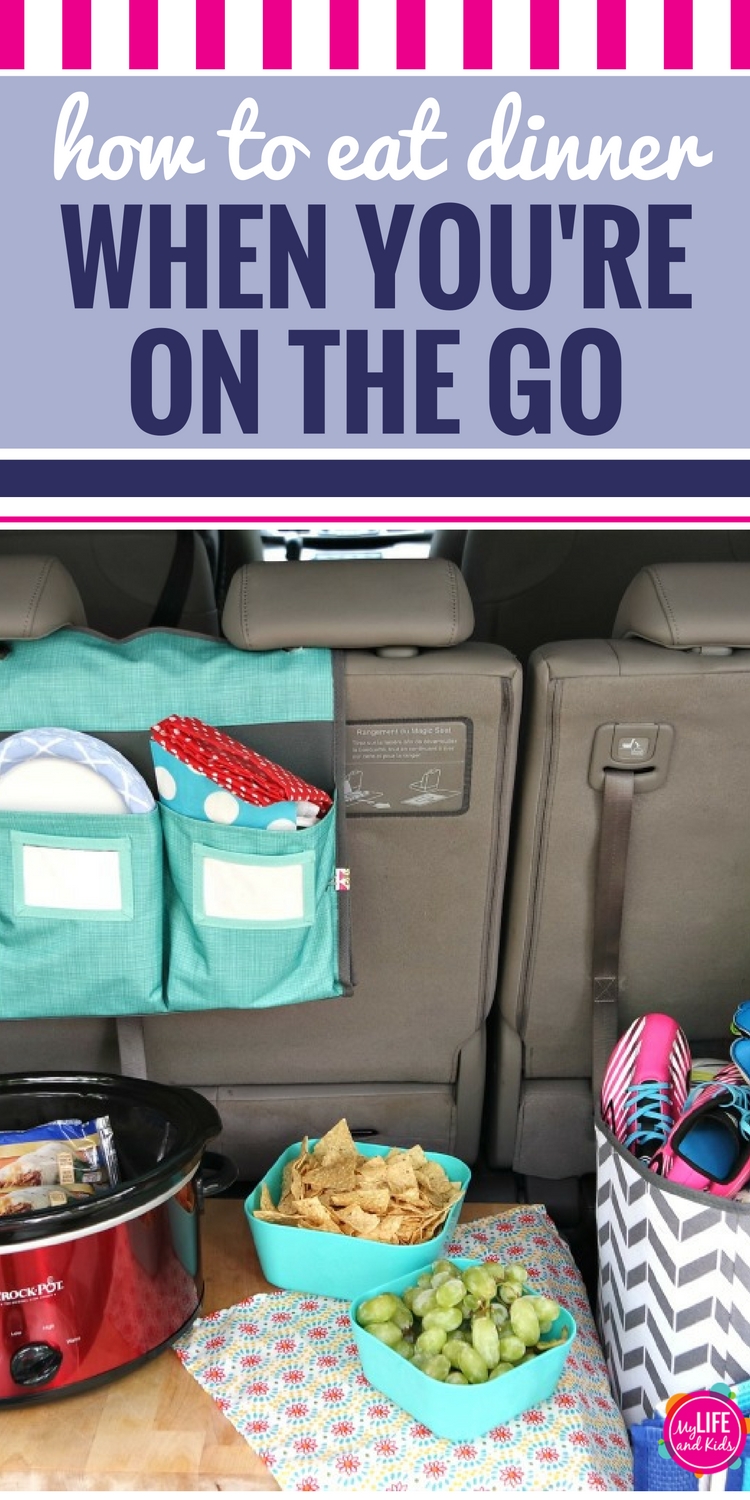 This post is sponsored by El Monterey. All opinions are my own.