Shortly after I started staying home, I realized something.
I hated my weekends.
I used to look forward to them. But once I was staying home with my kids 24/7, I started to dread them.
Saturdays were no longer any different than every other day of the week. But I I still expected them to be.
By Saturday morning, I was ready to sleep in. Watch my shows on TV. Ignore the hungry children and barking dog.
But the hungry children and barking dog were still there...
I was reluctant to share my feelings with anyone. Based on what I was seeing on Facebook and hearing from my friends - I was totally alone in my thinking.
A few months ago, Even Steven and I had a meeting and decided to make some changes so that we could start loving our weekends again. Here are a few of the things we've been doing and a few things we might try in the future (except for #13 - we won't be doing that). It's only been a few months, but I'm already loving my weekends again!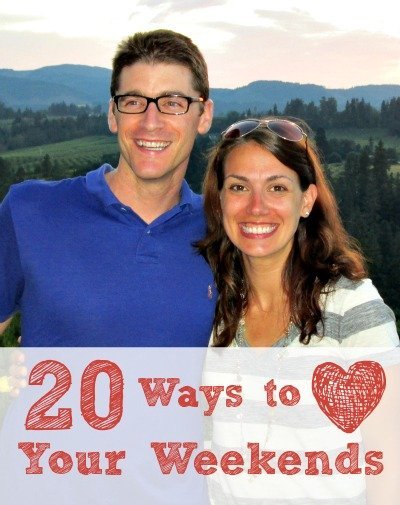 20 Ways to Love Your Weekends
1. Have a Meeting. Even Steven and I have started having weekly meetings on Wednesday nights. I know - we're so lame - but these meetings have had a huge impact on our weekends. We have an agenda, and we take notes *nerd alert*. We talk about all of the "business" things that need to be discussed - so that we're not randomly arguing about them over pancakes on Saturday morning. And we talk about the upcoming weekend - what we need to do and what we want to do. By talking everything through, we go into our weekends with a plan and clear expectations.
2. Have a Schedule. I used to love our lazy pre-kid weekends. We'd sleep in, watch HGTV for the first four hours after waking up. Walk to get coffee, take a nap, whatever... It took us several years after having children to finally realize that we don't have the luxury of not planning fun on our weekends. If we don't take time to schedule activities, then we wind up sitting at home all weekend long. Sometimes that's nice. A lot of times, we find ourselves tired and tense with our kids by about 3 pm on Sunday afternoon.
3. Do one fun thing as a family. What's fun for YOUR family? We like to go to the zoo and the playground. We like to go out for breakfast. You might like to play board games or hit up a museum. Whatever counts as fun for your family can be scheduled in to your weekend plans.
4. Schedule some downtime for you and the kids. Let them get on devices while you take a rest.
5. Make plans for your kids and your husband for a day-long activity on a Saturday or Sunday. Then YOU can spend the entire day at home alone. How amazing would it be to be home alone?
6. Hire a Saturday sitter every week - or once a month. Do whatever you want to do - with or without your husband.
7. Exercise. I've found that if I start my Saturday by exercising as soon as I wake up, I'm a much nicer person all weekend long. See if there's a way for you to get some child-free exercise in.
8. Just say no! If you don't feel like driving your kids all over the place on the weekends, then don't. It won't hurt anyone if you take a weekend off of birthday parties, play dates and sleepovers. Really.
9. Mom Day and Dad Day. One weekend a month, have a Mom Day and then a Dad Day. If it's your day, you do everything for the kids. You make their meals, put on their sunscreen, take them wherever they need to go, play with them, break up fights, etc. When it's not your day - you do whatever you want to do - and send them to their dad if they ask you a question. (Even Steven and I have yet to try this, but I'm really looking forward to Dad Day!)
10. Be the Social Chair. I wasn't the social chair of my sorority for a reason - I'm not very good at coordinating parties or social events. But I have to be the social chair for my family - or else we won't do anything. Be your family's social chair - and plan some fun get togethers with other families on the weekends.
11. Clean your house. We try to go to bed on Friday night with a clean house. The floors are vacuumed. The clutter is under control. The laundry is clean and folded. The toilets are scrubbed. By working as a team on Friday nights, we go into the weekend without that huge chore hanging over our heads.
12. Hire a S-E-X sitter.
13. Have a 4th child (see #12)
14. Schedule alone time every weekend for yourself and your spouse. Knowing that you have three hours to run errands (or do whatever you want to do) on Sunday afternoon, makes you that much more relaxed when your husband wants to spend three hours at the gym on Saturday morning.
15. Don't clean your house.
16. Take a family trip to the grocery store. Every now and then, it can be fun. Sort of. Actually, not really at all... Scratch that. Don't go to the grocery store. Stay home and do this instead.
17. Start a Saturday morning tradition. Make pancakes and have a dance party. Or eat pizza for breakfast. Or teach the kids how to make YOU breakfast.
18. Take turns sleeping in. You get to sleep in on Saturdays. Your husband on Sundays. I'm still trying to convince Even Steven of what a great idea this is.
19. Plan sleepovers for all of your kids either at friends' houses or with the grandparents. (See #13, #18)
20. Read My Life and Kids