I try to invite people over every couple of weeks - mainly because it forces me to clean my house. But lately, even the promise of company coming hasn't done much to motivate me in the cleaning department.
Luckily, I have a strategy that gets my house and me ready for company in 20 minutes or less!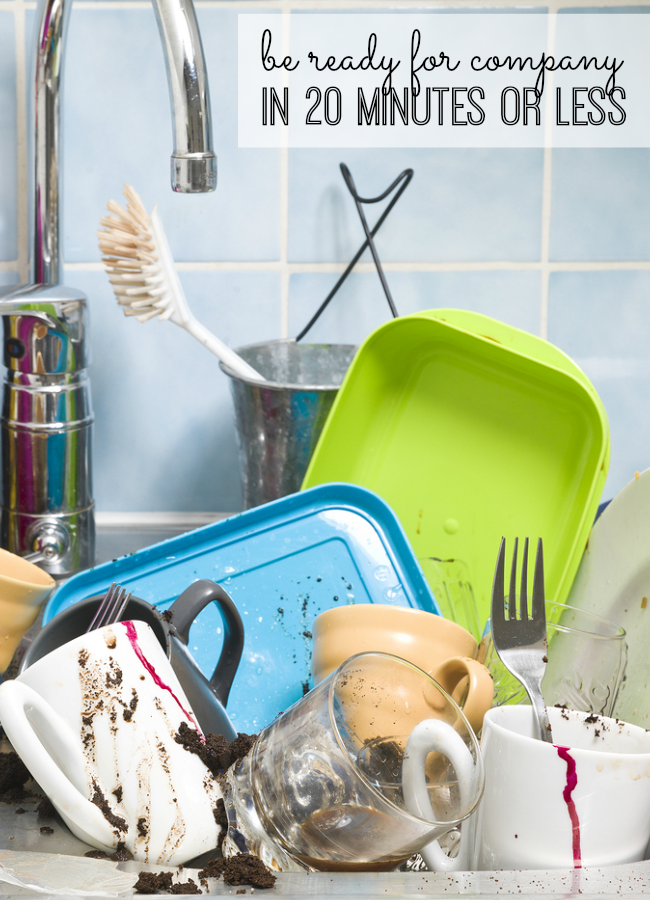 20 min: Get dressed. Don't worry about stains - we'll cover that later.
17 min: Close every single door in your house that you can. This will keep your company out of your bedrooms and hopefully your den or office - and your basement.
15 min: Light a scented candle.
14 min: Give your kids a trash bag, and send them on a scavenger hunt for dirty diapers.
13 min: Stick a plunger in your guest bathroom toilet. Hang a sign on the door that says "Out of Order."
10 min: Grab an empty laundry basket, and put all of your dirty dishes and countertop clutter in it. Put the laundry basket in your minivan.
7 min: Tape a DONATE sign to a large box. Toss a few toys into it, and leave it in the middle of your toy room (aka your family room).
4 min: Plug in your vacuum, and leave it sitting out near the front door.
3 min: Take a bite of broccoli. Chew it up and spit it out (trust me on this one).
2 min: Use baby wipes to wash your armpits and your face (not in that order).
1 min: Spray Pledge near the front door
30 seconds: Get yourself a cup of coffee or dark soda. Don't drink it.
They Arrive
Opening the Door: As you're opening the door, "spill" the cup of coffee all over your shirt. That solves any potential stain problems you might have going on.
Make a big deal of spilling coffee all over your "clean" shirt.
Welcome your guests into your home by saying the following:
Come on in! Welcome, Welcome!
Don't mind the cleaning stuff - it's my day of the week to do some deep cleaning.
What's that? I have broccoli in my teeth? Oh gosh - so embarrassing -I've been on such a veggie kick lately. I just can't stop eating my veggies!!
Come on back - the kids are in the toy room picking out toys to give to needy children. They do this at least once a month - so sweet.
Like I said - ready for company in 20 minutes or less!
What would you add to this list?