When my first child was born, Pinterest didn't even exist.
Man that makes me sound old.
And now I'm going to sound even older, because I'm almost glad it didn't exist. How would I have ever made a decorating decision? Instead of drooling over inspiring images online, I walked the aisles of baby stores looking for inspiration.
His nursery was simple but exactly what I wanted. And - when his sister was born just a year later and took over that nursery - I was glad that I hadn't spent too much time customizing it for my son.
I'm finished having kids now, but every time I see an amazing nursery online, I almost feel the urge to have another baby - just so I can decorate a nursery again!
My husband says that's not a good reason to have another baby.
Ahem.
So instead, I'll walk you through some of my favorite nursery design ideas. We'll talk through some DIY options, and I'll also give you links in case you prefer to BUY instead of DIY.
SIMPLE DIY NURSERY DECOR IDEAS
Sometimes when we think of DIY, our minds start racing with thoughts of tearing out walls and trying to do our own electrical work.
Luckily, DIY can be as easy as creating a piece of artwork or adding peel and stick wallpaper. It can be stenciling a design above the crib or creating a gallery wall.
In the following nursery design inspirations, get a feel for what you might want to DIY - and then use the links I provide in case you want to buy instead. (No one will judge you, I promise!)
Hanging Floral Branch
View this post on Instagram
This hanging floral branch would look amazing in pretty much every room in my house. Unfortunately, I'm probably the only person that thinks so, so it most likely isn't going to happen.
BUT - please do it in your nursery. Okay? For me?
Here's a link to the DIY on how to create this floral branch. Isn't it dreamy?
SHOP THE ROOM

If you don't have it in you to make your own floral hanging branch, buy this one instead.
Grab the unicorn head here. (I have the same one in my house!)
Here's a link to the white crib.
XOXO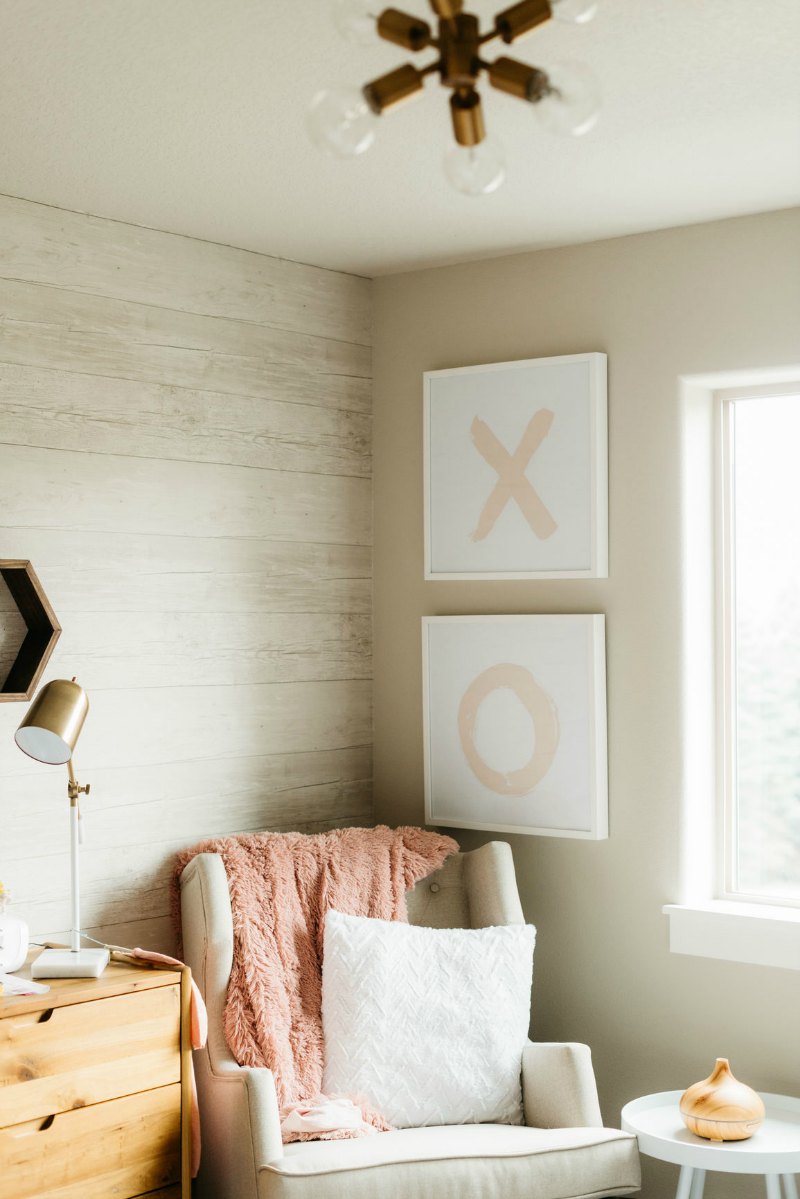 This lovely room just exudes peace and comfort, don't you think? And there are more DIY ideas squeezed in here than you probably first realize.
And let's just be honest - is shiplap in a nursery EVER wrong? (HINT: it's not!) Especially when you fake it with peel and stick wallpaper.
Yes. I said wallpaper!
SHOP THE ROOM

Shiplap - Peel and Stick Wallpaper
X O Prints - so simple and sweet!
Wood diffuser - this one has wifi!
Fit for a Queen (or King)
View this post on Instagram
Hello! Is it terrible to say that I wouldn't mind moving into this room for myself? In addition to all of the eye candy in this room, it also has some super practical design choices.
Like the couch.
If you've ever had a newborn, then you know that it's fairly likely that you'll be sleeping in the nursery more than your own room for awhile. With this couch, at least you can be a little more comfortable while doing it!
I'm also loving how they were able to incorporate a lot of different "themes" - swans, clouds, crowns, eyelashes, polka dots - but by keeping to the same basic colors of gold, blush, black and white, it all comes together and works. Well done!
SHOP THE ROOM

Gold Crown Peel and Stick Wallpaper
Similar laundry hamper and toy storage. (Check out the other colors/patterns too!)
We couldn't find the exact mobile, but we're sort of loving this one even more. Plus you can customize your colors when you order.
FAVORITE FLORALS
View this post on Instagram
Really - is there anything better than this floral nursery? Take note of the beadboard running along the bottom of the walls. This is a super simple DIY that can really make your wallpaper pop.
Looking for more simple updates that can have a huge impact? That ceiling fan is a great example. Who would have thought they made them that fancy?
SHOP THE ROOM

Snowy Rose Removable Wallpaper
This will make your Ovaries Ache
View this post on Instagram
I can confidently state that this is the nursery of my baby boy dreams. It's sweet without being too babyish. It's perfect parts modern and nostalgic. And I'm intensely obsessed with animal heads, so this is obviously right up my alley.
The board and batten is lovely, and it's so easy to DIY yourself. Simply nail 2x4s to the wall in your desired pattern and spacing and then paint it.
NOTE: My husband says that it is NOT at all that easy and that you need to take some pretty exact measurements and have tools like a nail gun. You also have to caulk stuff and blah blah blah - that's where I tuned out. But I was there when we put board and batten up in my middle child's room, and it really did seem like we were just slapping some wood on the wall and painting it.
Maybe do some research before getting started.
SHOP THE ROOM

Wallpaper (not peel and stick)
Minimal and Cozy Nursery Decor
View this post on Instagram
Are you swooning right along with me? From the wallpaper wall to the oval crib and the SWAN, it's almost enough for me to have another baby just so I have a nursery to decorate.
I especially love that it's minimal without being boring. It's so smart to have the swan above the crib - something lightweight and soft is always a smart choice when choosing above-the-crib decor.
Those of us that have been through the infant process know that eventually this crib will have a bright-colored battery-operated mobile that will entertain the baby long enough for the parents to grab a quick shower, BUT, this would be a super fun and adorable way to start with a nursery.
SHOP THE ROOM

See the removable wallpaper here.
Don't even get us started on that oval crib. AMAZING!
Having a Baby? This might Help!
We're just going to go ahead and assume that you're having a baby since you're researching nursery decor. If that's the case, you're going to want to read this post about infants!
5 Things to Know About Your Newborn Baby
50 Ways to Have More Fun With Your Baby
Looking for more great nursery decor ideas?
A previous version of this post was published with links to the following posts for DIY nursery decor ideas. Have fun perusing!
Baby Shower Cards as Nursery Art
Refinished Dresser Using Lace
Music to the Eyes
Name in a Frame
Canvas Wall Art
Patterned Dot Wall
Blanket Ladder
Paint a Dresser
"A" is for Alphabet
Name Wall Hanging
Alphabet Wall
DIY Crayon Letter
Button Animals
Letter Art
Fabric Wall Art
Baby's Footprints as Nursery Art
Multi-Picture Art DIY
Baby's Footprints as Nursery Art
Nursery Wall Art from a Gift Bag
Elephant Garland from Scrap Paper
This post contains affiliate links.