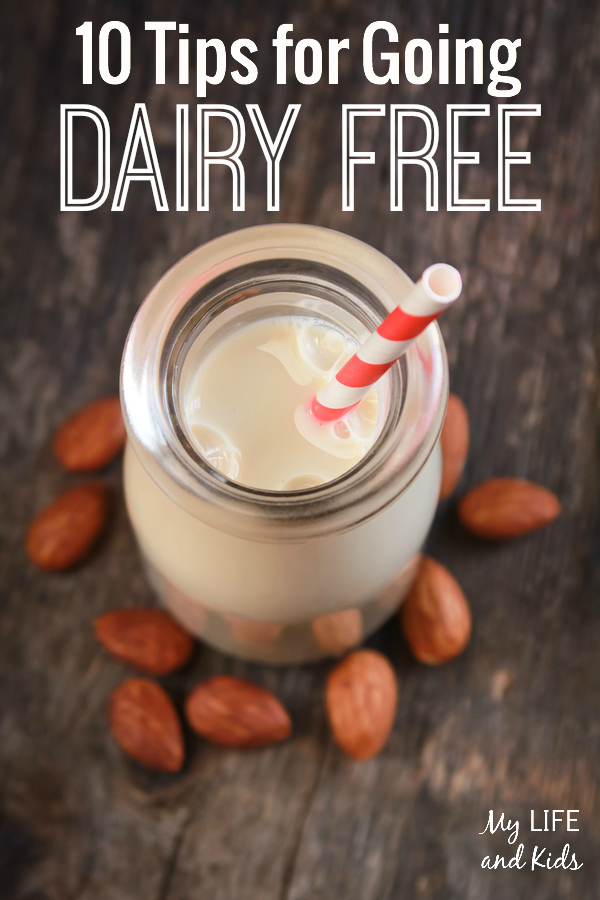 How could I give up dairy?
Giving up cheese and ice cream and some of my favorite meals – how would I survive?
Those were my thoughts as I left the pediatrician's office following my son's two-month check up.
I'm pretty sure I started crying.
Yeah, I definitely did.
My son, G, had an intolerance to dairy and because I was breastfeeding, my pediatrician recommended I try eliminating it from my diet to see if it would help with his severe fussiness following meals.
Once I eliminated dairy from my diet, G was an entirely different baby – and I was immediately sold on the idea of going dairy free!
I learned a lot from my dairy-free journey and I have 10 tips for going dairy free to help make the transition seamless and delicious!
1. Focus on WHY.
Why are you giving up dairy?  What is your motivation?
For me, I wanted to continue breastfeeding my son, G, during his infancy. Giving up some of my favorite foods was really difficult at first, but I was focused on my goal.
Find ways to focus on the benefits of your lifestyle change. For me, I loved displaying positive and inspirational notes around my house.
I focused on the benefits of breastfeeding, and that helped keep me motivated to say NO to dairy.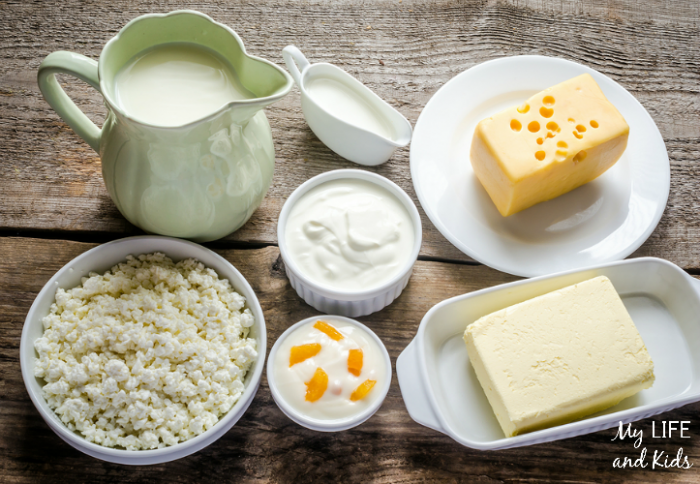 2. Identify the many names of dairy.
Dairy is tricky because it can hide on food labels under names like casein and whey.
In order to truly eliminate ALL dairy from your diet, you will need to become knowledgable about these names.
Here is a super helpful dairy ingredient list to help decode those labels.
3. Don't phase it out – go cold turkey!
Don't delay the inevitable.
Once you have decided to go dairy free, DO IT!
Phasing it out will only prolong the process, and it could make you have cravings for your go-to comfort foods.
4. Try not to cheat.
I'll admit it – I cheated a couple of times – sneaking a piece of cheese here and a spoonful of ice cream there.
I paid for it with a super fussy baby and a sleepless night.
Try not to cheat.
For me, if it's in my house, I will always eat it.
If you're the same way, eliminate the temptations by removing the dairy from your house, or (if that isn't possible because your family will revolt) store your food separately (like in a mini fridge!) so you won't be tempted by going to your family fridge.
5. Take this opportunity to learn new recipes.
I have a tendency to get in a MAJOR rut with my recipes and end up making the same meals every week.
Giving up dairy actually gave me the opportunity to learn new recipes and really expand my palate.
Here are some great dairy-free recipes that your family will love!
6. Plan ahead.
Speaking of meals, take some time to sit down and plan all of them out for the week.
Yes – all meals – breakfast, lunch and dinner.
It may sound like a lot at first, but you will be thankful that you did.
By planning ahead, you won't be scrambling before meal times, and less likely to fall back to a recipe that has dairy in it.
If you are going out to eat, look up the menu in advance or call and ask about dairy-free menu options so you won't even have to look at the menu upon arriving (and perhaps be tempted by an old favorite meal!).
7.  Have snacks readily available.
I remember going to a wedding after having G, and they didn't have a dairy-free option for the meal. I was a hungry, overtired, breastfeeding mom – it was a scary situation.
It is essential to have snacks readily available when dairy-free options aren't available or when hunger pangs strike.  The more prepared you are, the less likely you will cheat and fall back on your progress.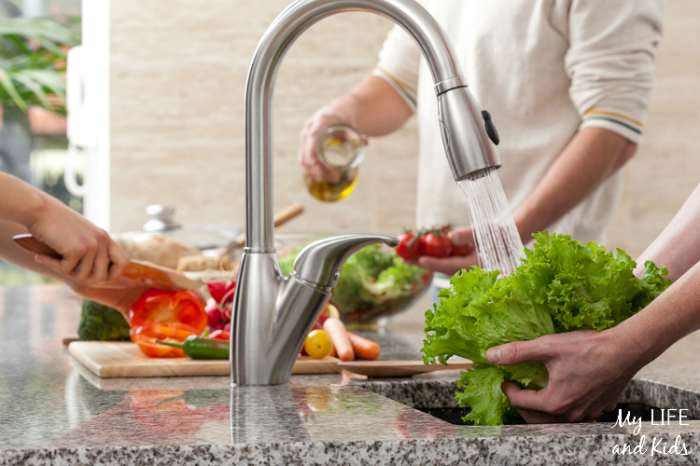 8. Build a team of support.
Making a lifestyle change can be difficult, especially at the beginning.
That's why you need to build a team of support.
Make your family and friends aware of your switch to dairy-free foods and ask for their support.
We had so many people bring us meals when G was first born, and I had a house full of food I couldn't eat because of the dairy.
And the food was just staring at me, tempting me every day.
I wish I would have told my friends and family about the switch, because I know they would have been more than willing to make something dairy free!
9. Don't forget to indulge.
Treating yourself is a must – and there are so many dairy-free desserts that are the perfect solution!
With each new milestone met, don't forget to indulge!
Check out these 50+ dairy-free dessert recipes. YUM!
10. Enjoy dairy-free alternatives.
There are so many amazing dairy-free alternatives on the market these days – it's just about educating yourself on what's out there!
For me, I couldn't imagine giving up milk on my cereal.
Thankfully – I didn't have to!
I made the switch to delicious Silk Almondmilk.
And even though I am no longer breastfeeding, I still choose Silk Almondmilk over regular dairy milk.
It fits better into my healthy lifestyle: it has zero cholesterol and lower calories, less fat, and 50% more calcium than regular dairy milk!
I prefer the taste and I honestly feel better and less bloated after drinking Silk Almondmilk.
Click here to grab special offers and coupons from Silk.
And be sure to like Silk on Facebook for even more coupons
This conversation is sponsored by Silk. The opinions and text are all mine.