This post is sponsored by Ohio Pork but all opinions are my own.
I've often said that I have one of the coolest jobs in the world. I get to set my own schedule, work from home and my days vary greatly. One day I might be modeling my favorite cocktail dresses from Amazon, and the next day I might be taking a shower in a barn and visiting one of Ohio's premier pig farms.
You just never know.
Yes. I said showering in a barn.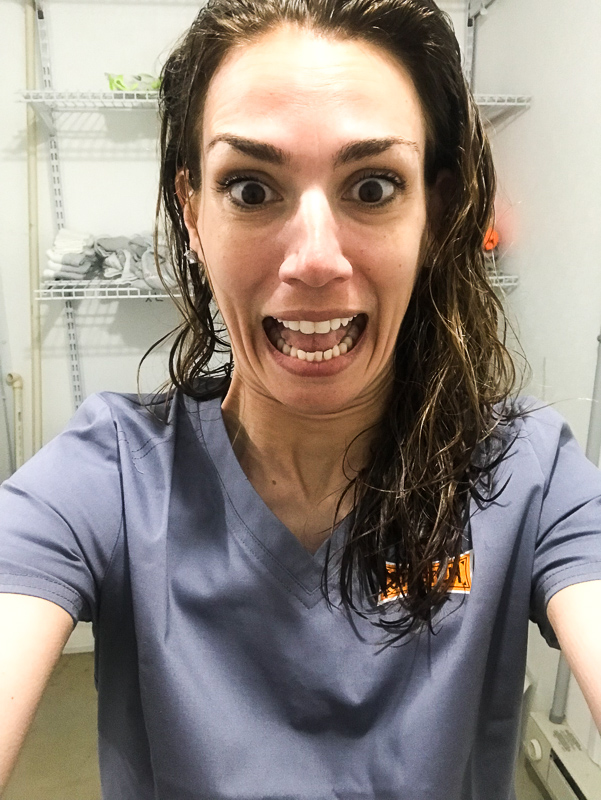 And yes, that's exactly what I did a couple weeks ago.
In partnership with the Ohio Pork Council and their goal to bring the "farm to table" experience to life, I visited an Ohio pork farm to see exactly where my bacon is coming from. And then - later in this post - I'll be sharing one of my family's favorite pork recipes.
We Love to Eat Pork
We're big pig eaters at our house. My 5th grader cooks bacon for breakfast pretty much every morning. I grew up on ring bologna. Ham sandwiches and pork tenderloin are staples in our house.
And we even have a giant pig hanging on the wall in our basement.
Her name is Penelope.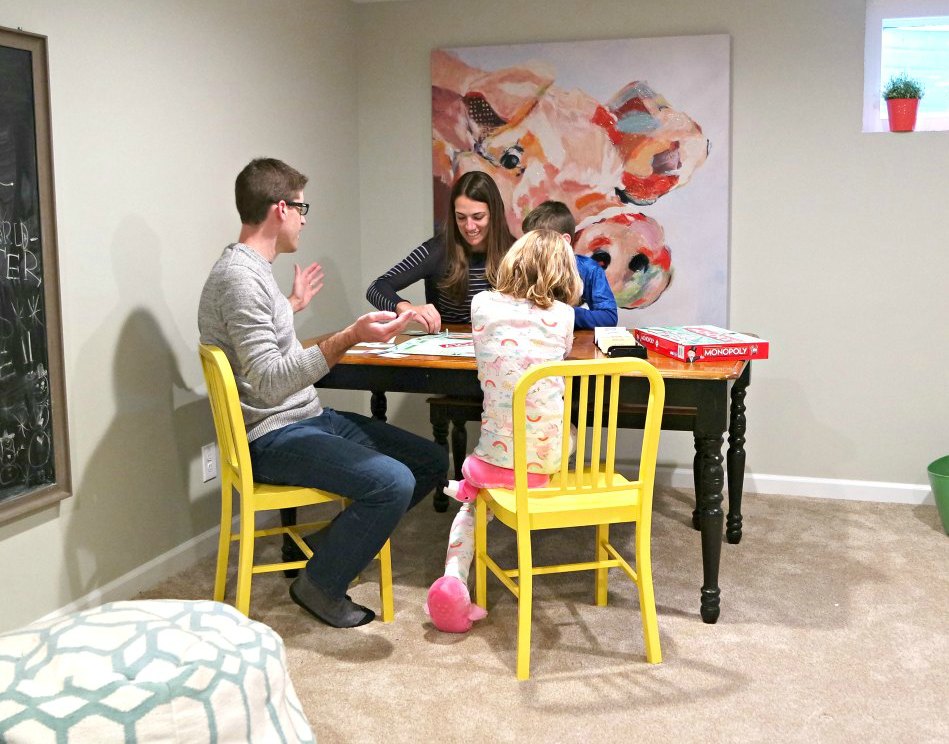 But I never really knew where our pork was coming from - other than the grocery store. Turns out, it's probably coming from one of the many pig farms in Ohio - some just an hour from my house.
My Visit to a Pig Farm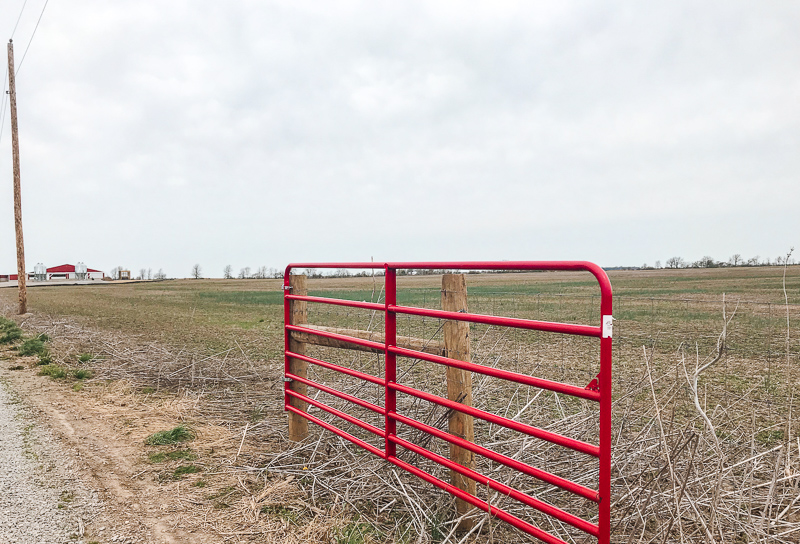 My day started bright and early with a drive to the country (about an hour from my house) to meet Rebecca Surber.
Rebecca is the daughter-in-law of John and Connie Surber - the owners of multiple farming operations in southern Ohio. Rebecca is pretty much the nicest person you will ever meet in your life EVER!
She's been working with the pigs for the past 18 years, and while she says she doesn't know it all, she really seemed to know it all.
We spent the day together touring one of the pig barns and talking about what it's really like to live and work on a pig farm. Here are 8 FASCINATING things that I never knew.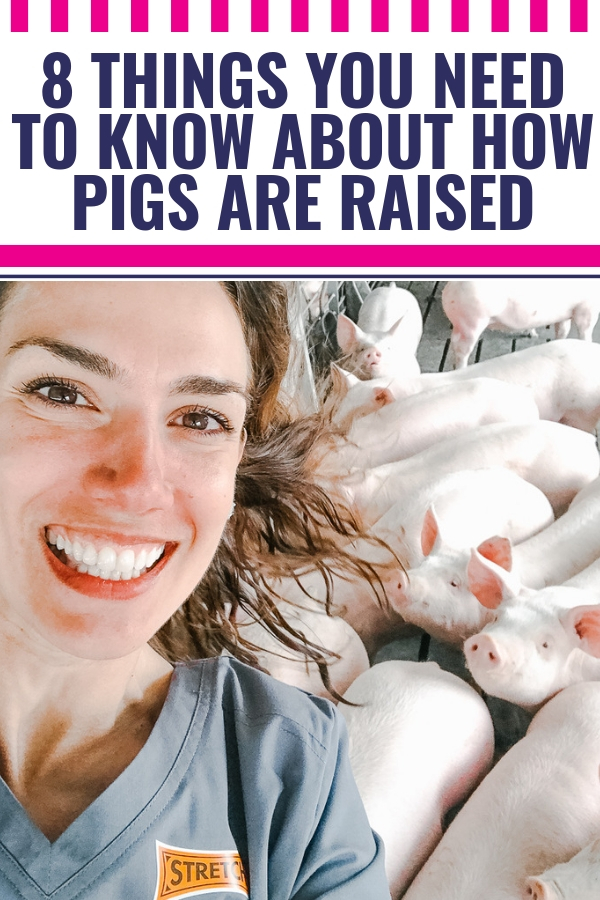 The Health of the Pigs is NO JOKE
There are viruses that can spread between pigs and humans and vice versa. Obviously this is taken very seriously, and precautions are put into place to prevent any spread of disease.
My visit was originally scheduled for January, but the human flu outbreak was so bad that they weren't letting visitors in the barn in order to protect the pigs.
This also means that everyone showers IN and OUT of the barn. And I don't mean the "fake" showers you take when you rinse off before jumping into a swimming pool. I even had to wash my hair!
After the shower, I put on clean scrubs and socks provided by the farm. When it was time to leave, I did the entire process in reverse. I left the scrubs at the barn, showered and washed my hair again and then put my clothes back on to leave.
Rebecca said that back when she was working in the barns on a daily basis, it wasn't uncommon for her to take 10 showers a day!
Pig breeds don't mix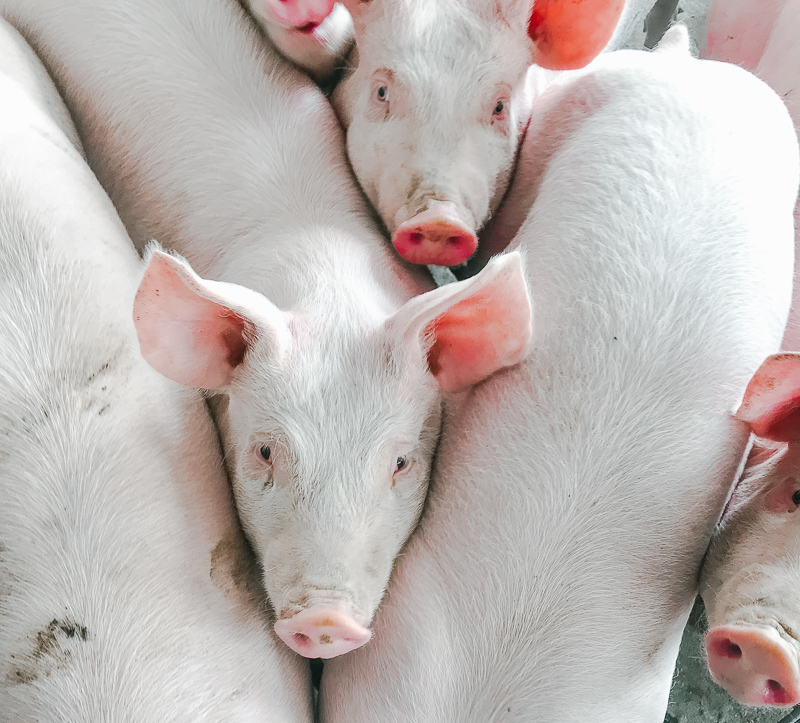 The Surber family has a few different breeds of pigs, and those breeds don't mix. In fact, the humans taking care of the pigs can't go from one breed of pig barn to another without waiting 1 - 2 days (depending on which breed you're going to and from).
This helps to keep the pigs healthy and to keep cross contamination to a minimum. Even vehicles have to be biocleaned before driving between the barns.
When I visited, I parked my car in a parking lot, and we drove to the barn in Rebecca's biocleaned vehicle. She said that before visiting another pig barn later in the week, she would bioclean her car again before driving into the barn lot.
Did I mention how seriously they take the health of the pigs?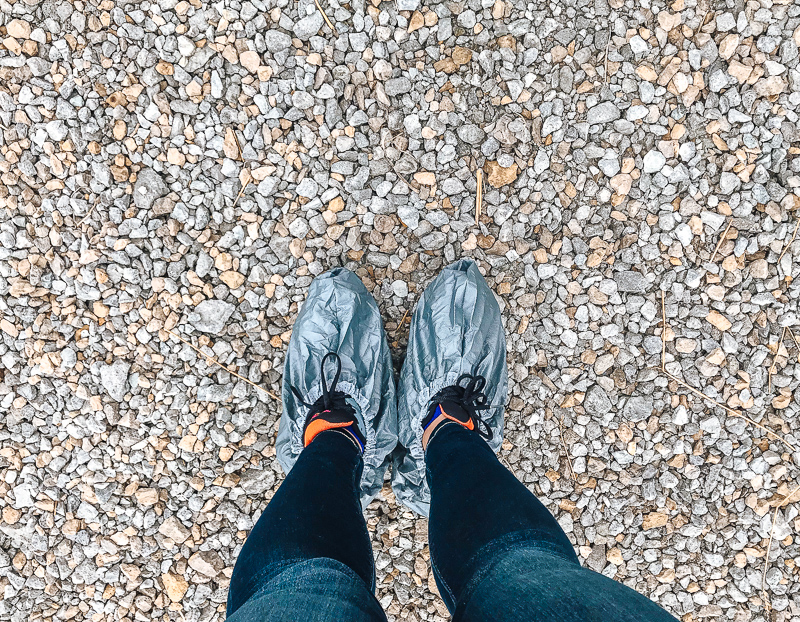 You guys - I'm not kidding when I say that they take this very seriously. When we arrived at the pig barn, Rebecca handed me shoe covers to put over my shoes before stepping foot on the ground. This helps to make sure that I'm not doing ANYTHING to contaminate the ground outside the barn.
My shoes (and those shoe covers) were then left in a room outside of the showers, and were not allowed in the main area of the pig barn. (I wore boots provided by Rebecca after my shower.)
Pigs LOVE to be clean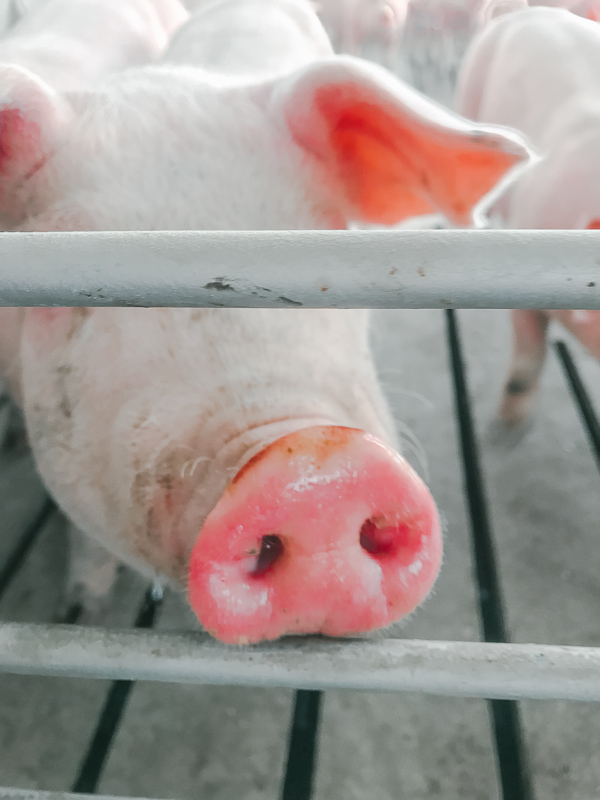 By raising the pigs in barns, they live in a wonderful, temperature-controlled environment.
There's tons of fresh air, sunlight and even misters that can be used during super hot summer days.
This means that the pigs don't have to roll around in muck in order to keep cool. I was really surprised at how clean the pigs were - and that they all seemed to do their business in one area.
Rebecca explained that they love to be clean, and they just naturally choose one part of their pen to be the bathroom - usually farthest away from their food. Every now and then a pig doesn't follow the protocol, but it was really cool to see the pigs naturally keeping their environment clean.
It's clear to me that my own children would never survive in a pig barn. My kids are much too dirty, and my youngest's bathroom habits would never be tolerated by the other pigs.
All that waste doesn't go to waste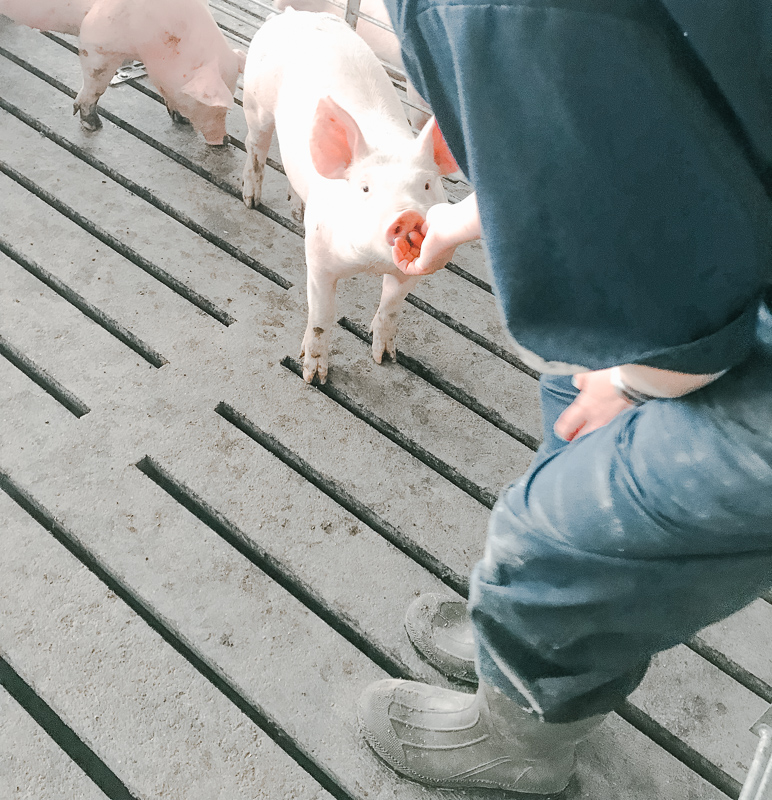 The barns are built on top of a manure collection area. The waste can be powerwashed through slots on the floor and eventually sucked out the side of the barn and then spread on the surrounding fields - where they're growing corn to feed the pigs.
I'm sure that's a MUCH simplified version of how it works, but it was amazing to understand how even the pig waste is used to help the pigs continue to grow.
Raising Pigs is a Big Business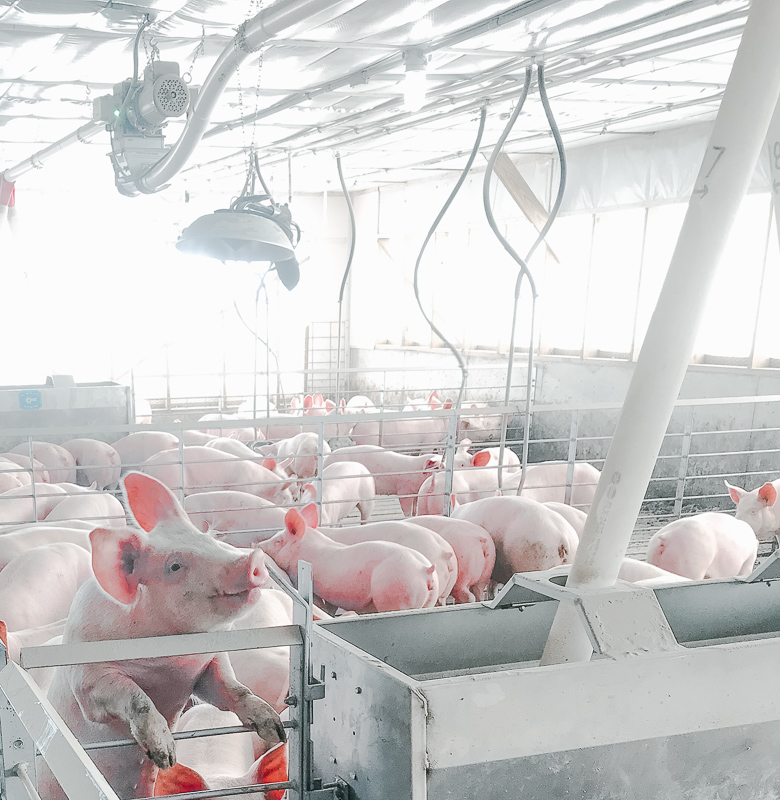 When raising pigs that are going to be eaten, there are TONS of checks and balances in place. I've already talked a lot about the barn cleanliness, the temperature controls, and the condition of the pigs.
All of this also has to be tracked, audited and reported. There is a full business side to raising pigs that I never really thought about, and it's pretty mind-blowing to see how it all works.
When Rebecca first joined the family business, she was managing the barns and helping to raise the pigs. Over the past couple of years, she's been transitioning to the business side of things. While she still helps out in the barns when they need her, she spends a lot of her days checking and double checking that everything is being managed according to farm policies.
While it's a business, it's also a family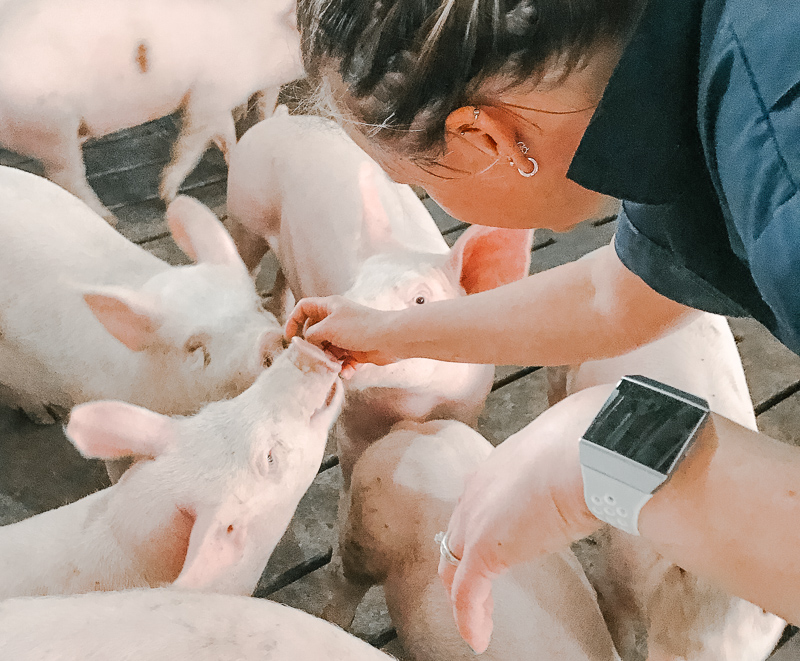 It struck me that there appeared to be an impressive balance between the business of being a pig farmer and the business of being a pig family.
While the Surber family owns or operates multiple pig barns in the Ohio area, most of them are built on family farms with the families themselves running the barns.
Rebecca explained that she got into the business when her daughter was born so that she could have more flexible work hours. Her daughter started coming to the pig farm with her every day when she was just a few months old. Now that her daughter is in high school, she's already taking steps to study for a career in Veterinary medicine.
The pigs LOVE visitors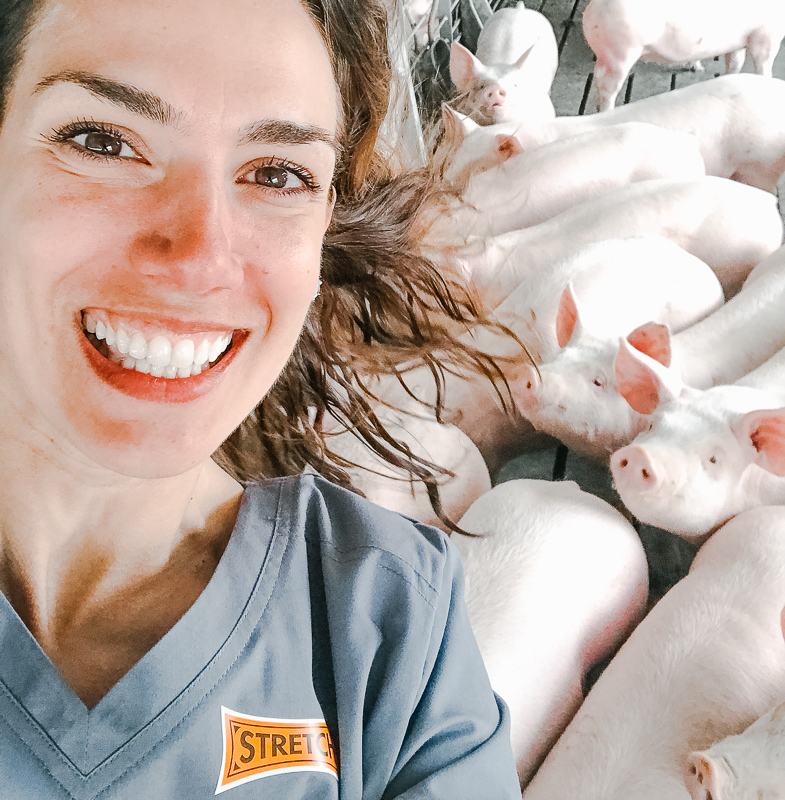 I've heard that pigs are incredibly smart and loving animals, and I got to see it firsthand in the barn.
Rebecca talked to them all like they were her kids, and they came running to say hi, chew on her pants or show off in some way.
She said that when she was working in the barns on a daily basis, her goal was always to touch every pig every day so that they would get to know her and her voice.
The pigs and I were a little cautious of each other at first, but by the end of my visit, we were pretty much BFFs.
DO I STILL WANT TO EAT PORK? YOU BETCHA!
Everyone has been asking me if I still want to eat bacon after spending the day with the pigs.
And my answer is a big fat yes.
I loved seeing the love and attention and top-quality care that the pigs received. If anything, it makes me feel that much better about serving pork at our dinner table on a regular basis.
I also loved learning that when I shop for pork in Ohio, I am most likely eating a pig that was raised in Ohio. Grocers do their best to source locally whenever possible because they don't want to ship food any further than necessary.
Cool, right?
So - are you ready for my super simple Pork Tenderloin marinade? It's from my Aunt Lura, and it is so delicious!
Simple Pork Tenderloin Marinade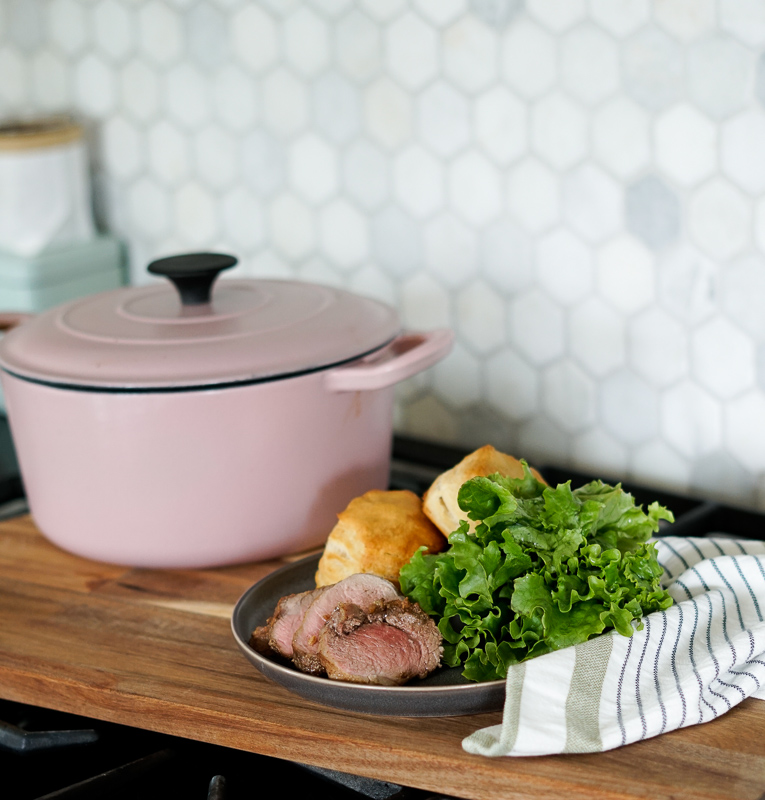 My Aunt Lura is an amazing cook, and luckily for all of us, she's always more than willing to share her secrets.
Even luckier for us, her delicious pork tenderloin marinade is crazy easy.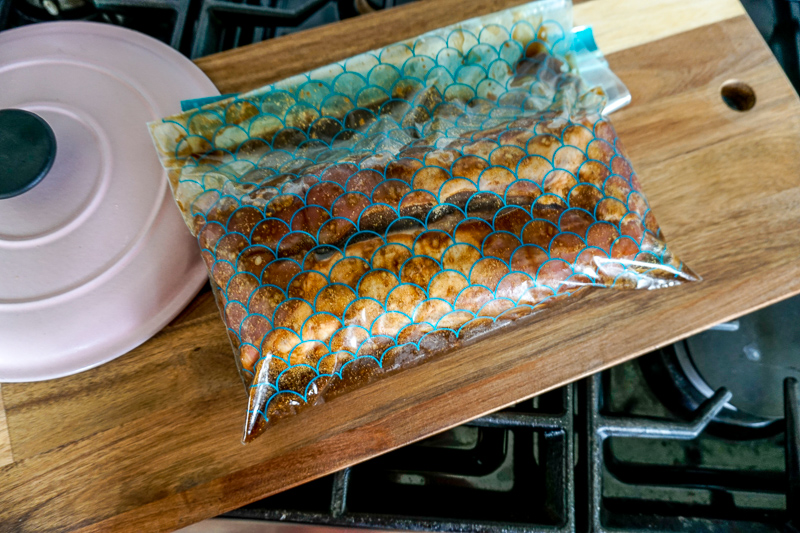 In a bag or covered dish, mix ½ cup soy sauce, ¼ cup water, 6 cloves of garlic, two tablespoons of honey, one teaspoon of ginger and two teaspoons of dry mustard.
Add your pork tenderloin and marinate in the fridge for at least four hours. I try to marinate mine overnight if I can remember.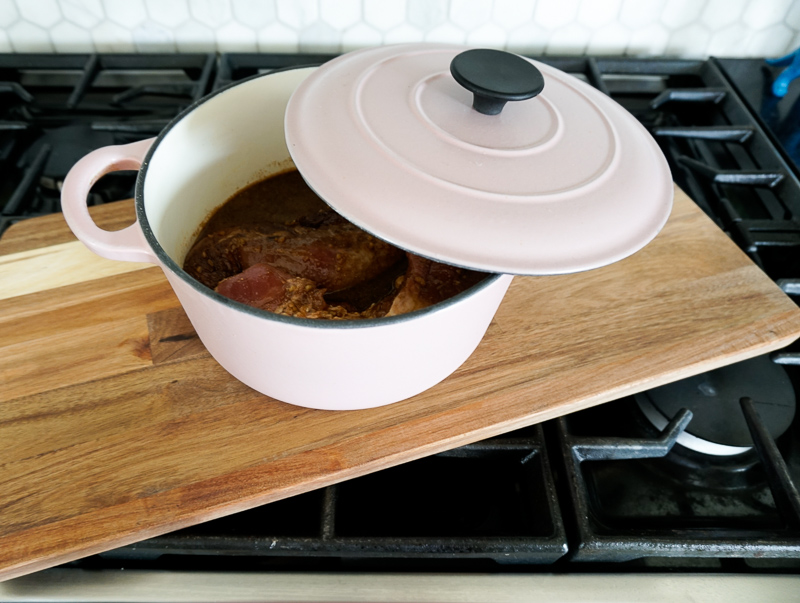 When you're ready to start cooking, simply dump the pork and all the marinade into a dutch oven (or covered dish) and cook at 425° for 7-10 minutes per pound.
Once the pork reaches an internal temperature of 145°, remove from oven and let rest for a few minutes.
Then slice and serve with your favorite sides.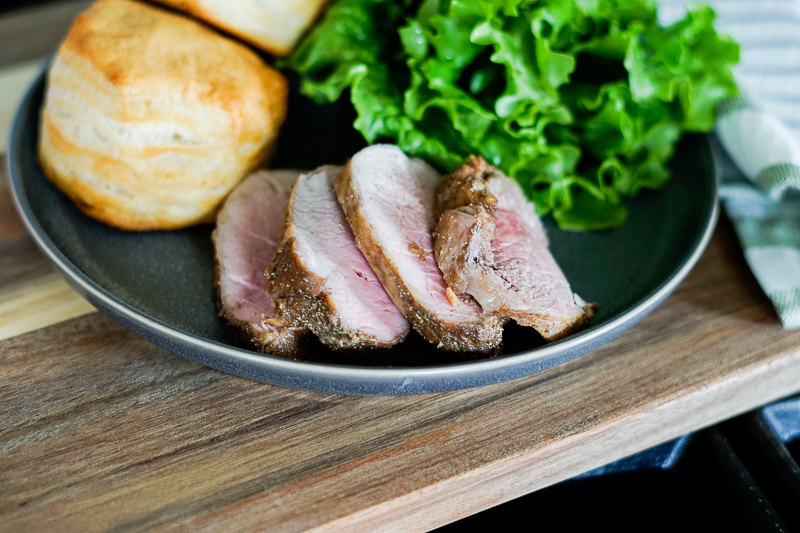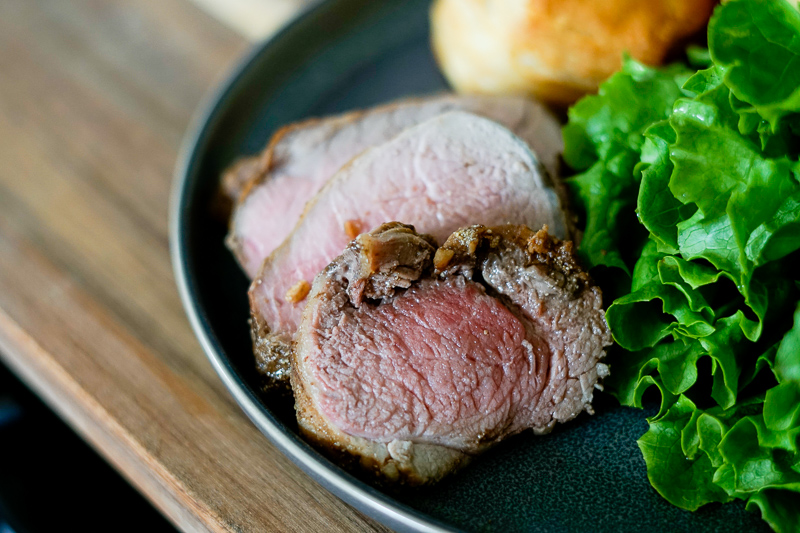 Easy, right?
For those of you that prefer a recipe card that you can print or save, here you go:
Print
📖 Recipe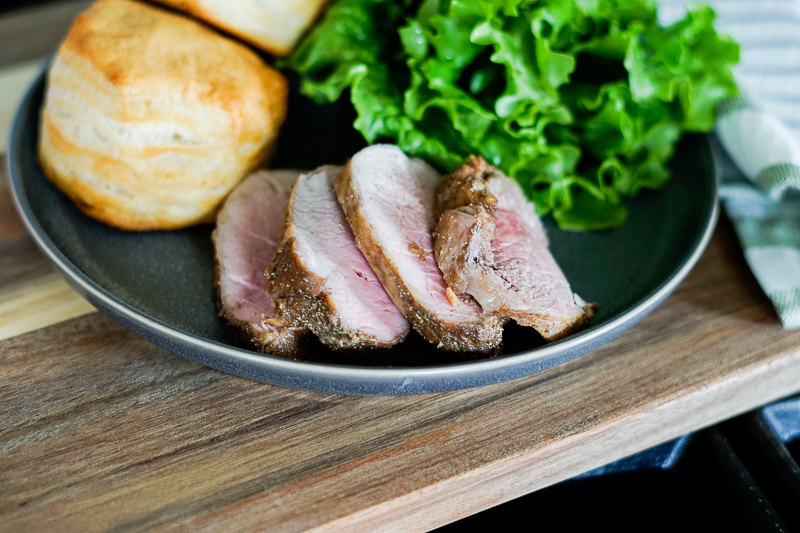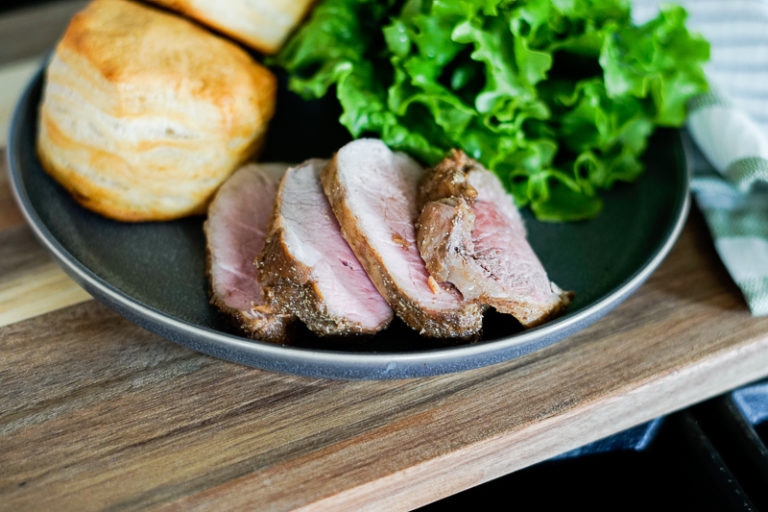 Simple Pork Tenderloin Marinade
This simple pork tenderloin marinade is easy to whip together and adds just the right amount of flavor to your pork tenderloin.
Total Time:

Varies

Yield:

One Pork Tenderloin
½ cup

soy sauce

¼ cup

water

6

cloves garlic

2 Tablespoons

honey

1 teaspoon

ginger

2 teaspoons

dry mustard
Pork Tenderloin
Instructions
Combine all ingredients (including pork tenderloin) in a sealed bag or covered dish.
Marinate in the refrigerator for 4 - 24 hours.
When ready to cook, preheat oven to 425°.
Place pork tenderloin and marinade in covered dish and bake until the pork reaches an internal temperature of 145°. (Usually 7-10 minutes per pound.)
Remove from oven and let rest for three minutes.
Slice and serve with your favorite sides.
Author:

Prep Time:

4 hours

Cook Time:

Varies

Category:

Pork

Method:

Roast

Cuisine:

American