I was asked to participate in the #CleanStart campaign, sponsored by Lysol® at Walgreens. Although I have been compensated, all opinions are my own.
Please tell me that I am not the only one that hates packing school lunches.
Everyone says you should pack lunches the night before, but I'm exhausted at night. And every last bit of energy I have is spent cleaning the kitchen and folding laundry so we have clean dishes and clothes in the morning.
I've tried packing lunches in the morning before the bus comes, and sometimes that works. But more often than not, I'm rushing the kids onto the bus and telling them to buy lunch.
Again.
As a mom, there are unique challenges parenting young, school age children. Between trying to keep them healthy and maintaining an organized household (and – you know – working full time), I'm using every resource to make it all happen.
A New Lunch-Packing Routine
Last spring, we got into a new lunch-packing routine that really seemed to work, and we're planning on doing it again this year.
No packing lunches in the evenings.
Very little work in the mornings.
And – even better – the kids were able to do it themselves. Even my Kindergartner!
So I'm teaming up with Lysol® household cleaning products to show you the lunch-packing system that works for us.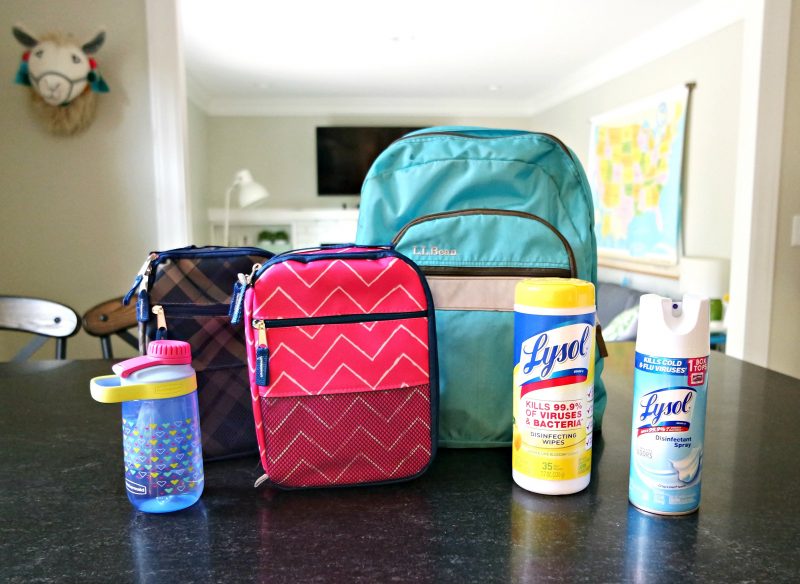 Stocking Up on Lunch Supplies
At the beginning of the school year, I stock up on lunch supplies at my local Walgreens. I usually purchase lunchboxes (if we need them), water bottles, LYSOL® DISINFECTANT WIPES IN LEMON AND LYSOL® DISINFECTANT SPRAY IN CRISP LINEN..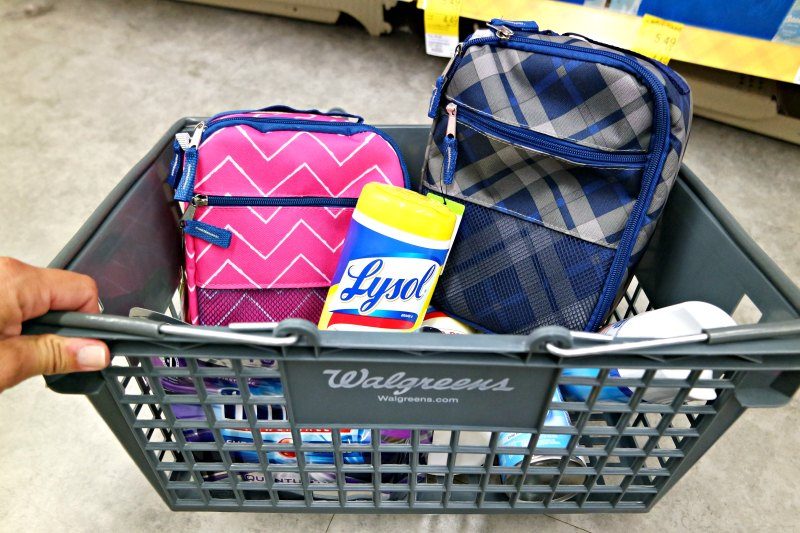 The disinfectant wipes are perfect for wiping down counters, doorknobs and bathrooms to keep the back-to-school germs away.
They're also a great way to clean out lunchboxes after school. Just a quick wipe, and they're ready for the next day.

As an added bonus, Lysol® is the exclusive Household Cleaning Products Brand to partner with Box Tops for Education™ to help Support Your School, One Clean Surface at a Time! This is a very big deal to my kids, and they're always super excited to use products that support their school.
In fact, it's possible that I've even had to break up a few arguments over whose turn it is to take in the Box Tops. And – yes – I now keep track on the calendar. (Please tell me I'm not the only one that needs to do this?!?)
Do THIS once a Week
Now comes the fun part.
Once a week (Sundays for us), the kids join me in the kitchen for a lunch-packing session.
First, they clean the counters.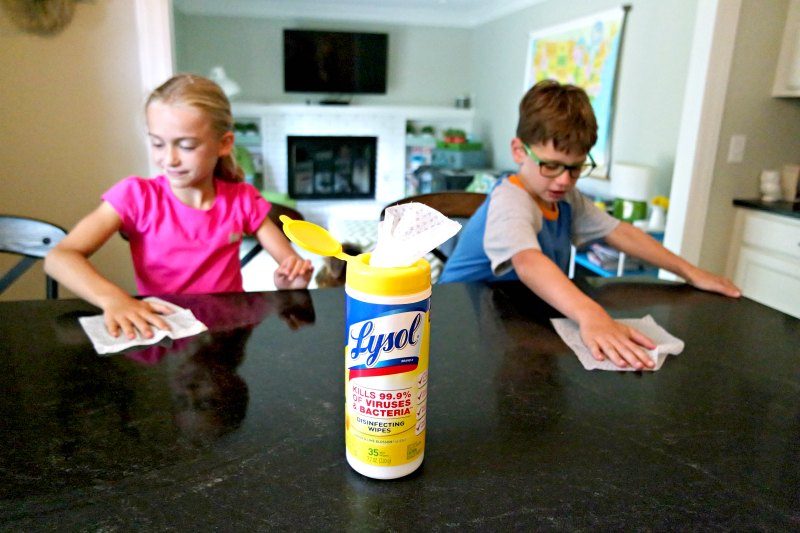 Then we're ready to get started.
I set out all of the items that they typically like to have in their lunches. This usually includes pretzels, popcorn, crackers, hard-boiled eggs, yogurt, cheese and fruit.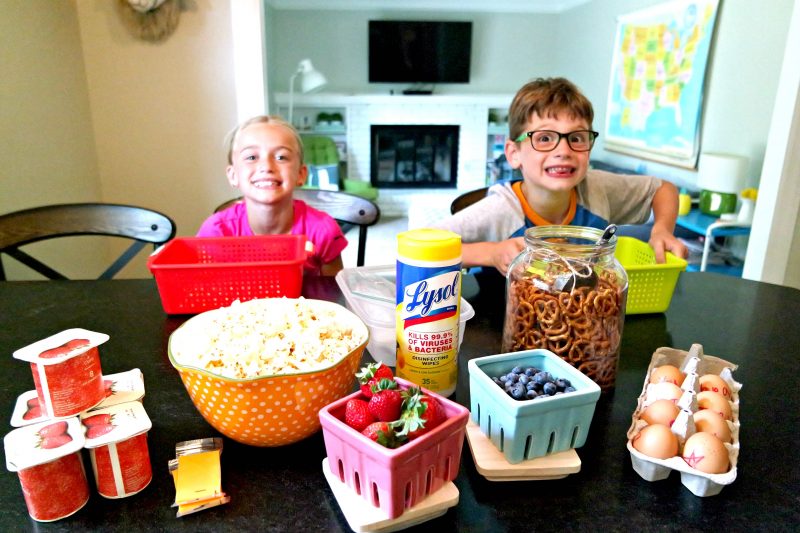 Each kid gets a container that will hold their lunches for the week.
And then they start packing.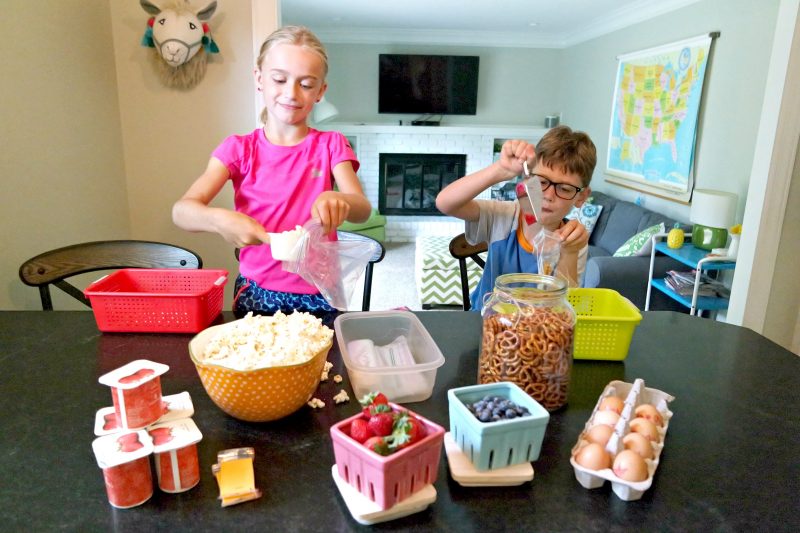 Usually, my kids bring their lunch four days a week and get to buy one day of their choosing. So they prep lunch for four days.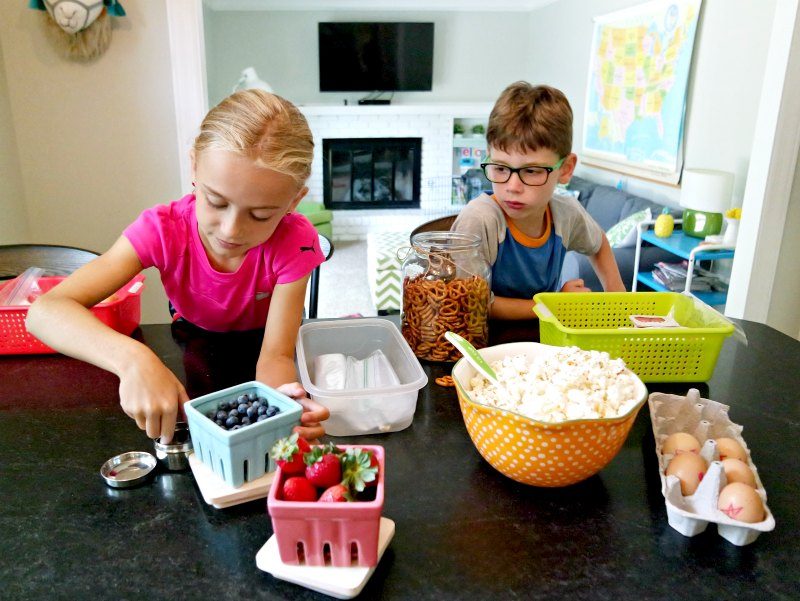 Sometimes I need to assist, but usually they're able to do it all independently. But be warned, it will definitely take a longer time than if you just do it yourself (especially at first).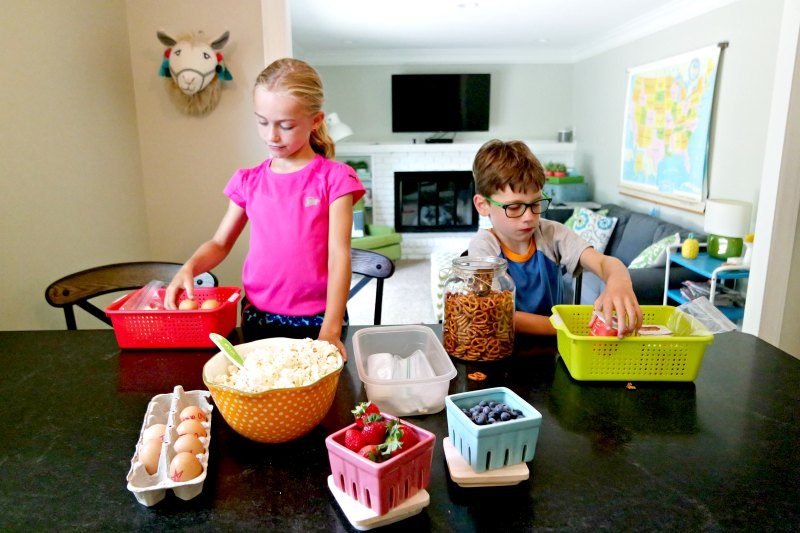 I'm okay with it taking a little longer because I've found that I'm a whole lot less grumpy when I know my kids are pitching in and learning skills that will (eventually) help them contribute even more.
While they make lunches, I use the time in the kitchen to prep meals for the week and write lunch notes.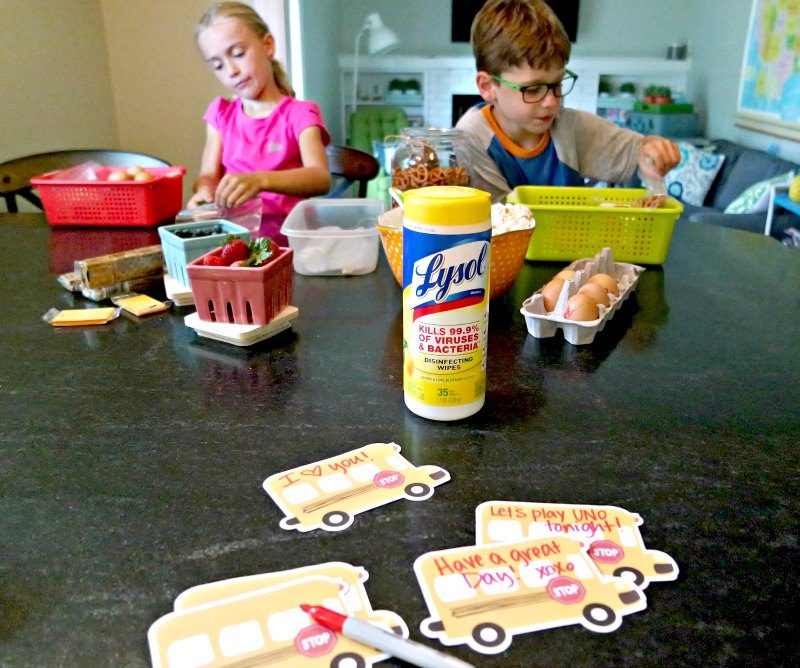 By the time we're finished, each child has a basket of cold items plus some baggies. We store the  containers in the fridge for the week (one for each child), and the baggies go in the snack drawer.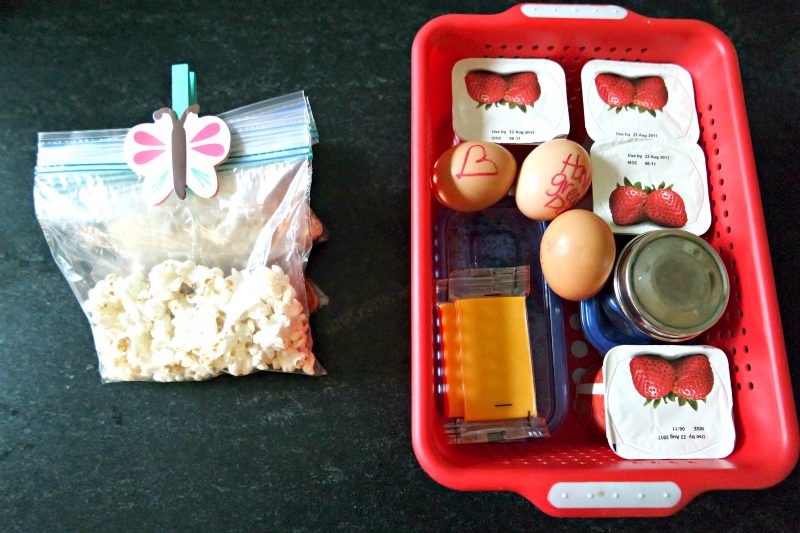 Some of my kids don't like to eat sandwiches. Some of them do. NONE of them like their sandwiches to be cold or soggy, so we whip those up each morning (which really does only take a minute.)
Do THIS Every Morning
Each morning, the kids know that it is their responsibility to fill up their water bottle, take their cold things out of the fridge, grab their dry snacks, and pack their own lunch.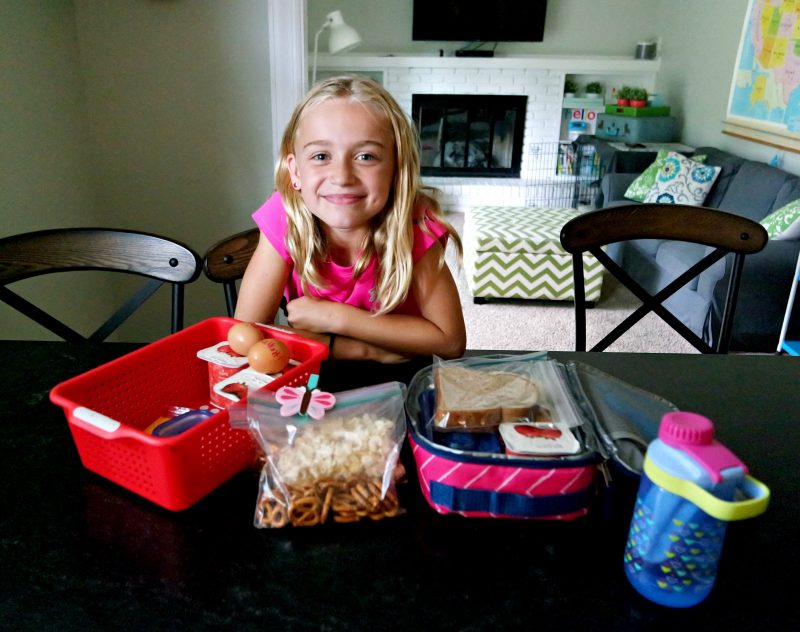 With most of the work done in advance, this is a quick and easy process that requires very little of my attention. (Although I do add the lunch note at the end.)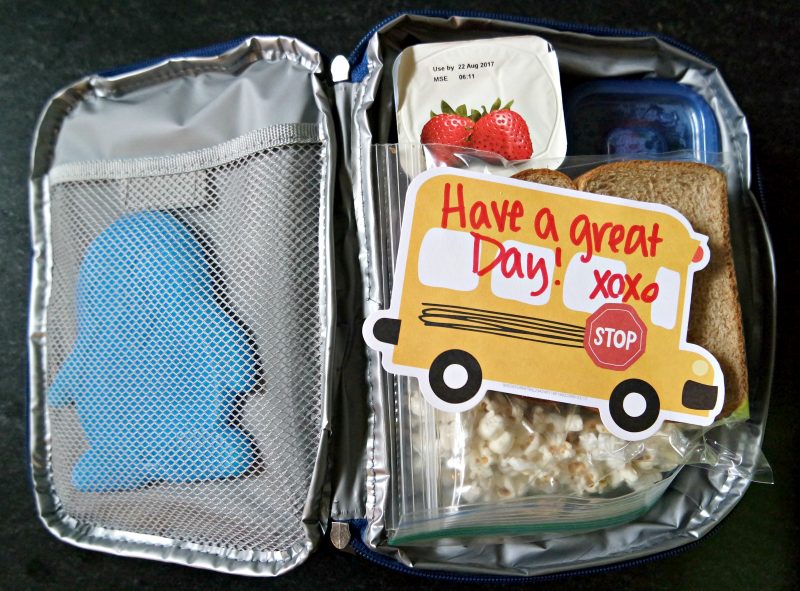 When the kids get home from school, part of their routine is to empty their lunchbox and wipe it out with Lysol® Disinfectant Wipes so it's ready for the next morning.
Save on Lysol® products at Walgreens
During the weeks of July 30th and August 13th, save on Lysol® products at Walgreens. Click here to learn more and be sure to check your Sunday paper for offers.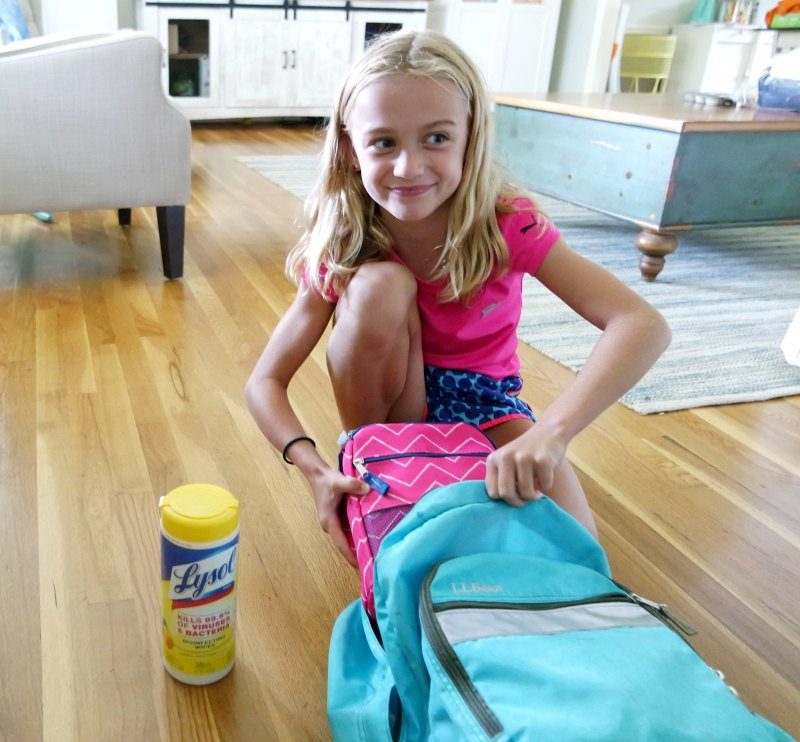 Now is a great time to stock up for the school year. My kids love to "gift" their teachers with Lysol® Disinfectant Wipes.
Keep those Backpacks Free of Germs
My kids' backpacks carry it all – especially germs! While we try to wash them regularly, between loads, I spray them down with Lysol® Disinfectant Spray. The germs are gone, and they smell better too!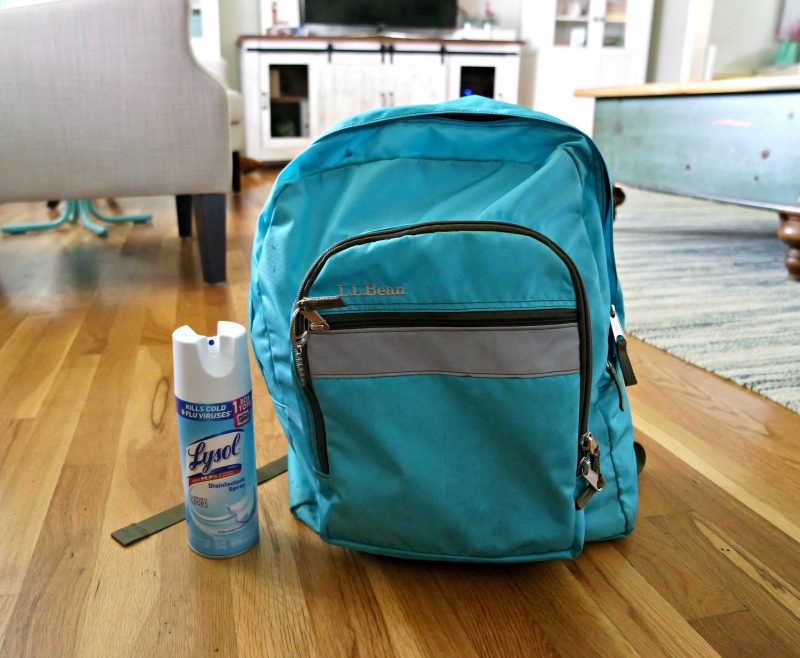 ---
Enter to Win!
As we all get ready for Back-to-School, let's spread the word and not the germs! Use the form below to enter the #CleanStart Sweepstakes for a chance to win a Walgreens gift card, the featured Lysol® products and other fun back-to-school essentials. (US only)
The sweepstakes is July 12, 2017 – September 2, 2017.
Lysol® and Finish® at Walgreens #CleanStart Sweepstakes
Please click here to enter if you are not able to see the form.
Join the #CleanStart Twitter Party
For more ways to win, be sure to join me at the #CleanStart Twitter Party on August,
22, 2017 from 8 – 9 PM ET.
School's almost in session and that means germy desks, countertops and let's not even talk about school bathrooms. We'll chat through ways to Support Your School, One Clean Surface at a Time.
No RSVP is required, and I hope to see you there!
---
Share THIS With Your Kids
Be sure to share this infographic with your kids so they can learn more about the germs found at school, on the bus, and in the lunchroom (and see how Lysol® products can help).

This is a sponsored conversation written by me on behalf of Lysol + Finish. The opinions and text are all mine.