As dedicated health professionals, nurses often find themselves immersed in the demands of their challenging and often hectic work schedules.
With limited time for a lunch break and the need to sustain their energy levels throughout long shifts, having a reliable and convenient lunchbox becomes an essential tool in their arsenal.
However, finding the best lunch bag that aligns with the unique needs of nurses can be overwhelming amidst the sea of options available. Fear not!
In this comprehensive blog post, we will guide nurses on a journey to discover the ideal lunchbox that caters to their specific requirements.
From considerations like portability and insulation to durability and organization, we'll provide valuable insights and recommendations to help nurses find a lunchbox that effortlessly supports their dietary needs and contributes to their overall well-being on the job.
So, let's dive in and explore the world of lunchboxes, empowering nurses to fuel their shifts with delicious and nourishing meals!
Jump to:
What to Look for in the Perfect Lunchbox for Nurses
Size and Capacity
The lunch box should be spacious enough to hold a complete meal, including containers for main dishes, snacks, and beverages. It should also fit comfortably in a nurse's tote bag or locker. While a busy nurse working at the hospital might want a small lunch bag that holds just their lunch, cell phone, and essential items, travel nurses or someone working 12-hour shifts might be looking for something with a larger capacity and enough space to hold personal items, a change of clothes, a variety of foods and everything they need to meet their daily needs.
Insulation and Temperature Control
Nurses often work long shifts, and their lunch box should have effective insulation to keep their food fresh and at a safe temperature. Look for lunch boxes with insulated linings or thermal properties that can maintain hot or cold temperatures. You can also look for one that comes with an insulated container.
Durability
Nurses are constantly on the go, so a lunch box that is sturdy and durable is essential. It should be able to withstand daily use, potential impacts, and be easy to clean. Sometimes a great lunch bag with a simple design made out of high-quality material will last a long time, whereas a good lunch bag with unique features might not last as long.
Leak-Proof and Spill-Proof
Nurses need a lunch box that prevents leakage and spills to avoid any mess and keep their belongings protected. Look for lunch boxes with secure and tight-fitting lids or zippered compartments to prevent accidents. The last thing any healthcare worker needs is a giant mess in their nurse lunch box. Look for waterproof material as well as leakproof.
Compartments and Organization
A nurse's lunch box should have multiple compartments or dividers to separate different food items, snacks, or condiments. This helps with portion control, keeps food fresh, and makes it easier to find specific items quickly. A fashionable design with exterior pockets might just be the key to a perfect nurse lunch bag.
Easy to Clean
Given the nature of their work, nurses may not have a lot of time in their busy schedule to spend cleaning their lunch box. Pay attention to ease of cleaning as you hunt for the perfect nursing lunch bag at a great value. Look for lunch boxes that are easy to wipe clean or can be thrown into the dishwasher without any issues.
Portability and Carrying Options
Nurses may need to carry their lunch box alongside other work-related items, so it should be portable and have easy carrying options like handles, shoulder straps, a padded handle or hooks to attach it to a bag.
BPA-Free and Food-Safe Materials
Ensure that the lunch box is made from BPA-free and food-grade materials to ensure the safety of the nurse's food and health.
Style and Design
While not a top priority, some nurses may prefer a lunch box that reflects their personal style or has a design that matches their profession. It can be a nice bonus if the lunch box has a stylish design and comes in different colors.
Cost
Lastly, nurses may have a specific budget in mind when looking for a lunch box. Considering the price range and value for money is important while making a choice. You'll find that every option on this list is less than $50, and most of them are less than $30.
Our Top 4 Lunchboxes for Nurses
The Rest of the Best (Numbers 5 - 13)
In no particular order, here are the rest of the best lunchboxes for nurses.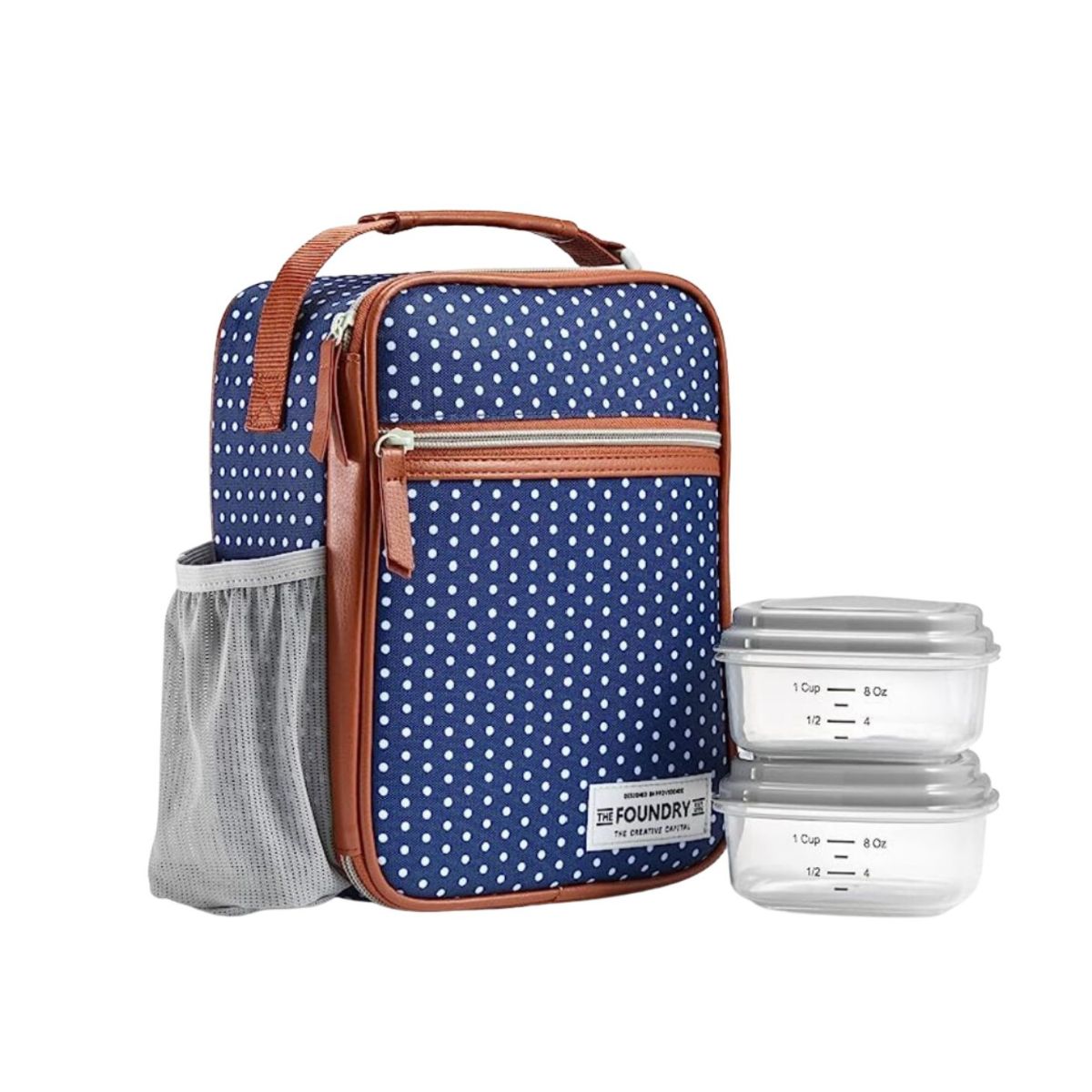 What you should know:
Traditional lunch box
Side mesh pocket for your waterbottle
Top handle
Front zipper pocket
One main insulated compartment
Perfect to carry inside another bag or backpack
Two polka dot patterns to choose from
See all of 20 of our Top Electric Lunch Boxes here ->
OUR TOP 4 FAVORITE BACKPACK LUNCH BOXES
While we stand by every cooler bag on our list, these are our top picks. See the top four below and then click here to see the all the rest on our list.
Click here to see all 22 of our favorite Backpack Lunchboxes.
OUR TOP 4 INSULATED LUNCH BAGS
When it comes to the best insulated lunch boxes, these are four of our top picks in all different sizes that will keep your hot food hot and cold food cold.
See our top four here, and then click here to see the rest of the list.
Click here to see all 35 of the best lunchboxes to keep food warm.
OUR FAVORITE BENTO BOXES
There's nothing better than packing your lunch in a Bento Box (to then put into your lunch box). Here are all of our favorites:
OUR FAVORITE STAINLESS STEEL LUNCH CONTAINERS
Stainless Steel containers are a great insulated food container. They're a good choice for packing your fresh food. If you're looking for stainless steel lunch boxes, here are some of our favorites.
OUR FAVORITE LUNCH BOX ACCESSORIES
When it comes to packing lunches, these are the best products to make the job easier!