Thursday is the last day of preschool for Miles and Alice.
Which means that Simon and I are spending this week running as many errands as we possibly can.
You have a birthday in four months? We're buying your present this week.
Even Steven might need new jeans next winter? We're buying them today.
I even tried to buy a fridge for our garage so that I could go ahead and buy all of the milk we'll need for the entire summer – because going to the grocery store with one child is way more fun than going with three kids. Amiright?
But – really – all this errand-running just means that I've had the opportunity to take a dump in nearly every public restroom in town.
Here we are at Michael's. Simon was not so interested in the off-brand goldfish that I brought (aka chickadees). And he kept saying, "Who's that?" to woman in the stall next door.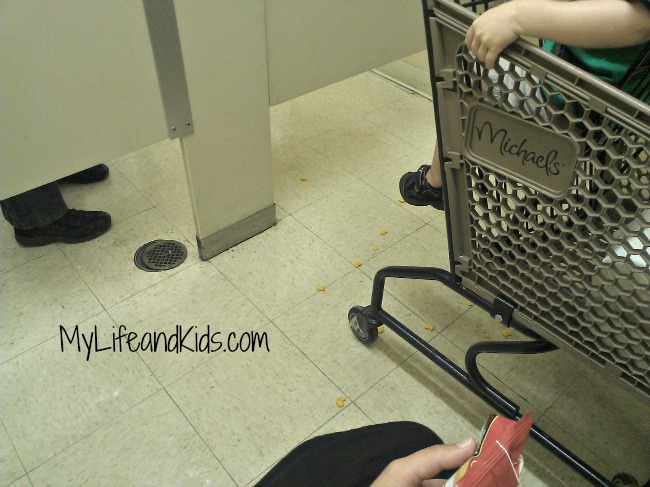 We were in here for awhile…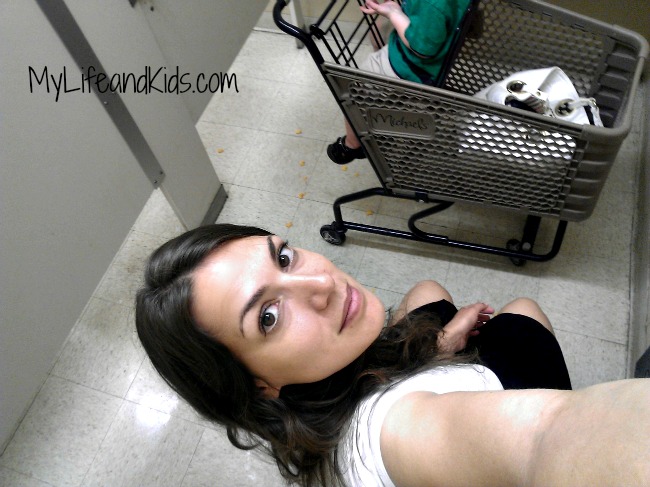 Here we are at REI. They had much better mood lighting than Michael's. And I really liked my stall-mate's shoes better than the lady at Michael's. Her pedicure was perfect (trust me, I looked at it for a very long time.)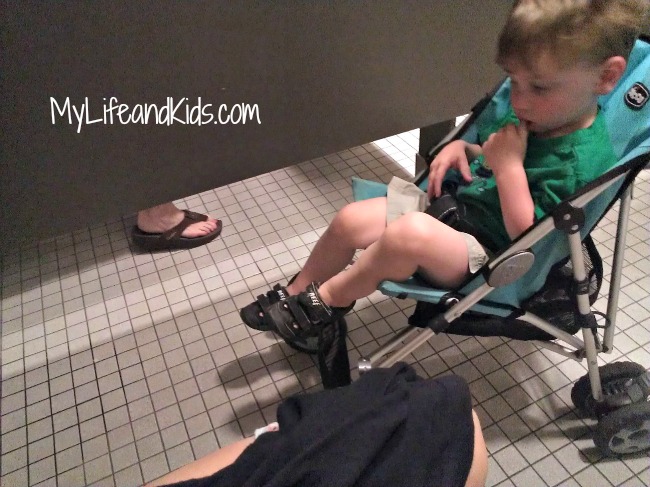 But I have to say that my personal favorite is the family restroom at Target. In fact, I even prefer it to my bathroom at home.
It's certainly cleaner.
And it only costs me about $100 per visit.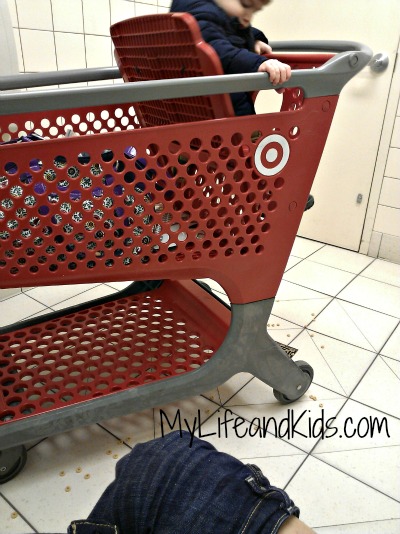 Yup – I think Simon and I will head there tomorrow…
20 May
A house is for sale on our street, and it is very important to me that we find really great neighbors.
I thought about asking the realtor if I could do pre-screenings for anyone that is interested in seeing the house – you know – to make sure they're the type of people we want living nearby.
But Even Steven said that would be inappropriate.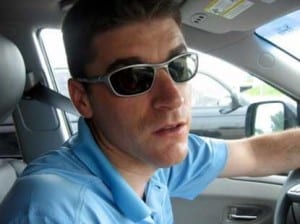 So instead I've been taking walks past the house during showings. If it looks like a family that I'd want as a neighbor, then I act really happy and smile and laugh a lot as we walk by.
If they look like not so great neighbors – then I pretend to be drinking vodka straight out of the bottle.
Last week, some people walked through the house that were clearly not the right neighbors for me (their perfect sweaters were tucked into their perfect pants), so I went ahead and took a giant dump in the front yard while they looked out the window. That seemed to do the trick.
Kidding. Totally kidding. I swear…
But I would love to have some great neighbors move in down the street. So I'm putting it out to you all, dear readers…
If you would like to be my neighbor, and you meet the criteria below, please leave me a comment – and I will consider your application…
My Perfect Neighbors
You must have a few kids – either young enough to play with my kids – or old enough to babysit my kids. If you don't have kids, you must love kids so much that you think my kids are absolutely adorable, and you want to spend a lot of time with them.
You must have dandelions growing in your front yard. This will make Even Steven feel better about the dandelions growing in his yard.
And every time he complains about the dandelions growing in his yard (which is every single day), I can say, "Well – at least they aren't as bad as the dandelions growing in their yard."
Which would be better than my current response, which is, "Yup. It looks terrible. You're really bad at this."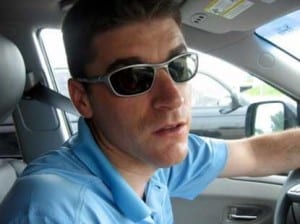 You must keep a case of warm Natty Light near the door of your garage, so I can help myself whenever I am walking by. Thank you in advance.
On that same note, it'd be nice if you kept a can of Crisco and some plastic spoons next to the warm Natty Light. Thank you again.
You must keep my copy of Perfect Patty's key in a safe place, where you can find it quickly.
You must have a hot tub. PLEASE have a hot tub.
And mega-huge bonus if you ever dated "Bill" – or someone just like him.
Okay – any takers? Won't you be my (perfect) neighbor?
17 May
When I was pregnant for the first time, I found myself addicted to labor and delivery shows on television. I couldn't make myself stop watching the terrifying horror of babies being born. I would watch and cry. Watch and cry.
I just couldn't stop.
After my first child was born, I found myself addicted to shows about the baby coming home from the hospital. I would see the little welcome home party, the sweet walks to the park, the sleepless nights… I would watch and cry and breastfeed. Watch and cry and breastfeed.
I just couldn't stop.
When I was pregnant for child #3, I found myself addicted to shows about women killing their husbands. I would watch and eat ice cream and terrify my husband. Watch and eat ice cream and terrify my husband.
I just couldn't stop.
Now that my kids are growing up, and I'm chasing after them for most of the day, I don't have a whole lot of time for television.
But there is one show that I DVR and watch religiously. I just can't stop.
I watch and cry and watch and cry. And then I watch some more.
Please tell me that I am not the only one addicted to I'm Having Their Baby on Oxygen!
From teen moms to single moms to moms that may be pregnant because of an affair – the show creators do an amazing job of taking situations that could be turned into trashy television and portray them in a documentary style that expresses the drama – without any extra drama (if you know what I mean).
I have never experienced adoption first hand – yet I am so drawn to hearing and watching these women as they struggle with unplanned pregnancies, move through the adoption process and ultimately decide whether or not to place their baby in the hands of another family. And don't even get me started on the adoptive parents because I will turn into a blubbering mess right this second.
Yes – I am addicted. And I'm gearing up for Season Two – which starts on Wednesday, June 12 at 10pm (in just a few weeks!)
If you missed Season One, you can catch up by watching every single episode right here. (You're welcome.)
And if you've been addicted like me, you're going to love this. Here's a short web-isode where we get to catch up with Mercedes to see how she and her boyfriend (and the baby they put up for adoption) are doing after Season 1. Watch "I'm Having Their Baby; Raising Vivienne" here:
Watch the web-isode and comment below to let me know your favorite part.
Or what you're most looking forward to in Season 2.
Or what you LOVE the most about I'm Having Their Baby.
One commenter will receive a $50 Visa gift card! Winner will be announced the week of June 10th.
This is a sponsored post. All opinions (and addictions) are mine.