I was really hesitant to publish my post yesterday.
It unfortunately seems to be true that anytime you ask for parenting advice online – or any advice, actually – you're basically issuing an open invitation to Internet trolls everywhere to come and be mean to you – and to each other.
I was waiting for comments calling me a terrible mother. Calling me fat (because that's always an easy thing to toss in.) Telling me that they feel bad for my kids.
I wondered if my readers would understand that just because I don't really want to see my 6-year-old before 6 am that I love seeing him as often as possible after 6 am.
I wondered if people would really understand that I love my kids. I wondered if I would be judged. Or – even worse – I wondered if my readers would start judging each other…
So I was definitely hesitant to publish my post yesterday.
And then I watched as the comments came pouring in – both on my blog and on Facebook.
And – WOW!
Your suggestions and advice ran the gamut – from rewards to discipline. From parents and grandparents. Some people said I should spank him. Some people said I should pull him into bed and snuggle him.
Some people said he needed tough love.
Others said he just needed love.
And several people suggested a gate. Or stickers. Or signs. Or all of the above.
Every single comment was thoughtful. Every comment came from a place of someone truly trying to offer help and advice.
And despite some hugely different approaches to the best way to handle this situation – not a single person said anything disrespectful to me or to another reader.
There were no fights.
There were no judgements.
There was no name calling.
I've never been prouder to have such a huge community of amazing women here at My Life and Kids.
I mean – seriously? You all made my entire day!
Thank you for being the best readers on the entire planet.
Thank you for being so respectful of each other.
And thank you for being you!
Not to get all schmoopy on you, but how amazing would it be if the entire internet was full of wonderful, positive, uplifting people like YOU?
Thank you!
Oh – and PS – Thanks for the awesome parenting advice too! I'll be sure to keep you posted on what we try and how it works!
Update: I just closed comments on that post. People were still being kind – but I started getting comments from escort services. And that's usually a sign to shut it down.
11 Mar
Dear Internet – I need your advice.
Seriously.
For the past several weeks, we've been having a problem with our oldest child coming into our room before 6:30 am.
He's 6 years old.
He has a clock in his room.
He has a watch in his room.
He knows how to tell time.
He knows that he is not allowed to come into our room until after 6:30 during the week and after 7 am on the weekends. He knows that he can play in his room. He can read in his room. He can do pretty much anything he wants in his room.
He can go to the bathroom (which is right around the corner from his room).
The only rule is that he cannot come into our room until the designated time.
He is reminded of this rule every single night before he falls asleep.
Every. Single. Night.
And yet every single morning he comes into our room at least three times before 6:30 am.
It usually goes like this:
Stumble stumble stumble
Too-loud voice:MOM, Can I play in my room?
Me: It's 5:45 am. Are you supposed to be in my room?
Him: I forgot.
Me: Go back to your room.
Him: But can I play in there?
Me: I don't care what you do in there, just don't come back in here until after 6:30.
Him: So I can play in there?
Even Steven: Go back to your room, son.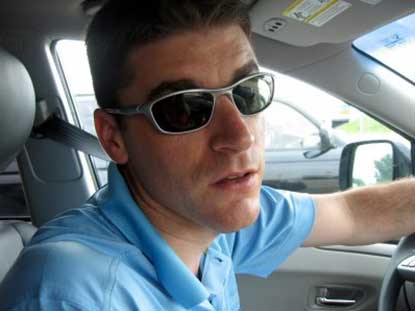 Loud Stomp, Loud Stomp, Loud Stomp, toilet seat crash, his door closing loudly.
SQEAAAAAKKKKKK
pitter patter pitter patter pitter patter
Simon: Mom, is it time to get up?
Me: Simon, it's the middle of the night. Let's go back to bed.
Simon: I want to snuggle with you.
Me: Okay – I want to snuggle with you too.
Simon: suck thumb, suck thumb, suck thumb…
stomp stomp stomp stomp stomp
Miles: Mom, can Simon play in my room?
Me: It's only 6 am. Stop coming in here.
Miles: But can Simon play in my room?
Simon: Can I?
Me: Go – both of you out of here – but stay out of Alice's room and be quiet!
Miles & Simon: Thunder, Giggle, Boom, Giggle, BOOM, Squeal
Tap Tap Tap Tap Tap
Alice: Mom, can I play with the boys?
Me: Alice – it's only 6:15 in the morning. Dad's alarm hasn't even gone off yet.
Alice: But can I play with them?
Me: Sure – but be quiet!
SCREAMING SCREAMING SCREAMING
Alice: MOM! The boys won't let me play with them.
Alarm goes off.
It's time to start the day.
I'm not even exaggerating when I tell you that it's like this 9 out of 10 mornings.
We started a new rule that every time Miles comes into our room, he has to go to bed 15 minutes earlier.
But this didn't work so well. While it stopped him from coming in for a 2nd or 3rd time, he still would forget and come in the first time – which would lead to Simon waking up – and the cycle starting all over.
And – when he'd go to bed 15 minutes earlier, he started waking up a little earlier too.
I don't know about you, but when kids start talking to me before 6 am, I am GRUMPY!
I've been asking friends and family for their advice, but so far only my mom has weighed in.
Her idea?
Tell him that every time he comes into your room, you're taking Alice and Simon to the toy store to pick out a toy. And he won't get one.

Which pretty much makes her the worst grandmother on earth. And is also a little funny because she NEVER would have done something like that to me when I was little.
So – Internet – what's your advice? Torture him at the toy store? Put up a gate in his room? Set my alarm for 5 am, so at least I'm waking up on my own and not because a 6-year-old is waking me up? Leave your ideas in the comments section – or on Facebook. And thanks in advance!
9 Mar
Last week, I called my mom to talk to her about her latest blog post, and my dad answered the phone.
We chatted a bit, and then he said, "Well, I'm going to pass you on to mom. I need to get back to writing my blog posts for when I take over your blog next week."
That was pretty funny for my dad.
He's more of the silent type – which fits pretty well with my mom's personality.
And mine…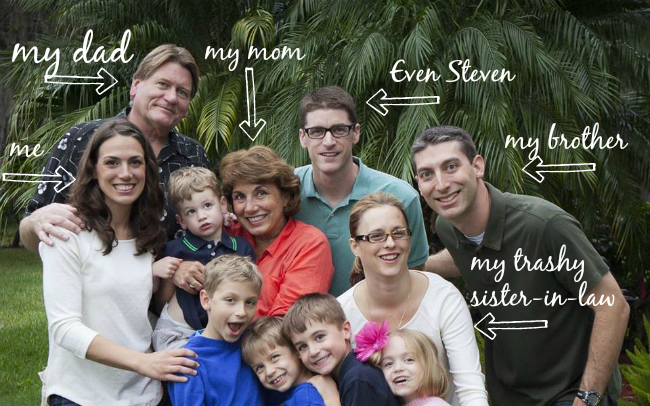 While I'm not turning the blog over to him this week, I would like to share a little story about him.
When I was growing up, my dad had gas.
Bad gas.
My mom still tells the story of me running errands with my dad and coming into the house sobbing.
My Mom: Anna, what's wrong?
Me: SOB, It's my doll. We have to throw her away. SOB
My Mom: But why? What happened?
Me: She just smells so bad!
At which point my mom looked up to see my dad laughing so hard he had tears streaming down his face.
Apparently the horror of being buckled into a car with the windows rolled up while my gassy dad farted his way around town was scarring enough for me to have completely blocked out the memory of that entire incident.
But I'll never forget our nightly ritual.
Each night, my brother and I would go to bed, and dad would come upstairs to tuck us in.
He would read us books, tell us we were special – and fart.
They were silent, but oh, so deadly.
We'd scream and cry and try to hide under the covers, and my dad would laugh and fart and laugh and fart and laugh and fart.
The more we cried, the more he laughed.
And the more he laughed, the more he'd fart.
Inevitably, we would have to call for my mom to Bring the Powder.
She'd run upstairs and shoo my dad out of our rooms. And then proceed to sprinkle baby powder around until everyone could breathe again.
True story.
Luckily, my dad doesn't smell anymore. But I always keep a can of baby powder handy during his visits – just in case!