The week of Thanksgiving, we planned a week-long family vacation to the beach – full of sun, sand and… SUN.
But then we spent our vacation money on having Big Hairy Dog's giant tumor removed.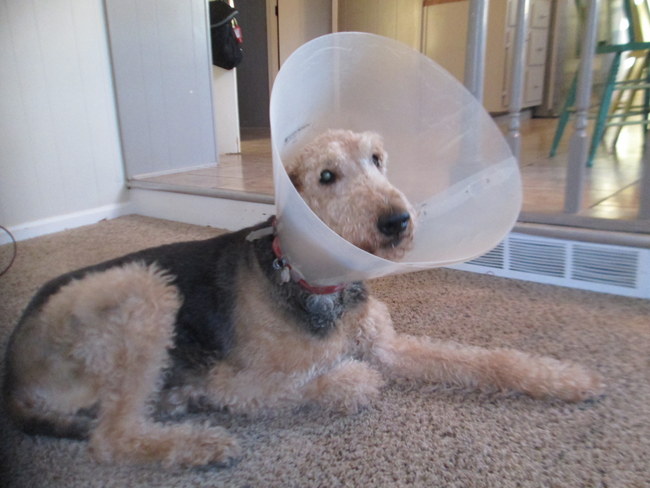 So we decided to take a little 3-day getaway instead.
To an indoor waterpark.
No sun. No sand. But water and warmth.
Two days before we left, the 2-year old woke up with a fever. I took him the doctor and was assured that it was nothing serious.
Me: We're supposed to take the kids to an indoor waterpark day after tomorrow. Are you comfortable with him going?
Doctor: Bwahahahaha! Oh – yeah – he's fine to go. And I'll see you all on the day you get back.
Me: What? Is he sick?
Doctor: Nope. But most of you will have diarrhea by the time you leave the waterpark. Have fun!
Was I concerned by her warning?
A little.
Was I concerned enough to change our plans?
No way.
So off we drove to an awesome indoor waterpark three hours away.
It was pure heaven.
There were bunkbeds in our hotel room.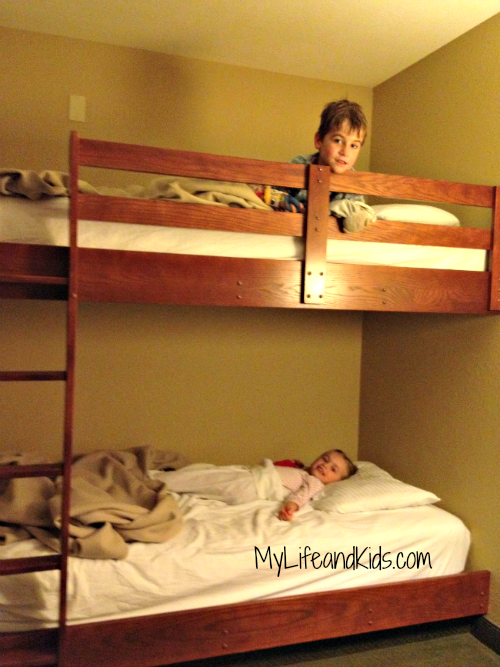 The water was warm.
At one point, I even felt too hot for a second.
Simon had a fever for most of our trip, but that didn't slow him down a single bit. In fact, I think the lazy river helped his fever.
The kids loved it.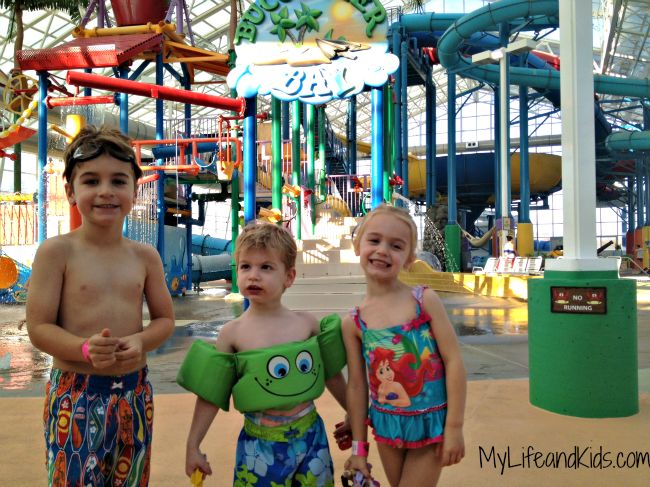 And – even better – Even Steven and I loved it. On our second day there, we started brainstorming about all the different times we'd be returning.
For kids birthdays. For a quick getaway in February.
We might have even talked about leaving the kids with his mom for a weekend and hitting the waterpark by ourselves.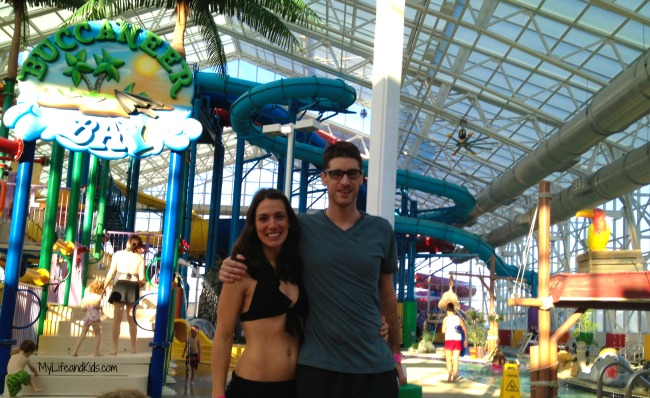 It was that much fun.
On Thanksgiving morning, we took one last spin down the waterslides, said goodbye to our bunkbeds and headed to Matt's aunt and uncle's house for Thanksgiving dinner.
And on our two-hour drive home that night, we had to stop so that Alice could have diarrhea in a Walgreen's bathroom. And she had a fever of 105.
We thought it must have been a coincidence…
On Friday, we woke up to the sound of Simon puking in his bed.
On Saturday, we woke up to the sound of Alice puking in her bed.
On Sunday, I was the one puking.
And we spent the entire next WEEK with at least one person puking or having diarrhea every single day.
Yes, I said a week.
At one point, Even Steven was in the basement washing sheets and towels, Simon was in the tub getting cleaned up after throwing up all over himself, Alice was sitting on the toilet having diarrhea, and I was laying on the bathroom floor debating on whether I should throw up in the sink or in the tub.
It's possible that I cried a little.
If you count the fever that Simon had before we left for the waterpark, we had either fevers or puking every single day for 15 entire days.
We're still awaiting the results of a stool culture to determine whether or not we were dealing with a parasite from the waterpark – although most signs are pointing to yes. And – by the way – where's my gold medal for obtaining a stool sample from a 2-year-old?
On day 5 of puking/diarrhea – Even Steven and I said we would definitely still go back to an indoor waterpark. Totally worth it.
On day 8 – we decided maybe we'd limit our stay to one night only.
On day 10 – we decided that we just wouldn't go in the winter anymore.
And now? Now I'm thinking that I'll leave Even Steven with the kids and go by myself.
For a month.
What about you? Do you love indoor waterparks – or do they make you puke?
Giveaway ends TODAY!
The American Girl Bitty Baby and Stroller Giveaway ends at midnight tonight! Follow the directions below to enter.
Already entered once? Feel free to pin again – and enter again! Just be sure to leave another comment.
Good luck!
The gift guides are out, and we put together more than 300 great gift ideas for everyone on your list.
Yes – I said 300. (You can see them all right here.)
And today, in celebration of the season of giving, I'm giving away something huge. Well, for an American Girl lover like myself, it's huge…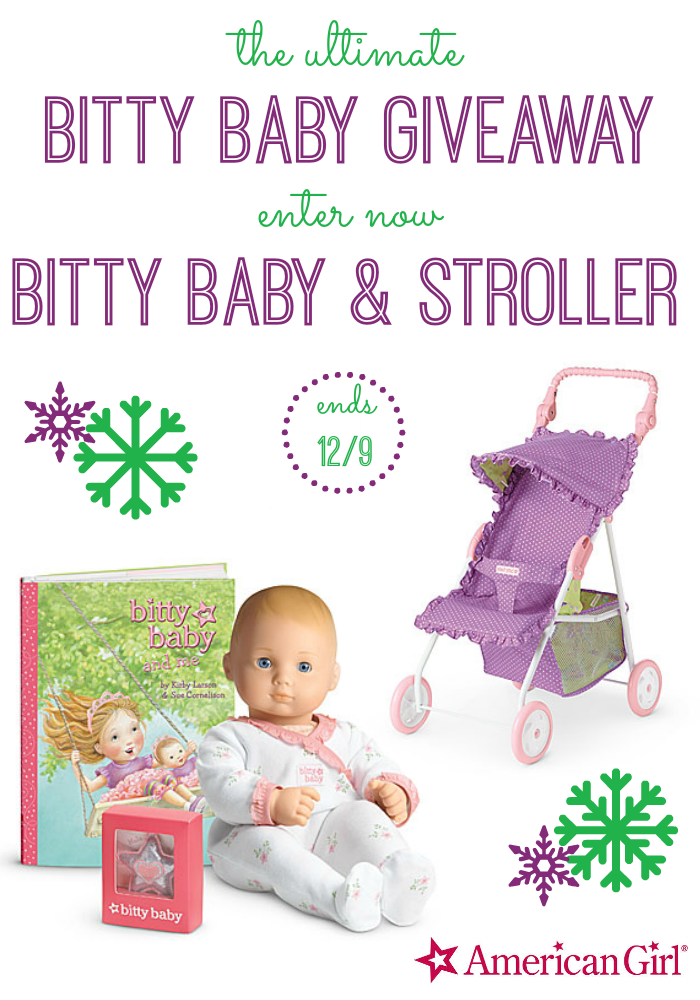 One person will win a Bitty Baby doll and the Bitty Baby stroller.
The Bitty Baby Doll set retails for $80, and her stroller is $58.
How amazing is that?
Follow the steps below to enter. We're doing this all on Pinterest, so if you don't have an account – get one now! And if you do have one – get ready to start pinning and enter for a chance to win this amazing American Girl Giveaway!
Follow these Steps to Enter…
Steps 1 – 4 are mandatory for entry.

2. Click on the pin it button at the bottom of these two images to pin them both.

3. Choose AT LEAST FOUR of the following images to pin
(Just click the pin it buttons beneath the image you want to pin.)



4. Leave a comment with your Pinterest URL and why you want to win!
Good luck!
Giveaway ends at midnight on Monday, December 9th. Winner will be contacted via email and will have 24 hours to respond with a valid mailing address. Items will be shipped as soon as an address is received. This contest is not sponsored or endorsed by American Girl.
I'm teaming up with several other bloggers today to offer an awesome giveaway for crafters. But hurry up and enter – giveaway ends at midnight TONIGHT!
This giveaway is hosted by Best of Bloggers
A big thanks to our Co-Host Pandora's Deals!
We are cruising right along with our Gift Guide Giveaway. Today we are all about gifts for crafters! Remember, one winner will win all of the gifts in this post!! That's worth almost $800!!! Good luck – you only have 24 hours to enter!
I love creating things. Whether I am making a gift, creating something for my home, or coming up with something for myself I've always loved making stuff. I would *love* to find some crafting materials under my tree! Check out some of these amazing things any crafter would love to receive!
Beaducation
Beaducation is a one stop shopping spot for all things metal stamping! Metal stamping is really popular right now. You can make so many really amazing creations with metal stamping! One winner will win everything you need to get started! In fact you will win everything above!
To find out more about the products we will be giving away, inspiration for metal stamping creations and our full review on Beaducation products click here.
To shop Beaducation products click here.
Craftsy is the best place to learn new things! Get the Crafter on your list a class at Craftsy and they will forever thank you! Whether you are looking for classes on quiiting, sewing, paper crafting, cooking, baking, photography, knitting or more – Craftsy has the class for you! Find all of the classes offered here. They even have free mini classes so you can test it out! One winner will win 3 classes of their choice!
To read our full review of Craftsy click here.
To purchase a class from Craftsy click here.
Create My Walls
Create My Walls allows you to take some of your most prized photographs and turn them into works of art! Create My Walls allows you to turn your photographs into the traditional canvases but they have some other really cool options! The first is to get them turned into acrylic pieces of art. The glass finish high gloss finish adds crispness and clarity to your photos while adding depth. Your photo will become museum quality!
You can also get your photograph put on metal! The brushed effect enhances light and creates a beautiful matte finish. Both of these options look fantastic!
One winner will win one acrylic and one metal print! Both are good for 16×20 prints!
You can order your prints here.
Cricut
Cricut makes personal cutting machines that allow you to cut out just about anything you can imagine! The Cricut Mini is the perfect size making it easy to store. There are tons of images available to design tons of creative projects! One winner will win a Cricut Mini of their own!
You can learn more about the Cricut Mini and compare machines here.
You can purchase a Cricut Mini here.
Fiskars
Every crafter needs good scissors! Fiskars Amplify Media Shears are hands down the best! I have used them on the traditional craft supplies – fabric, paper (which, I know you should have separate scissors for paper, but I just wanted one little test!), yarn, even burlap! I've also used them in packing up some packages. These things cut through cardboard – no problem! Even thick styrofoam!! They were light and easy to use. I threw all of our other scissors away!
Fiskars also has a really cool AdvantEdge Punch System. It's SOO easy to use and you can quickly cut out borders and strips for all kinds of paper crafts. Add a quick edge to scrapbooks, cards and anything else you can imagine. It's small and compact which is great for storage. This is quickly becoming one of my favorite tools!
One winner will win:
2 pairs of Fiskars Amplify Scissors (6 and 8 inches)
AdvantEdge Punch System Starter Set with Daisy Chain Punch
Winter frost punch
You can read more about the products that are being given away and our full review here.
Don't miss any of our other Best of Blogger's Gift Guide Giveaways! We will be giving over $10,700 worth of prizes away! Click HERE to see the entire Gift Guide and enter for your chance to win!!
Now, WHO WANTS TO WIN!?!?!
One winner will win all of the items mentioned in our Top Gifts for Crafters! A $786 Retail Value! Open to US residents.