If your family loves Chinese food, they'll love this healthier version of orange chicken. With fresh ingredients, it does not fall short on flavor.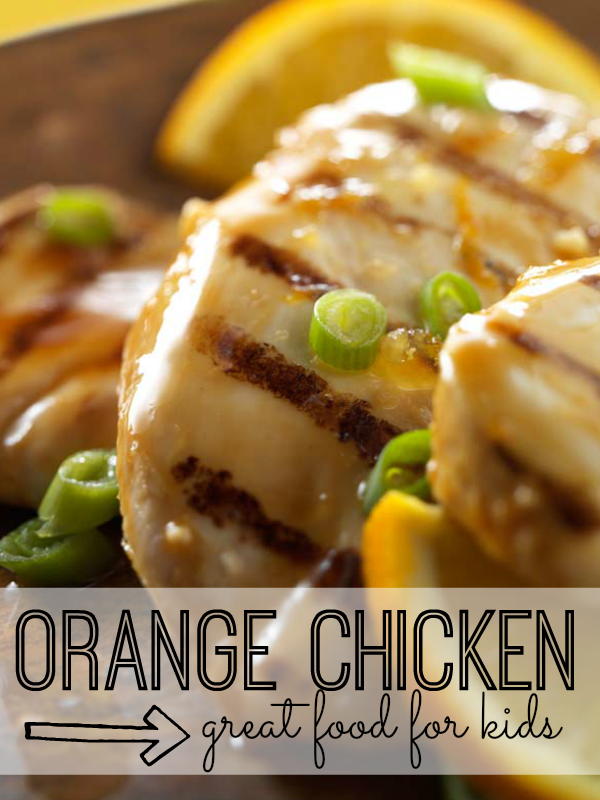 Orange Chicken Recipe for Kids
Ingredients
1&1/2 cups orange juice
1 tbsp orange zest
1 tbsp olive oil
1 tbsp brown sugar
2 cloves peeled garlic, pressed
1&1/3 lb boneless chicken breasts
2 green onions (options)
Instructions
Whisk ¾ cup orange juice with the orange zest, oil and brown sugar. Add smashed garlic to the mix.
Pound chicken to equal thickness and then add it to the orange juice mix. Marinate 2-4 hours.
Heat grill to medium high. Add chicken to the grill. Cook for about 4 minutes on each side (depending on thickness). While chicken cooks, take remaining orange juice and reduce it over high heat on the stove until it is thick and syrupy. Using kitchen shears, cut green onions into small pieces. Place grilled chicken on a platter, drizzle orange sauce over the top and sprinkle with chopped green onions.

This is just one of dozens of recipes created by kids for kids in the Small Fries Cookbook.
Learn more about this inspiring kids cookbook and grab a copy of your own right here. (All proceeds benefit Cincinnati Children's Hospital Medical Center.)
Food photography courtesy of Teri Campbell, Teri Studios / terishootsfood.com
Looking For More Great Recipes?
Follow the My Life & Recipes board on Pinterest to find more amazing recipes!
Follow My Life and Kids's board My Life & Recipes on Pinterest.