I absolutely hate shopping for bathing suits, and I know that most moms agree with me. From cellulite to stretch marks to the horrible lighting in dressing rooms to our kids sitting there watching us while eating goldfish, is there anything worse than swimsuit shopping?
Not much!
So my friends and I made it our mission to find the very best swimsuits on Amazon Prime for $30 or less. Simply place your order and then try them on in the comfort of your own home two days later.
We made our choices, placed our orders, and then we put off the photo shoot for days and days and days.
Because who wants to be photographed in their bathing suits in FEBRUARY for heaven's sakes?
Luckily, we finally gritted our teeth and did it, and I must say that for three moms that have three kids each, we all look pretty darn great.
Even better? We all found bathing suits that we absolutely love!
So keep on reading to find the right swimsuit for you - regardless of your body type.
The BEST Amazon Swimsuits for Moms for $30 or Less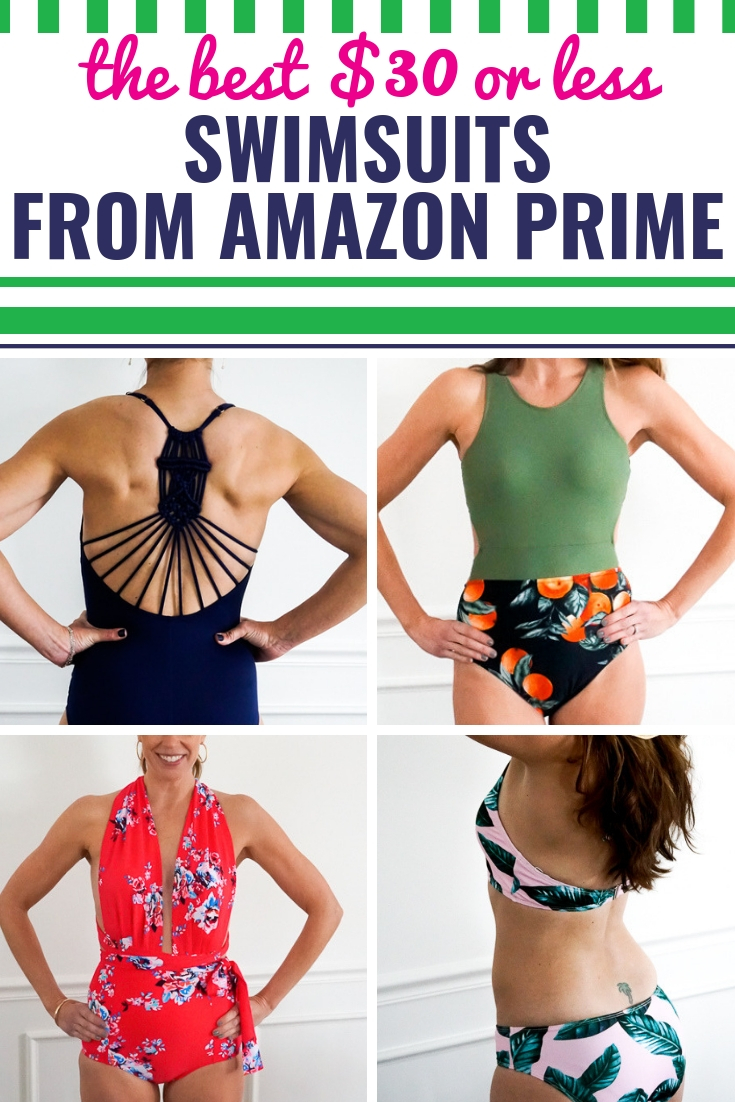 Whether you're looking for a one piece, a bikini, a tankini or something high waisted, we're sharing our very favorite Amazon bathing suits for moms that you can get for $30 or less. Regardless of your body type, even if you have cellulite or are trying to come to terms with your stretch marks, these bathing suits are classy, comfortable and downright flattering. Some are better for resorts and others are more sporty and one even has a matching suit for your daughter.
The Best Amazon Swimsuits: One Pieces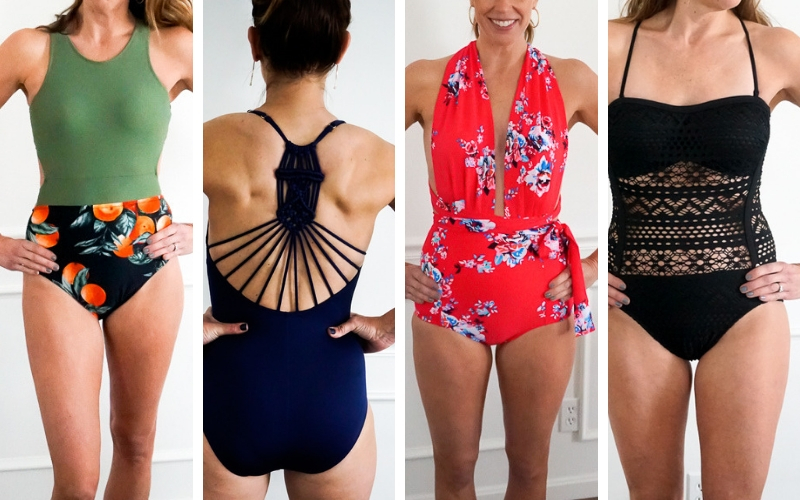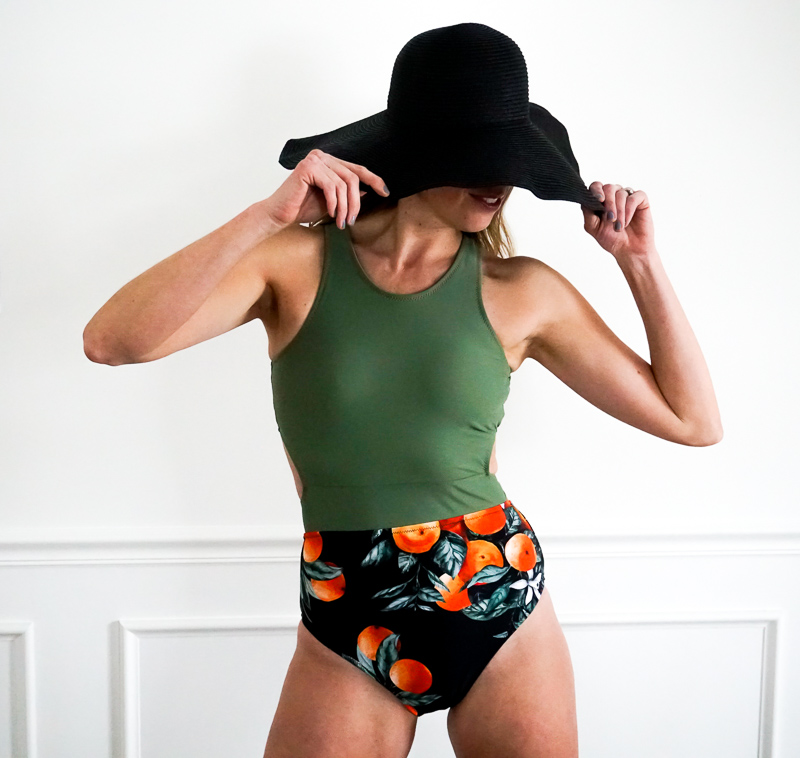 Subtle, stunning, and FULL of zeal, this one-piece steals the entire shoreline, ladies! The high-waisted print elongates the torso and adds lift to the bootie while also making the legs longer. What is not to love?
So comfortable you could work out in it and structured so it holds everything into place… right where it should be!
A light layer of padding adds confidence to this structured top, while the flirty zipper back and exaggerated tie can be customized to emphasize your best features and personal style.
Our mom is sporting a size medium, making this a fairly true-to-size fit.
Price: $26.99
Fit: True to size
Click here to see it on Amazon. (The other colors and patterns are equally amazing!)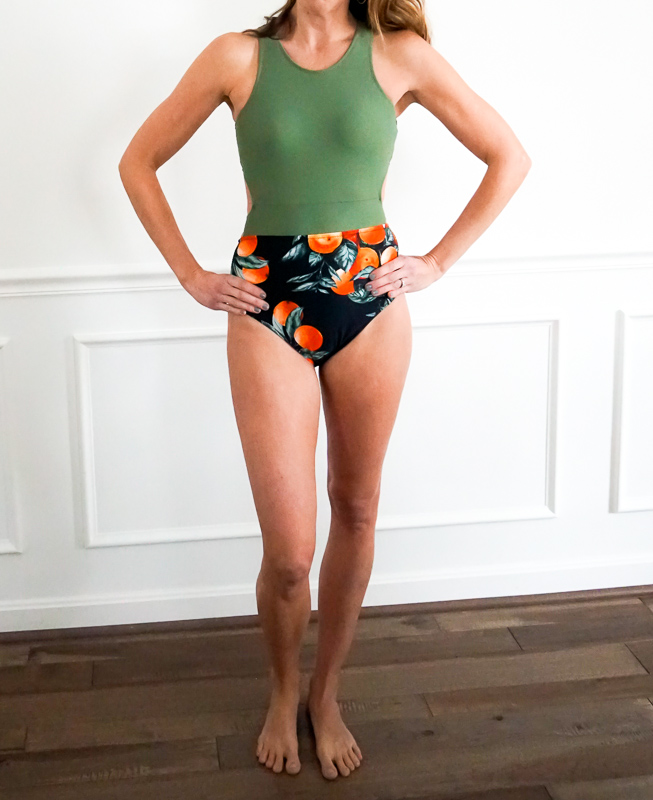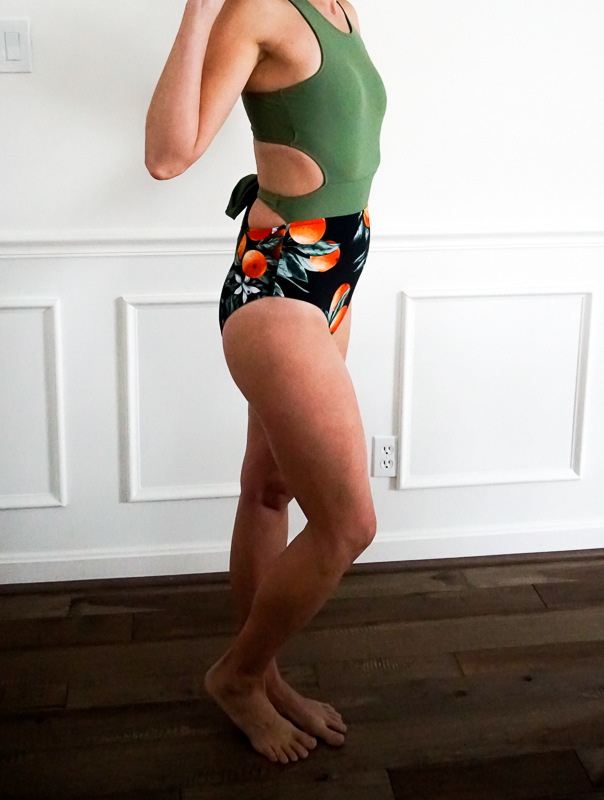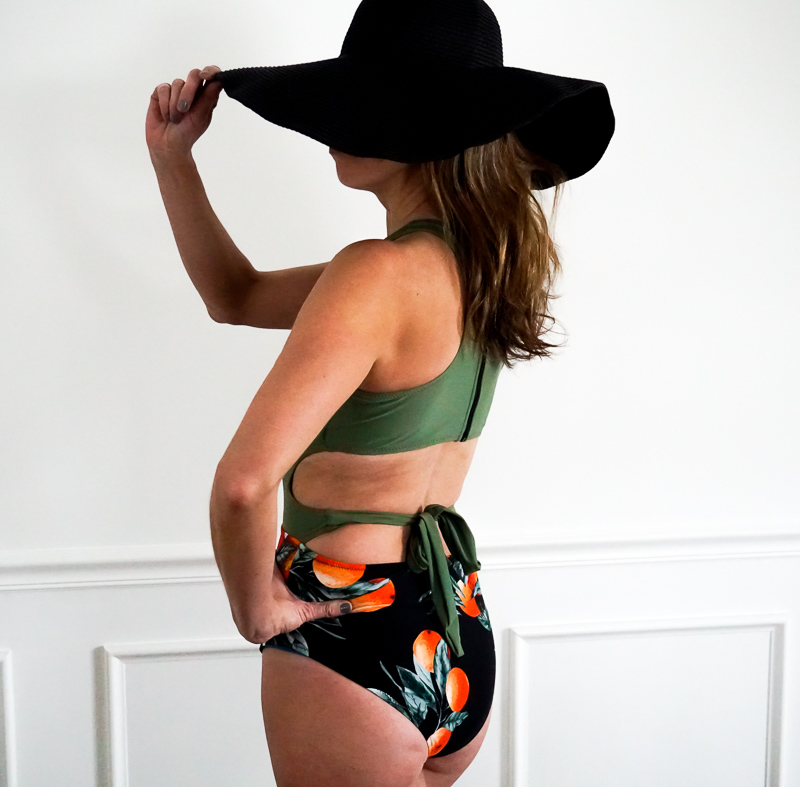 ---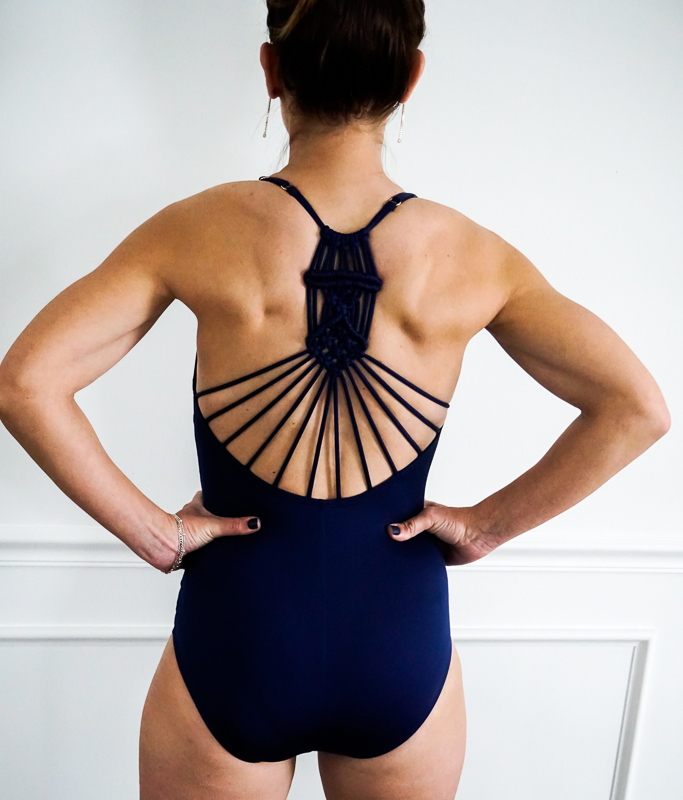 The only thing more OUTRAGEOUSLY perfect about the design of this one piece stunner is the confidence you will have immediately upon wearing it.
The torso is ruched and lined to emphasize our most flattering stomach, keeping everything nice and supported. Plunging neckline gives our mom the lift she wants while giving the comfort she demands.
Check out the striking and detailed back strapping on this incredible suit!
Price: $28.99
Fit: Our mom is wearing a size 8, which is true to size. Great bootie coverage!
Click here to see it on Amazon. (Be sure to check out the other colors!)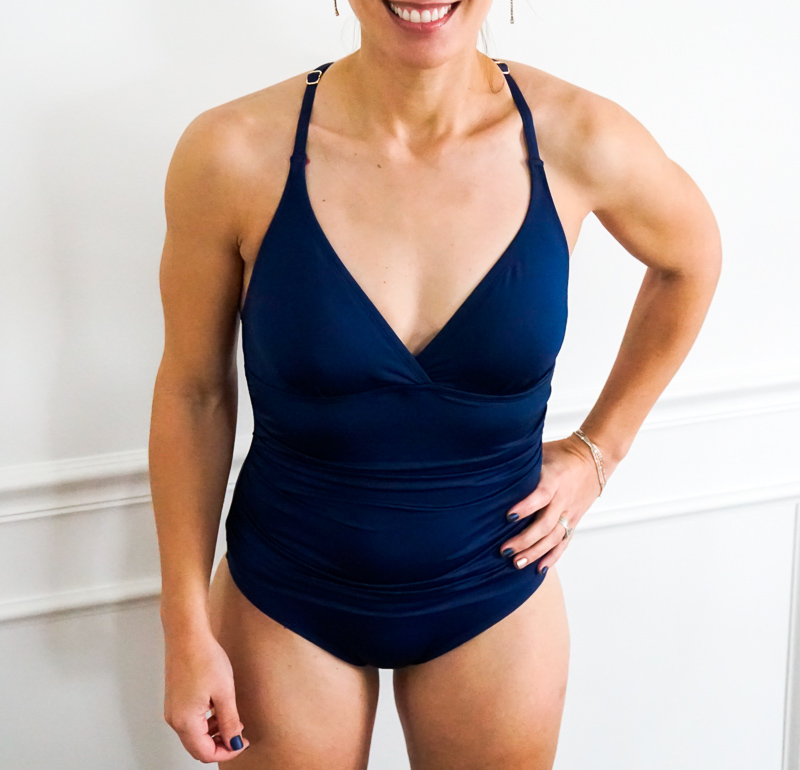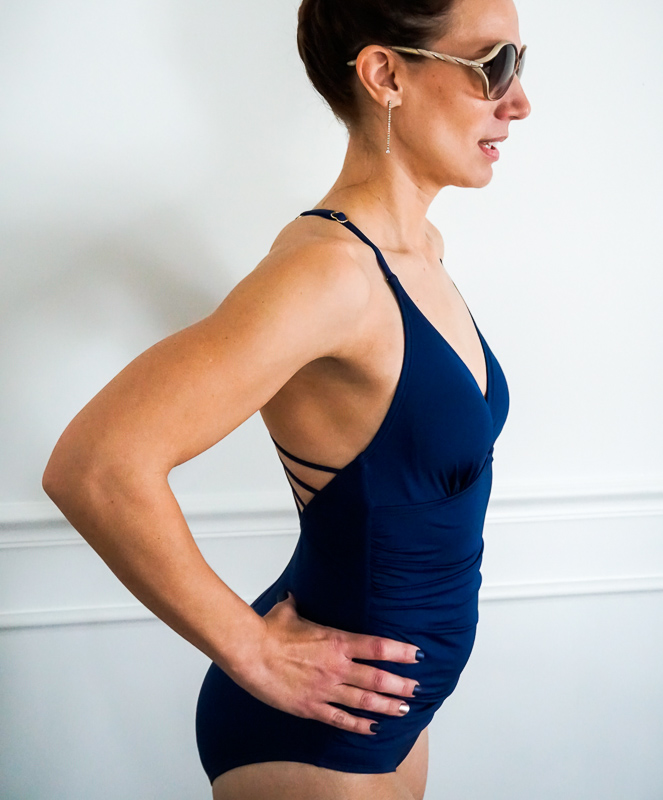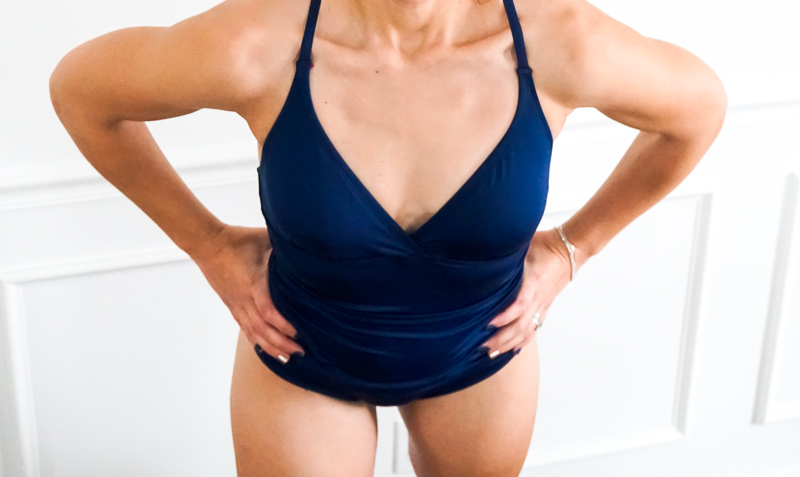 ---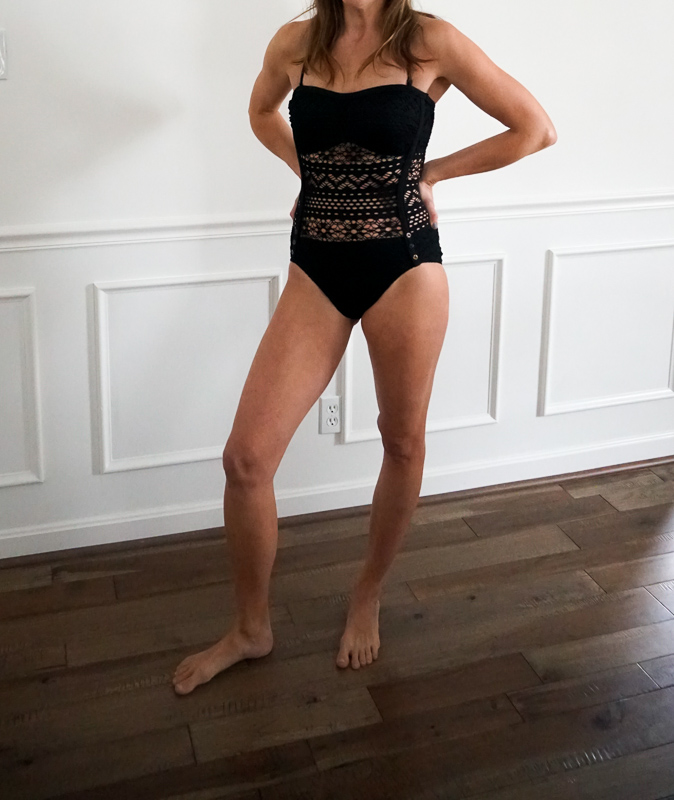 This is a great transition suit for any mom who doesn't have joy in her heart for the traditional one-piece, but is also not interested in diving into the waters of a bikini. The lace on the waist is structured and sturdy (not your grandma's doily!). The subtle boning provides great shape in the torso and holds everything in place.
Price: $31.99 (Sorry - we felt like this suit was worth the extra $1.99)
Fit: Our mom featured here is wearing a size 6. True to size, however, longer torso moms or larger bust size will want to order a size up to avoid feeling like it needs to be tugged and pulled back into place constantly.
Click here to see it on Amazon. (Be sure to check out the other colors!)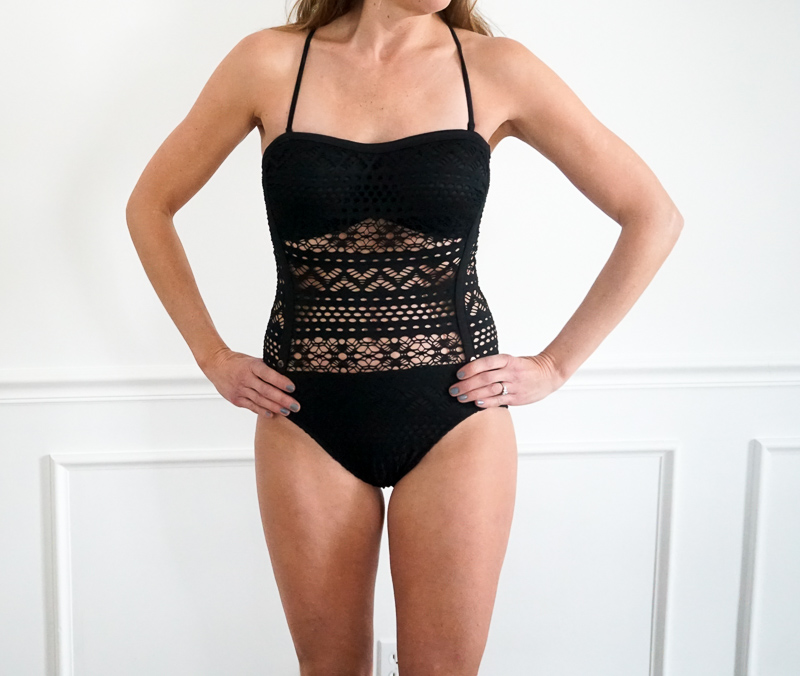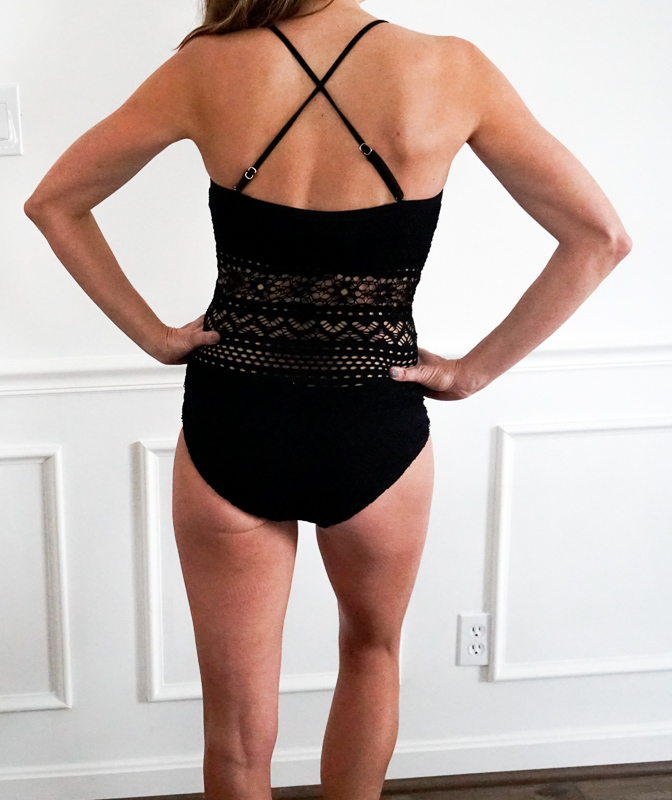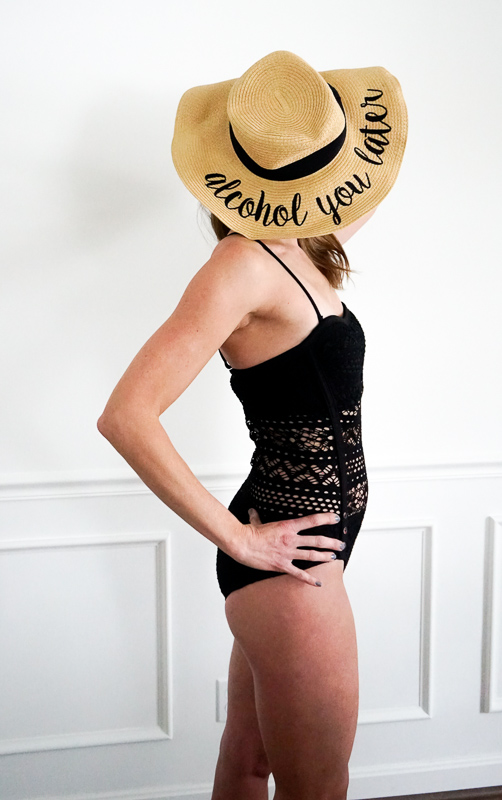 ---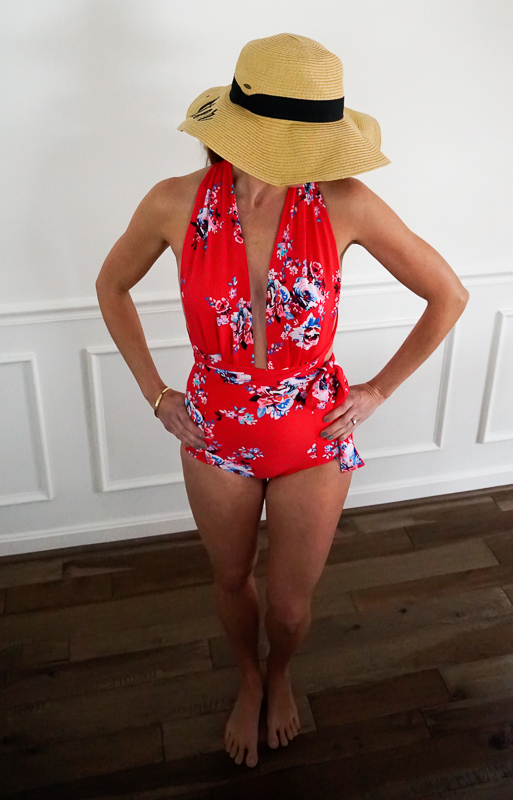 Regal. Confident. Bold. We LOVE this suit.
This is the perfect shape for those of us wanting to create more bust while elongating the torso. Removable cups afford moms the coverage and confidence needed to strut it out on the poolside.
The criss-cross strapping allows for customizing the look and feel for your individual needs. This mom is rocking the neck cross and side bow.
For moms with bigger bust sizes, this suit could be your cruise sun-porch lounging attire, for sure (but you may not feel comfortable chasing after your kids or building sandcastles)!
Price: $24.99
Fit: Our mom is wearing a size small, making this fairly true-to-size. You may even want to consider sizing down (or at least ordering your normal size and one size smaller.)
Click here to see it on Amazon. (You're going to die when you see the massive variety of colors and patterns!)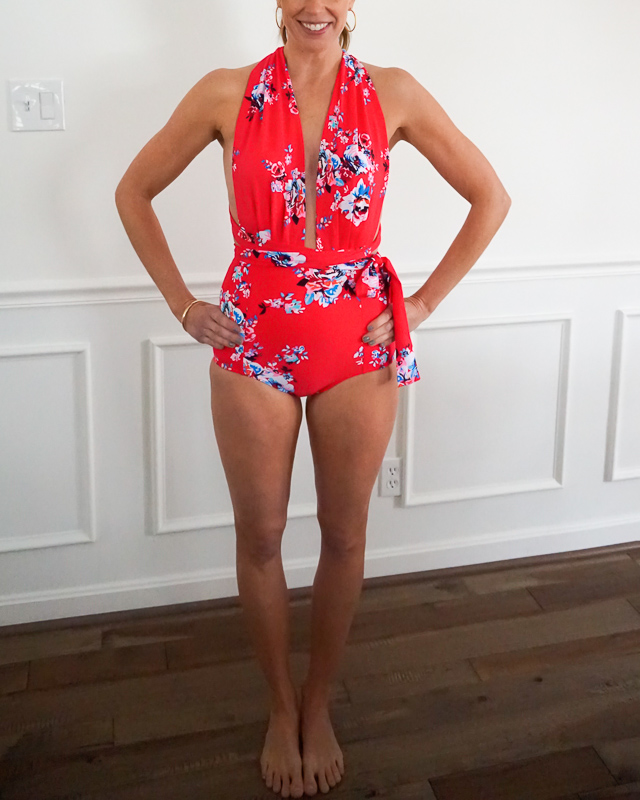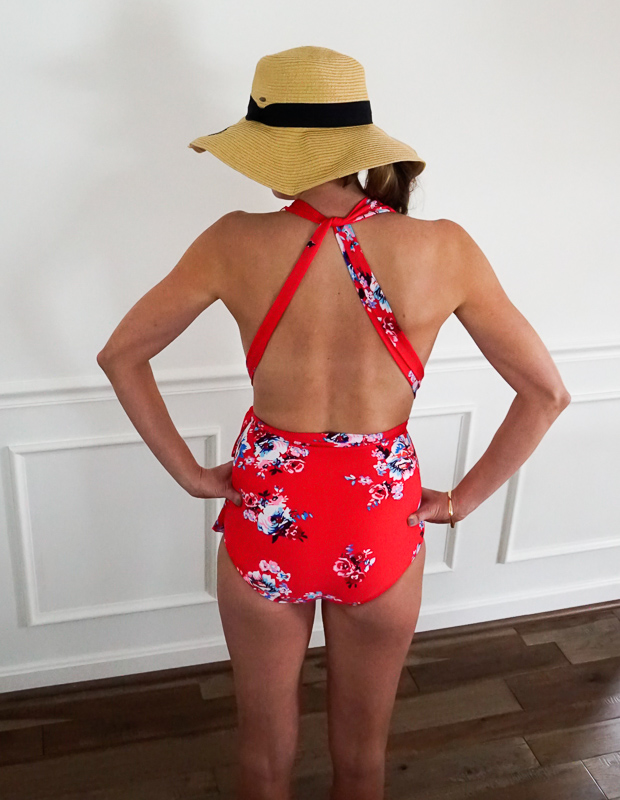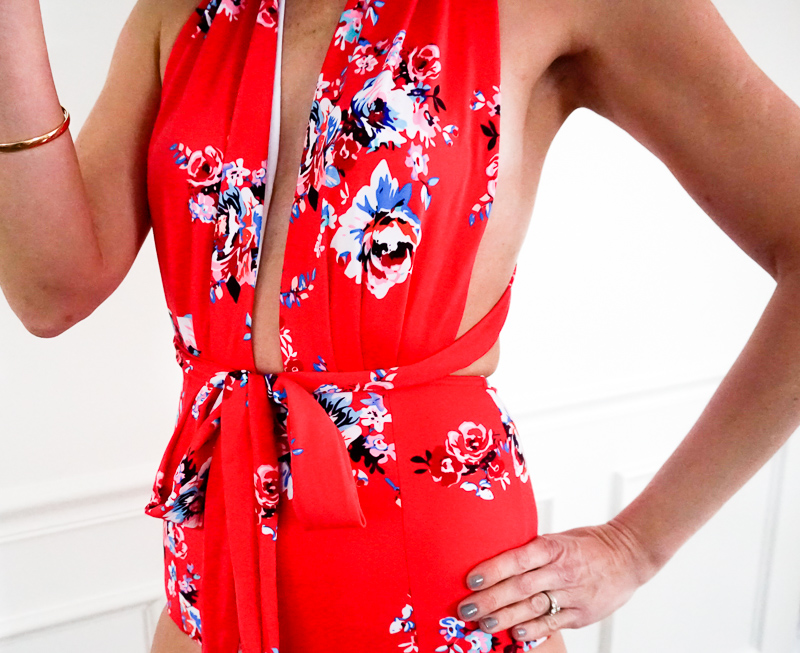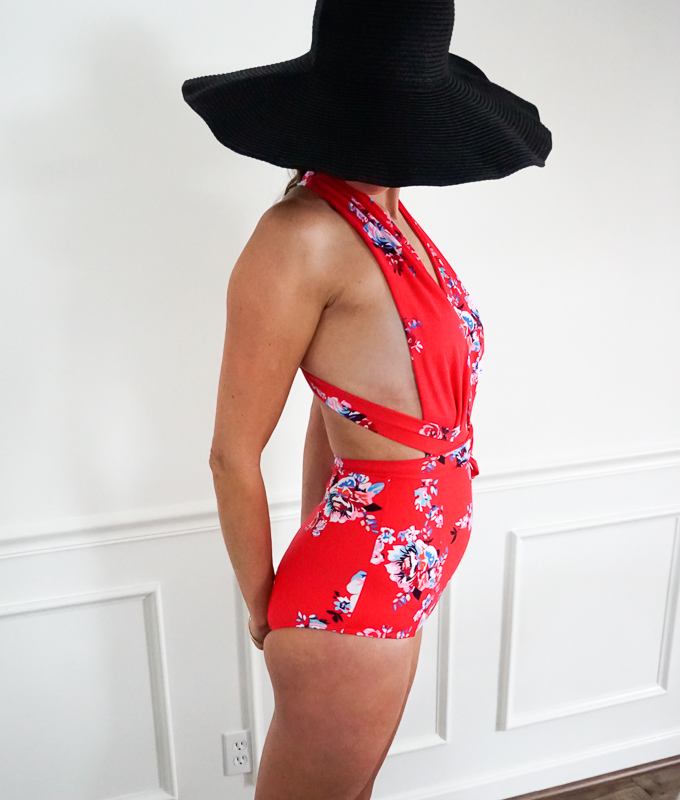 ---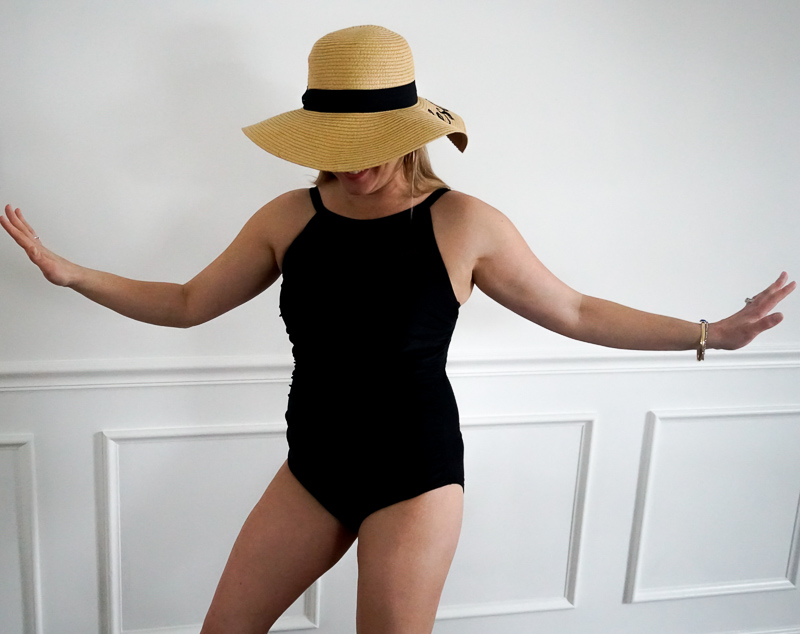 This is a very supportive and structured one piece suit. The mesh-halter top design provides great coverage and added support for those moms who need a bit more up top. Our moms loved the medium-high cut hip which adds length to the legs.
Price: $25.99
Fit: The size small fits like a size 8 and was a perfect fit our mom, but for those with a longer torso, we recommend sizing up.
Click here to see it on Amazon. (Be sure to check out the other colors, patterns and designs. So cute!)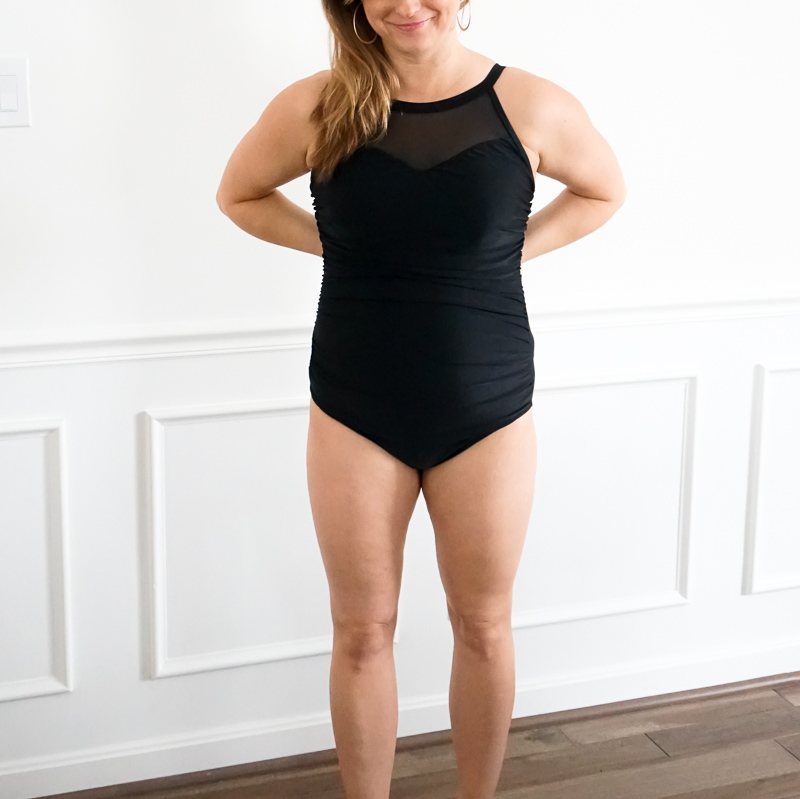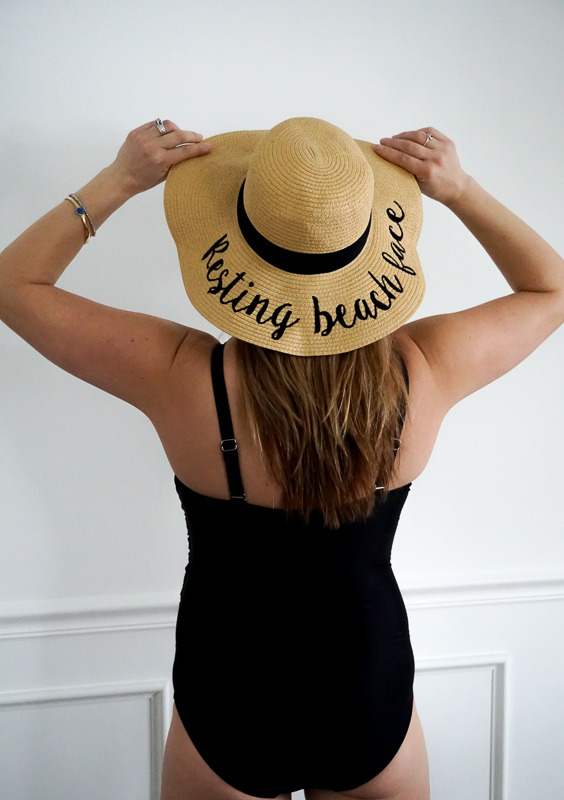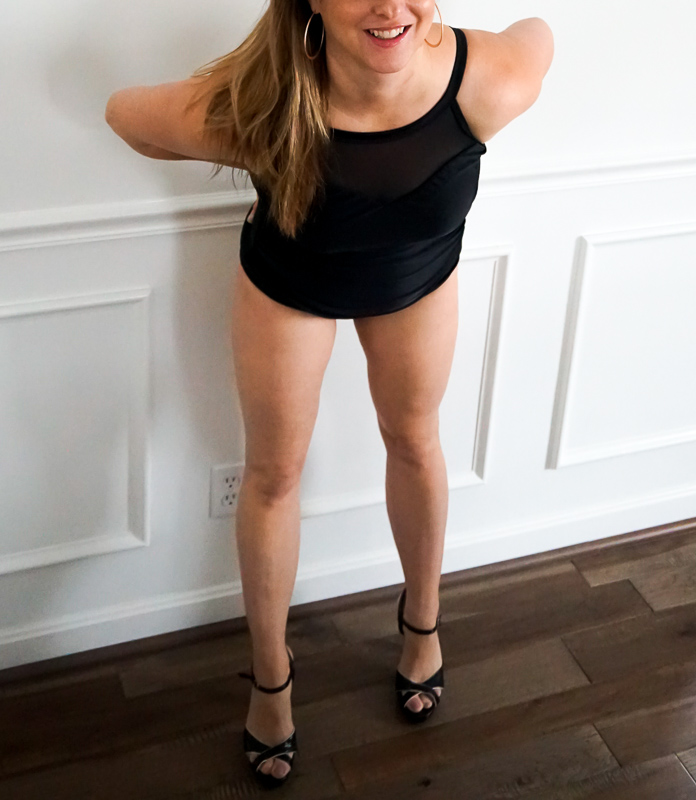 ---
The Best Amazon Swimsuits: Bikinis, Tankinis and High Waisted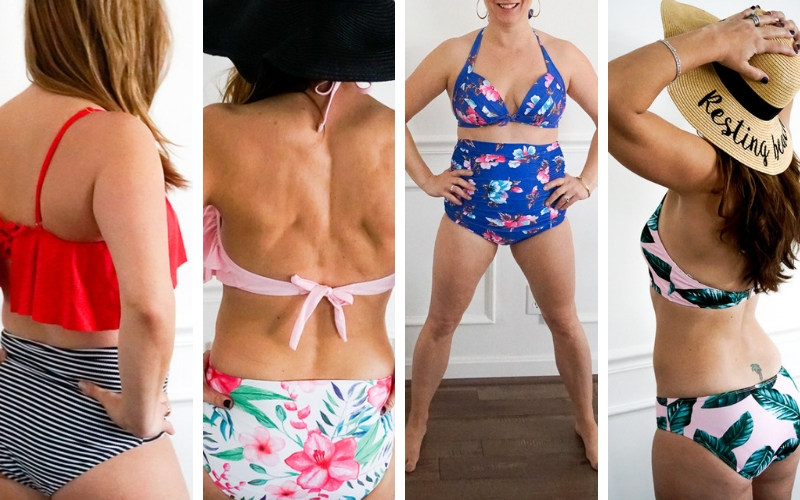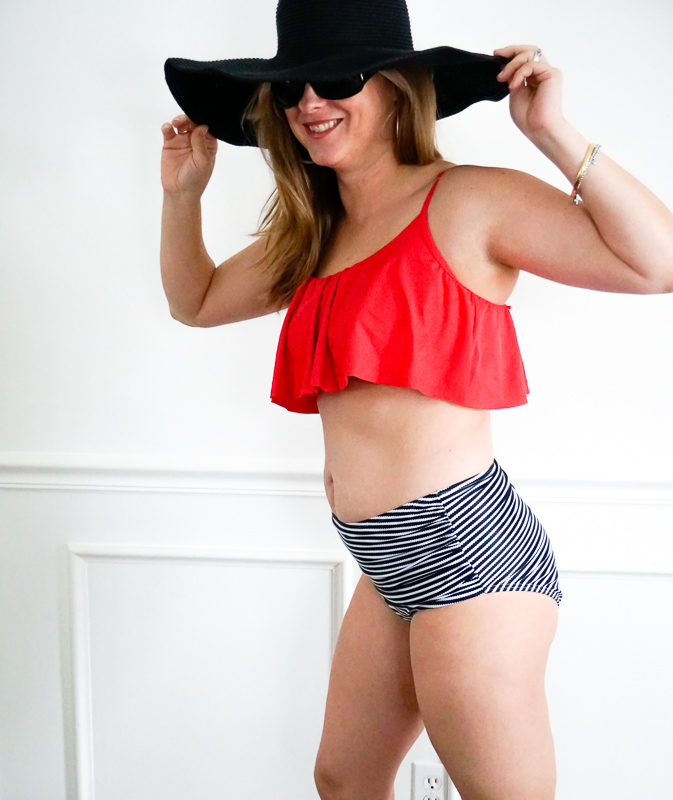 This flirty top is forgiving and full of summertime magic! Our moms love the bra style strapping which provides lift and support.
The high-waisted bottom has the most flattering and subtle ruching to add a slimming effect to all tummies and is elongating the legs.
Price: $18.99
Fit: Size featured is large, which fits with generosity. We recommend ordering a size up, especially on the bottoms!
Click here to see it on Amazon. (Be sure to check out the other colors offered, but be careful. Not all colors in this listing are the same high-waisted style.)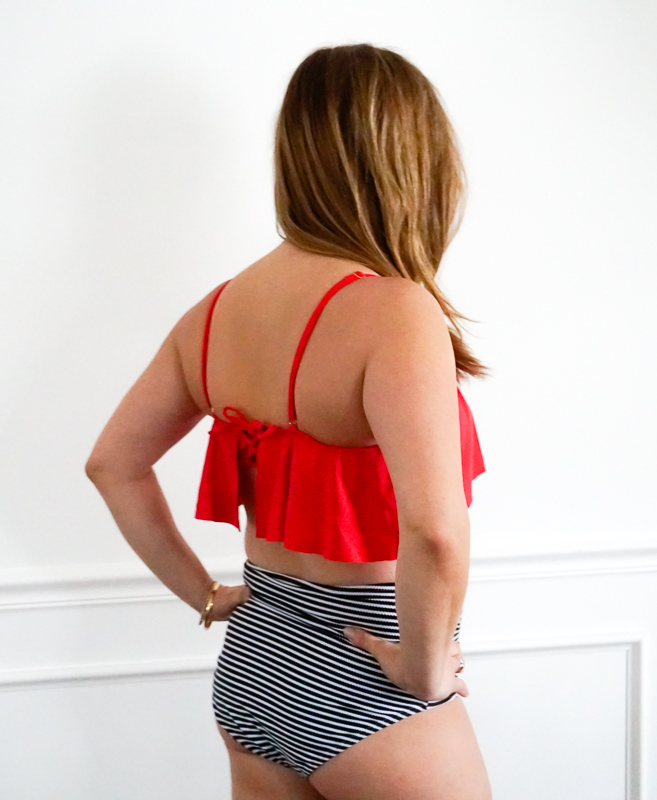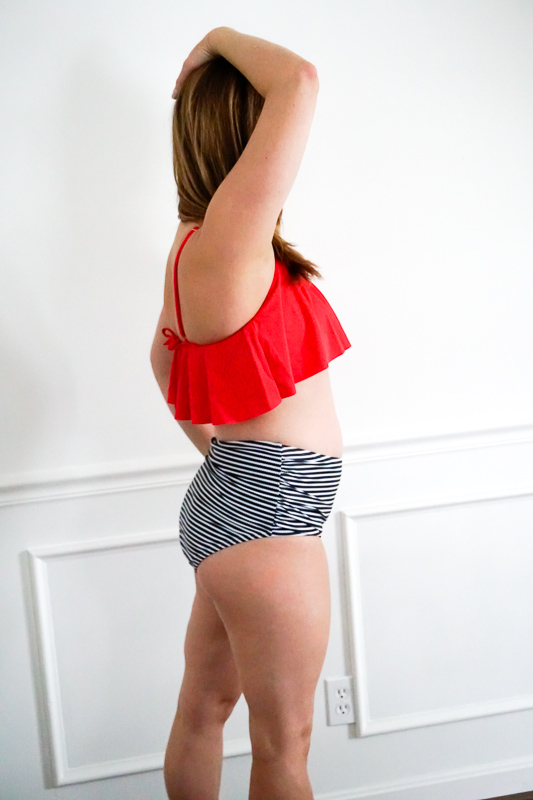 ---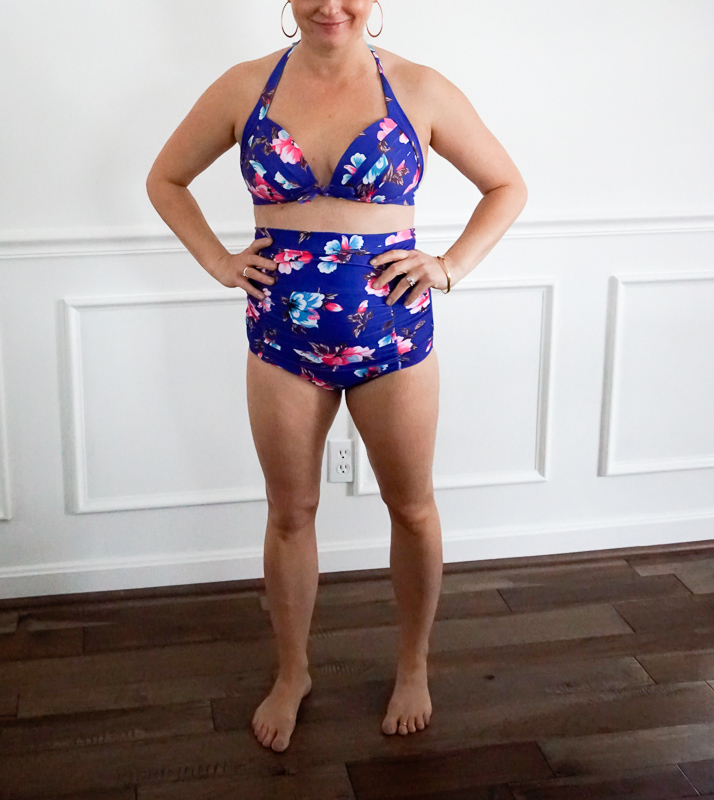 This is the highest waist we have EVER seen. Out of curiosity, we couldn't resist giving it a try.
Super high waisted bottoms are paired incredibly with the structured, low plunging top. The necktie and back tie allows our moms to individualize the support they demand for their tops.
It's such a high waist, that you could almost call it a reverse tankini. If you can rock the high waist, this is the suit for you.
Price: $23.99
Fit: True to size.
Click here to see it on Amazon. (Be sure to check out the other color and pattern combos.)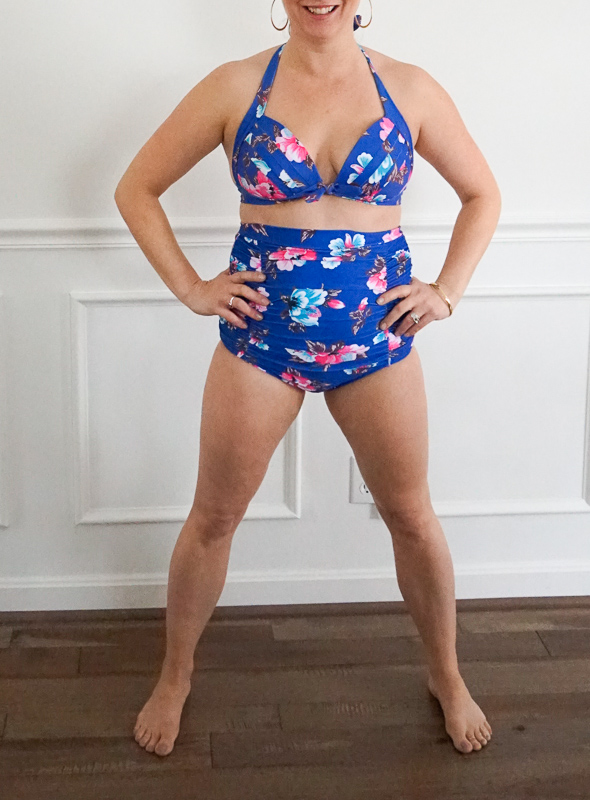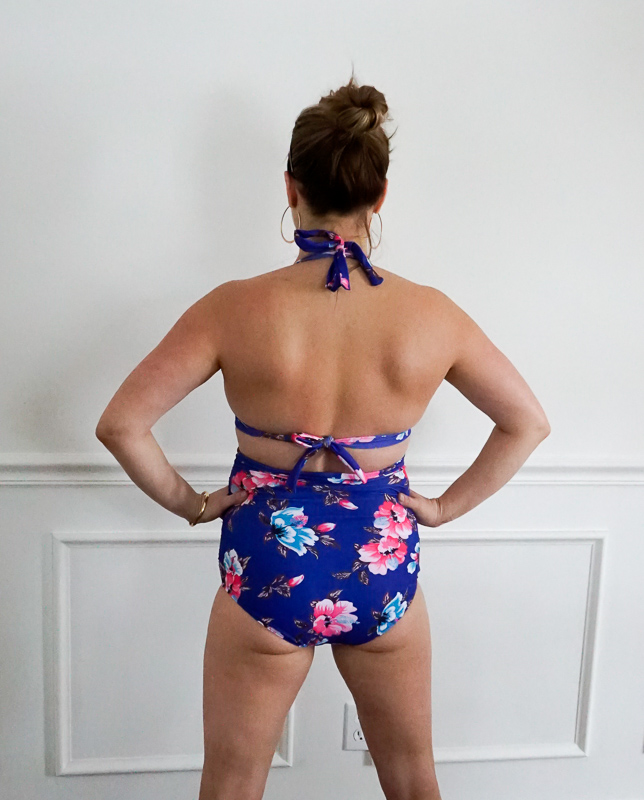 ---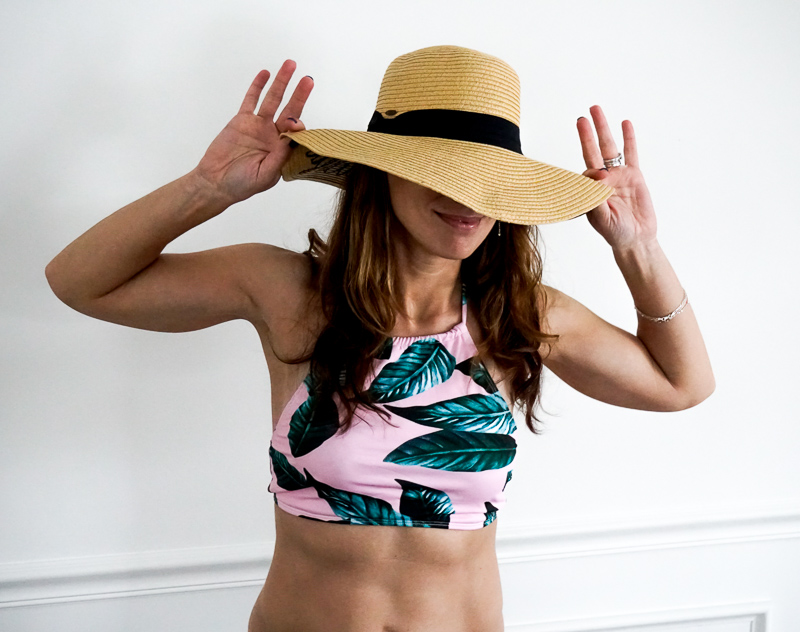 We scoured the planet for the halter top of our dreams!
From the sporty mom, to the mom seeking coverage and stability, this top is your go to. Bottoms are not high-cut bikini, so for those of us needing more bootie and hip coverage, these are the unicorn bottoms you will want.
Price: $18.99
Fit: True to size, although if you're looking for more coverage in the bottom, size up. The top is easily adjustable with the neck and back ties.
Click here to see it on Amazon. (You're going to love to other colors and patterns too!)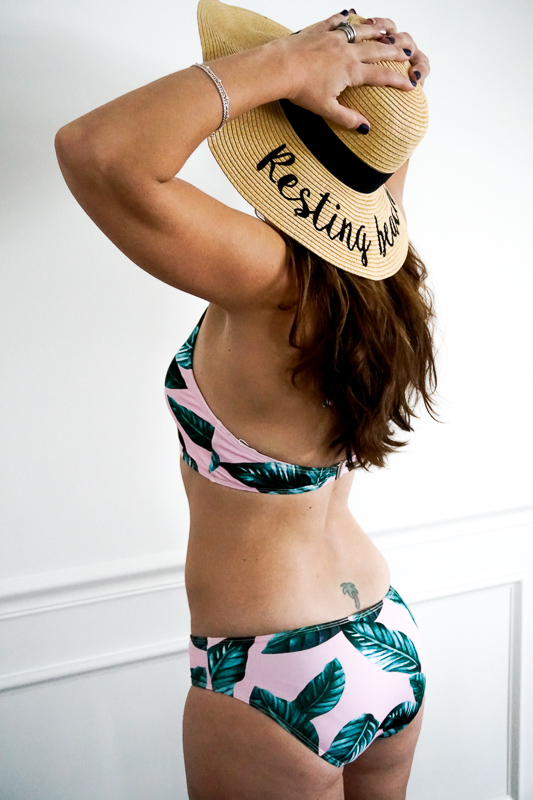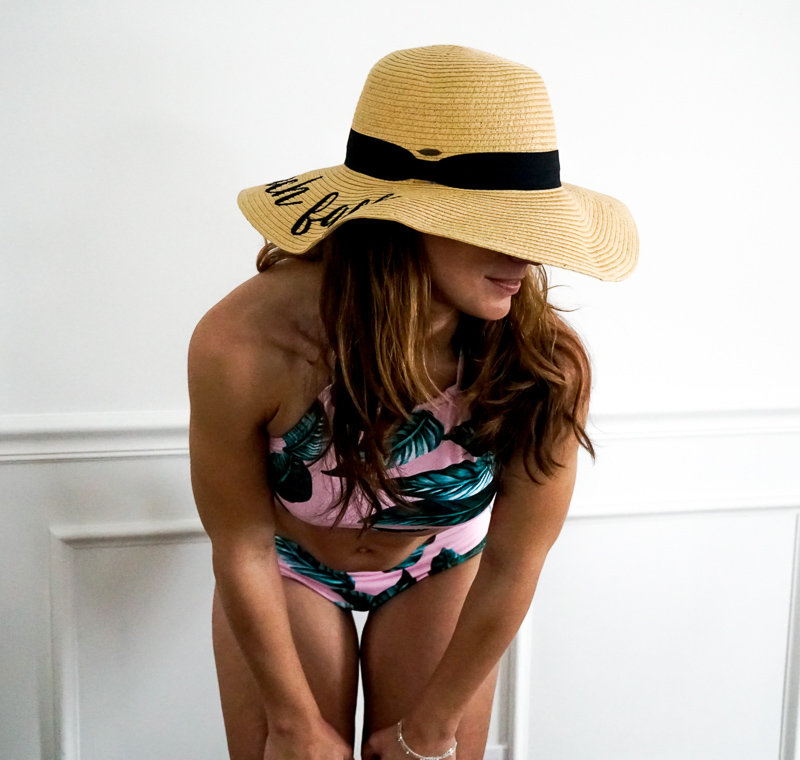 ---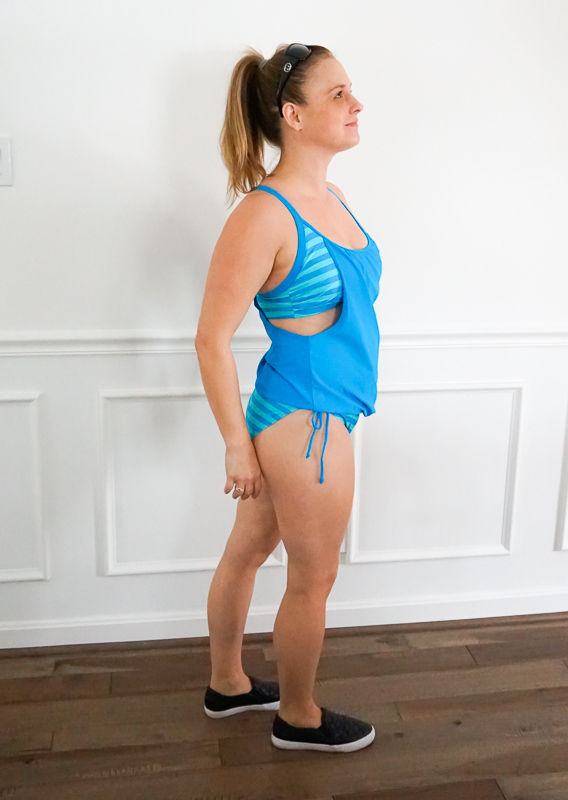 Moms. Alert. Alert.
No question, this tankini suit will inspire the athlete in all of us. Our mom felt like she had the support and structure to climb a mountain or run a marathon.
The top is flirty while not being revealing of the tummy.
The tight waistline ensures that any love handles or delicate areas are perfectly covered without drawing any undue attention.
The bottoms have lace-up sides so they can be adjusted to fit your hips perfectly with a simple bow.
Price: $26.99
Fit: Our mom is wearing a medium, which runs small. We recommend sizing up!
Click here to see it on Amazon. (You're going to want to order one in every single color!)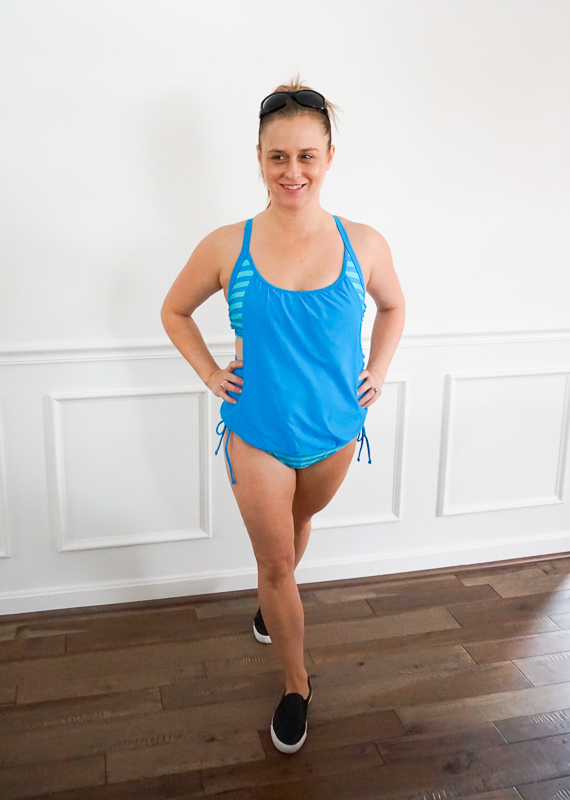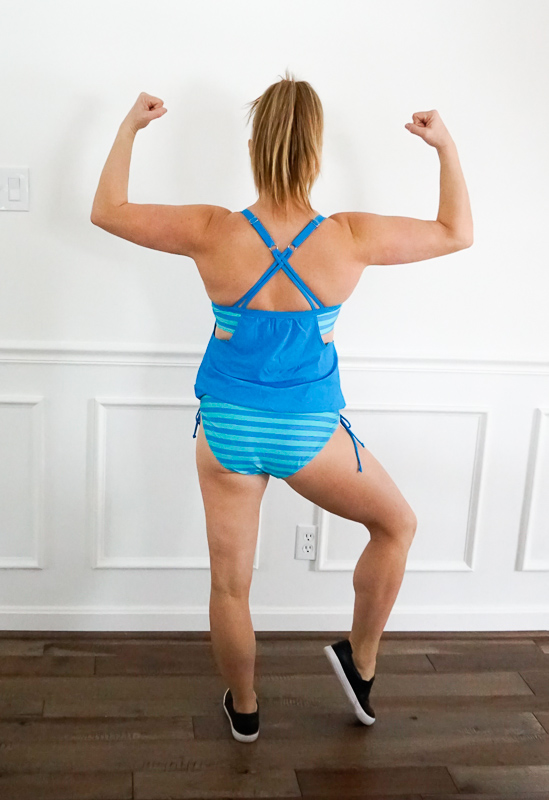 ---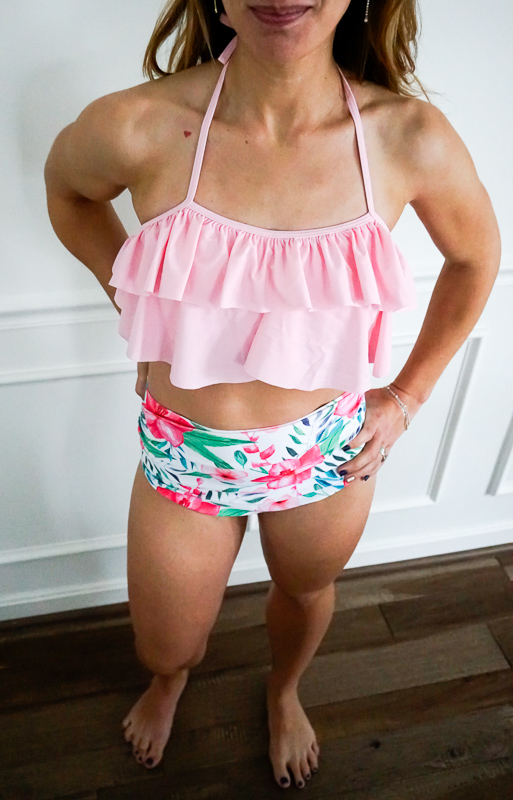 The delicate and flirty top is as sweet as cotton candy while delivering a statement as smoldering as 4th of July fireworks! We LOVE the high waisted bottoms that can be worn high or scrunched down to hit your waist at the exact spot you need. Who doesn't need a bottom that can be adjusted from day to day to meet the needs of our best self?
Price: $19.99
Fit: True to size
Click here to see it on Amazon. (There are several fun color combos to go along with it.)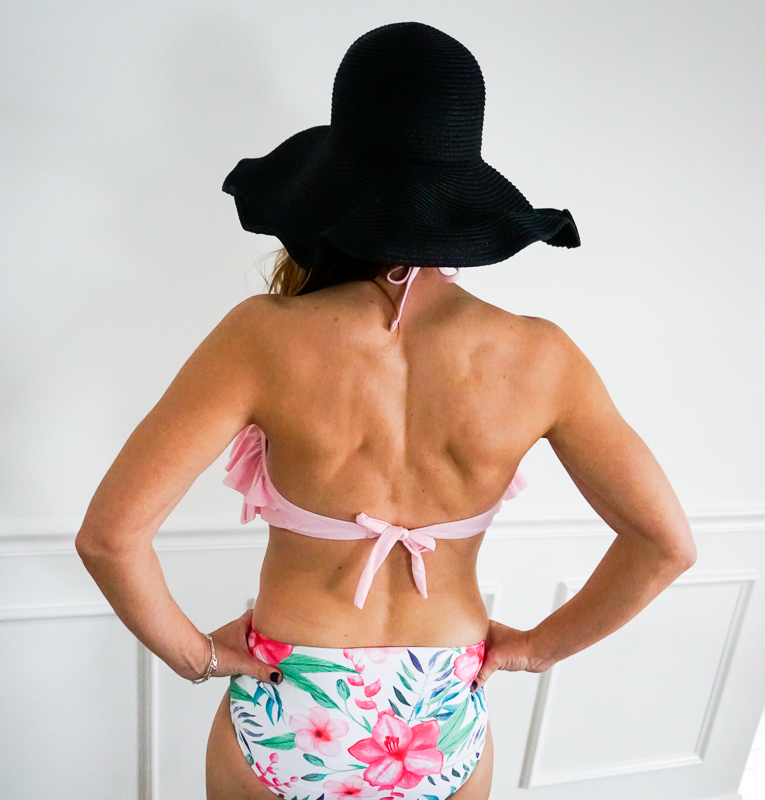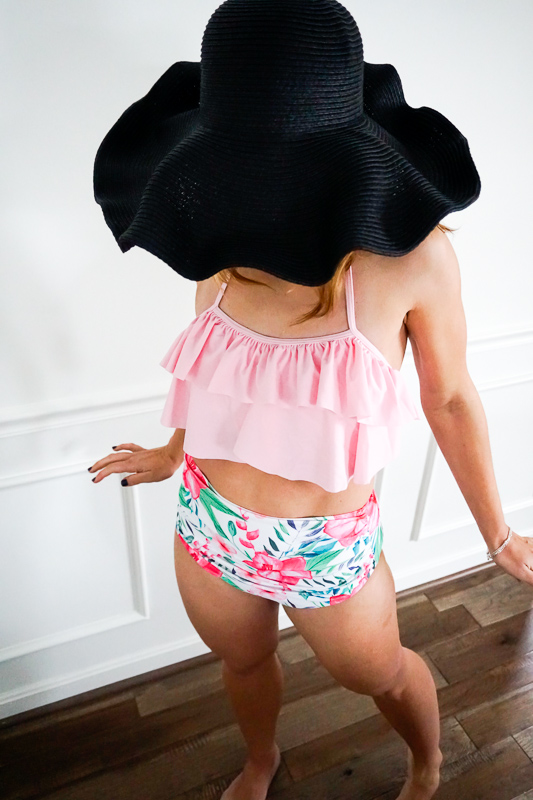 ---
MATCHING MOTHER-DAUGHTER-SUIT ALERT!!!!
As a stand alone, this bikini is as sultry as it is sweet. The high-waisted bikini bottom hits in just the right spot to be modern and chic, while providing coverage and grace.
But the real reason we wanted to feature this suit is because you can buy a matching one for your daughter. And it is so stinkin' cute. Unfortunately the kid suits are not available for prime shipping, and they weren't going to arrive in time for our photo shoot. (So buy yours now, so you have it when you need it.)
Price: $17.99
Fit: Always consider ordering up for a high waisted bikini bottom as the top of the waist tends to be tighter than traditional bottoms!
Click here to see it on Amazon. (Along with the other patterns + the matching kid suits.)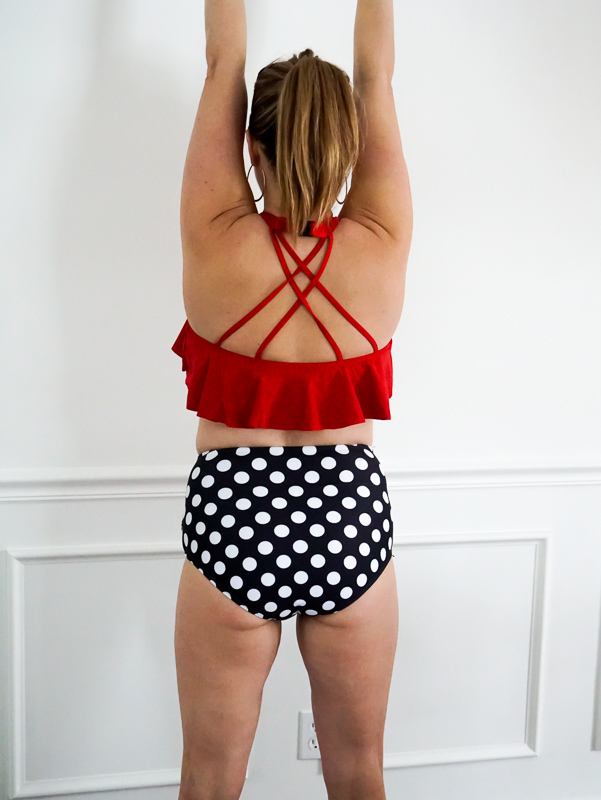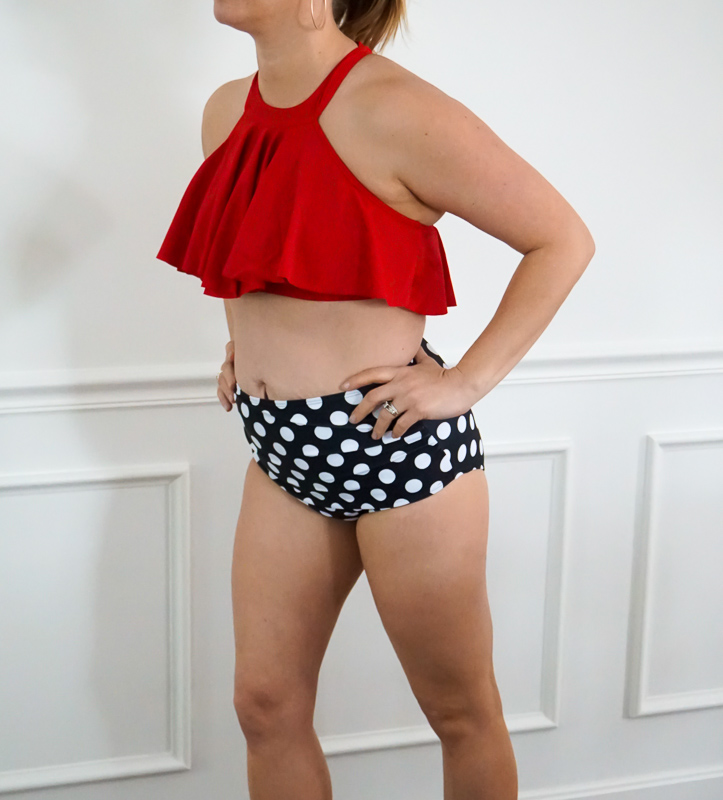 ---
Basic Bikini Separates - Our Favorite Top and Skirt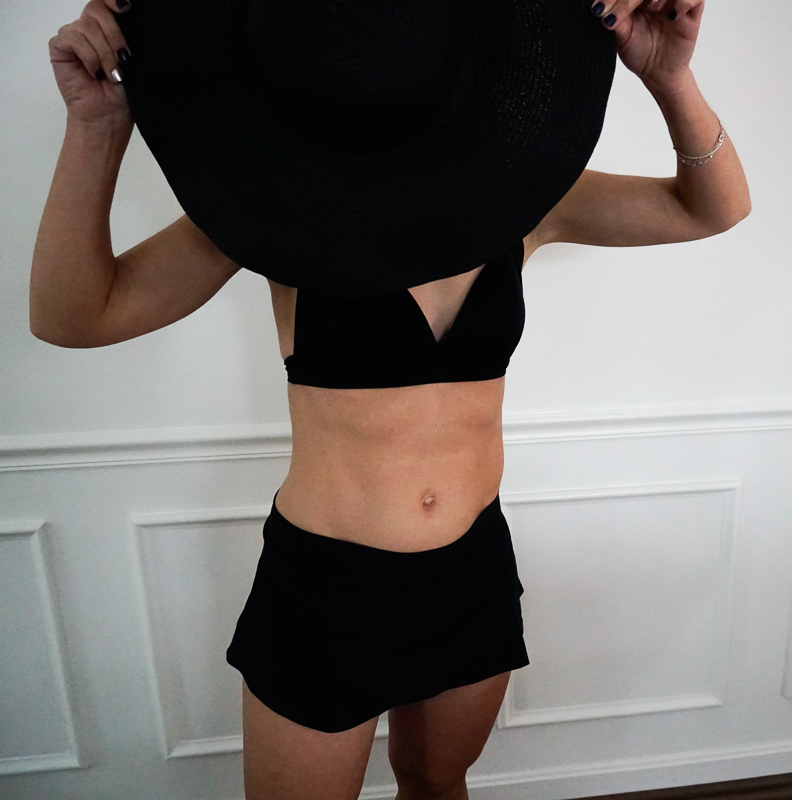 At first, we underestimated this top as just a standard black bikini top. Here are the things that set it FAR apart:
Price! This is a total steal at $17.99
Padding is secure and committed, so no need to worry about it popping in and out unexpectedly
Fine detailing like well-placed pleating add dimension in all the right ways to our top half, while providing comfort and versatility as we live our active beach lives
Neck tie is wide and comfortable allowing for optimizing support
This is a flirty bottom with generous flair and personality! The center pleats add generosity of movement to the tops of the legs, if that is an area that needs some extra distraction.
Also, these bottoms really create an awesome bootie-pop for any moms who are looking to round out a bit.
Price: $17.99 for top and $14.99 for the bottoms
Fit: Both fit true to size.
Click here to see the top on Amazon. You'll love the additional colors and patterns!
Click here to see the bottoms on Amazon. (While they only come in black, you'll also see another style worth considering.)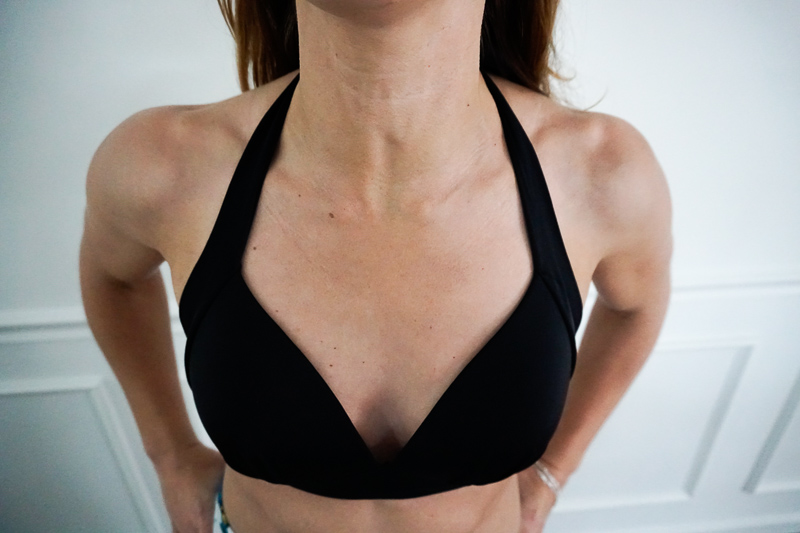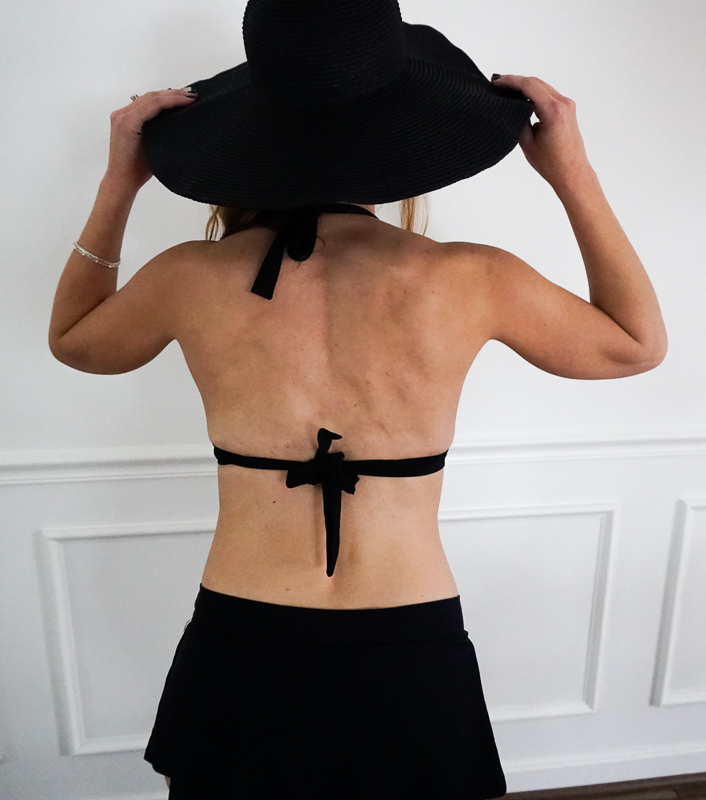 ---
The Best Amazon Swimsuits: Cover Ups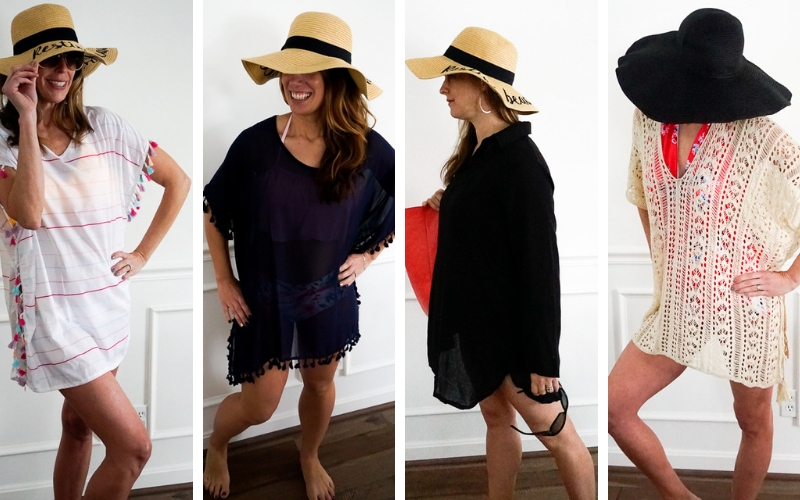 So you've chosen a few suits to order (RIGHT?), and now it's time to choose your accessories - like these stunning cover ups. We ordered several and ended up narrowing it down to these four based on price, quality and how great they feel.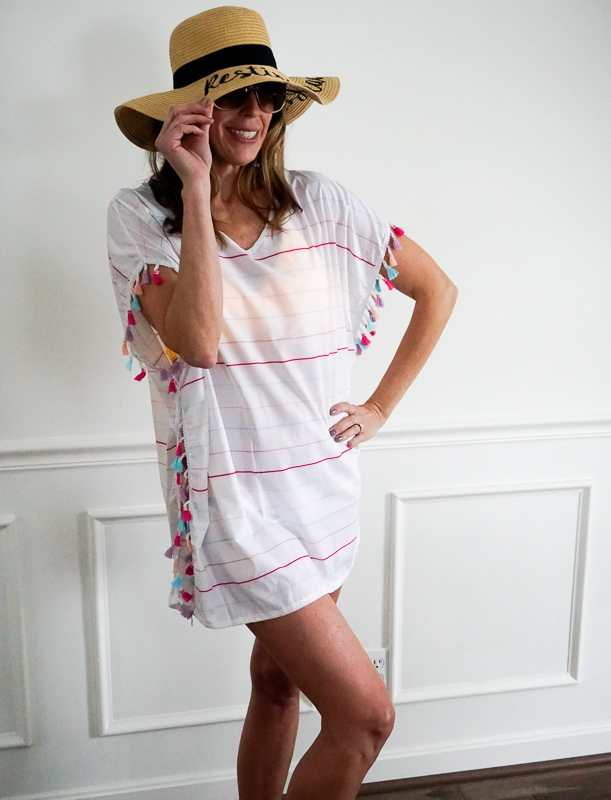 Charming and carefree cover-up. Perfect for deflecting the sun on those burning days. Tassels add bright pops of color and zeal. This was definitely one of our favorites.
Price: $14.39
Fit: One size.
Click here to see it on Amazon. (You're going to love the other styles and colors too!)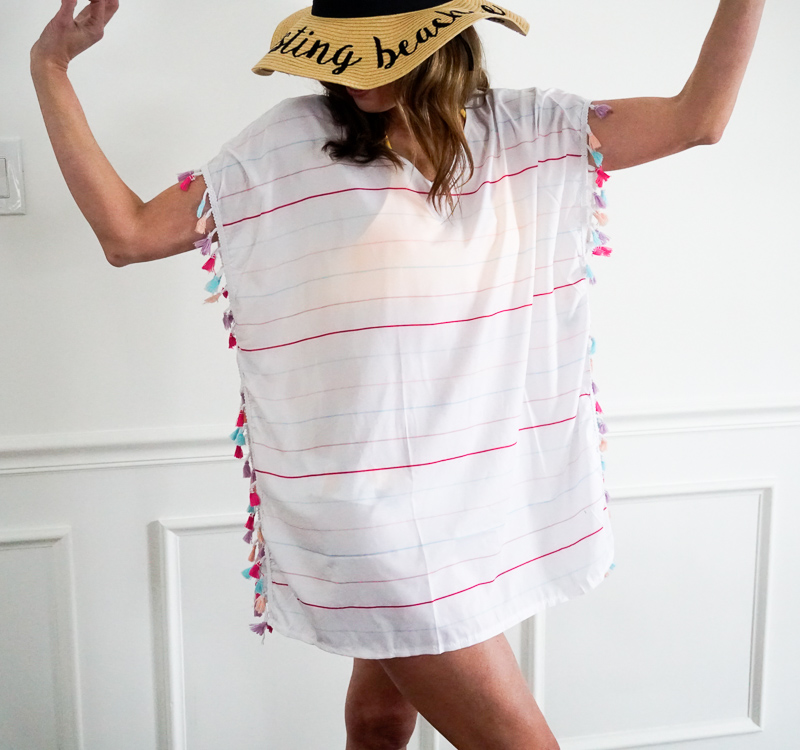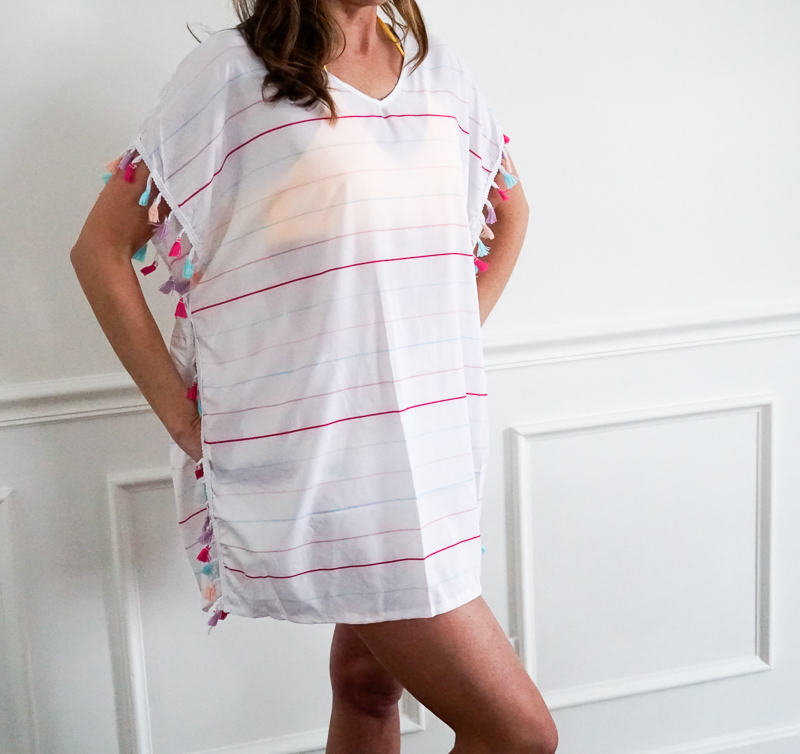 ---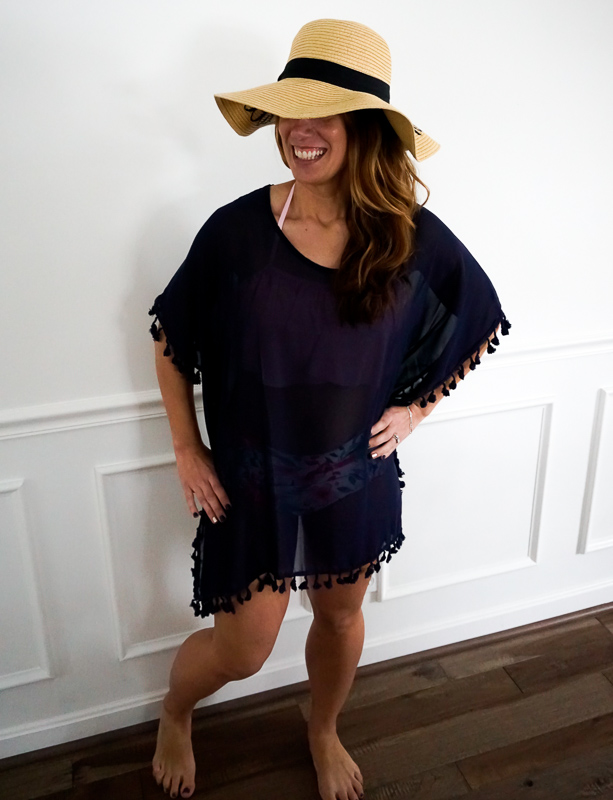 We LOVE this sultry, sliming, sleek cover up. It is breathable, flowing, and truly amazing.
Price: $16.99
Fit: One size
Click here to see it on Amazon. (There are tons of other colors to choose from too!)
---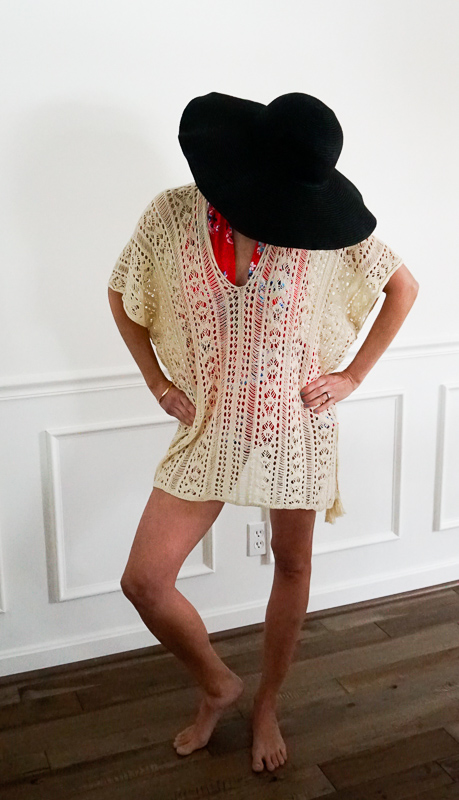 Ok. Stop everything and add this to your cart - before it's gone!!!! Trust us, every mom needs this as a staple piece in the pool side/beach wardrobe.
It is impossible to wrinkle this cover up. It is the essence of breathability for those super hot days. Aside from this, it is super sexy!
Price: $17.99
Fit: One size
Click here to see it on Amazon. (And yes, it also comes in a variety of colors!)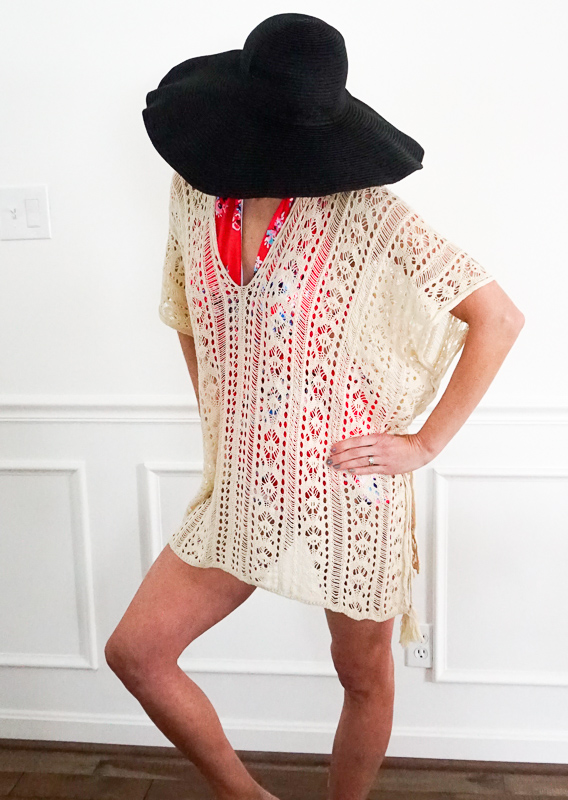 ---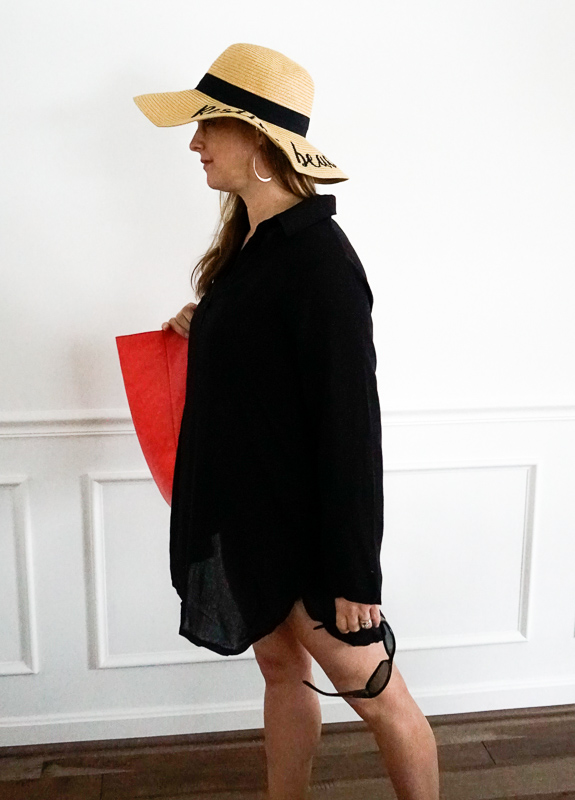 This is admittedly our least favorite of the four we decided to feature, mainly because it's going to wrinkle on you. If you can keep it on a hanger and toss it on to head to the pool, then it's perfect. But this is not your cover up if you're hoping to stuff it in a suitcase and wear it when you arrive. Or if it will spend half the day in your beach bag.
But other than the wrinkles, we love it.
Price: $17.99
Fit: One size
Click here to see it on Amazon. (Check out the other colors too.)
---
The Best Amazon Swimsuits: Favorite Beach Sun Hats
In my opinion, there is no better swimsuit accessory than the perfect hat. We've featured three throughout this post, and we love them all for different reasons. One of them, however, is a complete a total standout that you should buy IMMEDIATELY.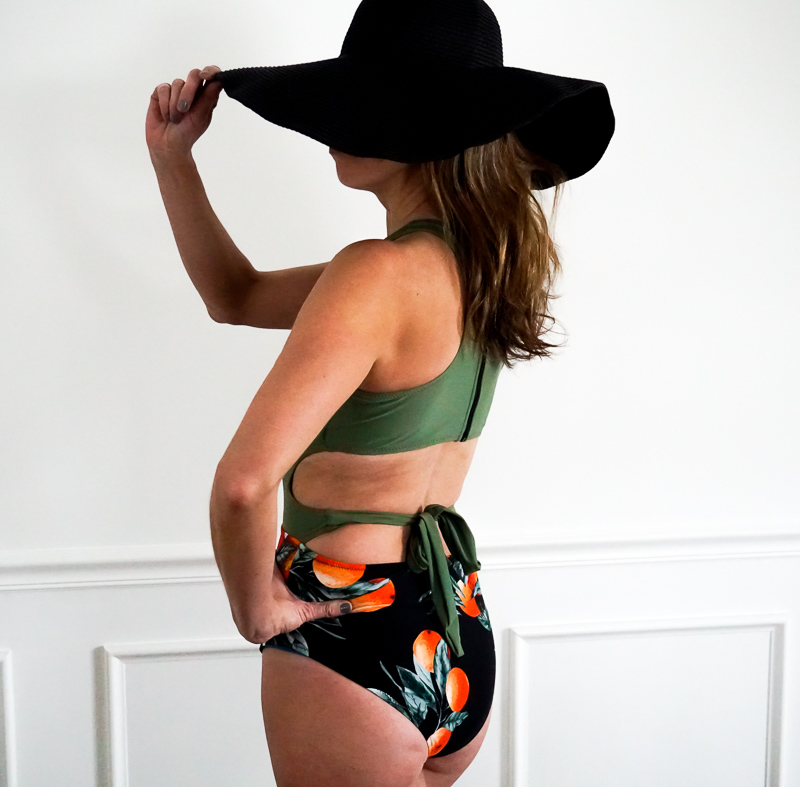 Deep breaths on this one, ladies.
Our moms are absolutely in LOVE with this black sun hat. While it may seem like your basic beach hat - it is much more than that!
The tiny metal boning in the rim of the hat allows for shaping and reshaping of the brim to allow for optimal sun coverage and swagger!
If you are only going to make one Amazon purchase (gasp...why do that, though?!) to accent your summer sizzle, let this be it!
Price: $14.99
Click here to see it on Amazon. (Note that we are featuring the basic black hat. The other options are probably also fabulous, but we haven't tried them.)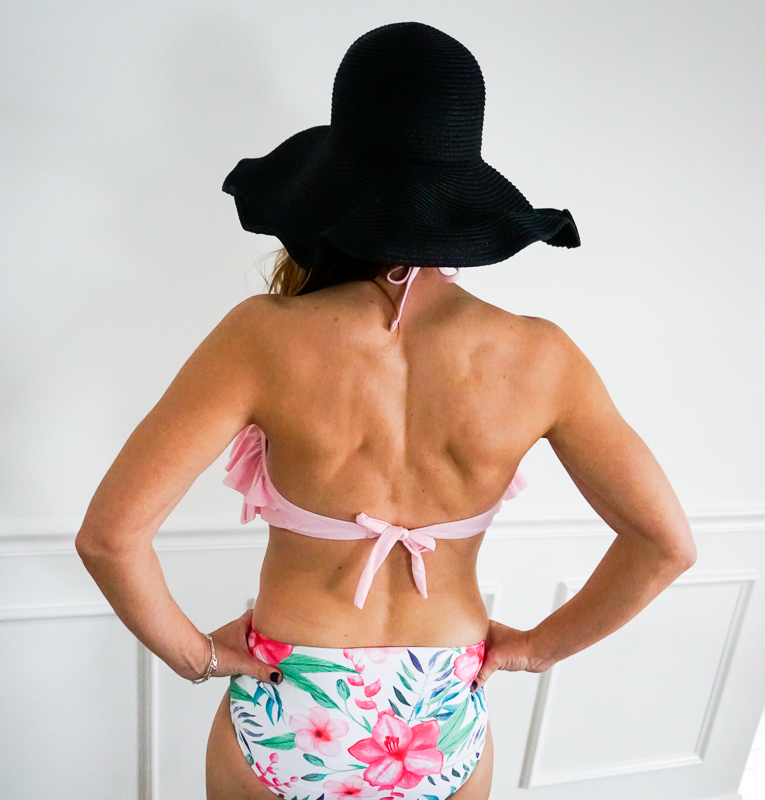 ---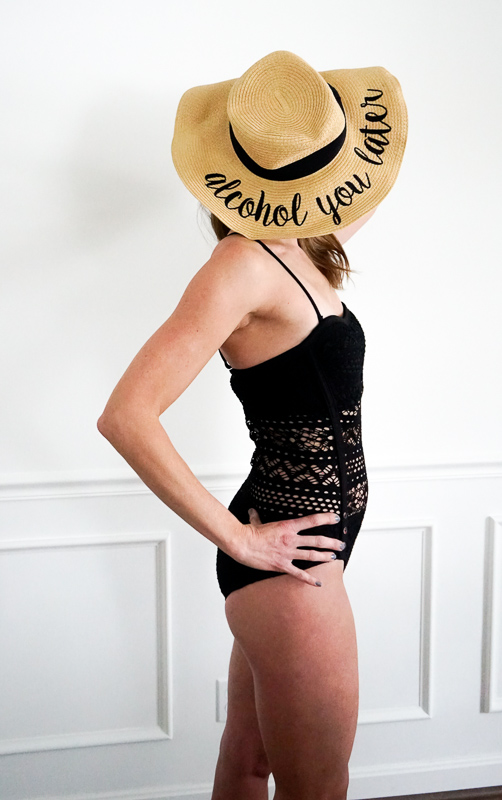 Chardonnay-you-later? We snort-laughed when we saw this hat.
Immediately, we fought over who got to wear it first. The hat is breathable and ready for you to stack a high-bun or a carefree low braid and rock the pool to the max.
Price: $19.99
Click here to see it on Amazon. (You're going to be blown away by all of the options!)
---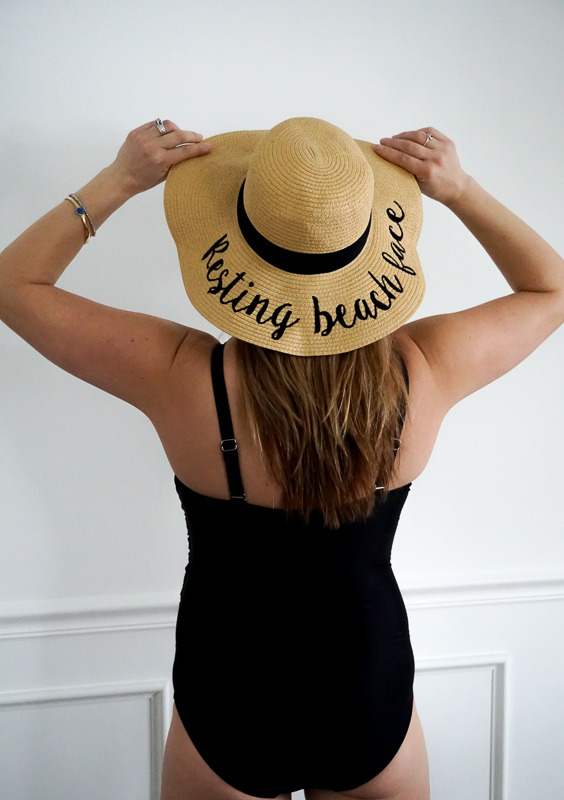 Price: $19.99
Click here to see it on Amazon. (You're going to be blown away by all of the options!)
---
Buying Swimsuits on Amazon Prime - Frequently Asked Questions
What's it Like to Buy Swimsuits on Amazon Prime?
It's just as easy as buying anything else on Amazon Prime. The only thing you'll want to watch is the price and Prime status as you change sizes and/or colors. Everything we're linking below is $30 or less on Amazon Prime, but you may find that the same suit in a different color or size is no longer available for 2-day shipping.
Are the Bathing Suits on Amazon Prime Legit?
Overall, we were pretty blown away by the quality of the suits. They are every bit the quality you would find sold in a Target store. And my last Target suit lasted for four years while my much more expensive Athleta suit was completely see through after one summer. So - yes - these swimsuits are totally legit.
What if the Amazon Prime Bathing Suit I Buy Doesn't Fit?
While all three of us that tried on bathing suits for this photo shoot found suits that we loved (and kept!), there were also a few that weren't our favorites or that would be perfect in a different size. The return process is as easy as can be. I simply log into my account, indicate that I want to return an item, give the reason why (which is typically sizing), and then print the mailing label that they provide. These are all free returns which means that you won't pay for shipping to you or return shipping - and the full amount that you paid will be refunded to you.
---
LOOKING FOR MORE OF MY FAVORITE AMAZON FINDS?
Click here to see all of our Amazon posts. (Including workout gear!)
Click here to visit my shop on Amazon.
This post contains affiliate links.