Laughs
You're a Better Mom than Me
By |
I have some good news for you today.
It has officially been confirmed that you are a better mom than I am.
Even if you don't have kids.
Or if you're a man.
I know you've been suspecting this for some time, but it is now 100% official.
In fact, it became official nearly two months ago, but I was so mortified by my horrendous parenting that it has taken me this long to even fess up to what happened.
Two months ago, I woke up in the morning and said to Even Steven, "Wow. I had such a weird dream last night. It was so random."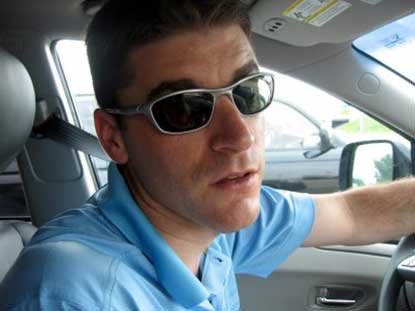 Even Steven:
Me: Do you want to hear about it?
Even Steven:
Me: I dreamt that Miles came into our room in the middle of the night and said he had a bloody nose.
Even Steven:
Me: That was the entire dream. He said he had a bloody nose. And then I think I was talking to Martha Stewart about how to fold a perfect fitted sheet.
Even Steven:
As soon as I finished telling Even Steven about my admittedly boring dream, I looked down and saw something on our sheets.
Blood.
A lot of blood.
All over the side of our bed.
Right at a 5-year-old's nose level.
I jumped out of bed and followed the blood trail into the kids' bathroom. There was blood on the floor.
A bloody washcloth on the counter.
Even a little blood on the toilet seat.
I continued to follow the blood trail straight into Miles's room.
Where I found more blood.
On his pillow.
On his sheets.
On his pajamas.
And there – next to his bed – was an open tub of Vaseline.
Apparently my dream wasn't a dream at all.
Miles had a bloody nose in the middle of the night. And when that sweet, innocent, bleeding child came into my room to ask for help, I lifted my head up off my pillow and said…
"Go get yourself a washcloth. Clean it up. Put some Vaseline on your nose and go back to bed."
Yes – you read that correctly.
I sent my sweet baby to clean up his own bloody nose all by himself in the middle of the night.
And then I promptly rolled over and fell back into a sound sleep.
The good news is that Miles doesn't appear to be scarred that I wasn't there to help him.
Or that I never showed up to check on him.
Or that even the sight of blood wasn't enough to get me out of bed.
(Although I'm sure he'll be sharing a different story on his future blog one day, amiright?)
When Even Steven eventually followed the blood trail and realized that my boring dream was, in fact, a nightmare – he was shocked – and officially declared me the worst mother ever.
I wear my title proudly.
My mother taught me a long time ago that the secret to success is to keep expectations as low as possible. Which means that if I ever do bother to get out of bed for one of Miles's bloody noses in the future – it will be a really special occasion – and he will appreciate it that much more.
I also think this entire incident means that it's time for Even Steven to take his turn sleeping closest to the door!