Laughs
You Can Thank Me Later
By |
I've been taking the kids to the pool a couple mornings a week.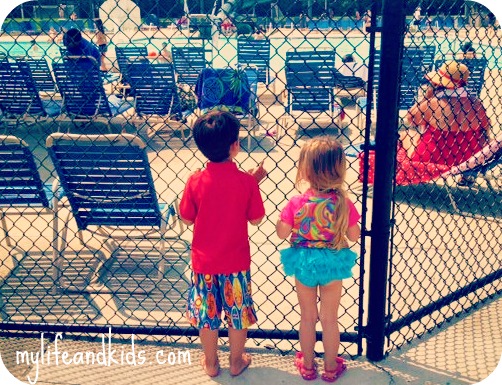 Miles and Alice are fairly self-sufficient, but Simon is a tank – well – more like he's a submarine.
Yesterday, I was attempting to hold his hand, as he powered his way through the kiddie pool towards the deep end. Straight ahead of us was a father very carefully and lovingly cradling his 6-month-old child in the water.
As Simon batted my hand away for the millionth time, I looked away – just for a second – to make sure Alice was behind me – when Simon lunged under water.
I immediately grabbed him, and he was totally unfazed. In fact, he was offended that I dare help him or pull him out of the water.
But the father in front of us was shocked. His mouth was wide open, and he looked at his wife in total disbelief.
I could tell he was mentally communicating with her – "We'd never let something like that happen to our precious child!"
And I really just wanted to say to his wife, "You're welcome. I just made you look like a REALLY good mom."
Instead I wrestled Simon into the shallow end to start again.
I find that I spend most of my days making other women look like better wives and moms.
So – You're Welcome!
It's not just allowing my 15-month-old to slip underwater at the pool.
I do other things too…
When I'm driving my minivan and pull up to a stoplight, your husband might catch me picking my nose.
You're welcome!
Sometimes I brush my teeth while eating Oreos and post the video on YouTube for my husband's co-workers to potentially watch.
You're welcome!
Lately I've been leaving a few floaters in our toilet at night for Even Steven to find in the morning.
You're welcome!
Is there anything else I can do to help you look like a better mom and wife? Just let me know – I'm here to serve!