Laughs
What the…
By |
Even Steven and I were running in a race, and we were nearly to the finish line when the storm sirens started going off. We followed the instructions of the race officials and ran towards a large shelter house to take cover – along with 200 other runners.
When we got into the building, something seemed weird to me.
Really weird.
The woman in charge was a little too cheery. A little too eager for everyone to follow her instructions.
But everyone did.
Everyone just filed right into the room that she told them to go into – and they sat down in theater-style chairs.
"This seems really weird," I said to Even Steven.
"You're fine." he said.
But I wasn't fine. And the entire situation wasn't fine.
I paced back and forth in the room, trying to put my finger on what was bothering me. The cheery woman wasn't pleased with my behavior, but despite several attempts by her to calm me down, I refused to take a seat.
Then it hit me. They were going to kill us.
All of us.
Just as I realized this, I turned and saw my parents on the other side of a glass wall. I ran forward and put my hand up to the wall. My mom put hers up on the other side of the glass wall.
"Mom – they're going to kill us." I cried.
"I know," she said. "I love you!"
I turned back as Even Steven was grabbing my hand and telling me it was time to go. We were among the last group to leave the building and walk towards our death.
But I couldn't give up. I let go of Even Steven's hand, and I managed to run out a side door – leaving Even Steven behind.
I ran outside, and was able to quickly hop into a taxi – even though we appeared to be in the country. It was dark, and I kept my head down in the backseat so that no one would see me.
"How did you escape?" asked the Taxi driver.
"I'm not sure," I said.
"You don't have much time," he said. And he proceeded to tell me everything I would need to know.
"The cheery woman is one of the "Monks." Luckily, when they're in their human form, they can't communicate with each other telephathically. But when they're in their "Monk" form – they look like large gorillas – and they can communicate with their thoughts."
"It won't be long until they're looking for you."
I began to panic as the Taxi driver handed me a duffel bag full of everything I would need in order to escape. Needle and thread, a man's tie, hair dye and some paperclips.
Just then, we passed a terrible car accident on the side of the road. I could tell immediately that most of the passengers had been killed – but there were my parents lying in the field. Their bodies looked mangled, but I could tell that they were alive.
The Taxi driver stopped the cab, and jumped out. Out of the darkness, I could see the gorilla "Monks" walking around. I was crying at the loss of my parents – and shaking out of fear of being seen by the Monks.
I watched as the Taxi driver started pointing to my parents and talking to the Monks.
"Fix them," he said. "But don't erase their memories. Just fix their bodies. Don't ask my any questions. Just hurry up."
The Monks fixed my parents, and they quickly ran to the car and jumped into the backseat with me. We cried and embraced.
The Taxi driver drove us to my house – and told us we didn't have much time to escape.
"There are only two places that you will be safe," he said. "Cancun, Mexico – or a special star-shaped rock in Denver. You must go to one of those places immediately before they start looking for you."
We ran into my house and woke up Even Steven's mom. She was concerned that we never came back from the race and felt like something was probably wrong. It took some time to convince her of our story, but she quickly came on board and began packing a small bag for each of my three children.
I called Even Steven's brother and told him and his wife to come to our house immediately with their two kids. They were reluctant to wake their kids in the middle of the night, but we were insistent.
At that point, I decided that I needed to go back and look for Even Steven before I got on a plane to escape. So when Even Steven's brother arrived, we created a plan.
Even Steven's brother was most familiar with Denver, so we decided he would take our kids, the grandmothers and his wife directly to an airport to catch the first plane to Denver. From there, they would hike to the star-shaped rock for safety.
My dad and I decided to go looking for Even Steven – but first we had to dye our hair and come up with a plan…
And THAT – my friends – is the dream that I had on Monday night.
And THIS is the face that Even Steven made when I told him about it.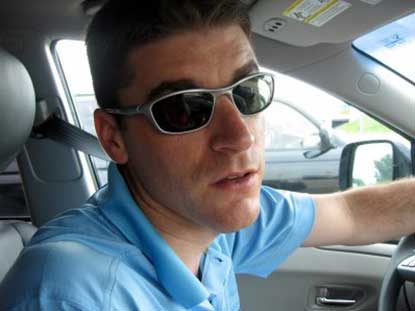 We both had several theories as to what it all meant. But I decided to turn this one over to you:
What do you think this dream means?
And – on another note – does your husband also act annoyed when you try to tell him your very vivid, wacky dreams?