1-year-olds
68 Moms (and one dad) Share What They Value Most
By |
Special thanks to LUVS for sponsoring this post!
As the official diaper of experienced parents, Luvs is always committed to providing moms and dads with value. They recognize that parenting can be difficult, so diapering shouldn't be.
As a special gift to parents, they recently introduced the new and improved Luvs Ultra Leakguard Diapers with NightLock Plus™. Softer and more absorbent than before*, with large stretch tabs for easy fastening, ultra-leakage protection and a money-back guarantee, Luvs provide features babies and parents need for less cost than premium brands.

To help you enjoy this value even more, Luvs is offering a great money-saving opportunity with a $1 print-at-home coupon.
Visit http://www.coupons.com/brands/luvs-coupons/ to access a Luvs coupon of $1 off any one diaper pack.
Print the coupon at home and use it at any mass, discount or grocery stores where Luvs Diapers are sold.
All Luvs Diapers are included in this particular offer, except trial/travel sized diaper packs.
Print-at-Home coupons expire 30 days from the date the coupon is printed by the consumer.
Join the #WhatULuv Twitter party hosted by @iConnect and @Luvs, on November 29th, 9-10pm EST to share what you value as a parent.
My Mother, the Genius
When I was a little girl, there was always a special gift under the tree for my mom from Santa.
Every year, the gift was wrapped in paper different from the others. And no one (not my brother or myself, my dad or my grandparents) knew where the gift came from. I truly believed it must be Santa himself remembering my mom on Christmas morning.
Turns out, it was my MOM remembering HERSELF on Christmas morning. Amidst all of the Christmas shopping, she would buy a very special gift for herself, wrap it in very special paper and have someone she worked with write the tag: TO LINDA, FROM SANTA. It would appear under the tree on Christmas morning, and my mom would make a huge show of being shocked and surprised by this magical gift.
My mom was a smart woman.
As we approach the holiday season, I've been thinking about what I would put under the tree for myself (if I were to take part in my mom's Christmas tradition.)
And, honestly, I can't think of a single thing.
Except for an entire hour of peace and quiet. Or kids that pick their stinky socks up off the floor without being asked. Or maybe a chance to use the bathroom alone…
It turns out I'm not the only Mom out there that feels this way.

Moms Want Help with Housework More Than Time with Celebrities
Luvs conducted a formal poll of moms across the country to take a look at parenting like it really is and uncover what they truly value most. The survey found that:
Nearly 2 in 3 moms have never taken a day completely for themselves.
81% of moms would prefer an entire day off from housework than dinner with their celebrity crush.
87% of moms agree that the first time their child slept through the night was one of their best parenting times yet.
Even a short spurt of "me" time goes a long way! A quarter of moms surveyed stated that they felt an uninterrupted shower was more relaxing than a day at the spa.
Other major moments moms value more now than before they became parents include sleeping past sunrise, watching television and movies that aren't cartoons, and having an interrupted phone conversation.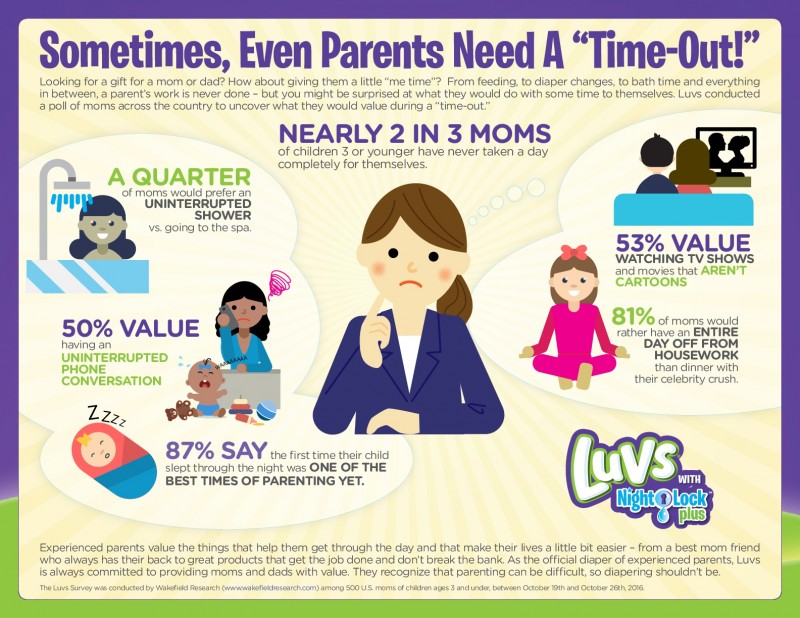 So as you're thinking about what to get YOUR mom for the holidays this year (or what to get for yourself), here are a few suggestions from some of my readers and mom friends on Facebook.
68 Moms (and one Dad) Share What They Value Most
AS A MOM, WHAT DO YOU VALUE MOST?
Kimberly: Full day kindergarten.
Tracy: Being alone in my own house! Especially when my kids were younger because it was such a rarity.
Katie: "Quiet time"
Arianna: Those evenings my husband works late and I can lay in bed and watch my DVR'd Real Housewives and Below Deck. (I can't be the only one who does this…)
Rebecca, Frugalista Blog: Time to shop Target BY MYSELF.
Stephanie: I hate to love him, but Caillou always buys me at least 20 minutes of "me time." Judge if you must.
Jessica: Headphones to block the sound of destruction
Sarah: A hot shower where I can shave my legs AND blow dry my hair after. I'm feeling fly on those days. 😉
Jennifer:  A morning (like this morning!) when my children get themselves ready for school without being prompted 10 times to brush their teeth, brush their hair, grab their lunch, tie their shoes, get your coat, and so on!
Andrea: My 20 minutes of quiet and solitude while I sit in the car in the pick-up line at school. If I'm lucky, the sun is shining and I imagine I'm on the beach!
Teri, Snarkfest: Those rare moments when my children are not fighting like the Allies and the Axis.
Stephanie: Friends with kids slightly older than mine who pass down clothes.
Leah: Uninterrupted sleep!!
Kim: Getting out of work a few hours early…on days when no one else has arrived home yet! Ah, the solitude.
Melissa: The Sound of Silence
Dawn: My kids being helpful without being asked
Gena: Escaping to Target or eating my own food without having to share my meal
Katie: Eating a meal without having to get up, clean up a spill or eat cold food!
Sarah: Never having to hold in a fart (when it's just me and the kids) – the louder the better, and it's always funny.
Star: When the kid is at school and the man is at work.. Peace in my life..lol
Sarah: A meal without having to cut anyone's food, clean up spills or telling anyone to stop banging their fork on the table. It could be at Applebee's, I don't care where. Uninterrupted, hot food is my only requirement.
Dione: I value a good time well spent. I wouldn't be a mom without my baby so as a mom I cherish his love. I haven't been to interested with alone time it comes and it goes…. My baby is almost grown up and I wouldn't trade those years for anything. Going out with my girlfriends is where it's at though
Kara: Beer
Amanda: When the boys walk their tails up the steps and go to bed without a single argument! Downright makes any bad day instantly amazing.
Nicola: I appreciate evenings when everything is done and the kids are all in some way laying on or leaning on me ( which can take some maneuvering considering they range from 14 and 5″8 to 6 ) while we watch something on tv or take turns reading to everyone. Days can be so rushed it is the perfect way for everyone to calm down and get ready for bed.
Myrna: What I value most is the fact that my children (4, who range from 15 to 22) grew up to be kind hearted people with a love for those around them and desire to serve others. They're nice and enjoyable to be near. ❤
Deanna: Cuddling and hearing a sweet innocent "I love you Mommy" for no apparent reason.
Alexis: Those FEW times when my kids are playing happily together out of my sight, but not out of hearing.
Jennifer: Getting a hug or I love you out if nowhere. Those are the best!
Tiffany: Time to read! And the edges of rooms being clean.
Tamara: Quiet. I so miss quiet. When I get it I thoroughly enjoy it.
Jess: I value the times when my kids pick up after themselves, be kind to each other, and help me out. That makes a world of difference.
Sarah: Gratitude and respect for my time and effort. My time is valuable and if I spend an hour of it scrubbing pee off the toilet, changing out towels, removing toothpaste from the sink and Chloroxing away the ghosts of old farts, you better at least put your dirty socks in the hamper and wipe up the toilet seat.
Grace: I love when I see them doing small or big things for me or anyone around them or just being kind.
Sara: Seeing my son (7) turn into an encourager. The other night when I was putting him to bed, I still had a ton of stuff to do and I was exhausted. He could tell I was tired and whispers to me "mommy, you can do it!"
Selena: Getting to just hold and kiss my children I have lost children to genetic disorders and that's the one thing I miss most just being able to physically love on them.
Meredith, Mom of the Year: An entire meal where someone doesn't spill their milk in my lap.
Danielle: It's a huge triumph when my sweet and picky 5 year old daughter enjoys a healthy meal.. I love to cook clean, and she rarely eats more than 5 bites, but when it's all gone or she truly enjoys it. That's the best feeling!
Tracy: The fact they both my husband and myself work from home and are in control of our schedules. This makes life much easier with kids in activities. We are almost always able to sit down for family supper before rushing off. We couldn't do that if we had to work 9-5 for someone else.
Tabatha: I love that my 4yr old wants to help cook, she's been able to crack a perfect egg from 18mo. Old, and always helps load the dishwasher with me, makes me feel good that she wants to help and is so proud of herself.
Lisa: A helpful husband! Knowing EVERYTHING doesn't depend on only you!
Arianna: I appreciate the days where I pick my son and stepdaughter up from school, and I listen to them talk and interact with each other in the backseat. It is when I witness the seamless blending of our two once-separate families that I realize how well my husband and I have raised our children.
Emily: A spontaneous hug or thank you.
Betsy: Dirty socks turned right side out & dirty clothes that make it into the hamper instead of on the floor next to the hamper
Kim, Let Me Start By Saying: Time with my delightful friends who are just as contently incompetent at this gig as I am.
Suzanne, Toulouse and Tonic: That moment when they all head out the door to school and the chaos just stops. I reheat my coffee, sit down and have my one zen moment of the day.
Karen: Eating a meal sitting down.
Ellen, Sisterhood of the Sensible Moms: Going a whole year without a trip for stitches or a cast.
Kathy: The time when all my chickens are present and accounted for, sleeping soundly in their beds. This is when I can truly take a breath.
Cathy: Empty nest syndrome.
Melanie: – when I think I am (or my life is) a hot mess, I just watch these train wrecks and feel SO much better about myself.
Karen, Baby Sideburns: Eating a meal sitting down.
Erica: Shopping ALONE! Not having to chase them around the store, find them in between clothing racks pointing and laughing at naked mannequins and then realize halfway home that I left my purchases on the counter!
Elisha: My husband getting our 8 month old in the morning on the weekend and letting me sleep in ❤
Paula: Bedtime! And a well established bedtime routine. Ours included half an hour of them reading before lights out. I still remember yelling up the stairs 'I don't care if the other kids are still playing outside, you GET to read' (as I was clutching my glass of wine)!!!!!!'
Lori, Loripalooza: The ability to shave BOTH legs proved almost impossible when Lucas was toddler. I remember once looking through the glass shower door at Lucas who was in my bedroom writing on the wall with my lipstick.
Stacy: When my 6 year old doesn't wake up and growl at me, yes I said growl and I mean it! He is not a morning person. I value those very occasional mornings he wakes up happy! I value when my 9 year old doesn't argue with me, or talk back. For a few sweet moments I remember how he has survived this long. I value when my 16 year old daughter says "you were right mom, I should have listened" yes freaking right I was right, and you remember that!!! I value the little victories, the moments you realize why you do this and love it! Also I value wine!!!
Nicole Leigh Shaw, Nicole Leigh Shaw: Kids who can feed themselves. Better yet, kids who know how to, and enjoy, making meals for the whole family.
Emily: I love when all 3 kids get their dang lunches out of their backpacks (on their own). I don't know why this is so challenging! Never fails, Monday morning at least 1 out of 3 has a lunchbag still in their backback from Friday. 9 times out of 10 it has a yucky thermos with old food, which I need in order to pack their "hot" lunch for the current day because they don't love sandwiches. I shop for the food, I make the food and I'm willing to wash the thermos to send them with a hot lunch that they love. Just not on Monday morning when we are rushing to get out the door. It will probably always be a battle but I'll still do it because I'm soft and I kinda like the little stinkers 😉
Courtney: I value the moments I wake up to my kiddos in our bed. I love the early morning snuggles.
Brenna, Suburban Snapshots: Babysitters with no social commitments.
Bridget: Knowing that Colton can see me and his Dad in a loving relationship and that we are modeling good behavior for him. Granted it's slightly for self preservation as well – hoping he won't be completely ridiculous as a teenager
Justin: I'm not a Mom. But I'm a single Dad. I love it when my Son shows me he cares.
Nicole, Moms Who Drink and Swear: Health. Just my health. Without it I have nothing and RA makes me constantly aware that I'm not in charge so I have to pay attention to the good and be grateful and humble.
Jennifer: The perfect family photo.
Kathleen: Right now as I lay in bed with strep throat thinking about my birthday tomorrow, thanksgiving the day after and my crazy family here in town I truly value the hour nap I got in peace and quiet. Thank you boys from the bottom of my very sore throat!! I will also value God's willingness to not let the whole family go down with strep!
Grace: I love when I see them doing small or big things for me or anyone around them or just being kind.
Hillary, Because My Life is Fascinating Play dates that I don't have to go to.
Vickie: At the moment I value the times my son asks for a cuddle. He's 12 and autistic so cuddles have never been an easy thing as he's touch sensitive. I know he will give up those cuddles soon as he is growing up so I treasure them all.
Find Value with Luvs

Don't forget to find value with Luvs this season with this printable coupon. And be sure to watch this video and tell me if you can relate…
*Vs. product replaced, sz. 2-5
** The Luvs Survey was conducted by Wakefield Research (www.wakefieldresearch.com) among 500 U.S. moms of children ages 3 and under, between October 19th and October 26th , 2016, using an email invitation and an online survey.
This is a sponsored post. All opinions are my own.