1-year-olds
Tips for Traveling with Sick Kids
By |
Every January, we pack up the kids and leave our frozen tundra in the Midwest to warm up for a long weekend in Florida.
As our vacation approaches every year, I worry that my kids will be too sick to enjoy themselves. (Please tell me that it feels like your kids are sick all winter too!)
This year, my worries became reality when Miles came down with a cold the day before our plane was taking off. He was congested, his nose alternated between being runny and stuffy, he was sneezing, and he felt downright yucky.
He immediately started crying, because how could he possibly have fun on the beach when he felt like this?
Luckily, as part of my partnership with Pfizer Consumer Healthcare, I knew exactly what could help save our winter vacation.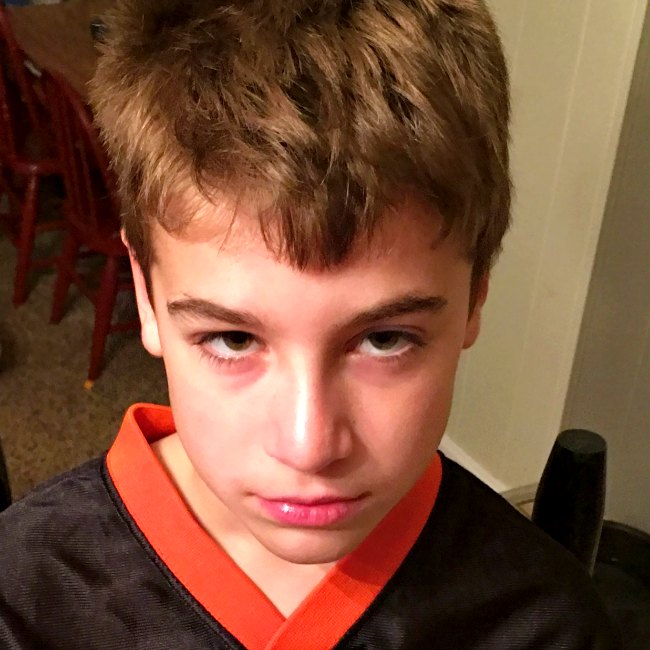 Because the truth is – sick happens. And, unfortunately, it doesn't always make sure to avoid your long-awaited (and paid for) family vacation. When sick gets real, we all have to adjust to help our kids feel better fast. Especially when we're traveling.
Whether we've been driving or flying, I've taken more than my fair share of vacations with sick kids. I'm sharing my very best advice for helping everyone feel better fast while you're traveling.
Tips for Traveling with Sick Kids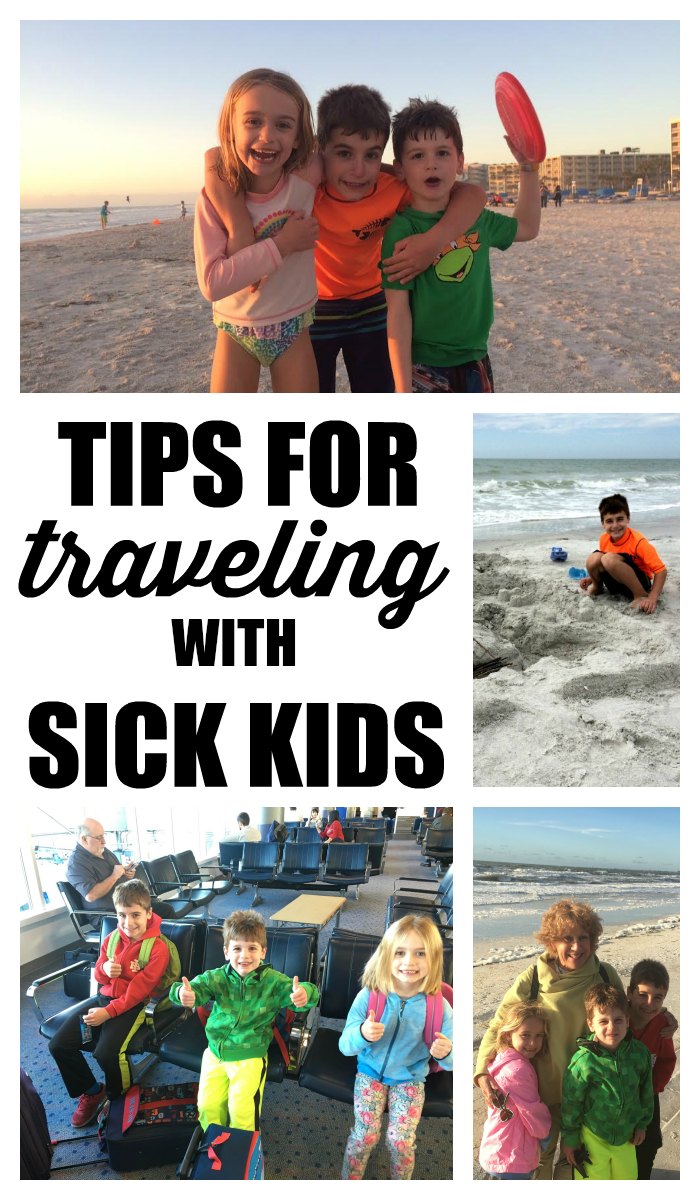 1. Accept the Sick
Sometimes, the hardest part about having sick kids on vacation is accepting that they're actually sick. Don't ignore that cough or the look in their eyes that you know means they're coming down with something. At the first sign of sickness, act fast to help them feel better as soon as possible.
When my son's cold symptoms first arrived, I started giving him Children's Dimetapp® Cold & Allergy right away. As soon as he started being able to breathe through his nose better, he started getting excited for vacation again.
2. Get There
For me, the sickness always seems worse when we're in the act of actually traveling to our vacation destination. Two years ago, we set out on an 18-hour road trip and had to stop SIX times in the first 45 minutes so that kids could get sick.
Yes, I said SIX TIMES.
If you know you'll be traveling with a sick kid, plan as many distractions as possible – and pack as many comfort items as you can. If you're driving, you may need to plan on extra stops (although hopefully not six of them in the first 45 minutes.)
For my son, this meant that we made sure he had a dose of Children's Dimetapp® Cold & Allergy before we hopped on the plane. It helped to soothe his congestion and help him feel better during the flight.
He also got to meet the pilot and see the cockpit. And the flight attendant gave him an extra cookie.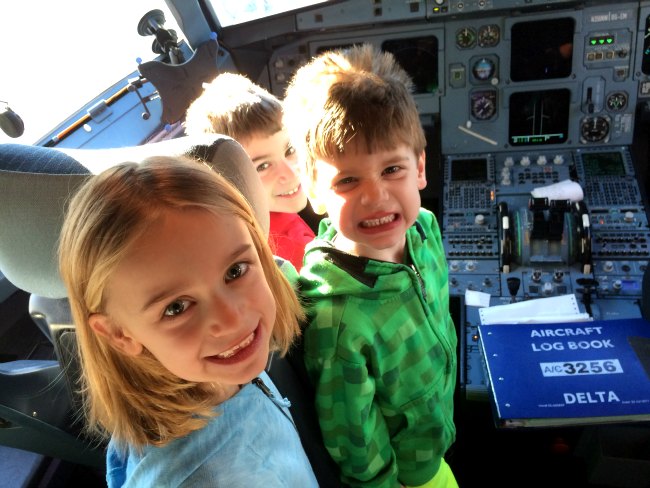 It was pretty much the best day of his life.
The medicine plus the excitement of meeting the pilot (and the extra cookie) kept him from feeling miserable on the plane.
(I also think it helped that we were taking a 2-hour flight instead of an 18-hour car trip.)
3. Pace Yourself
Normally, we are full speed ahead on vacation. We want to spend every second soaking up the sun and having fun – and not wasting a single moment of our vacation time.
That doesn't always work when one of your kids isn't feeling well.
For Miles, we made sure he got to do all of the things he was hoping to do.
He built a sandcastle on the beach,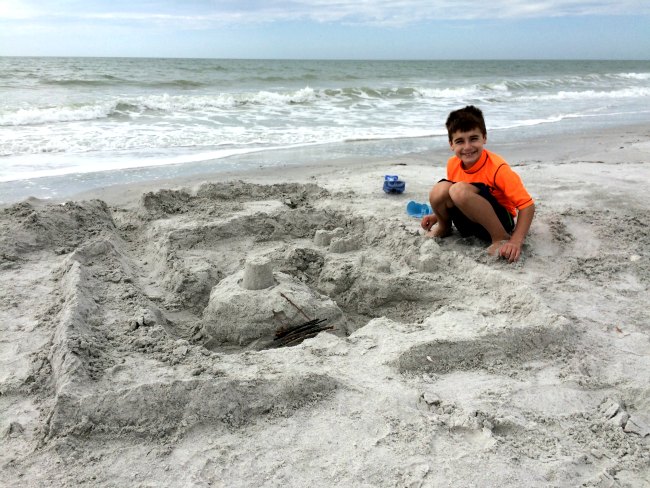 Went swimming and played Frisbee with his brother and sister,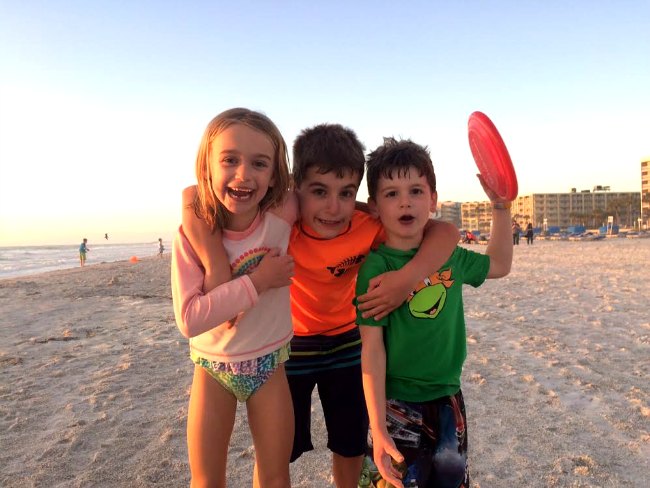 And even felt well enough to participate in a fun run.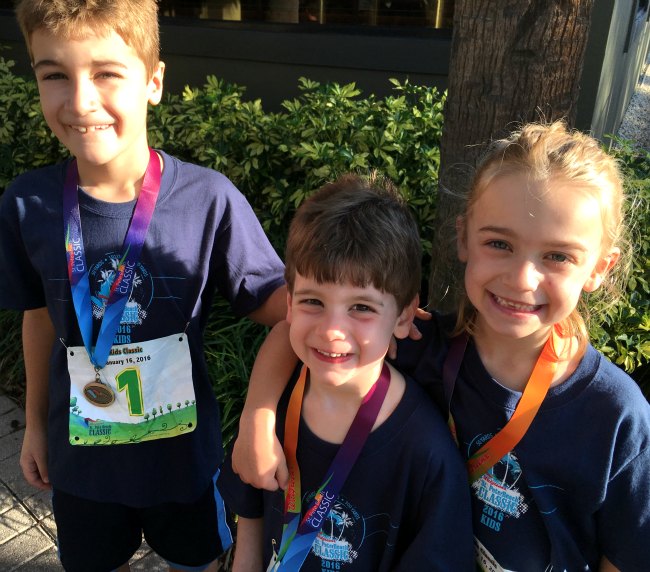 Between all of that activity, we planned lots of downtime for him to rest, catch his breath and preserve his energy.
4. TRY to get some sleep
I know – it's vacation and no one wants to stick to their normal bedtime. Especially my kids.
But we did our very best to have Miles in bed no later than 8 pm each night. This helped make sure he had energy for the next day, and it gave his body time to fight his cold.
We found that while going out to dinner and seeing the stars on the beach is fun, it can be just as fun to eat at home and snuggle in with a movie before bed.
5. Use Children's Dimetapp® Cold & Allergy
With its iconic Great Grape flavor (seriously—it's really good), Children's Dimetapp® Cold & Allergy non-drowsy formula helps relieve tough cold symptoms like congestion, sneezing and runny noses.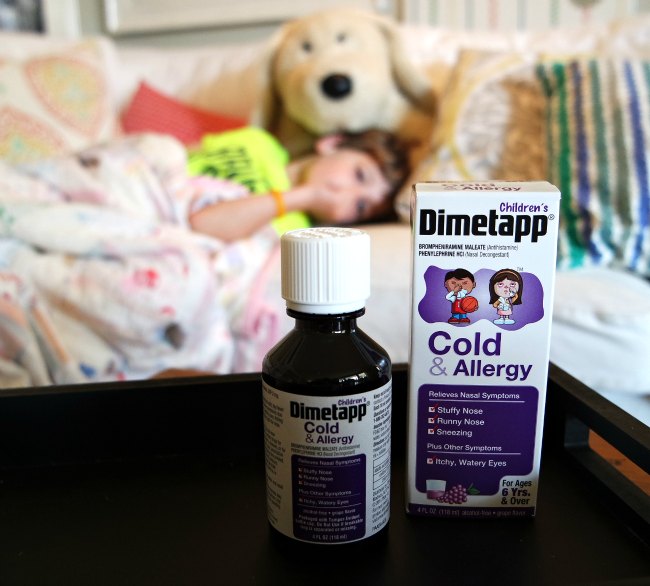 I hate to think what our vacation would have been like without it.
More Sick Kid Hacks
Visit the Sick Just Got Real Facebook page for genius sick kid hacks and special savings.
This content has been sponsored by Pfizer Consumer Healthcare. Product samples were provided by Pfizer Consumer Healthcare. Opinions are my own.