This is a sponsored conversation written by me on behalf of OFF!. The opinions and text are all mine.
As a busy mom of three kids, it can sometimes feel like I'm living in my minivan.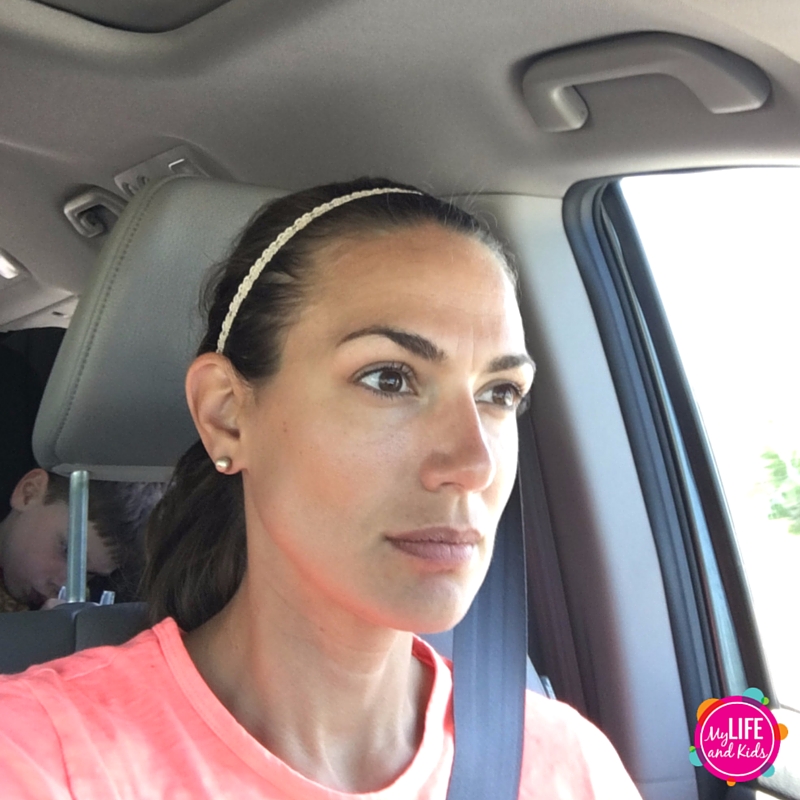 After spending the last four years of my life shuttling kids to and from the pool, playdates, school and soccer games, I've learned that I need to make sure I have everything I need in the car with me at all times.
As tends to be the case with me, I learned this the hard way.
Like the time that my "sweet" Simon found the only mud puddle in a five-mile radius during his brother's soccer practice, and I had to cart him home like THIS - because I didn't have a single bath towel, paper towel or change of clothes in the car.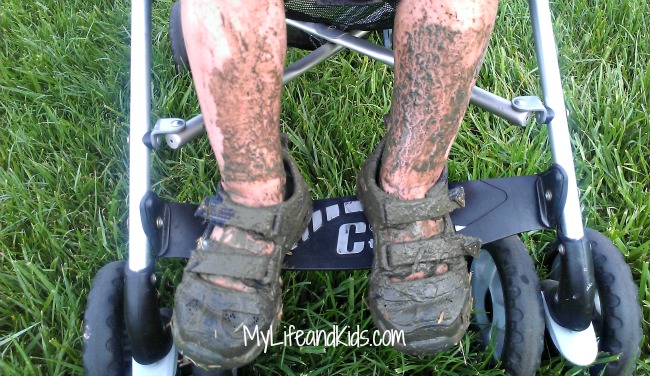 Or the time just last spring when my daughter started crying on the way to school because we had forgotten sunscreen and insect repellent, and she was going on a field trip to a farm. My sister-in-law was very surprised when I knocked on her door at 8 am to borrow supplies.
Or the countless times that I've shown up to a baseball game only to realize that they have no bleachers - and our chairs are in the other car. (I hate it when that happens.)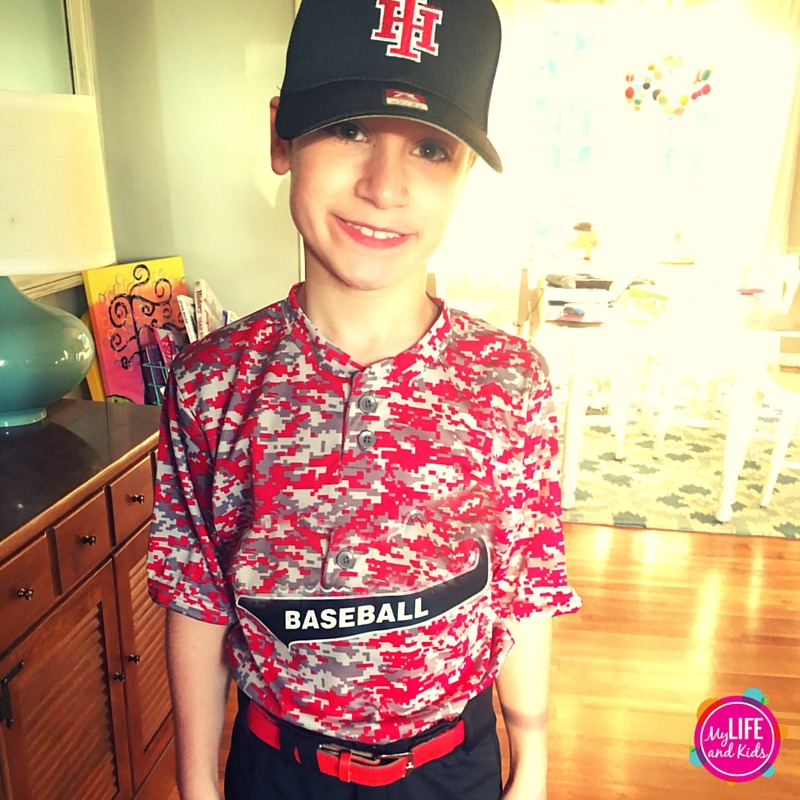 So as soon as summer hit this year, I cleaned out the minivan and finally got myself organized.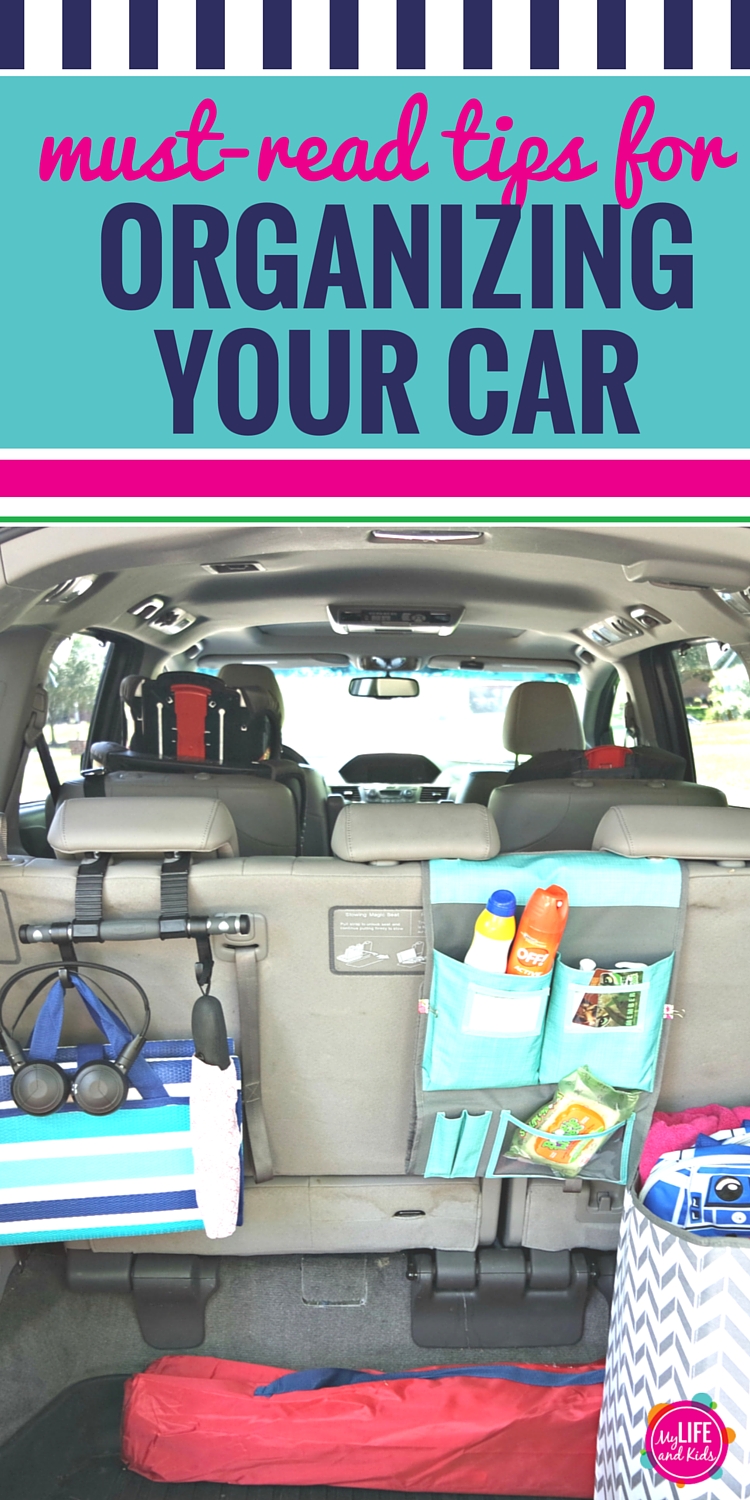 In the front seat, I cut patterned cardstock to cover up the melted crayons in the console. (Please tell me I'm not the only one that has melted crayons in the car!?!)
And I purchased a small clear vanity organizer to keep my stuff organized. Hair ties, change, gum, sunglasses and OFF!® repellent products are a must for me. And there's even a slot to keep my phone.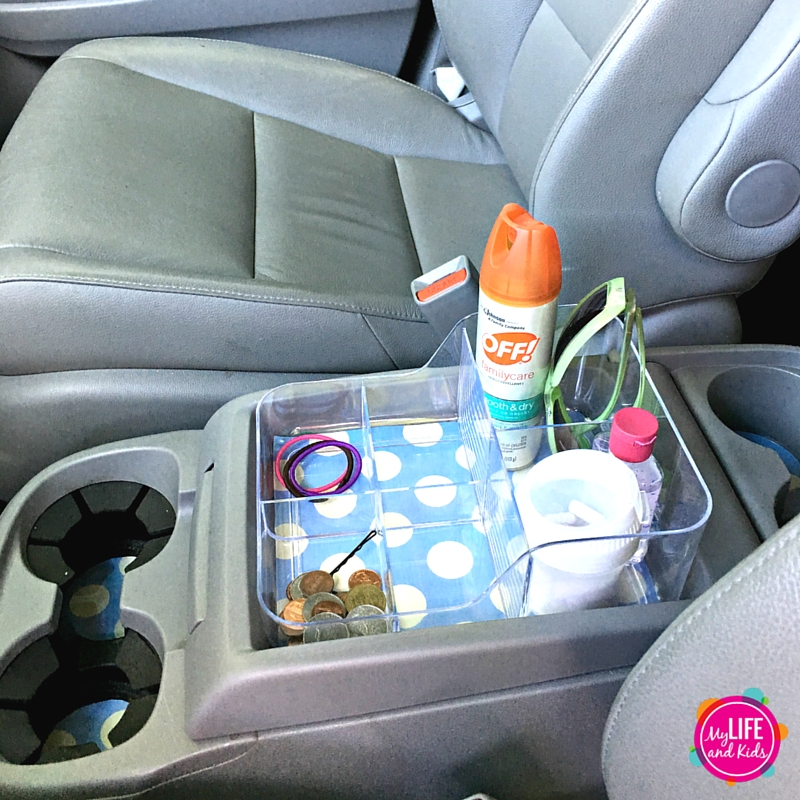 In the back, I purchased hooks to hang a picnic blanket, the car headphones and an umbrella. I really like how the hooks keep them off the ground and from getting lost.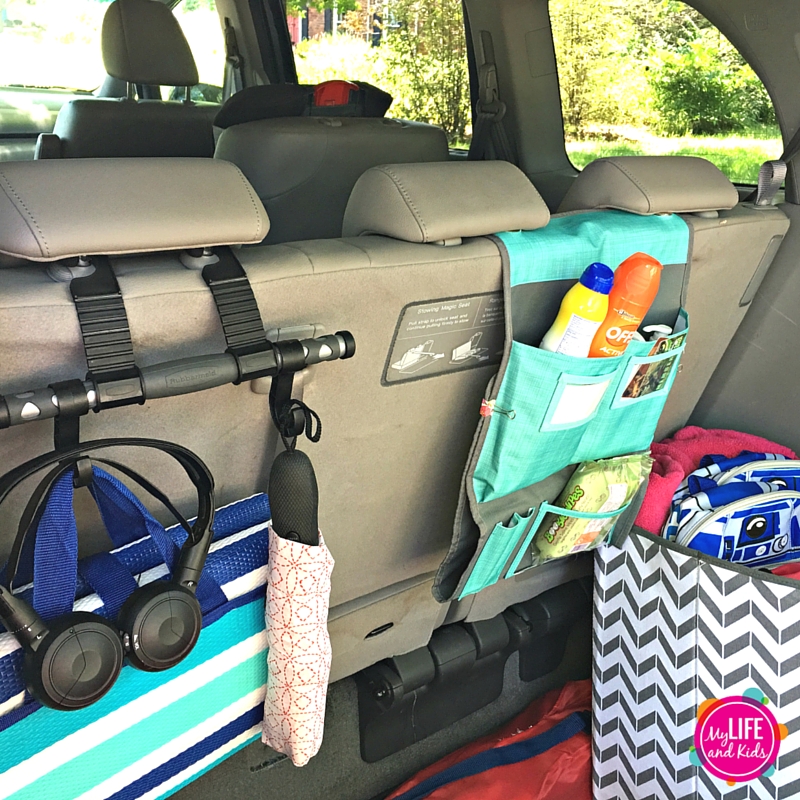 I also used an old wall organizer to keep our back-up supply of OFF! Active® Insect Repellent, sunscreen, hand sanitizer, zoo passes and wipes corralled. (No more 8 am stops at my sister-in-law's house this year!)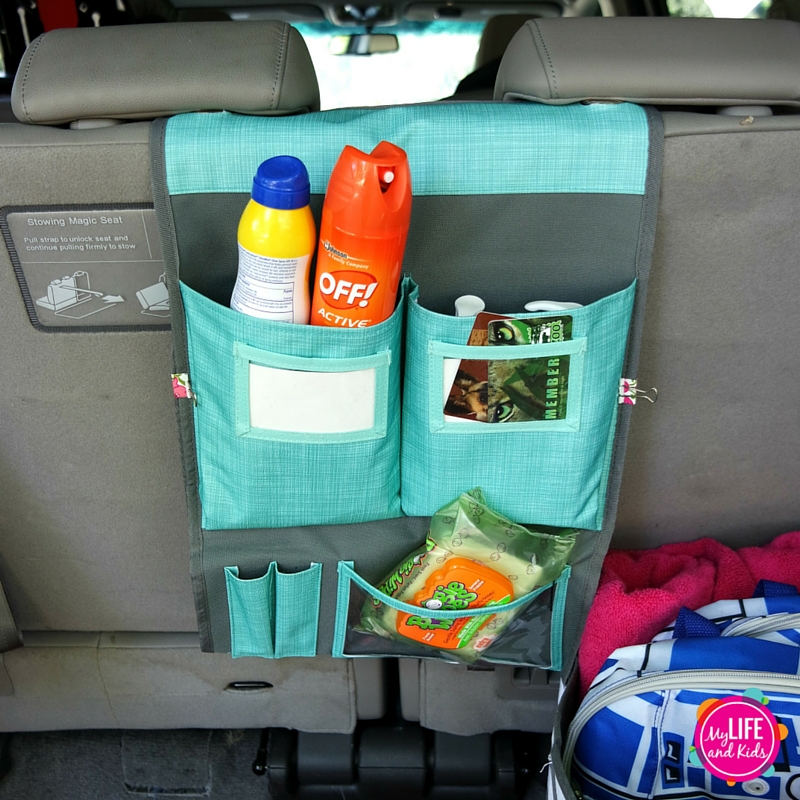 I used an old fabric bin to store some necessities. Each child has a backpack with a full change of clothes (including socks and underwear), there are three beach towels - just in case of another mud puddle or an impromptu water balloon fight - paper towels, a first aid kit and a flashlight.
And I also stuck one of our collapsible chairs in the back to always have on hand.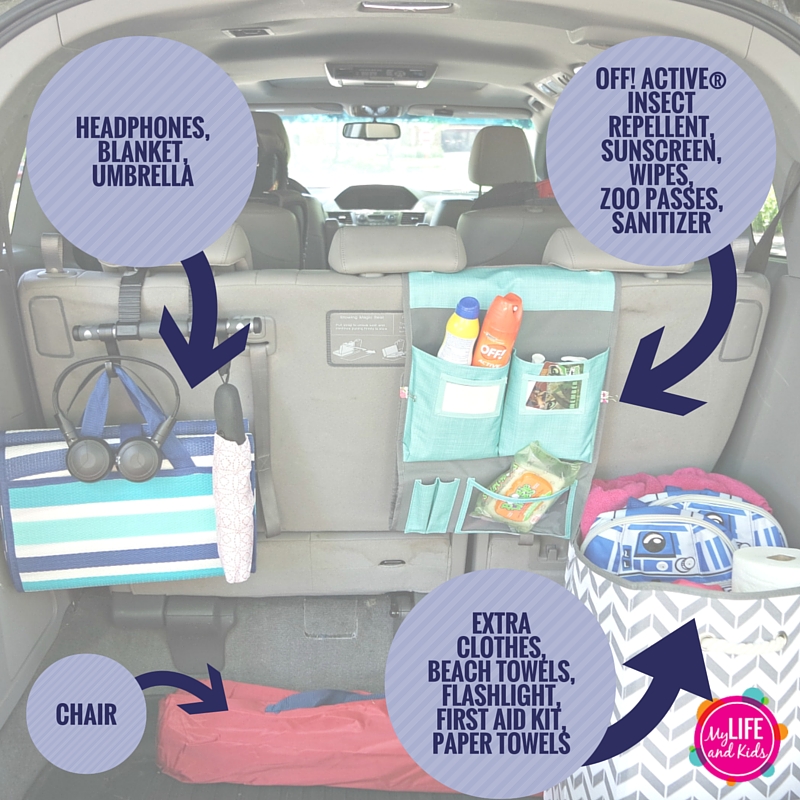 The kids love having everything so organized, and I love that we're never without the things we need.
Just last week as we were leaving the pool, our friends called and invited us to take a hike in the woods. Normally, I would have had to turn them down - as we didn't have time to go home, change, gather our supplies and then meet them.
But thanks to my stocked minivan, we went straight to the trail. The kids quickly changed into their extra clothes in the car, and I was able to keep my family protected from insects on the trail with OFF!® repellent products. No mosquito or tick bites for us!
Like putting on sunscreen, repellent is a standard for our family and provides peace of mind as we go about our daily adventures.
Personal repellents (like OFF!®) are the first line of defense against Aedes aegypti mosquitoes. We surely don't want to have them crash our outdoor adventures!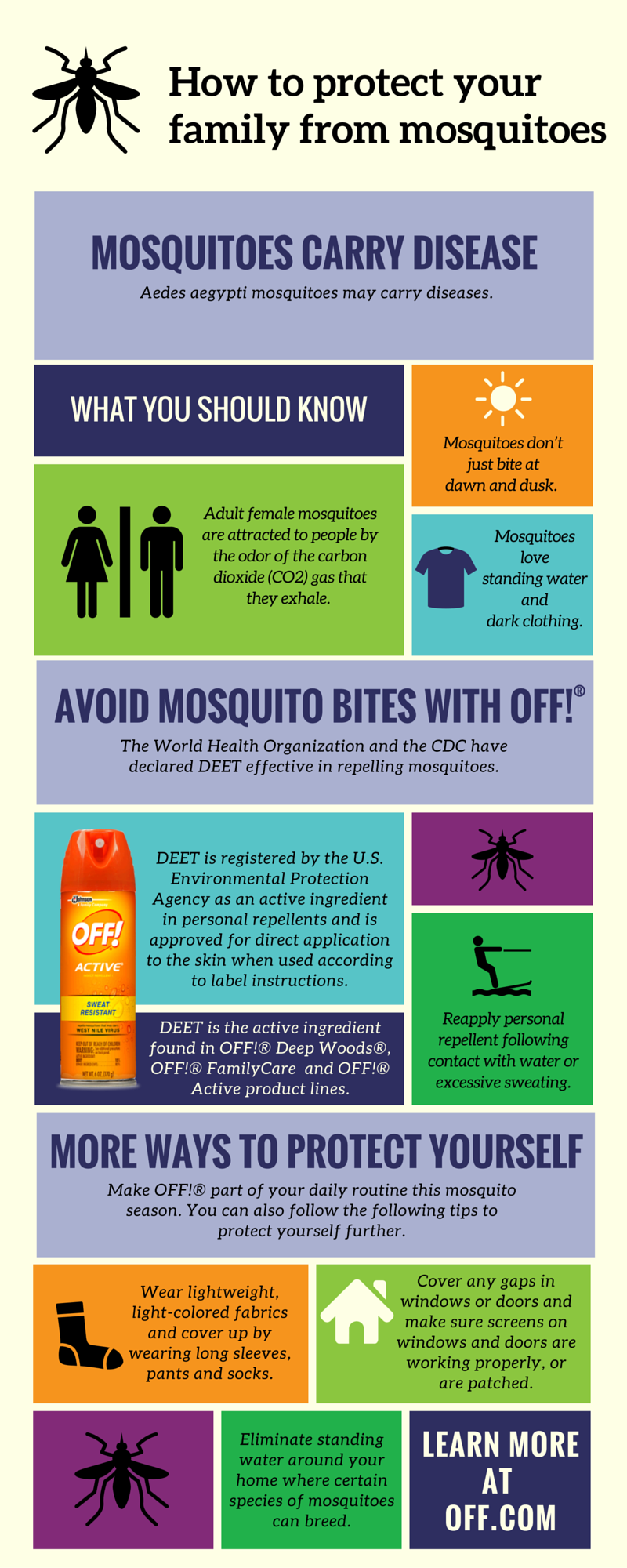 Find more information about mosquito-fighting solutions from OFF!® by visiting OFF.com.