Mom Life
Tips and Resources for Work at Home Moms
By |
My Life and Kids has been up and running for more than two years now.
TWO YEARS – it's hard to believe. (Read one of my very first posts right here.)
What started as a way for me to not go totally insane after I quit my job to stay home has officially become a part-time job. (You can read more about my decision to become a stay-at-home mom right here.)
Exciting things are in the works (that I can't wait to share with you – soon, I promise!), but I'm definitely putting in 20 hours per week these days.
My blog has gone from a hobby to a business – and I've gone from a full-time stay-at-home mom (FT-SAHM) to a part-time, work-at-home mom (PT-WAHM). Which I guess also makes me a PT-SAHM, right?
Did you follow that lingo?
Yeah – I didn't either.
With three little kids and a growing business, I thought I'd share my favorite tips and resources for work-at-home moms.
Tips and Resources for Work at Home Moms: Schedule your Time
I have a strict work schedule that I do my very best to follow. Back in the good old days, all three of my kids napped every single afternoon.
It's possible that I bragged about this.
Big mistake.
Because once my older two stopped napping every day, I had a huge wake up call as to how on earth I would get my work finished – without resorting to hours of television every afternoon.
Now I have certain days and times that I work.
And, otherwise, I am offline. Seriously.
Here's a great post by Alison at Get Your Pretty On about how to create your work-at-home schedule.
Tips and Resources for Work at Home Moms: Ask for Help
Let's be honest. I can't work for 20 hours per week and take care of my three kids at the same time.
Well, if I plugged them in or ignored them for four hours every day, I guess I could. Maybe… But probably not.
If I did, I'm pretty sure that something like this would happen: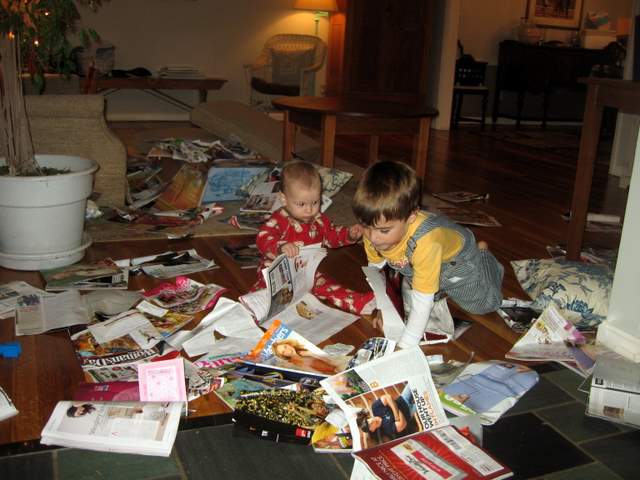 Luckily I have an amazing mother-in-law that is a huge help and oftentimes available to watch the kids if I have an impromptu meeting or a conference call or an urgent deadline.
I also have a babysitter that comes one afternoon a week. You'd be amazed how much work I can accomplish in a short amount of time when I know that I am paying someone to watch my kids.
And – as much as I like to pick on Even Steven – he's extremely supportive of helping me carve out time on the weekends to catch up or encouraging me to head to a coffee shop when he gets home from work so I can get something accomplished.
Here are some great tips from Babble for WAHMs – including getting help!
Tips and Resources for Work at Home Moms: Create a Work Space
This was a tough one for me.
For the longest time my desk was in my family room – so I could hop on the computer any time there was a lull in our day.
It didn't take long to realize that I was getting on the computer all the time. And then there was the time that the baby jumped on my desk and broke my computer.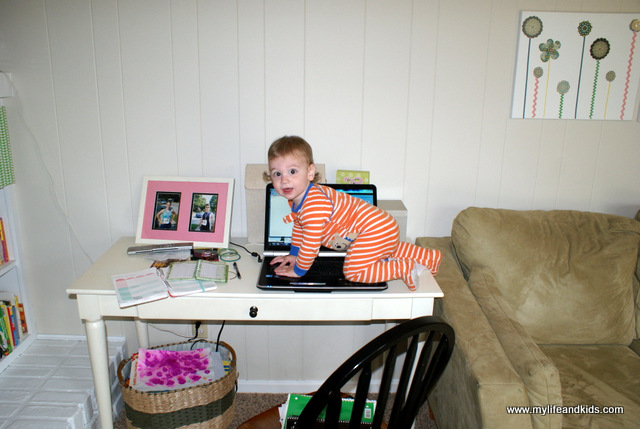 Now I have a desk in the upstairs guest room. It helps me focus and stick to my schedule – no more hopping online whiles the kids are playing. Now I only work when it's my designated work time.
My work space is pretty blah, but here are some lovely offices that might inspire you to get to work!
Tips and Resources for Work at Home Moms: Invest in the Supplies You Need
Once you decide to launch your business – or turn your hobby into a business – you may need to invest in a few items that are going to allow you to work as effectively and efficiently as possible.
It might be a new computer or a snazzy desk. It might be some software that would allow you to complete things faster or some training that would help launch you to the next level.
I invested in a pair of noise-cancelling headphones – since I'm oftentimes working at home while the babysitter is here with my kids. I'm available for emergencies, but I can't hear anything I don't need to.
I also found out pretty quickly that I needed a scanner and copier – to go along with my printer. This HP Photosmart Printer is doing the trick.
And one of the handiest things I've purchased is my Acer Chromebook. I often find myself with 45 minutes before I need to pick someone up from preschool – not enough time to run another errand, not enough time to go home – but just enough time that I could get some work done if I had things with me.
Because of the nature of the work I'm doing, tablets are not efficient for me. Responding to emails are cumbersome, designing images is next to impossible and everything seems slower. And lugging around my monster 16-inch screen laptop is not an option. Ever.
Which is why I'm loving the Acer Chromebook. It's the size of an iPad, but it's a laptop – complete with a keyboard and Google Chrome already installed.
I can answer emails, design images and do just about everything I need to do to work quickly and efficiently. And it fits in my purse! Oh – and it boots up in less than 6 seconds. Seriously.
Tips and Resources for Work at Home Moms: Set Goals
When you're turning your hobby into a business, take it seriously. Set goals. Connect with other people that are starting out. Learn.
This is a great Pinterest board to follow for entrepreneurs and small start-up businesses.
And if you're a blogger, this is where I store all of my tips and tricks to help grow your blog
What would you add to this list?
I received an Acer Chromebook and HP Photosmart printer from Staples. All opinions are my own.