Christmas
THIS IS HOW TO HAVE A STRESS-FREE HOLIDAY SEASON
By |
Nothing makes me more excited – or more stressed – than the holiday season. In theory, I love everything about December. The twinkly lights, the Hallmark channel movies, ice skating, spending time with family and friends and thinking up the perfect gifts for everyone on my list.
In reality, it's usually a cluster of over-scheduled chaos that leaves me 10 pounds heavier, crying into my vanilla latte, realizing that I haven't even started my shopping and I'm already a disaster.
So this year, I've teamed up with Med-IQ to share some top tips for having a stress-free holiday season (especially if you suffer from headaches or migraine like I do).
FYI: Med-IQ is an accredited medical education company whose goal is to improve patient outcomes through education. You can read my first blog post with them right here – where we talked about how to prepare for your conversation about migraine with your doctor. And click here to learn more about Med-IQ.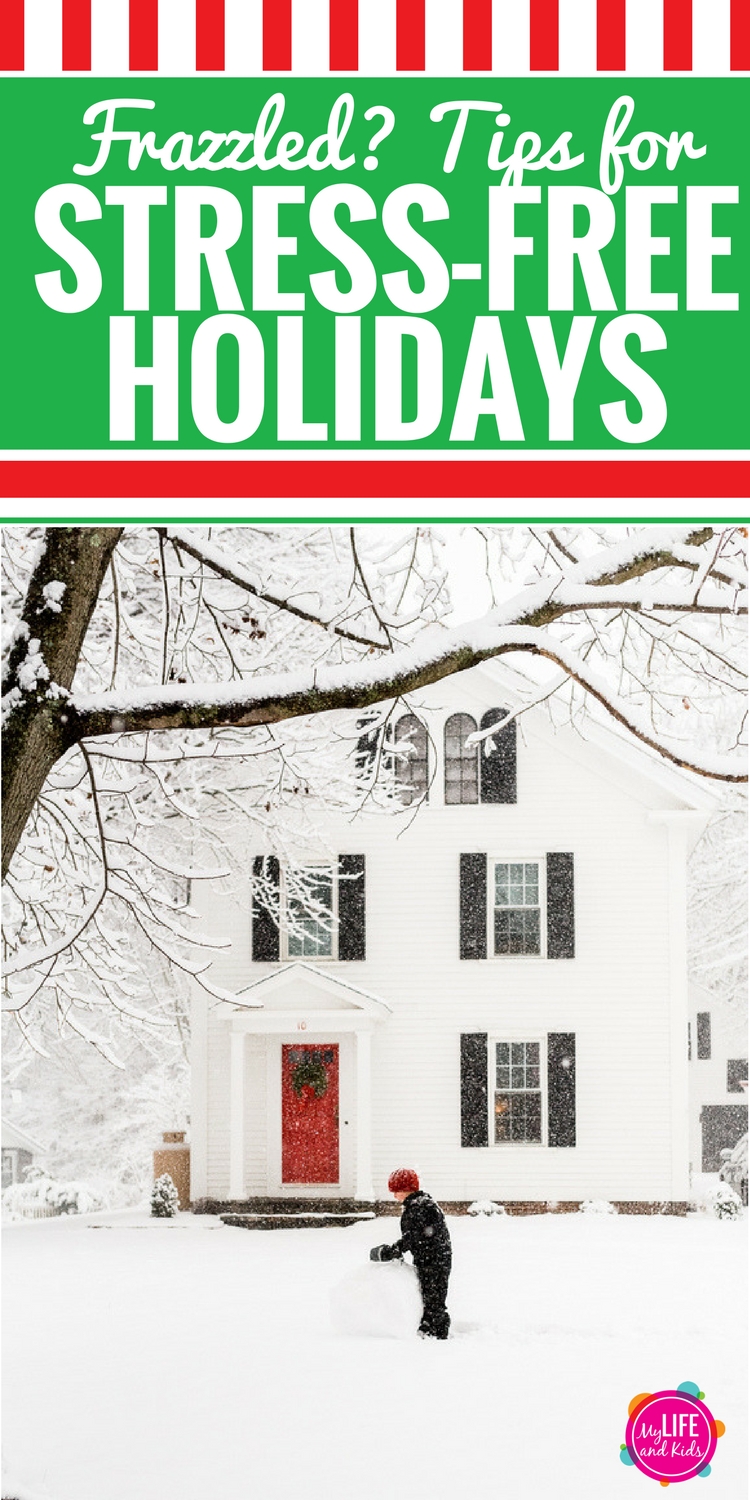 Just to be clear, this is my own personal advice. Keep reading for advice from the actual experts!
It's Okay to Skip "Traditions"
I am all about traditions, but sometimes it makes a whole lot of sense to really put some thought into which traditions are worth keeping and which could be skipped altogether. Every single Thanksgiving, I make my great-grandmother's homemade yeast rolls. It's hours of my life spent in the kitchen (before spending hours of my life in the kitchen making the actual Thanksgiving dinner), but I do it because it's tradition.
This year, I decided to skip Nanny's rolls, and no one cared. Actually, no one even noticed. At first it hurt my feelings, but then I remembered that I didn't spend six hours making rolls that no one (but me) seems to care about. So tradition skipped.
Make Time to Exercise
I know. You feel like I'm just piling on your stress. BUT – we all know that exercise helps fight stress, and you might as well start now rather than waiting until January. Make a goal of taking a walk outside every day, or download a free exercise app and work up a sweat at home. (I subscribe to Daily Burn, and I love that I can do a routine in 10 minutes if that's all the time I have.)
Perfection does NOT exist
Make this your mantra for the rest of December. Perfection is NOT real! It only exists in Instagram filters and carefully edited photos that make it out into the world. Your life is not being lived on social media. Your decor won't be perfect. Your gift wrapping won't be perfect. You'll probably completely forget to buy someone on your list a gift. It's possible that your Christmas card picture will look like the one we sent out a few years ago. It will all be fine.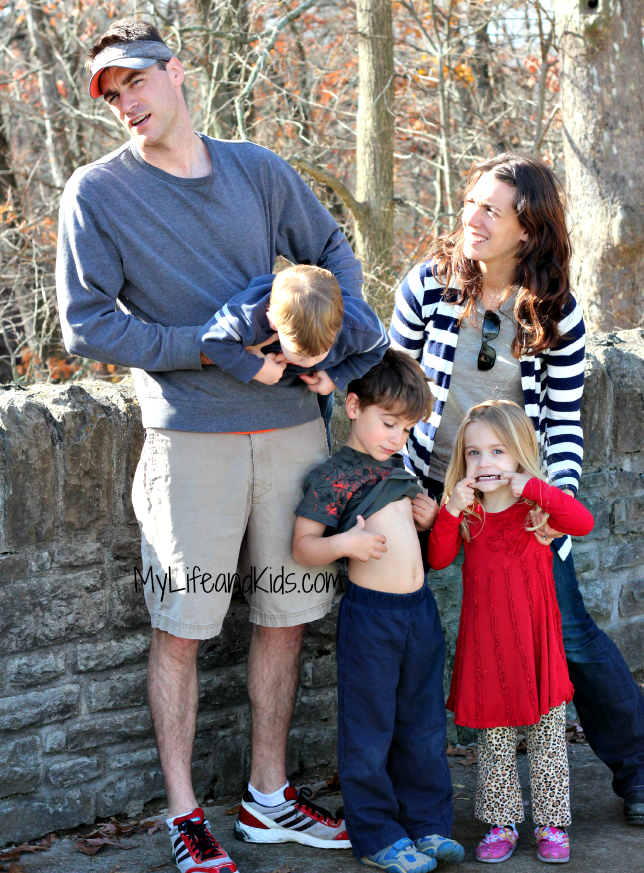 Yes. We actually sent this as our Christmas card.
You can ask for help.
Every year I can feel the stress start to creep in. I can't do it all. I have to keep staying up later and later to get it all done. I'm failing the world. And then I remember that perfection doesn't exist and that I DON'T have to do it all alone.
ASK FOR HELP.
It's amazing how much people are willing to help out when you just ask them. Every year my husband is in charge of the stocking stuffers for the kids. He puts some of the stupidest things I have ever seen in those stockings. Seriously. He includes NOTHING that I would ever even consider. But you know what? The kids love them, and I didn't have to participate at all. Boom.
It's okay to say no. Or to run away.
Last year I had a giant meltdown on the way to a holiday party that we have gone to every single year for the past 5 years. I hate going. I don't really like the other guests. I always hate my outfit. I usually sit there thinking about all of the BETTER things I could be doing or the FRIENDS that I could be spending time with. But we've always gone out of obligation. This year? We're skipping it. And it feels so good!

DO make time to give back to others
I'm pretty flexible in my holiday commitments, but I do make a concerted effort to give back with the kids at least once during December. It serves as a great reminder to all of us of what is really important in the world. And it helps me stress less about not having the perfect teacher gifts.
Don't take on extra projects
This is not the time to start renovating your kitchen or repainting your bathroom.
It's possible that this was our house four days before we hosted 16 people at our house for Thanksgiving dinner this year. Ahem….
Sometimes I need to take my own advice.
Make plans for February
Raise your hand if you agree that February is the WORST! I live in Ohio, and it is dark and cold and nasty in February. And there is NOTHING to do – all of the holiday fun is officially over. So when I'm in my happy holiday mood, and I want to invite half the world over for a variety of parties and get togethers and coffee dates, I resist the urge and make plans for February instead. You're saving yourself (and your friends) from more December commitments, and you're giving everyone something to look forward to in February. Win. Win.
Watch at least one Hallmark Christmas movie
Do it for me. They're my favorite. Bonus points if it includes Candace Cameron-Burre. Or if a family car breaks down in a small town on the way to Christmas, and they are forced to spend Christmas there because no one can fix their car. And during their stay, the family is reminded of the true meaning of the holidays and either the parents fall back in love with each other, fall in love with the little town or somehow rescue the town from being shut down altogether. Bonus points if all of the above happens. And you've died and gone to heaven if all of that happens AND the main role is played by Candace Cameron-Burre.
IF YOU SUFFER FROM MIGRAINES (LIKE I DO), EXPERTS HAVE SPECIAL ADVICE FOR YOU
In August, I had the chance to speak with two neurologists that specialize in headache diagnosis and therapy – Robert G. Kaniecki, MD, University of Pittsburgh Medical Center and Stewart J. Tepper, MD, Dartmouth-Hitchcock Medical Center.
Nothing makes the holidays LESS merry than being bedridden with a migraine. Or trying to carry on with the holidays while pretending you don't have one. (If you're anything like me, you're not fooling anyone.)
If you or someone you love suffer from migraine, it's especially important to follow these three tips during the busy holiday season.
1. Follow your treatment plan: Stick to your treatment plan, which should include medications and lifestyle management strategies to prevent and treat migraine. For me, this means that I can't go overboard with caffeine or sugar. I have to get plenty of sleep. And I probably shouldn't eat cheese. It's harder to do this than ever during December, but sticking to my routine makes a huge difference.
2. Avoid overuse of acute headache medication: Don't take prescription or nonprescription medication for migraine pain more than 10 days per month. Doctors know that the inadequate control of the immediate pain of a migraine attack can lead to chronic migraine. Inadequate pain control can lead patients to take acute medication too often, and overuse of acute medication (including over-the-counter medications) is a risk factor for developing chronic migraine.
3. Keep a headache diary: Track changes in headache frequency and/or intensity as you begin or change medications. My headache diary is one of the main reasons that I am able to identify some of my migraine triggers. You can learn more about my headache diary here.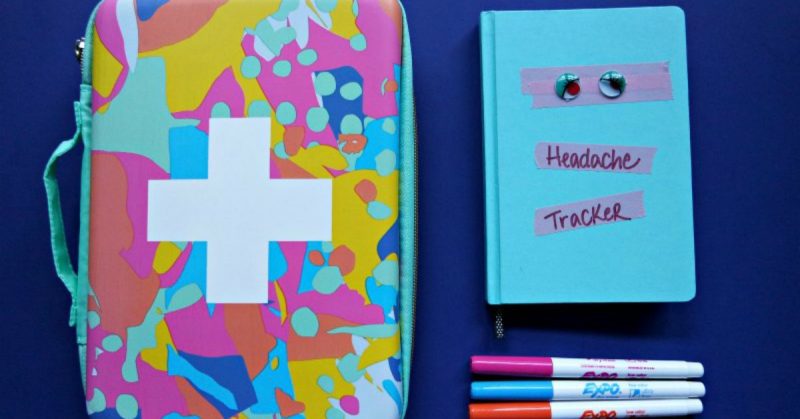 Take a Survey + Enter to Win
If you have ever had a migraine, or fear that you might be experiencing them, please take this survey.
It will take you less than 10 minutes to complete, and you'll be entered to win one of ten $100 VISA gift cards! No personal information will be kept, sold, or stored during the survey completion process.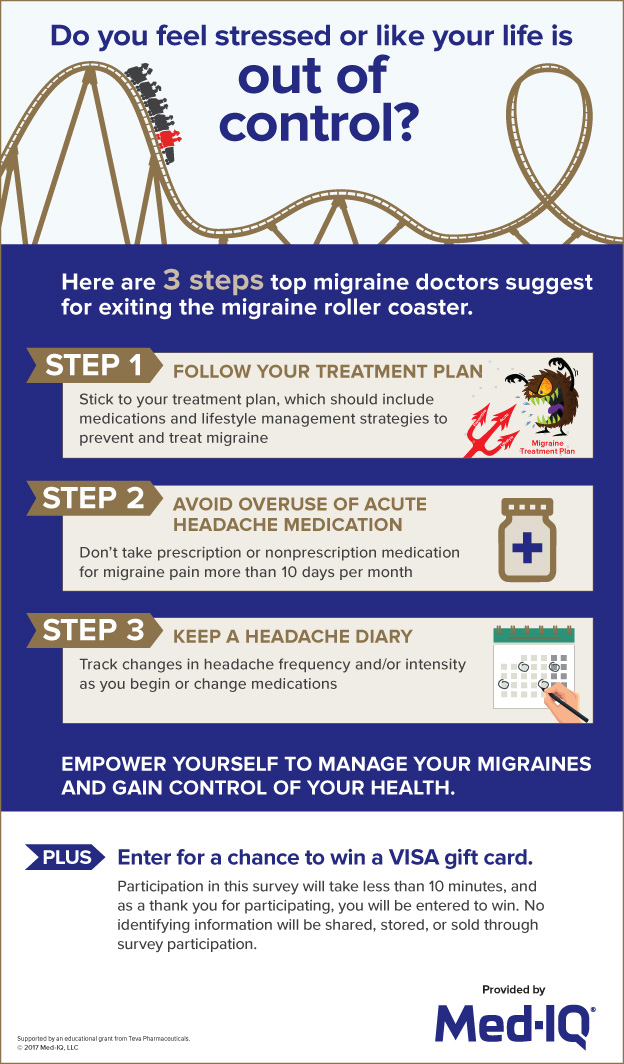 My opinions are all my own. I was compensated to write this blog post. It is sponsored by Med-IQ and supported by an educational grant by Teva Pharmaceuticals.