Make this the best school year ever by hosting a back to school party! You can do this with just your kids, host a party for the neighborhood kids or use it as part of back to school night at your elementary school.
This bundle makes it so easy to do - just print and party! Click here to purchase now.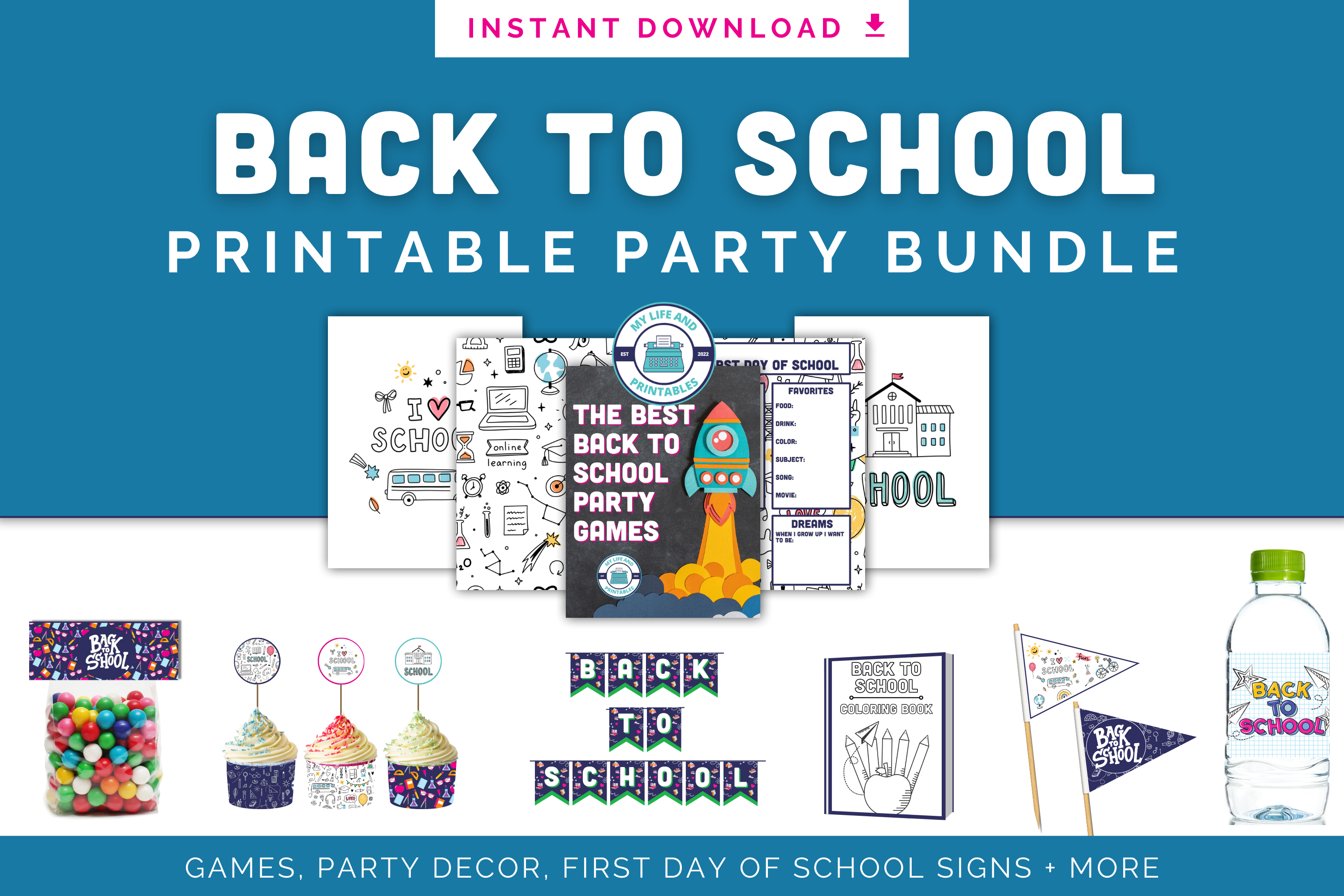 What's included in the Back to School Printable Party Bundle
This party bundle includes:
Water bottle labels (8 oz and 16 oz)
Cupcake Toppers
Cupcake Wrappers
Two versions of banners / buntings
Treat Toppers
Pennant Flags
TEN (10) School Posters
Back to school coloring book (print one for each guest!)
First day of school interview pages - capture details about your child on their first day of school!
Back to School Party Games! Including word scramble, charades clues, pictionary clues and four minute-to-win-it games
WOW!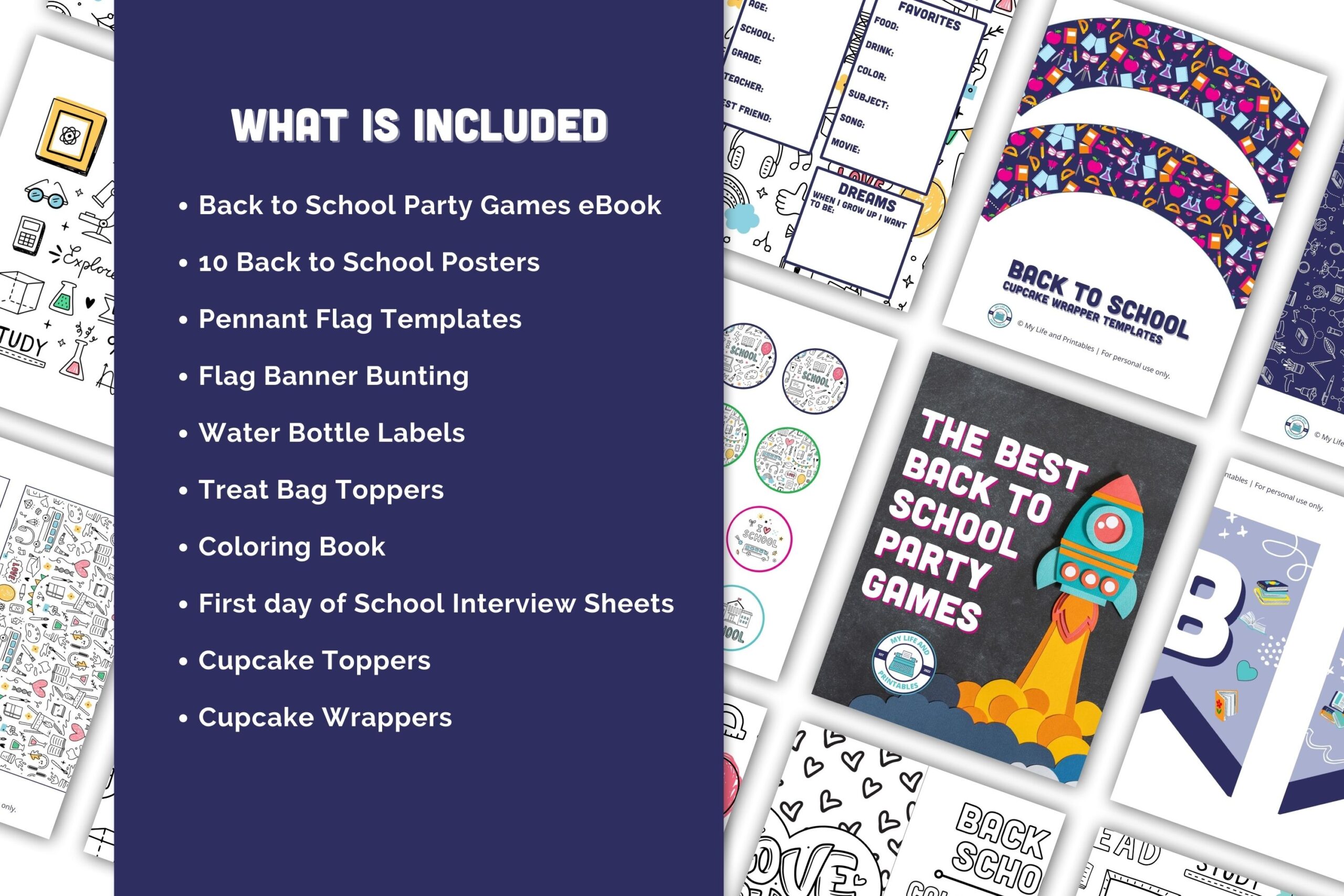 Back to School Party Games eBook
This book will give you all the best back to school party games that you can play as minute to win it games if you want to. It also includes charades and pictionary clues as well as a word scramble that you can print and use as many times as you want.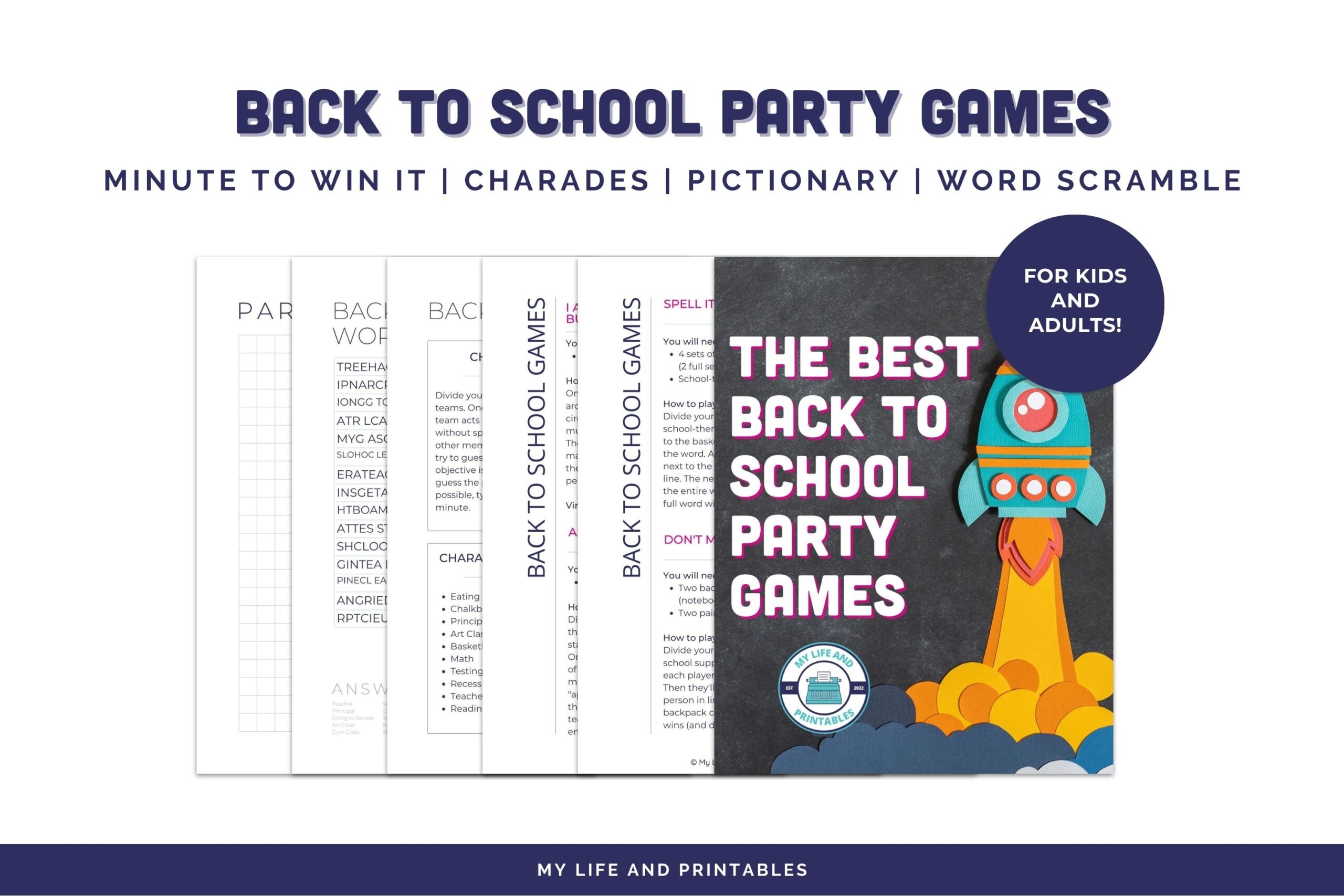 Posters and Interview Sheets
These are 10 posters related to back to school. They're perfect for your classroom, to use as party decorations, to hang on bulletin boards or to use as binder covers! You can print them on 8.5 x 11 paper on your home printer. Easy peasy!
Use these interview sheets to interview your kids on the first day of school. Just print, fill in their answers and attach a picture of them. If you decide to host a party, you can have one for each party guest and use a polaroid camera for instant pics.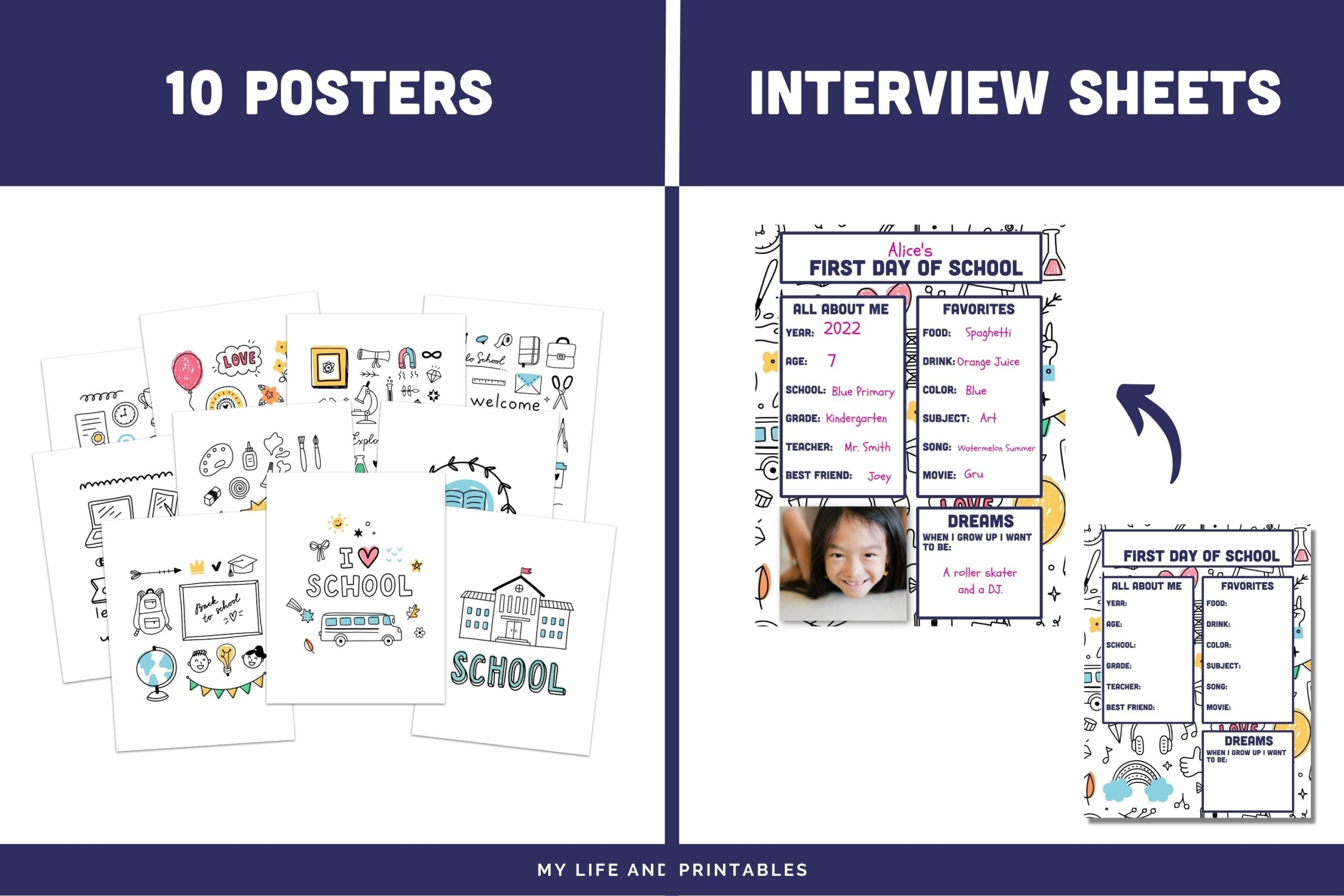 Back to School Coloring Book and Treat Bag Toppers
This coloring book will print on your home computer on three double-sided pieces of paper. You'll assemble and fold down the middle, and your kids will have their very own back to school coloring book with 12 coloring sheets! You can give them to elementary school kids, but even high school kids still like to color! Use them at home or in your classroom.
These treat bag toppers are the perfect party favors for your back to school party or as a welcome back to school gift for your students. Staple them onto the top of any treat bag (or even a brown lunch bag). Fill the treat bag with erasers, candy, stickers or anything you want! There are four designs to choose from.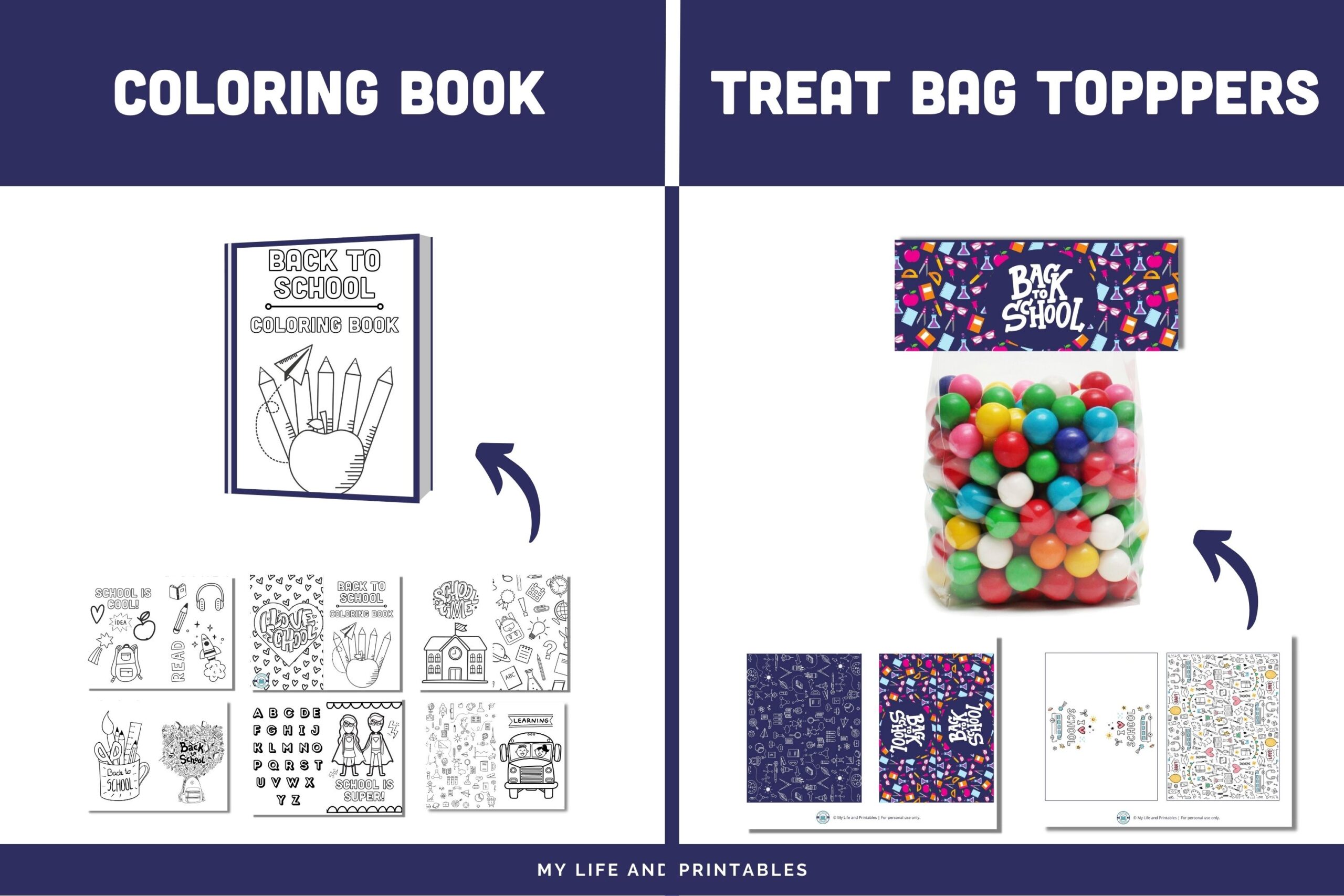 Pennant Flags and Flag/Banner Buntings
Dress up your party with these fun back to school pennant flags. Print them, cut them out and attach them to craft sticks or kabob skewers. Give one to each party guest or use them as decorations. There are two designs includded.
Hang a back to school banner in your classroom or on your party table. There are two designs to choose from. Print them out, cut them and attach to string to hang wherever you'd like.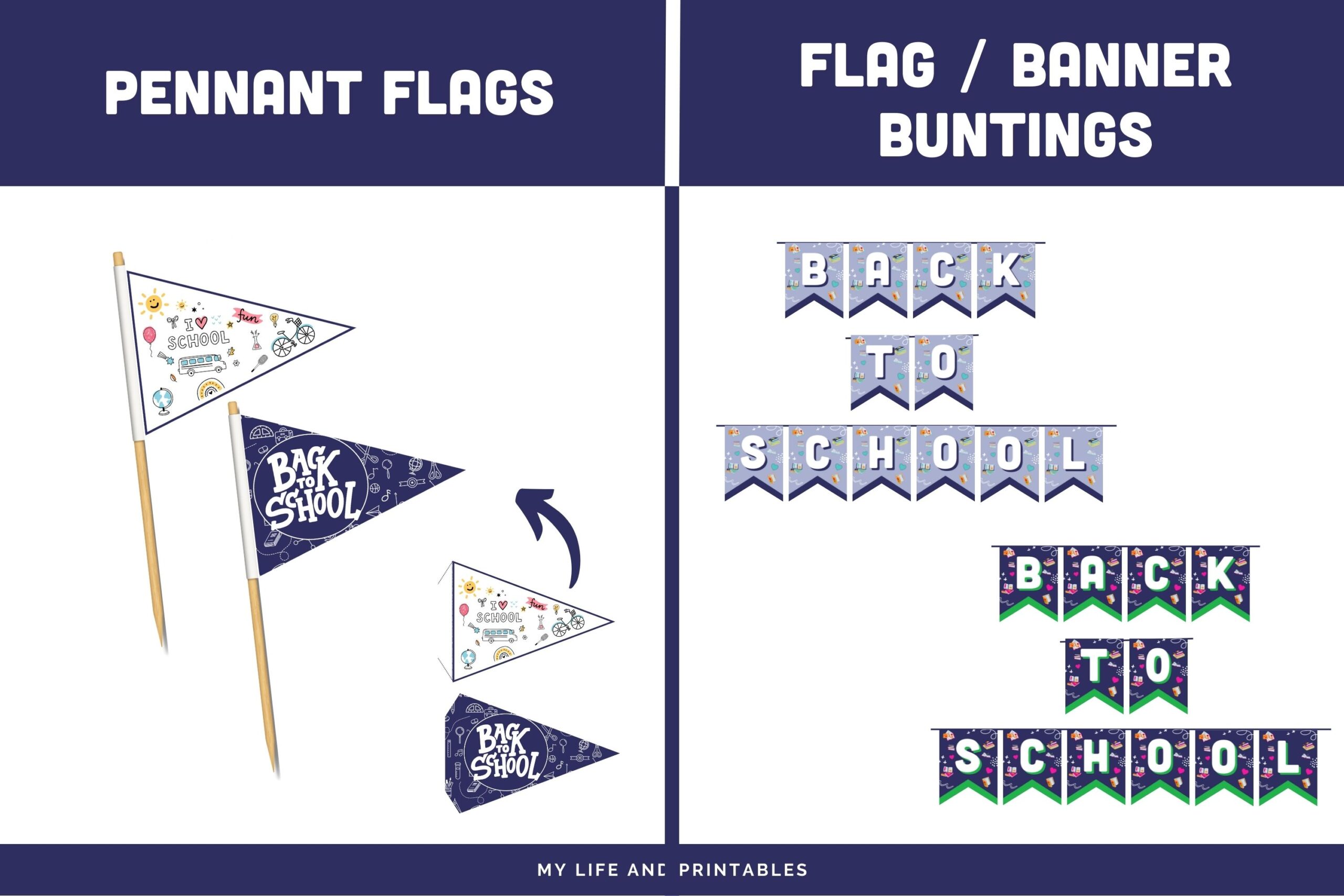 Cupcake Wrappers and Toppers and Water Bottle Labels
What's a theme party without themed treats? Make your life super easy with these cupcake toppers and wrappers. Buy or bake your cupcakes. Cut out these back to school cupcake toppers and adhere them to toothpicks. Stick a toothpick in each cupcake. Then cut out the cupcake wrappers (four designs to choose from), and wrap them around the cupcake wrappers. So fun and easy!
Buy a case of water and replace the labels with these fun back to school water bottle labels. There are two designs to choose from, and the labels are made for 8oz water bottles or 16 oz. You can print on normal paper or sticker paper. Wrap around the existing label or replace the label and adhere. Easy peasy.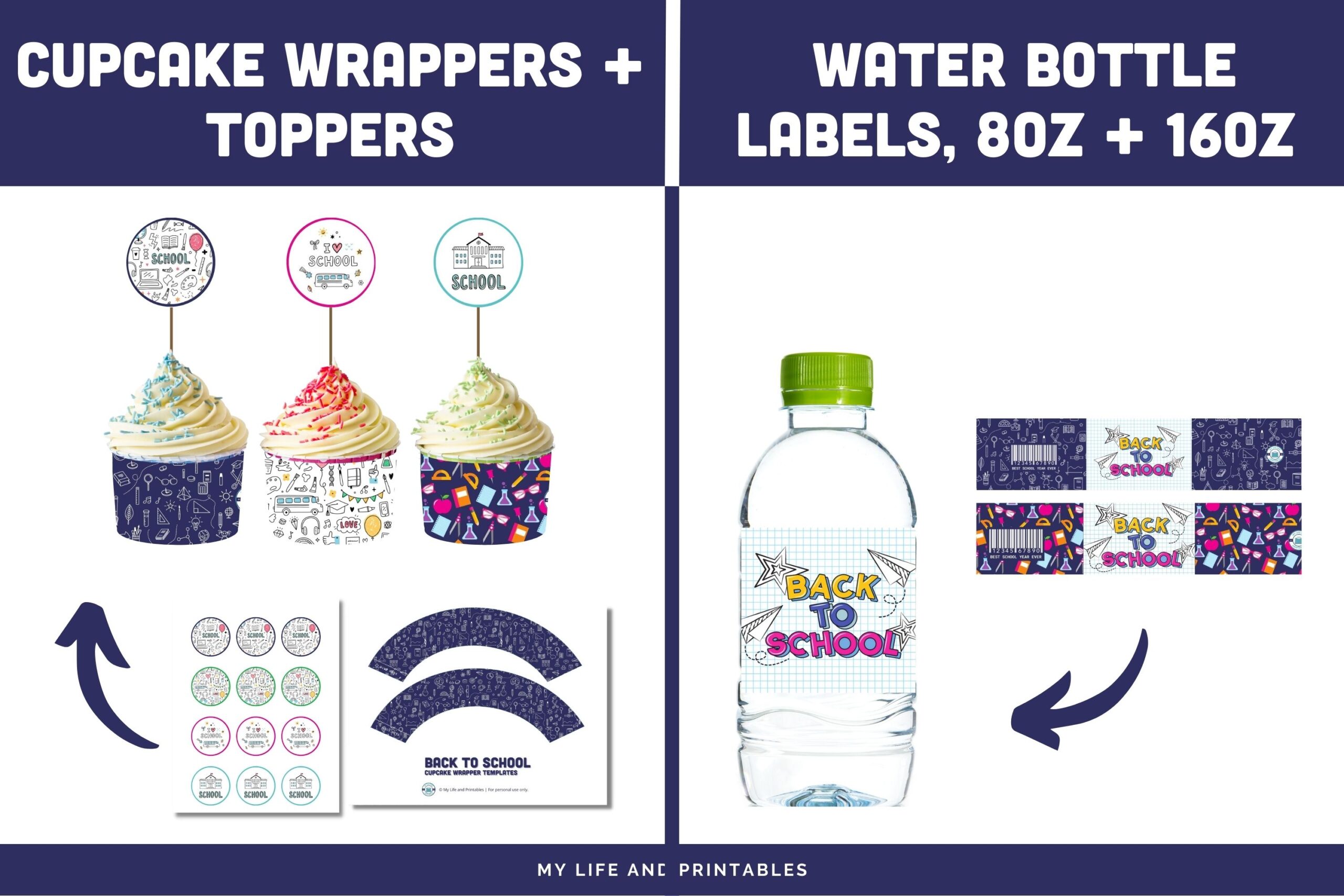 Get the Back to School Party Bundle Now!
Purchase the ultimate back to school party bundle now and have instant access. You'll be promped to download your bundle and be able to start printing within minutes.
Have fun!