Laughs
The Butter Wars – Where Do You Stand?
By |
I come from a family of butter eaters. Not in a tub or in a spray bottle – just good old-fashioned butter.
We left it on the counter. NEVER in the fridge.
I assumed this was happening in every household across the nation until Even Steven visited my parents for the first time.
He couldn't believe the bugs in the light. But he was downright shocked to see our butter on the counter.
He went straight to Meijer and bought himself a tub of margarine to keep in the fridge.
To this day, my parents have special fridge butter for Even Steven who is still terrified of getting some type of food poisoning from eating counter butter.
All of our married life, I've gone along with Even Steven's fear of counter butter and have kept ours in the fridge.
But he went out of town a few weeks ago, and for the first time in nearly 10 years, I left a stick of butter on the counter.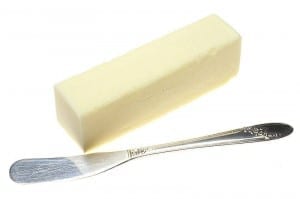 It was like coming home.
I could butter my toast with ease.
Grab a pat for the bottom of my pan.
Slice a hunk to eat (okay – just kidding – sort of).
And now I've put my foot down. I will no longer live in a house without butter on the counter.
So – let's hear it – do you leave your butter on the counter or in the fridge? Do you think counter butter is gross – or totally normal?