Home
Thanksgiving 'Turkey Trouble' Kids Activity
By |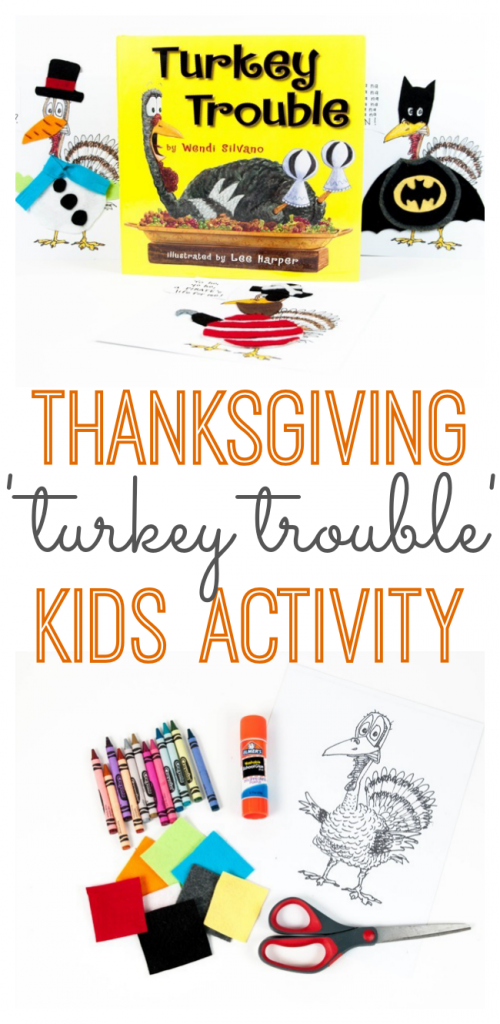 Thanksgiving is my favorite holiday: family, friends, and above all FOOD. Three fabulous f's in my opinion. To honor this upcoming gluttonous feast, I wanted to share with you one of my favorite Thanksgiving children's books and an activity to go along with it.
Turkey Trouble, by Wendi Silvano, is a funny story about a turkey's predicament on this special day. The protagonist in this story is a turkey, cleverly named Turkey. He recognizes the fact that Thanksgiving is fast approaching and he is the main course. In order to avoid his impending fate, he disguises himself as the other animals on the farm. First, he tries to look like a horse. He straps a brush on the back of his head and wears a saddle. Surely the farmer wouldn't eat a horse for Thanksgiving, right?

Turkey continues to create handmade costumes to try to blend in with the cows, pigs, sheep, and finally the rooster. He looks just like them…well, almost. The other animals are far from fooled and point out the reasons that Turkey can't fit in with them.


Feeling defeated, he comes up with one last plan to save himself from being dinner. Will it work for Turkey? I won't ruin the ending, but Turkey would've had a much easier experience if he were pardoned by the President.
Children will love this book's repetitive language, wordplay, and humorous dialogue. The watercolor illustrations by Lee Harper pair beautifully with Silvano's text.
Turkey Trouble Activity
Disguise Turkey so he won't be eaten on Thanksgiving Day!
When I was reading this book, I started to think of all of the possible costumes Turkey could have used to hide from the farmer. I thought it would be fun to create my own disguises for Turkey to prevent him from being dinner. I knew I wanted to start with a drawing of Turkey so I went to Lee Harper's website. He is the illustrator of Turkey Trouble and has a coloring page where I found the following drawing:


This was the original turkey he drew when he was developing the main character in the book. I printed 3 copies onto card stock and got started.
Here are the other materials that I gathered for my turkeys. The possibilities are endless, however.
I listed out all of my ideas for costumes and finally narrowed it down to three: a snowman, a pirate, and Batman. Very random, but it's what popped into my head at the time.
I colored each turkey with crayons and cut out felt pieces for their costumes. I used glue to attach the felt to the card stock and then decided what to write in their speech bubbles. I had WAY too much fun working on these turkeys and had to stop myself from making more.
Here's how they turned out:
1. Snowman


2. Pirate


3. Batman                     
This activity would be great for kids and parents alike. It can also be a great excuse to get them out of the kitchen while you are cooking.
Happy Turkey Day! If you decide to spare Turkey on this special holiday, then Happy Tofurkey Day!
*If you like this book, check out the sequel Turkey Claus.
For more fun activities to do with your kids, be sure to follow our My Life & Kids Activities board on Pinterest.
Follow My Life and Kids's board My Life & Kids Activities on Pinterest.