If you're in charge of the family holiday dinner (or if you're in charge of bringing a dish to the meal) it's not something you want to throw together at the last minute. Make your Thanksgiving meal planning easy by preparing these great sides and desserts ahead of time.

15 Thanksgiving Recipes Make Ahead
Straight forward ingredients come together in perfect harmony to embody the very essence of comfort food: Mom's Classic Make-Ahead Bread Stuffing. To me, if the stuffing isn't glorious, then the entire meal suffers!! A pre-made box-stuffing will never pass the test with my crew (and thankfully because it is often loaded with preservatives and additives that take away the magic of this classic dish).
You will thank yourself for finding this gem of a recipe!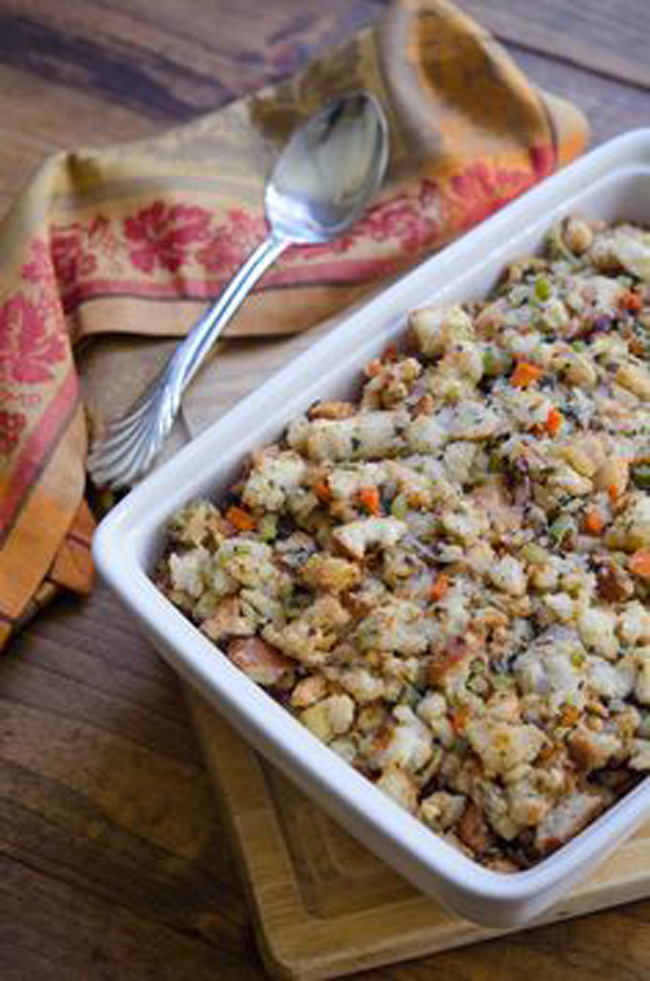 Parmesan-Rosemary Potato Stacks are an easy and hugely impressive potato side dish recipe!  While they look complex, these rowdy little towers are super easy to prep and bake! As they rest in your fridge, the incredible flavors become even more acquainted. This is now a standard dish at all of our holiday gatherings.
Perfection and simplicity at its finest!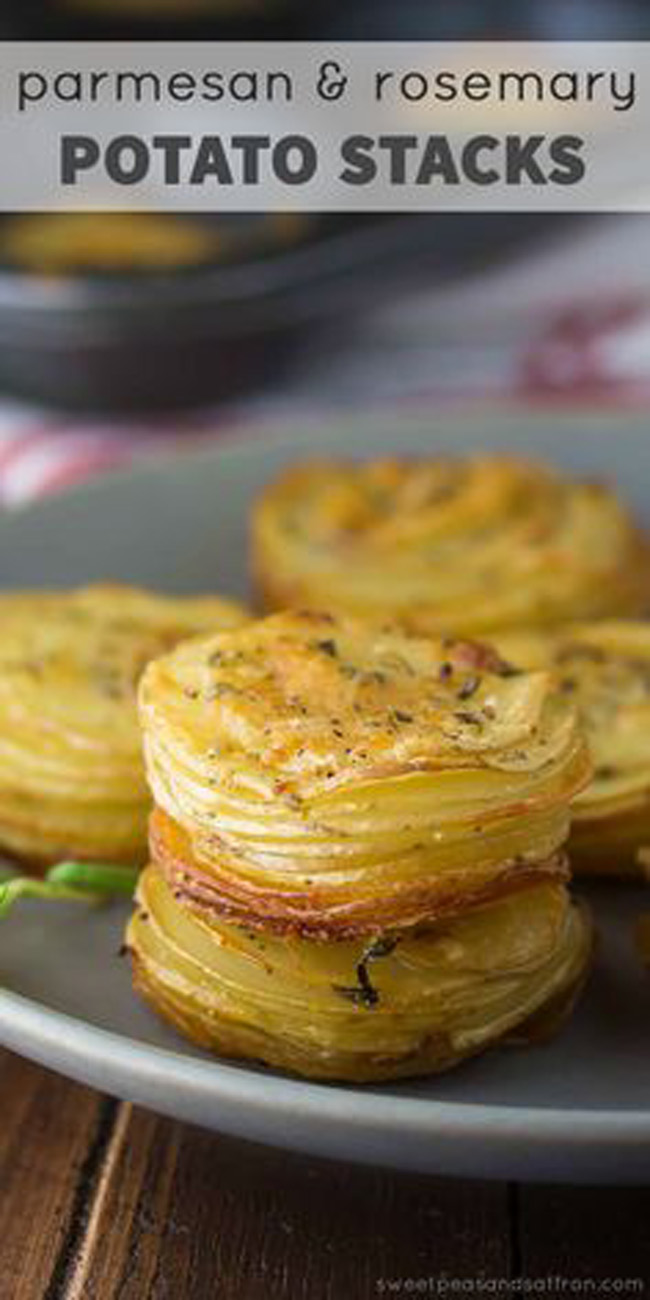 This Peas and Pancetta side dish is all of the things! When you need the most charming, perfect side dish (and this does go with ANY meal!), this is your new go to. A sweet and savory make-ahead side dish for the holidays, this is packed with nutrients, and filled with simple and straight forward ingredients.
You don't want to miss out on this. Trust me!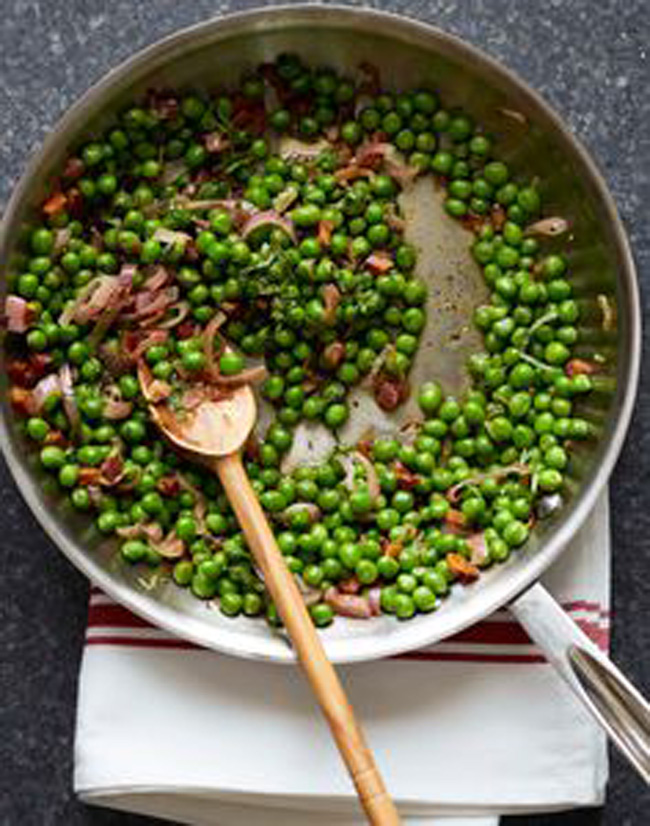 This creamy casserole can be made a day ahead, refrigerated and then baked just before dinner. Using frozen vegetables makes this dish a cinch, but if that isn't your jam, then add your fresh veggies to this divine side dish! Broccoli Cauliflower Casserole is the dish that tops off any menu and pleases the entire crew!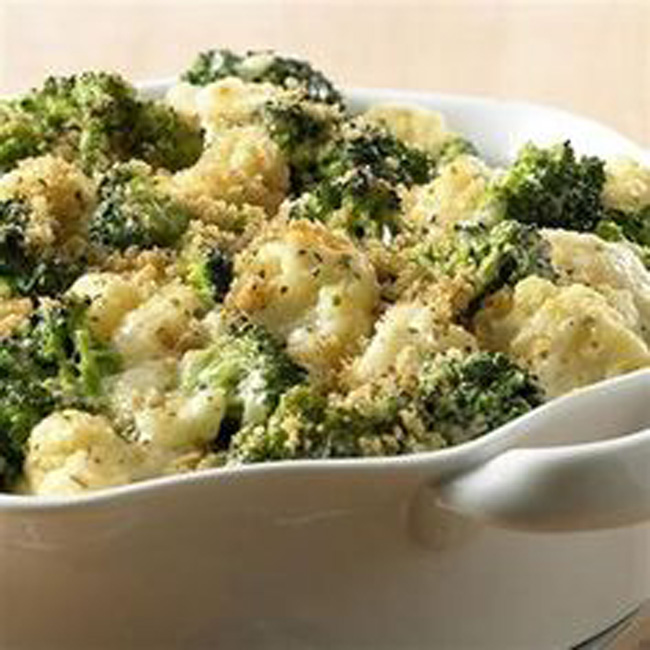 Use a mini cupcake pan, an oven + your freezer to make these Spinach Puffs. Super easy, and I LOVE that these are make-ahead appetizers! I have even made them and served for a holiday brunch/breakfast spread. There is really no mea that these can't be added to, Spinach Puffs are perfection for breakfast, lunch, snack, or even dinner! AND SUPER EASY TO MAKE!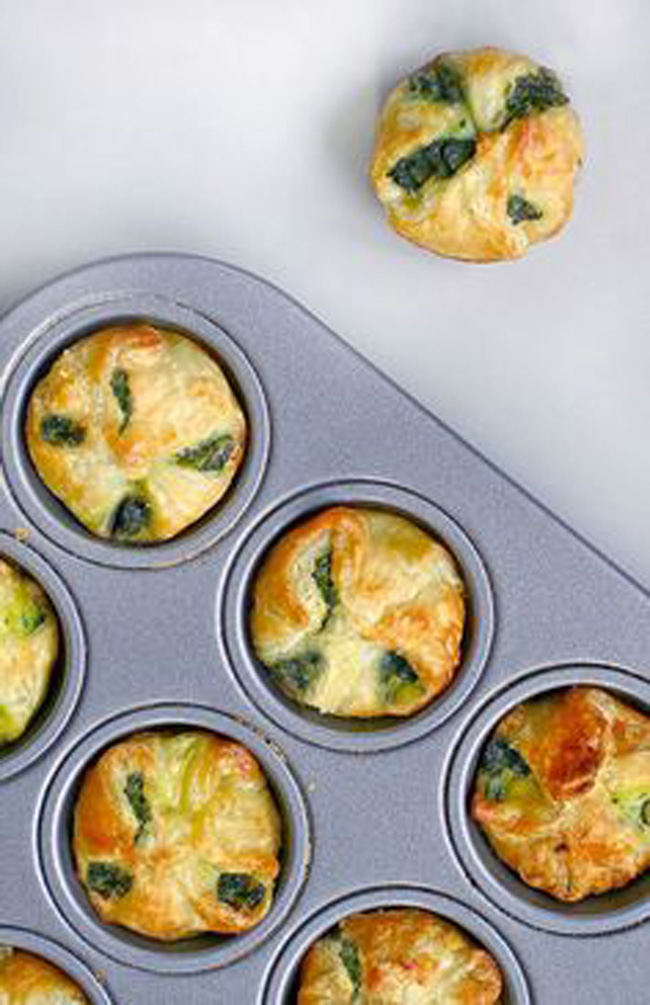 Healthy, bold, perfect texture, and a new take on how to present your favorite veggies! We absolutely LOVE how easy this dish is to make and how decadent it is to serve. The veggies mix together with a robust Apple Cider Vinaigrette and burst into a magical harmony of flavors.
Make ahead of the big meal (stores for up to 2 days in your fridge!). Serve room temperature with freshly tossed Vinaigrette. Mind-Blowing!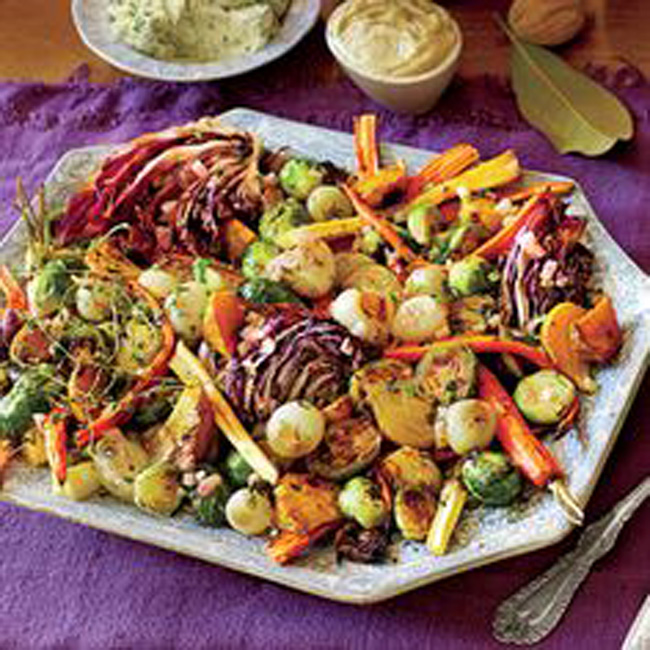 The Best Pecan Pie Bars in the galaxy! These little guys are full of caramel and pecan pie goodness nestled on a shortbread crust. What makes it even more delightful is that you can make this ahead of time, before the mayhem of preparing the big meal. Pop it in the freezer, and bring it out a day before.
This is the perfect dessert for Thanksgiving or any gathering of friends and family!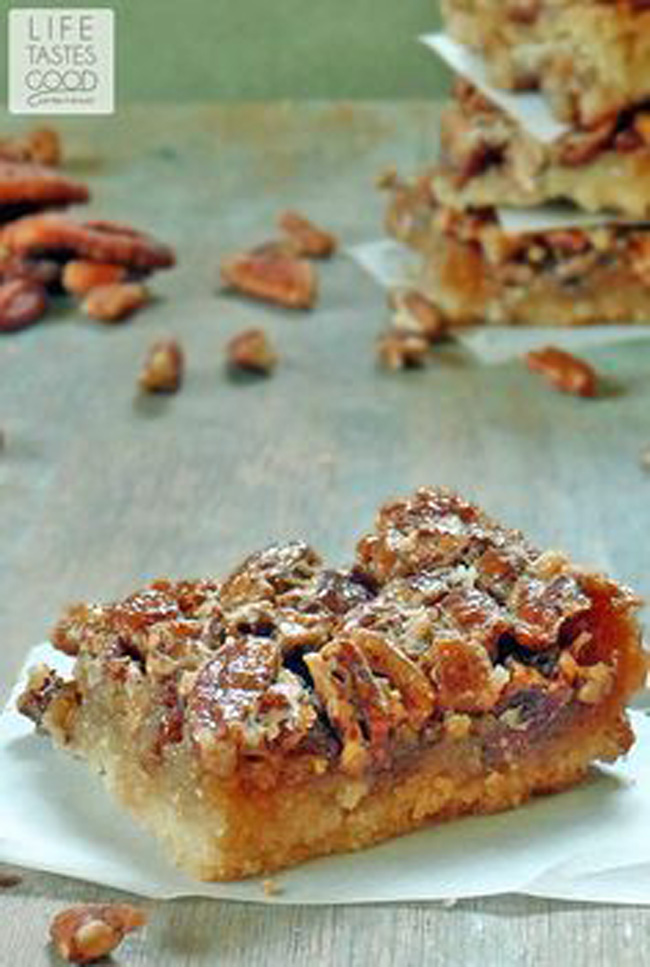 Now. Hold on just a second....
What if I told you that you could make your turkey the day before, and reheat it to perfection the day of your big gathering...AND NO ONE WILL KNOW THE DIFFERENCE! This is a true fact. For years, this has been our greatest Thanksgiving secret/miracle. Family and friends arrive and wonder how we all look so relaxed, and the kitchen is tidy, and the house is filled with all of the heartwarming smells of the season! The turkey is moist, succulent, and totally perfect.
Follow these simple steps: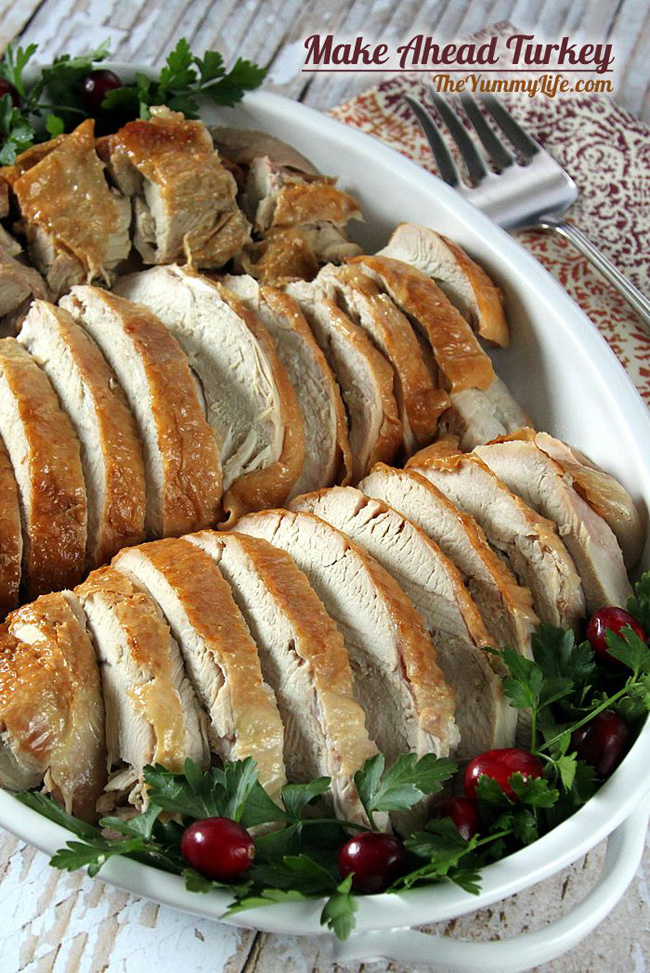 Confession: I will eat Brussels Sprouts any way you can make them. However, my crew does not share in this fondness. To get my kids to eat these little balls of goodness, we used to have to go to incredible lengths (usually involving some type of bacon). Not with this recipe tho!
My whole family gobbles up these Roasted Sweet Potatoes and Brussels Sprouts! Roasting them together makes the most harmonious blend of sweet and savory and acid.
Making them even MORE outstanding - you can make them ahead and reheat! Perfect healthy side dish for Thanksgiving and Christmas!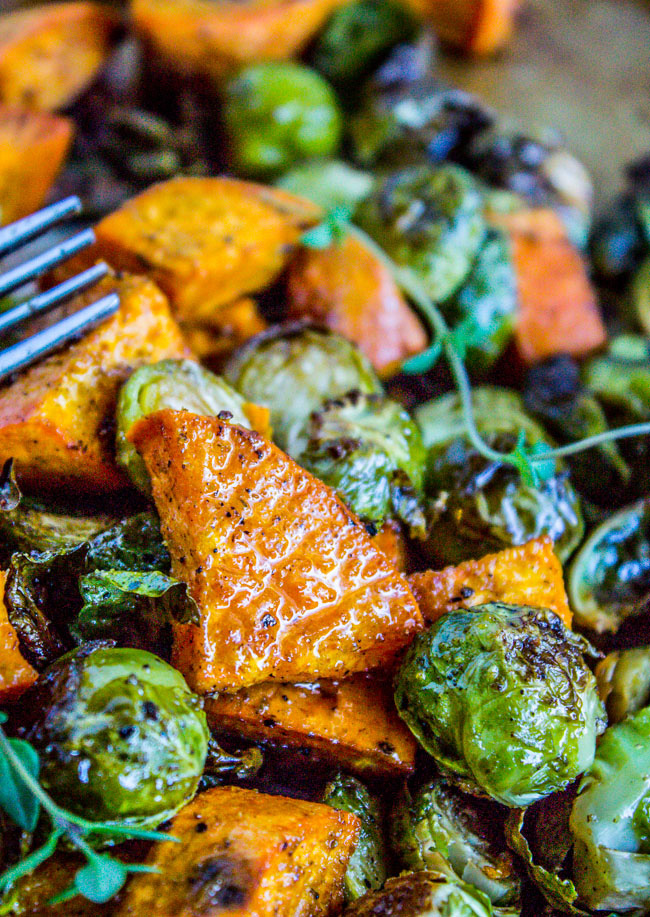 This is a divine soup. Simple ingredients and easy prep make it a favored addition to our Fall meal line up. For big family gatherings and holiday meals, I love this soup that is packed with nutrients and has proven to be loved by all. The sweetness is showcased through the roasted pumpkin (or you can use butternut squash) and the depth can be attributed to the shiitake mushrooms.
Store it in the refrigerator for up to three days, or freeze it for up to three months! What is not to love?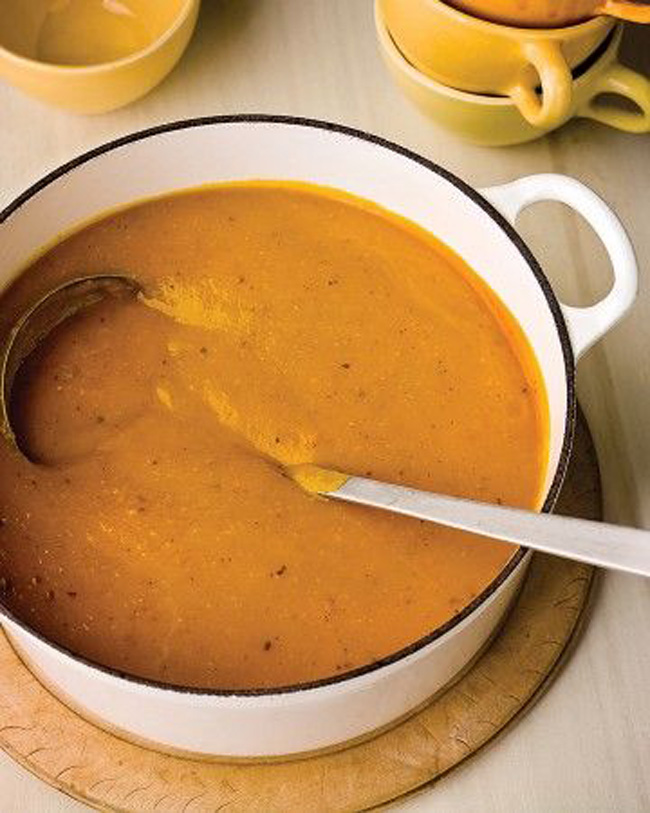 This is THE BEST, hardy and healthy Thanksgiving salad!  Roasted Sweet Potato and Wild Rice Salad is a mix of greens with roasted sweet potato, seasoned wild rice, cranberries, almonds, avocado, and cheese with a creamy lemon balsamic dressing.
(Bonus: also included are some shortcuts to make this salad even quicker and tips to make it ahead of time!)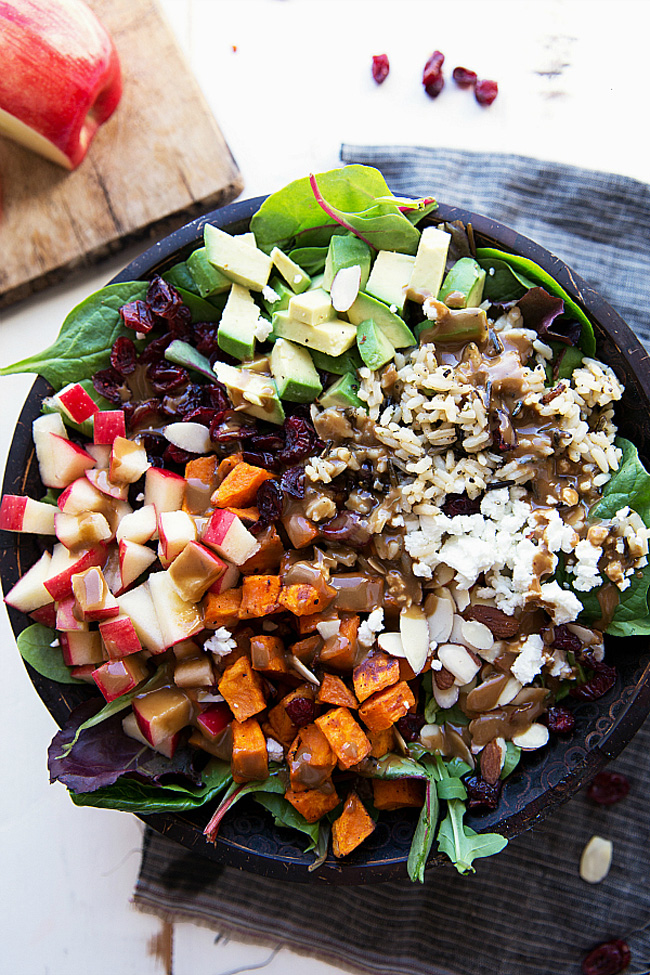 Even your grandmother will approve of these Make Ahead Mashed Potatoes! No joke.
So creamy and rich, this recipe will guide you through how to make them ahead of time without sacrificing any of the magic of that steaming, buttery, delicious side dish that is a staple of any Thanksgiving meal!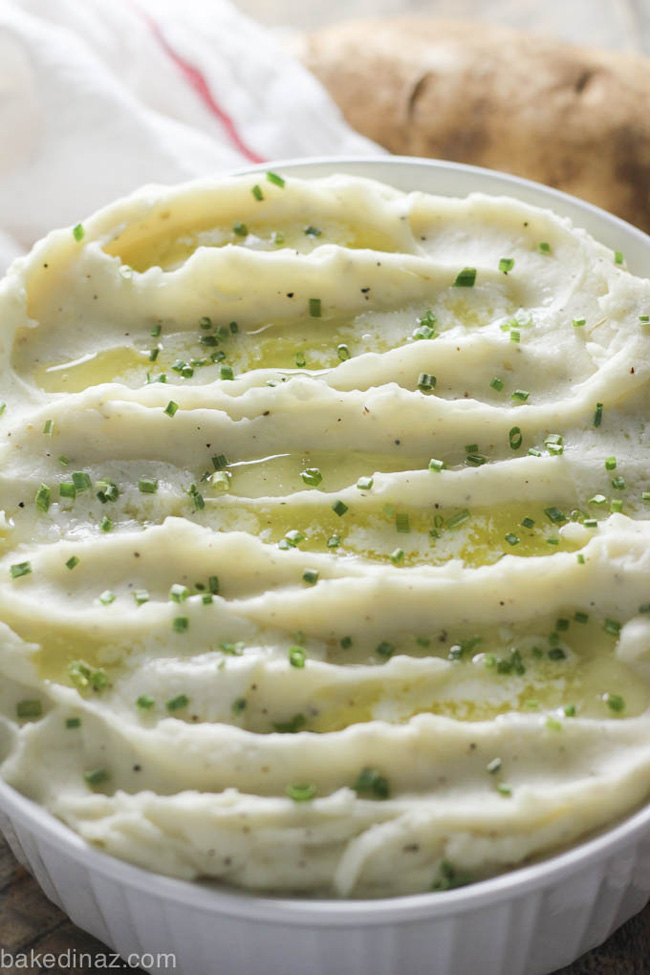 Pumpkin.
Fluff.
Icebox.
Cake.
This is a no-fuss, no-bake, EXTRAORDINARY dessert. Whip it together in no time at all! Make it ahead of time (it needs to be refrigerated overnight) and get ready for the most delicious dessert ever. It is light, refreshing, bold, and fantastic.
The only issue with this dessert is how quickly it disappears! I have been known to make up a double batch for large gatherings!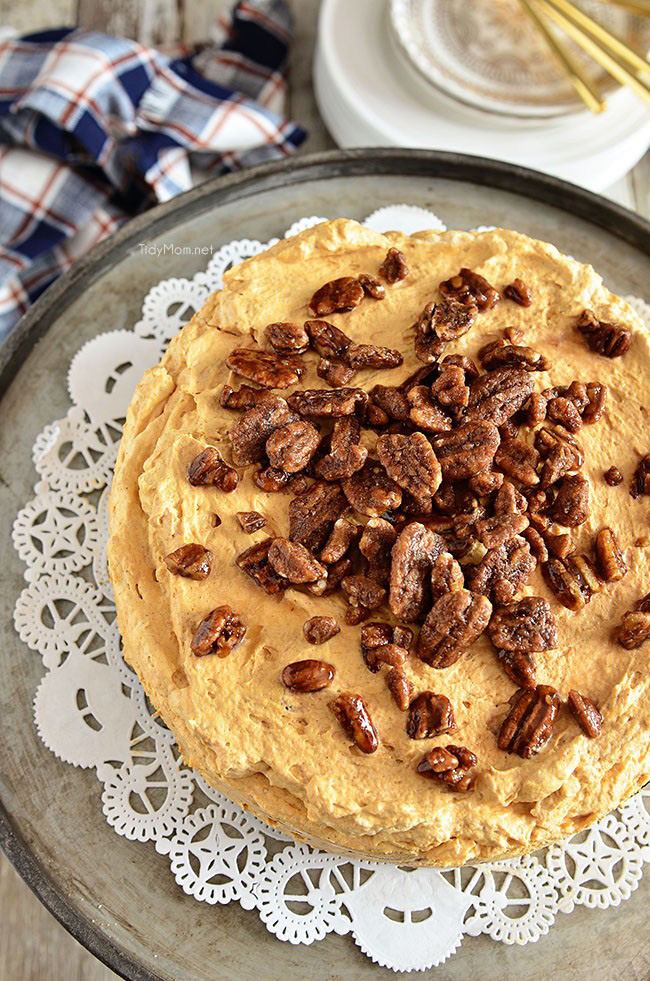 Caramelized Onion Gravy that you can freeze ahead for Thanksgiving. This is so delicious you guys.
The gravy is smooth and rich and levels up every single part of the Thanksgiving menu! Have it over the Make Ahead Mashed Potatoes and drizzle it on the Make Ahead Turkey or Mom's Classic Make Ahead Bread Stuffing. This is also a wonderful option to ramp up the excitement for leftovers! Mix it in with your wild rice to add depth and moisture or drizzle over your favorite biscuit and turkey.
So good.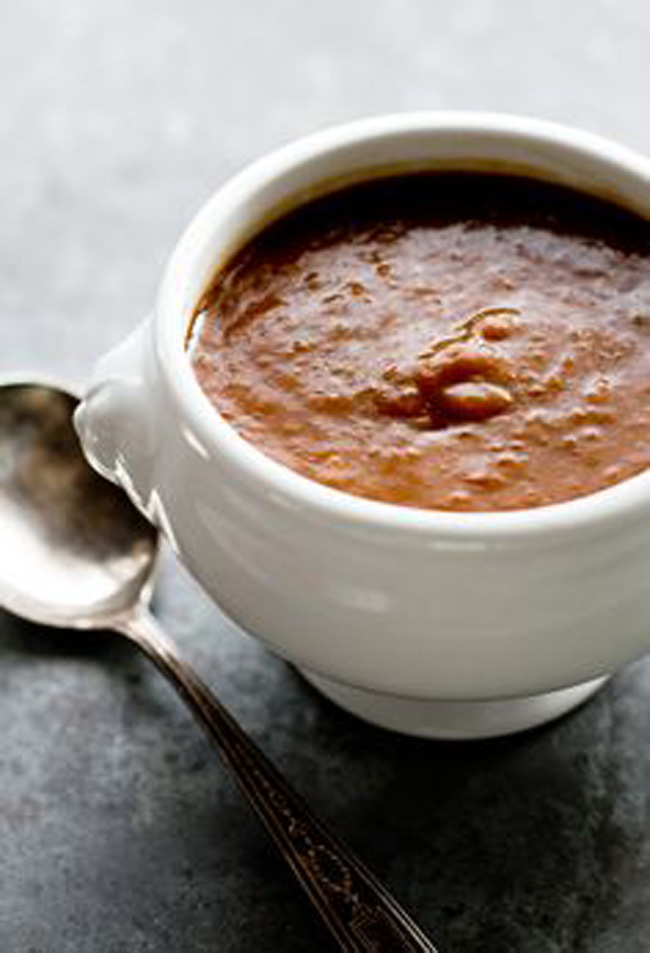 This Corn Casserole is the unsung hero of our Thanksgiving meal.
It is creamy, sweet, warm and goes with everything. This is a super simple recipe that can be easily reheated (some say the reheat makes it even more glorious!) and brought out just in time for Thanksgiving or any family dinner!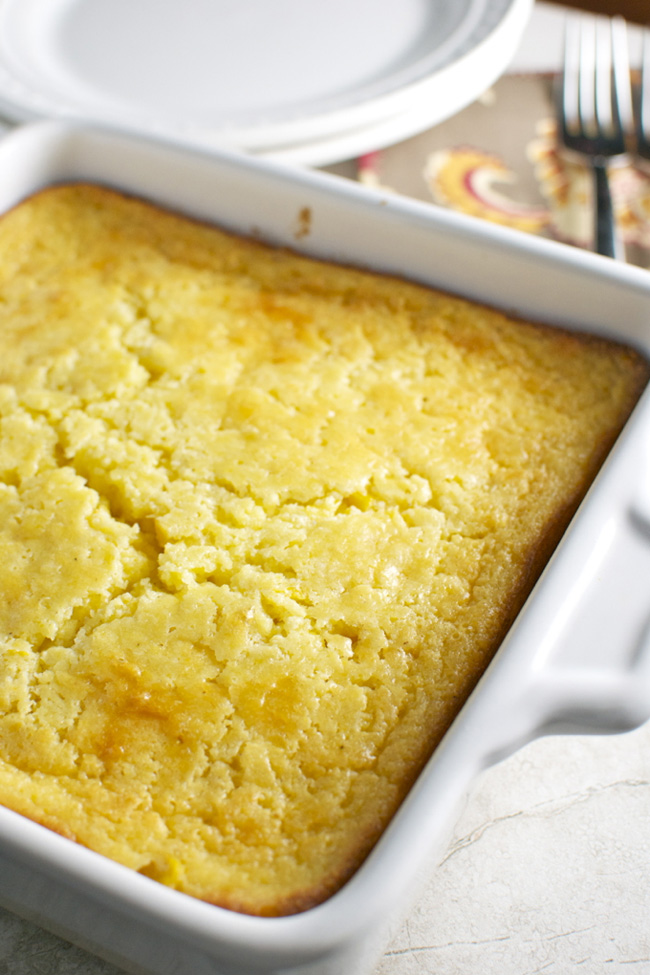 CLICK AROUND BELOW FOR MORE INCREDIBLE MAKE AHEAD OR CROCKPOT RECIPES FOR ALL OCCASIONS!
STILL WANTING MORE RESOURCES FOR EXCELLENT MEALS WITH YOUR CROCKPOT? CHECK OUT MY RECOMMENDATIONS:
The Best of Thanksgiving (Williams-Sonoma): Recipes and Inspiration for a Festive Holiday Meal
Make It Ahead: A Barefoot Contessa Cookbook
Do-Ahead Christmas: Stress-Free Cooking for the Festive Season
The Complete Make-Ahead Cookbook: From Appetizers to Desserts 500 Recipes You Can Make in Advance
Beautiful Boards: 50 Amazing Snack Boards for Any Occasion
The Side Dish Bible: 1001 Perfect Recipes for Every Vegetable, Rice, Grain, and Bean Dish You Will Ever Need 
The Complete Make-Ahead Cookbook: From Appetizers to Desserts 500 Recipes You Can Make in Advance
Not Your Mother's Make-Ahead and Freeze Cookbook Revised and Expanded Edition
The Clean Eating Slow Cooker: A Healthy Cookbook of Wholesome Meals that Prep Fast and Cook Slow 
The easy and healthy slow cooker cookbook: incredibly simple prep-and-go whole food meals
Skinny taste fast and slow: knock-out quick fix and slow cooker recipes
skinny taste one and done: 140 no-fuss dinners for your instant pot, slow cooker, air fryer, sheet pan, skillet, dutch oven, and more
Healthy Slow Cooker Cookbook: Fix-and-Forget Recipes using Delicious Whole Food Ingredients
Healthy Slow Cooker Cookbook for Two: 100 "Fix and Forget" Recipes For Ready to Eat Meals
Paleo Slow Cooker: 40 Simple and Delicious Gluten Free Paleo Slow Cooker Recipes for Healthy Lifestyle