With three kids and two adults that are working full time, we're a busy family. And while we work diligently to never over-schedule our kids, we still have homework and basketball practice and bike rides and FUN to squeeze into our evenings after work and school.
Sometimes I feel like it will be impossible to do everything we want to do after school and eat dinner.
Please tell me I'm not alone.
So I've teamed up with On-Cor to share one of our favorite quick and easy weeknight meal hacks.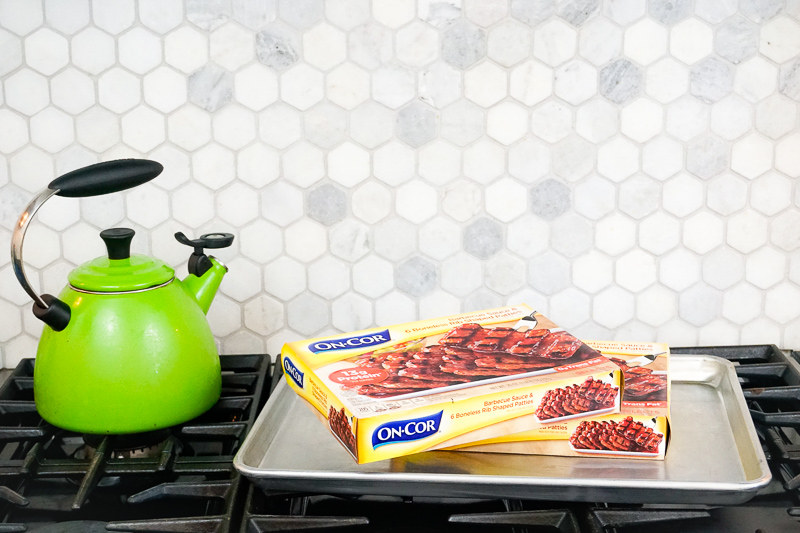 I love that On-Cor's multi-serve entrée products feature popular flavors and varieties, giving my family a reason to come to the dinner table. The frozen, fully-cooked meals are conveniently packaged and ready to heat and serve.
No frills, no fancy. Just really, really good food.
Click here to learn more about On-Cor and be sure to pick some up next time you're at Kroger.
Super Simple Barbecue Rib Tacos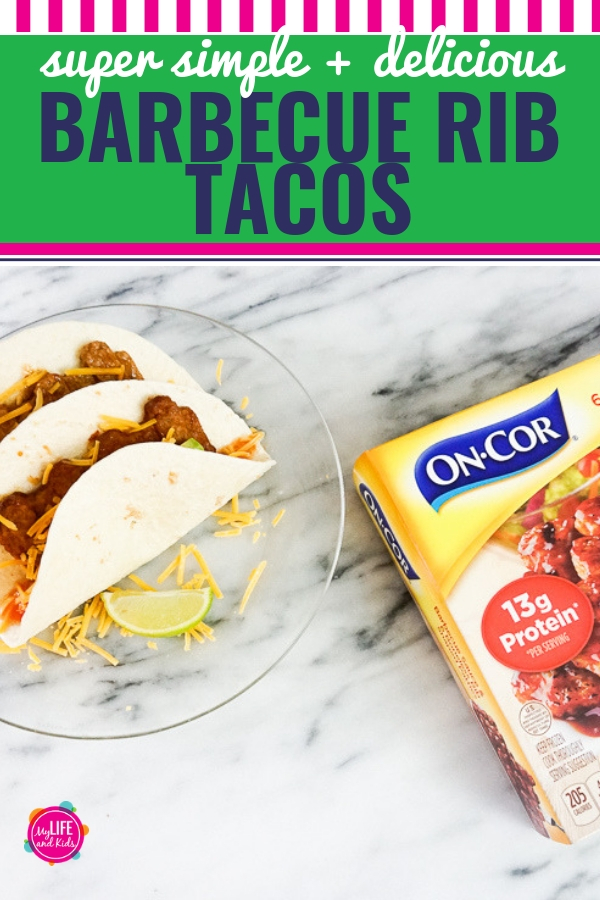 These barbecue rib tacos could not be any easier to make, and my kids absolutely love them. My 11-year-old has asked to take them in his lunch, and my daughter demands that we have them for dinner at least once a week.
The ingredients are so simple that it doesn't even feel like I'm making dinner. And anytime I can make dinner for the entire family without even noticing that I'm making dinner for the entire family counts as a pretty great night as far as I'm concerned!
First, bake your On-Cor Barbecue Sauce & Boneless Rib Shaped Patties in the oven according to package instructions.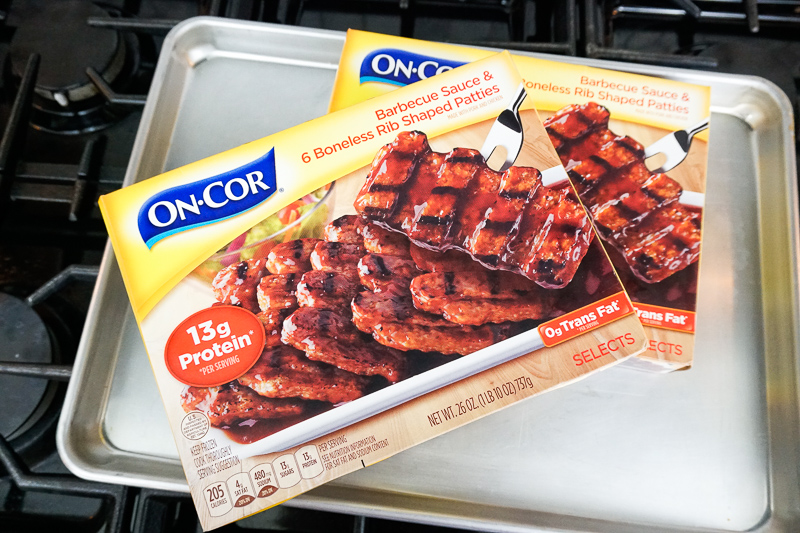 While they're baking, use the time to help your kids with their homework, take a family bike ride, crank through some laundry or stage an all-out Nerf war with the kids.
I don't mean to brag, but my husband and I win every Nerf war with the kids.
Don't you just love that On-Cor does the prep work, so that you can take care of other to-do's that need to-doing? (And yes, Nerf wars with the kids is definitely something that needs to-doing!)
After you've had your fun and your ribs are cooked, pull them out of the oven and gather the rest of your taco supplies.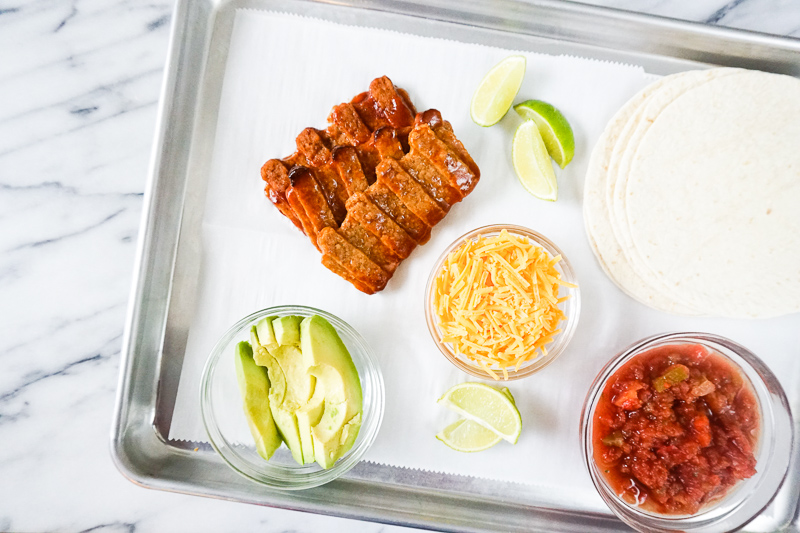 While I got super fancy with this meal and placed everything in separate serving bowls, you can simply serve your shredded cheese and salsa straight out of the containers.
I won't tell anyone.
At first, my plan was to slice the ribs or shred them, but my kids said they're perfect for tacos just as they are. And I have to say that I agree.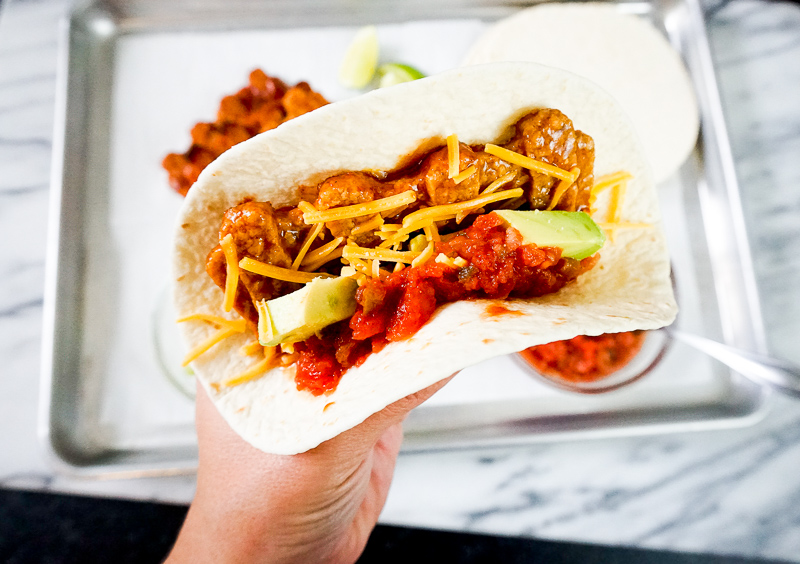 Place one On-Cor Barbecue Sauce & Boneless Rib Shaped Patty into your soft taco shell and add the toppings of your choice.
In our house, that usually means some mild salsa, shredded cheese and fresh avocado.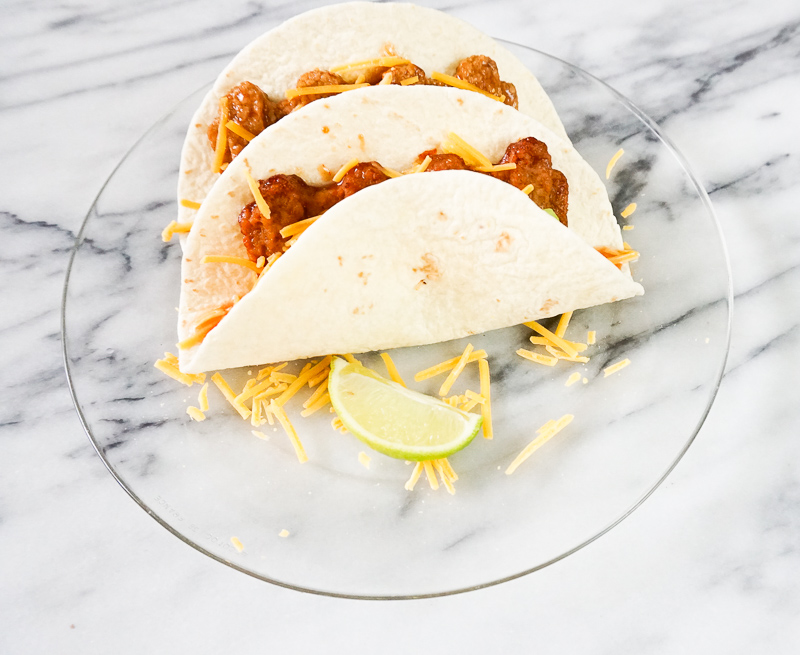 My husband and I also love a little squeeze of lime, but the kids haven't gotten on board with that yet.
They have no idea what they're missing. Silly kids.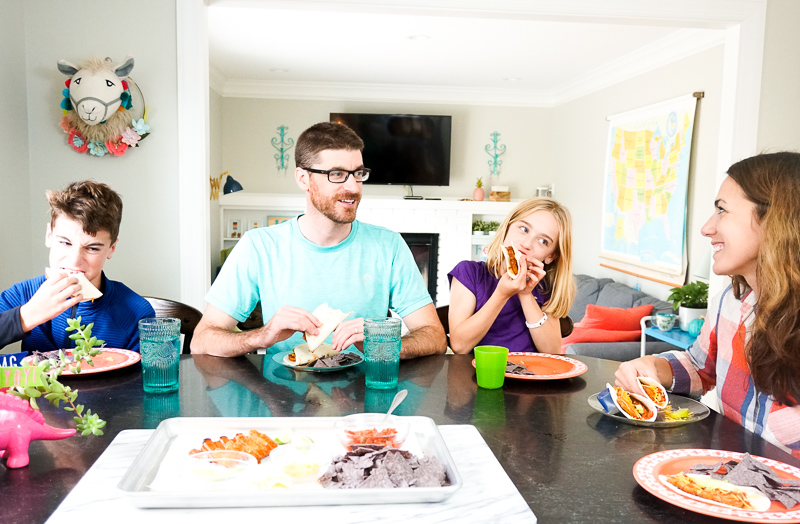 Serve with tortilla chips, and you have a super simple meal that tastes delicious. Just don't be surprised if your kids start begging for it on a regular basis.
Learn More About On-Cor

On-Cor has been bringing families together for dinner with their hearty entrées for more than 70 years.
The brand's enhanced products include ingredients made to satisfy the needs of moms looking for convenient, quality dinner solutions for their families. That's why On-Cor is a great solution for "one of those nights." You know one of those nights – filled with homework, soccer practice, laundry and the million other things on your to do list.
For your next family meal, head to the freezer aisle of Kroger or check out the store locator at www.on-cor.com to pick up one of On-Cor's entrées.
For additional information about the entrées, visit www.On-Cor.com and www.facebook.com/oncorfrozenfoods.
Super Simple Barbecue Rib Tacos Recipe
For those of you that prefer a full recipe, here you go. Enjoy!
Print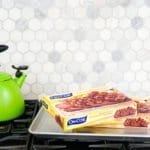 Super Simple Barbecue Rib Tacos
---
Author:

Prep Time:

5 mins

Cook Time:

50 mins

Total Time:

55 mins

Category:

Simple Weeknight Dinner
Description
This super simple barbecue ribs taco dinner is perfect for busy weeknight meals for your family. It tastes delicious and will have your kids begging for it every night.
---
Ingredients
On-Cor Barbecue Sauce & 6 Boneless Rib-Shaped Patties
Shredded cheddar cheese
Soft tortilla shells
Salsa
Sliced avocado
Fresh lime
---
Instructions
Prepare On-Cor Barbecue Sauce & 6 Boneless Rib-Shaped Patties according to package instructions.
Place one boneless rib-shaped patty in your soft taco shell and add your toppings of choice (like shredded cheese, salsa, avocado and fresh lime).
Enjoy!
This is a sponsored conversation written by me on behalf of On-Cor. The opinions and text are all mine.