Laughs
Stupid Things Even Steven has Said to Me
By |
Even Steven is a smart man.
Most of the time.
He can do complex math in his head, knows alternate routes to every single place on EARTH (seriously), and can tell me with shocking accuracy how many minutes it will be until it starts raining.
"Anna, we have 19 minutes until it starts raining. We might want to get the towels out of the backyard."
He's smart.
But somtimes he says the studpidest things on earth, and it's all I can do not to slap him across his sweet little face.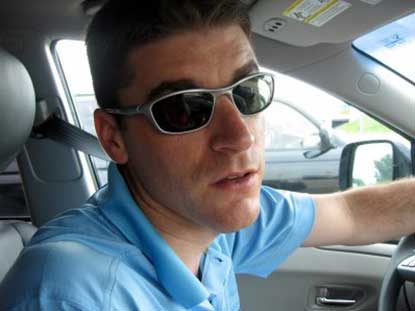 Here are just a few examples – perhaps you can relate?
1. I'm so tired.
Said repeatedly to me after the births of child 1, 2 and 3. And then elaborated on by saying, "I realize that you're the one getting up to breastfeed every two hours all night long, but I can still hear you when you get out of bed and come back in."
Can we all agree that he's lucky to be alive?
2. Wow, honey, you look amazing. I can tell you're really losing weight.
This would be fine if I actually was trying to lose weight and exercising like a mad woman.
Instead, it was said two days after I recovered from an epic battle with the stomach flu. Most people look like they've lost weight after they've been puking for 5 days.
And – we all know how long that weight stays off (about two minutes).
3. Oops – I think I'm accidentally wearing your jeans.
I'm not kidding here. I mean – COME ON! It's bad enough that I married a man with the metabolism of a 5-year-old boy, but to flaunt that in my face by "accidentally" wearing my skinny jeans and only noticing because they were way too short? That's just cruel.
4. Don't stretch out my shoes.
Yes – it's possible that my feet are a little larger than his.
Does that mean that I can slip his shoes on to grab the paper in the morning? Apparently not.
Does that mean he can slip my shoes on to grab the paper in the morning? Yes. Yes it does.
5. Wow – your thighs don't touch anymore. Amazing.
Said shortly after #2.
And shortly after that, I was given an award for SHOWING INCREDIBLE RESTRAINT by my neighbors.
Pretty sure I'm now qualified to be something really important based on the fact that Even Steven is still breathing after that comment.
6. My arms are getting tired. Could you rub this spot on my shoulder?
Said while holding one of my legs during childbirth – WHILE I WAS PUSHING A HUMAN BEING OUT OF MY BODY.
Luckily the nurse had a little chat with him so that I could focus ON PUSHING A HUMAN BEING OUT OF MY BODY.
I think after reading this, we can all agree that I'm an amazing human being.
And in case you feel like I'm totally bashing Even Steven here and maybe don't love him so much, just read this lovely tribute I wrote to him just earlier this week. See? I do love him – even though he can say really stupid things sometimes…
What really stupid things has your husband said to you?
PS – In case you can relate to any of these, this article should help – a lot!