Kid Health
Sleep Routines for Better Sleep
By |
When SLEEP NUMBER® first reached out to me about partnering with them to launch their SLEEPIQ KIDS™ bed, I was thrilled.
Everything about the bed sounded like exactly what we needed for our 4-year-old.
Monster detector? Check.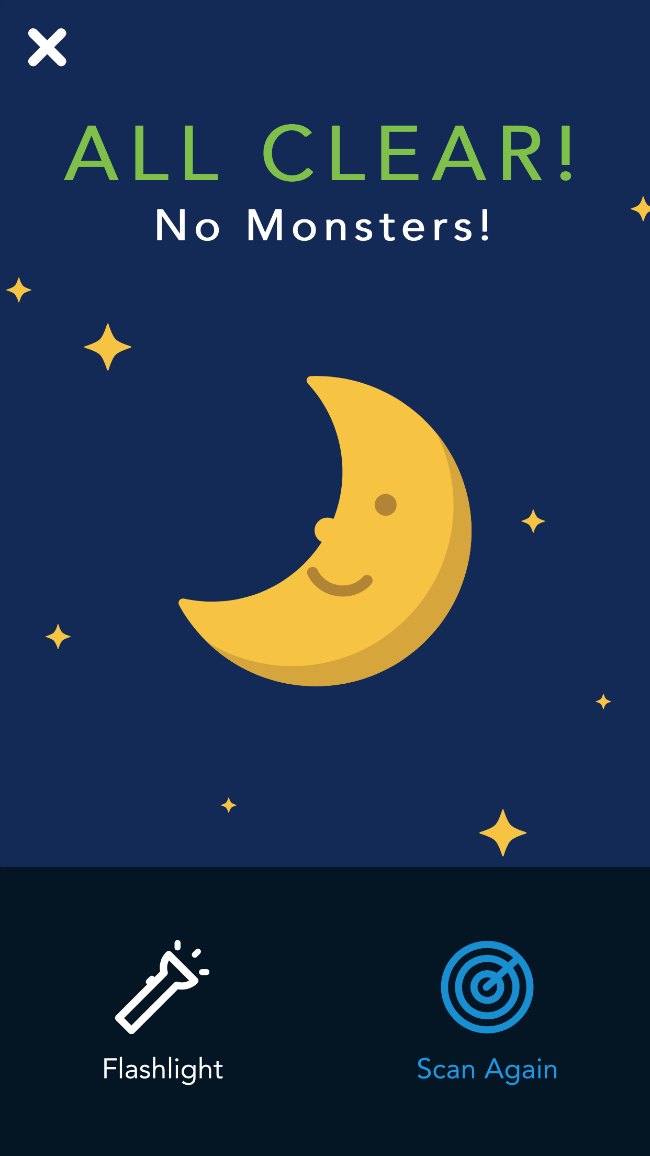 Under-the-bed light that would automatically go on when he got out of bed? Check.
Alarm option that would ding my phone every time he got out of bed? DOUBLE CHECK!
But once the bed arrived, and I learned more about the SleepIQ® technology inside the bed, I knew that it could be the answer to everything we needed for our 8-year-old.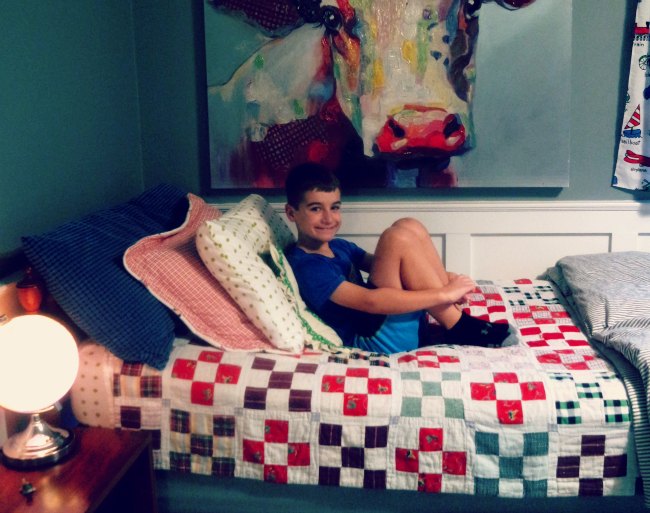 Miles always falls asleep immediately when we put him to bed, but he was waking up exhausted every morning. He was clearly restless through the night, and I wasn't convinced that he was getting good sleep.
With the SleepIQ® monitoring, we were able to really track Miles's sleep. Just as we suspected, he was restless throughout the night, waking often – and always waking up for the day between 5 and 5:30 am.
We were then able to use the SleepIQ® app to make changes to his bedtime routine and see how his activity levels and eating habits throughout the day were impacting his sleep.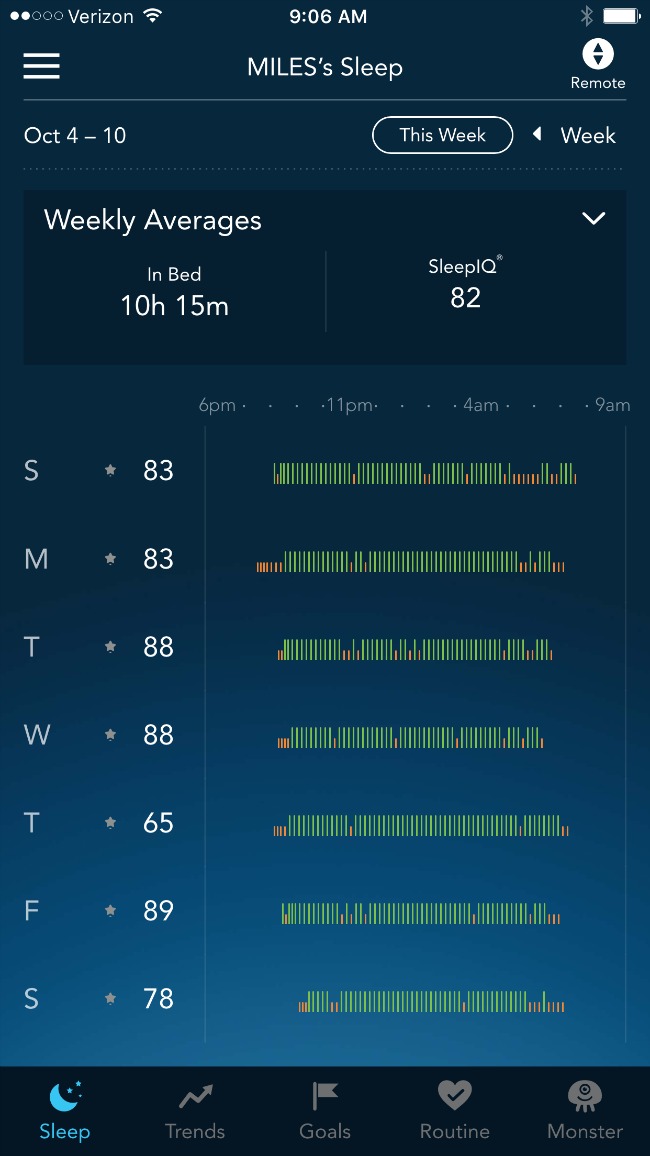 Based on these results were were able to make several changes to help Miles get a better night's sleep.

First, we were able to clearly see that he sleeps better when he takes a shower before bed.
We were also able to see that he sleeps better when we tilted the head of his bed – to relieve congestion caused by allergies.
And – we found that a snack before bed made a huge difference in how much he was waking at night.
We also found – much to Miles's dismay – that the earlier we put him to bed, the better he slept. It was no surprise to us, but it was definitely helpful to have actual proof to show Miles why we were trying to get him in bed no later than 8 pm most nights of the week.
Miles's New Bedtime Routine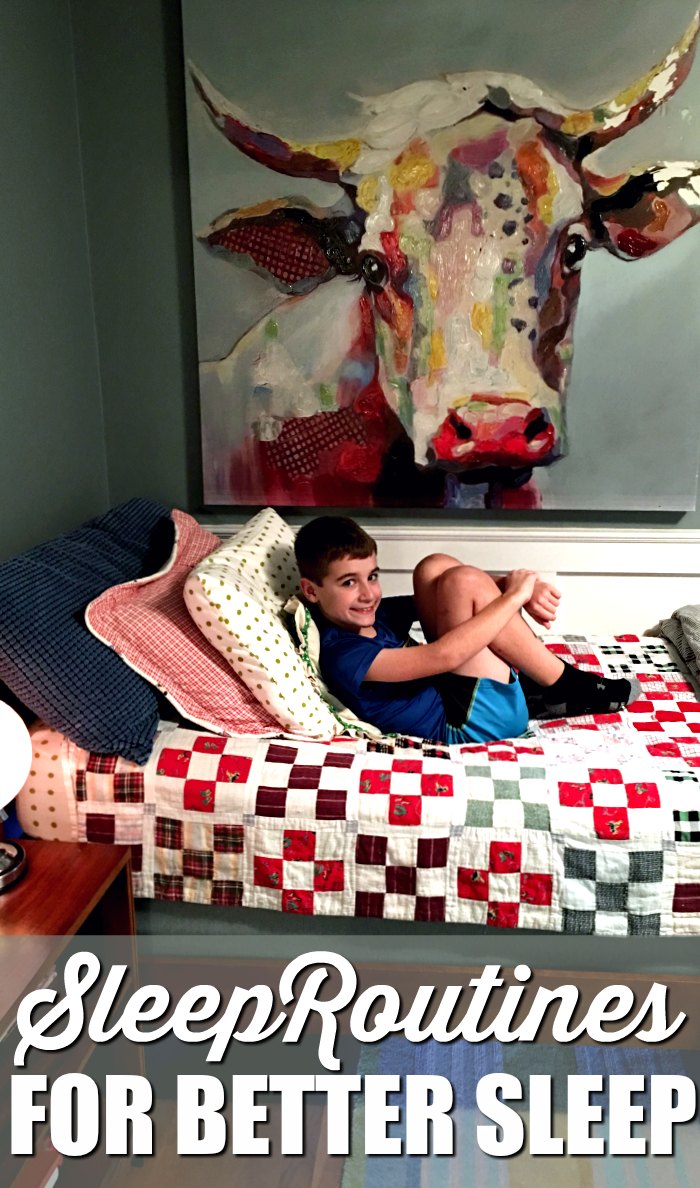 We're very into routines at our house – and bedtime is no exception. Miles loves using the SleepIQ® app to track his bedtime routine – which now consists of snack, shower, brushing teeth, pajamas, reading and lights out.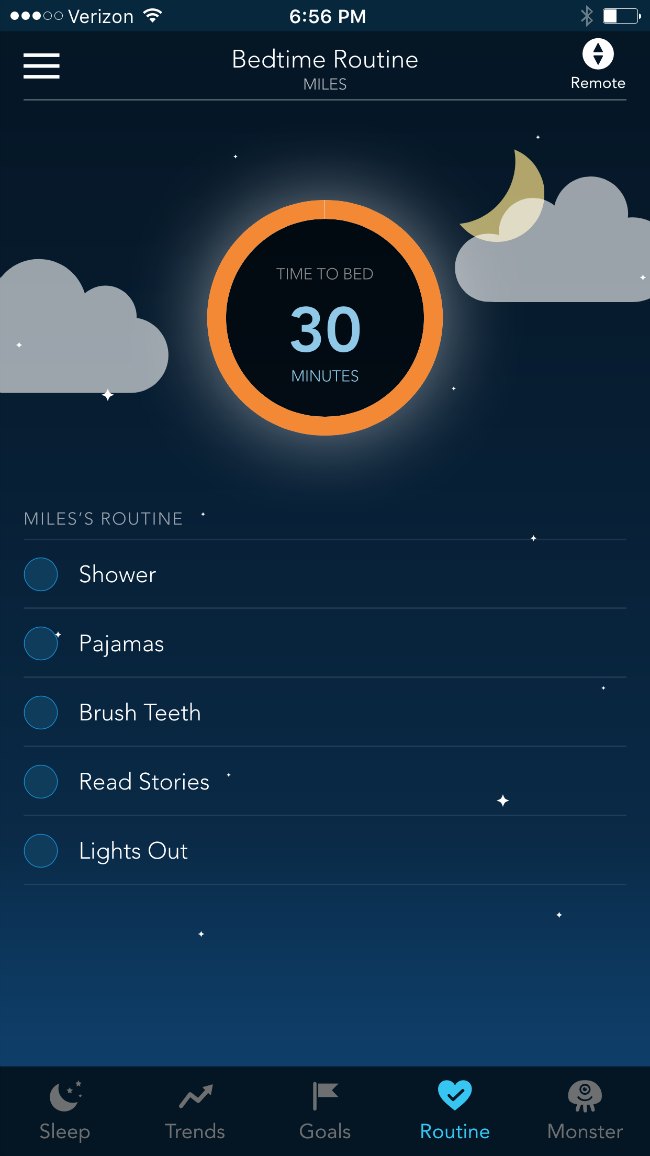 You can see the full routine right here:
What You Should Know about the SLEEPIQ KIDS™ bed from Sleep Number
Overall, we're thrilled with Miles's Sleep Number bed. We were able to learn how to help Miles sleep better at night – which makes for a much happier kid (and happier parents too!)
But there were a few things that surprised me about the bed that you should know about:
1. There's no remote for the bed.
Adult Sleep Number beds come with a remote to adjust the firmness of the mattress and raise and lower the bed.
Not for the kids.
All control of the bed is handled through an app on our iPhone or iPad. This was a bit of a struggle for us when my husband used to be the only iPhone owner in the house, and our iPad needed to be charged. If my husband was away for work, we weren't able to adjust the bed.
It makes sense that there wouldn't be a remote for a 4-year-old to play with – but since we're using the bed for our 8-year-old – a remote would be nice.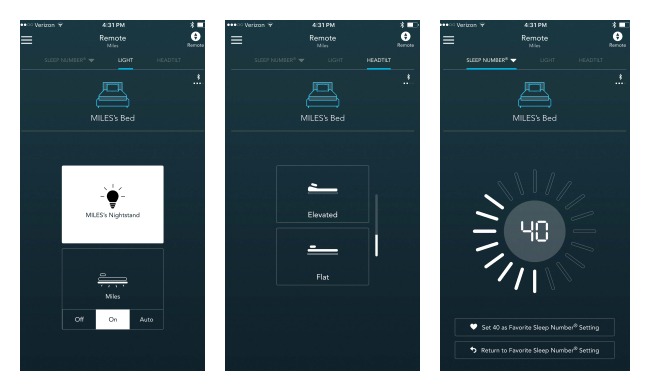 The great thing, however, is that the phone app controls the lights (so I can turn his lights out from downstairs or my bedroom – now that I have an iPhone too), it controls the tilt of his bed as well as his sleep number setting.
2. The bed uses an air chamber to inflate and deflate to raise and lower the head of the bed.
It's perfect for us – but just know that it isn't the traditional motor that raises the bed up and down. And it doesn't tilt up all the way – like for reading or watching TV in bed.
We've found it's great for relieving congestion and stuffy noses, so no complaints here – just know that it's a little different than the typical Sleep Number beds you're probably used to seeing.
Learn More!
The SleepIQ Kids™ bed features eight smart solutions that improve sleep for both parents and children. Learn more about all of these features right here.
And click here for more great sleep tips – like how much sleep your child REALLY needs.

I'm proud to partner with Sleep Number to bring you this post. All opinions are my own.