4-year-olds
Should you let your kids sip your drink? What the research says…
By |
We're heading into one of my favorite times of year. From Halloween all the way through to the New Year, we celebrate more than normal. We decorate, we eat, we drink, and we eat some more. We sing and laugh and reminisce.
And then we eat some more.
As my kids are getting older, I'm preparing myself to start hearing more and more questions about alcohol – especially as we head into the season of celebrations. And as a #TalkEarly blogger for Responsibility.org, I'm arming myself with as much information and research as possible to craft thoughtful, honest responses to their questions.
Questions like:
Why are you driving instead of daddy?
Because daddy had something to drink at dinner, and sometimes that can make it hard to drive. Even though he seems okay, it's still safer to let someone else drive.
Why do you have to be 21 to drink?
Because alcohol can do funny things to your body and mind. You have to be 21 before you can drink it so that your brain is ready to handle it.
Why did mommy just pee on the kitchen floor?
Because she's WASTED kids.
HA – Kidding.
No – seriously – I'm joking.
But one question that I know will be coming eventually is: "Mom – can I try your wine?" or "Dad – Can I try your beer? Just a sip?"
Does giving them a little sip help reinforce the idea that alcohol can be part of a healthy life when handled responsibly? Or does giving them a little sip set them on a path towards total destruction?
Is it really all that big of a deal?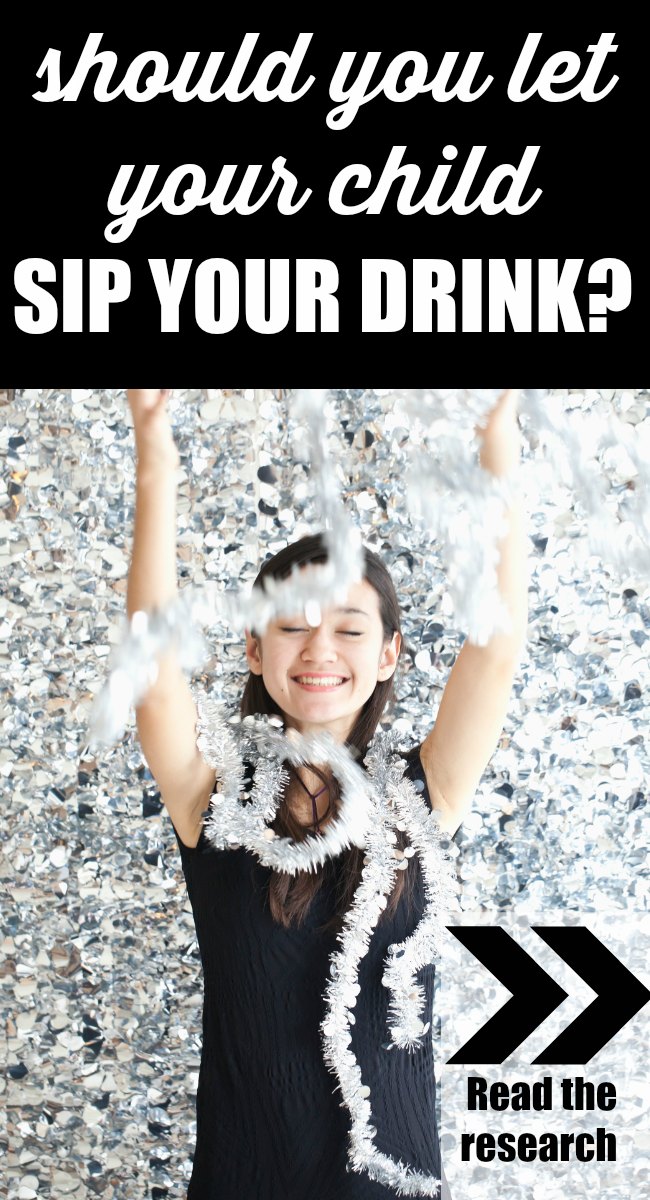 What the Research Says
Turns out I'm not alone in wondering this. In fact, 37% of kids have had a sip of alcohol by the age of 8 and 66% by the age of 12.
According to the 2013 National Survey on Drug Use and Health Report, earlier drinking is a risk factor for problem drinking in adolescence.
Adults who had taken their first drink before the age of 15, were SEVEN TIMES more likely to experience alcohol problems than those who didn't start drinking before age 21.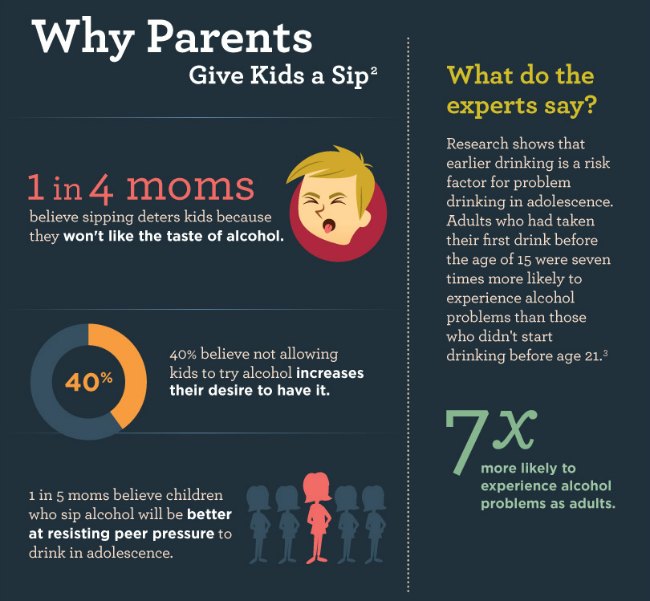 3 Reasons you Shouldn't Let your Kids Drink
1. It's illegal. Letting your kids have a sip of alcohol can be confusing. Is it okay to break some laws, but not others?
2. It's bad for developing brains. A child's brain is not fully developed, and drinking alcohol underage has been shown to hinder healthy brain development.
3. Parents can face charges. Believe it or not, many states have laws against social hosting. Parents who allow kids to drink underage could face fines and/or jail time. Yikes!
Need more?
Research continues to show that parents are the leading influence in a teen's decision to drink.
Let's let that soak in for a minute.
It's not other kids. It's not peer pressure. It's not teachers, television or social media.
It's PARENTS.
So start talking to your kids about alcohol and responsibility at an early age. For tips, conversation starters and even more research, visit responsibility.org.
Want to Spread the Message to Your Friends?
Share this!


Learn More at Responsibility.org
For more great conversation starters, tips and tricks, visit responsibility.org and be sure to follow them on Facebook, twitter and Instagram!
This is a sponsored post. All opinions are my own.