Laughs
The Night I Learned That I'm Not Sexy
By |
You know how some people are really, really pretty – but they don't know it? I had always assumed that's how it was with me and overall sexiness.
I figured I was probably crazy sexy, I just didn't realize it – and no one had ever bothered to tell me because they figured that I knew.
That is, until one night in college when I knew – without a doubt – that I was NOT sexy, and probably never would be.
The realization came after reading an article in Glamour magazine about how to be sexy. It seemed easy enough, and I decided to test out one of their tips that very night.
Even Steven and I were at a bar with some friends, when I excused myself to use the restroom.
Taking the magazine's advice, I took off my underwear (oh yes – I did). And then I walked back to Even Steven, and I slipped them into his hand.
Now – what this fab article could have pointed out was that you should be wearing sexy underwear when you do this. Something black, lacy – a thong maybe?
Unfortunately, I was wearing my absolute favorite most comfortable pair of granny panties – in beige. They were amazing. I loved them. And I wore them as often as I possibly could.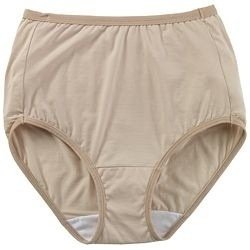 My attempt to slip my underwear in his hand didn't go as I had planned. My briefs were so large, that they could not be confined to a single hand – it took two.
"What am I supposed to do with these?" he asked.
"I wore them here," I said in my huskiest voice. "I just slipped them off in the bathroom."
I winked.
"Well – what am I supposed to do with them now? They're HUGE!"
"Put them in your pocket," I suggested.
But they didn't fit in his pocket. And while the magazine hadn't spelled out exact steps for this situation, I was pretty sure that going back into the bathroom to put them back on wasn't "sexy."
So I swished over to the trash can and threw them away while puckering my lips at Even Steven and trying to look mysterious.
Then I grabbed some straws from the bar and showed all his friends how to make farting noises.