1-year-olds
What to Say to Judgey Moms
By |
If you're a mom, you're probably going to feel judged at some point during your motherhood.
I like to think that it's because moms are some of the tiredest people on the planet, and that can make us lose our filters – or our manners – or BOTH.
I felt judged when I decided to go back to work after my first two kids.
I felt judged when I decided to quit my job after my third kid.
I felt judged when I breastfed.
I felt judged when I formula fed.
I felt judged when I lost the weight immediately with my first two kids.
I felt judged when I didn't with my last kid.
I felt judged when I forgot my kid at the gas station for 2 days.
KIDDING – that didn't really happen.
But you get the idea. When you're a mom, it can feel like you get judged by someone for every single decision you make.
But here's what I've learned – and what we all know deep down.
It's not us. It's THEM.
Outside of true safety concerns, when a mom questions your decisions, she's really questioning her own.
Right?
Because the other great thing that comes with being a mom – aside from the exhaustion, saggy boobs and the inability to finish a cup of coffee while it's still warm – is the constant questioning and second-guessing of our decisions.
Is the baby really ready to move into the crib? Are they really ready for solids? Is this the right carseat? Is that the right camp? Am I hurting my kids by going to work? Am I hurting my kids by staying home?
It's never ending.
And when we see someone making decisions that are opposite of our own, it can make us question our own decisions even more than we already are.
It can make us crazy!
It's hard to come up with the perfect response to a judgmental comment in the heat of the moment, and do it in a way that doesn't put other people down. You want to stand up for yourself, but in a way that "kills it with kindness."
Luckily, I've had my counselor mom helping me out along the way, so I've always had a great response to those "not so supportive" comments that we tend to get as moms, and I'm teaming up with the Sisterhood of Motherhood to share some possible responses to Judgey Mom Comments.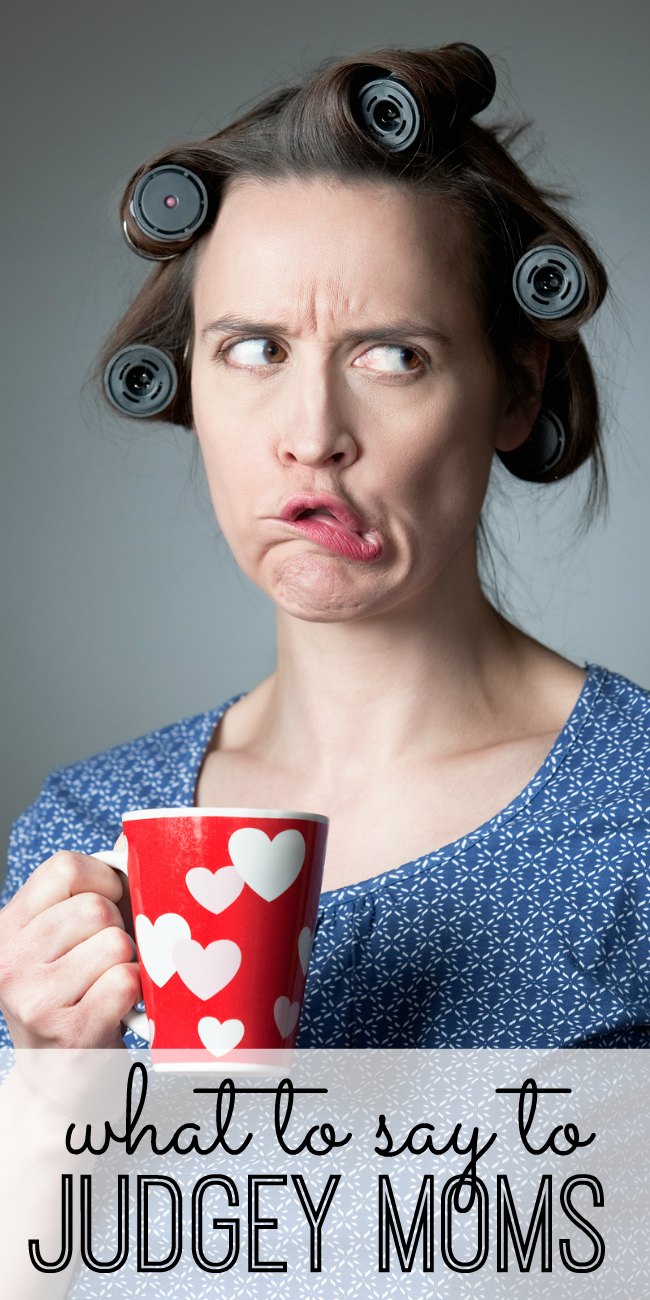 Judgey Mom Comment #1
She Says: I don't know how/why you stay home. Working makes me a better mom.
I mean – we all know that she's really just questioning or feeling guilty about her own choice to work here, right? But sometimes that can be hard to remember during the shock of hearing this for the first time.
Response 1: I'm so happy you know that about yourself – and that you have a job you love! And it's so cool that your daughter has such a positive role model in her life! If I ever decide to go back to work, I'll be asking you for advice for sure!
Response 2: I just love it. And I'm so happy that I get the opportunity to stay home right now. I might decide to go back to work at some point, but for now this is working for us!
Response 3: I might be your exact opposite. Staying home makes me feel like a better mom. I guess that's why we're such great friends, right? Opposites attract!
Judgey Comment #2
She says: I don't know how you do it! I would feel so guilty going to work every day!
Again – you understand that this is about her, right?
Response 1: Oh – didn't you hear? I have special mom powers.
Response 2: Oh gosh – I'm a mom – I feel guilty going to the bathroom alone. But I love my kids, and I love my job. And I love that I can be a working mom.
Response 3: Just cry. Seriously. You want to see a judgey mom completely melt back down into a nice person? Just cry a little bit. Act like you need her. Works every time.
Judgey Mom Comment #3
She Says: You need to… [FILL IN THE BLANK]
When I complain to my husband, I don't want him to offer me a solution. I just want him to listen. Women know that. But for some reason, as moms, we are in the mode of trying to offer solutions to our kids all day long, and it's hard not to have that overflow into our conversations with our friends. You might think you're just venting to a friend, and suddenly she's trying to fix your entire life.
Response 1: I'll have to give that some thought. Thank you.
Response 2: I hear you, but I just need to vent for now. Can we talk about solutions later?
Response 3: You're absolutely right! (Judgey moms love it when you agree with them. They never have to know that you're telling a white lie.)
Judgey Mom Comment #4
She Says: I'm worried about you.
Here's the thing. If a friend is really worried about you, then it's awesome you have such a great friend! In my experience, when acquaintances say this, it's really because they're feeling insecure because you've been busy lately, they haven't seen you or they're afraid that they're somehow missing out on something fun that you're doing.
Response 1: Oh my gosh – you're so sweet for worrying. I'm doing awesome. How are you?
Response 2: We've had a busy last few weeks, but I think we're back on track now. Thanks. How are you?
Response 3: I can't really talk about what's going on, but I'd love it if you would keep my family in your thoughts. (This can be helpful if you really do need some support. It can also be helpful if you just want to give her something to think about endlessly.)
Judgey Mom Comment #5
She Says: Must be nice…
I was actually at a blog conference and Tiffany Romero of SITS Girls was talking about this in reference to women working really hard at their blog or business and the things that their "friends" might say in response to their success.
I think it also relates so much to motherhood.
Must be nice that your baby is sleeping through the night.
Must be nice that your husband has paternity leave.
Must be nice that your mom lives next door.
ETC
ETC
ETC
When you break it down, it's actually a fairly mean thing to say – acting like you didn't work hard or make sacrifices for your triumphs. Or that maybe you don't deserve some of life's victories.
Response 1: It is nice. SOOOOO nice. Seriously nice.
Response 2: Thank you.
Response 3: You have no idea.
Join the Sisterhood!
I'm beyond thrilled to be teaming up with the Sisterhood of Motherhood for the next year – to help put an end to the mommy wars – and to provide encouragement, not judgement.
You can be part of the sisterhood too – click here to read all about it and to become a member.
And be sure to follow Similac on Facebook.
This post is part of a year-long partnership with Similac. All opinions – and desires to end the mommy wars are my own.