Cooking with Kids
Introducing Prep+Pared – Your Dinnertime Hack
By |
If you're anything like me, dinner is a daily dilemma. I try to meal plan for the week, but I usually find we're an ingredient short or I started prepping too late, so dinner won't be ready before we have to leave for practice or a game.
All too often, we're eating breakfast for dinner.
So when Kroger asked me to partner with them to let everyone know about their brand new Prep+Pared meal solutions, I was completely on board.
Fresh-made, chef-designed meals that I can prepare at home without any measuring, cutting or prepping? And I can buy them straight in the store – no advanced planning (or mail order) required?
Yes, please!
Introducing Prep+Pared from Kroger
Prep +Pared meal kits, sold exclusively at Kroger, are going to become your favorite new way to make dinner.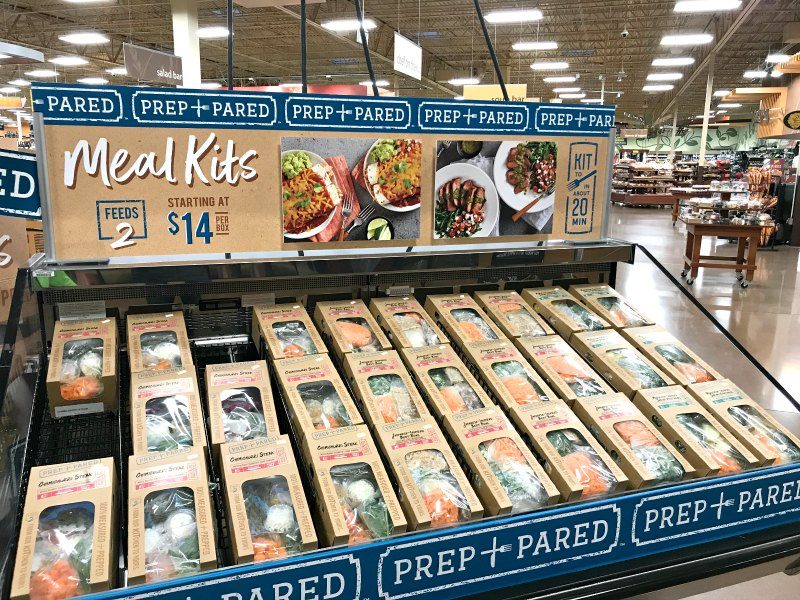 These meals contain everything you need to make dinner at home and are available in five different varieties,  including:
Chicken Enchiladas Rojas with Smashed Avocado + Pico De Gallo
Creamy Chicken + Bacon Alfredo with Fettuccine + Green Peas + Red Bell Peppers
Moroccan-Inspired Spring Vegetables with Herbed Couscous
Chimichurri Steak with Burnt Carrots + Goat Cheese
Japanese-Inspired Beef Bowl with Bok Choy, Mushrooms, Jasmine Rice + Pickled Carrots
With pre-measured ingredients, you don't even need to pull out a knife, and everything you need is in the box (with the exception of salt, pepper and cooking oil.)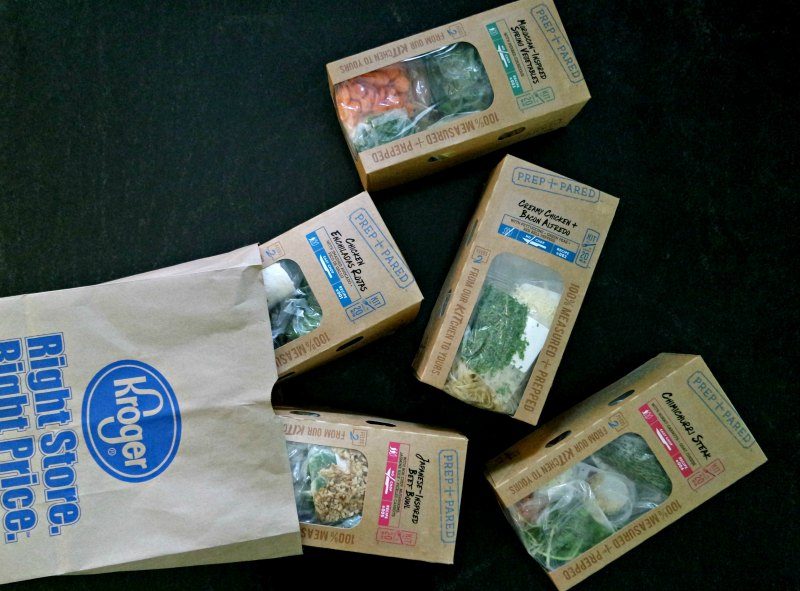 The best part?
They're quick and easy to make – from box to fork in just 10 – 20 minutes.
I'm serious.
And… every single one of them is delicious. I know this because our family has tried them all.
One of our favorites was Creamy Chicken + Bacon Alfredo with Fettuccine + Green Peas + Red Bell Peppers. Keep reading for the full recipe.
Creamy Chicken + Bacon Alfredo with Fettuccine + Green Peas + Red Bell Peppers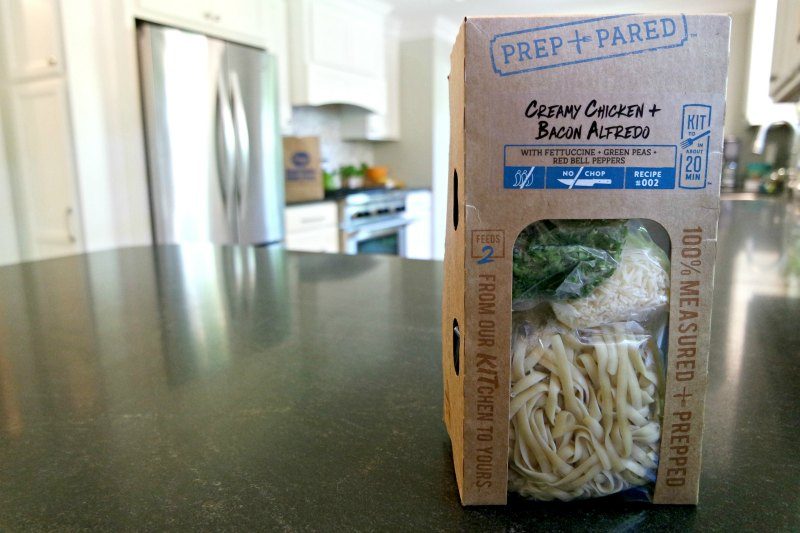 Pasta night at our house the last nine years or so has consisted of boiling some macaroni and mixing it with a jar of spaghetti sauce. So Creamy Chicken + Bacon Alfredo felt like a real treat.
As you can see, all of the ingredients come pre-measured and packaged individually along with a handy recipe and cooking instructions.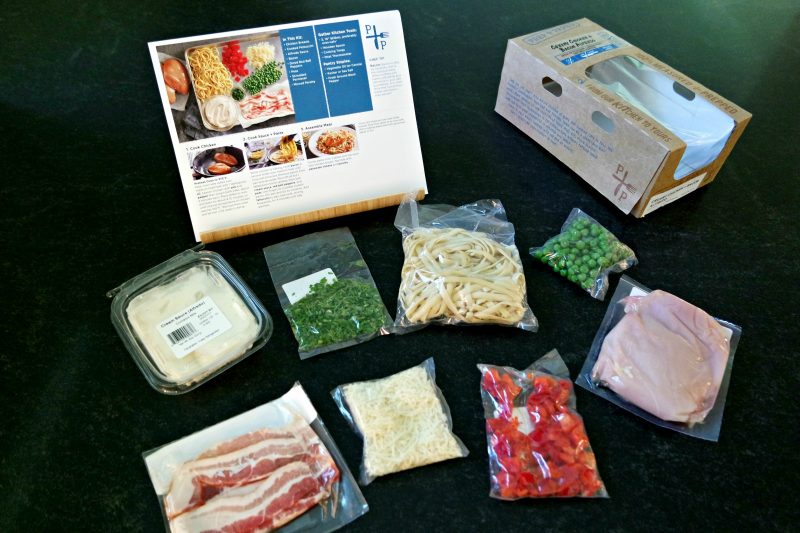 I started by opening all of the ingredients. Everything was fresh, and the chicken had even been trimmed! No knife or cutting board needed.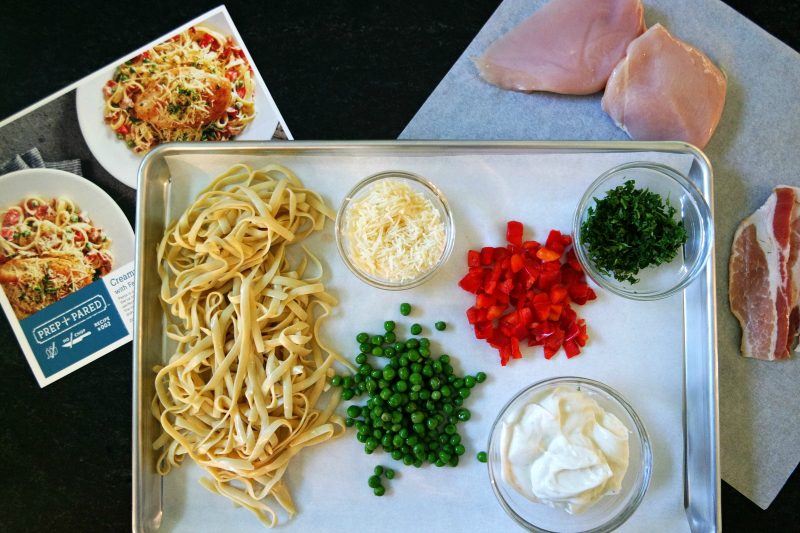 Following the recipe instructions, I started by browning the chicken.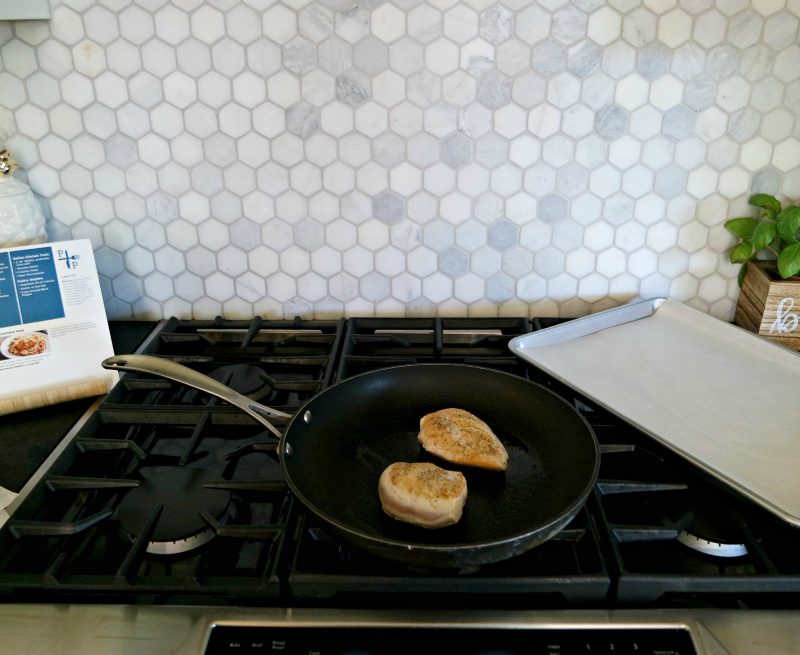 The recipe suggests you brown the chicken on both sides and then pop the skillet right in the oven to cook the chicken all the way through, but I opted to place mine on a parchment-lined baking sheet.
Then I fried up the bacon.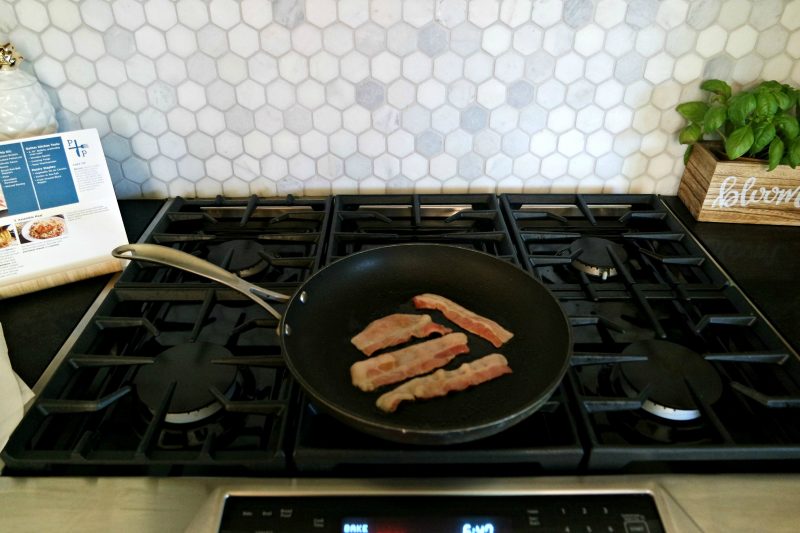 Once it was nice and crispy, I set it aside and used the same skillet to heat the alfredo sauce, bell peppers and peas.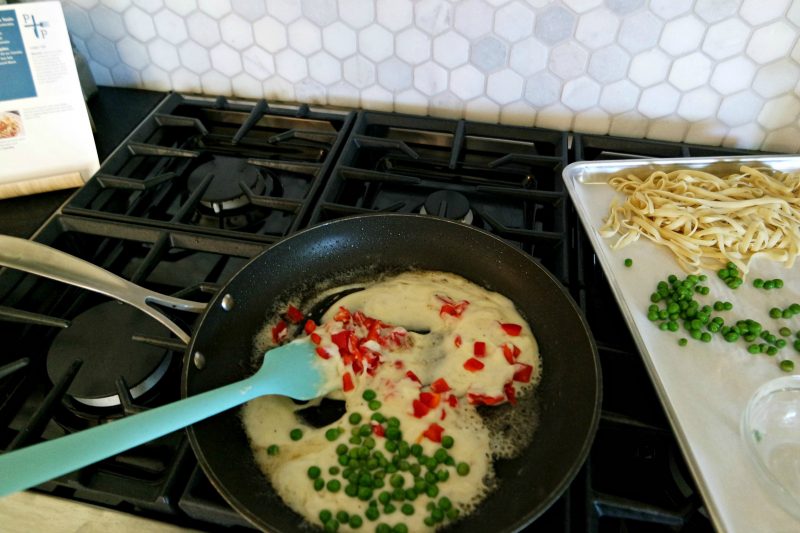 Then I added the crumbled bacon.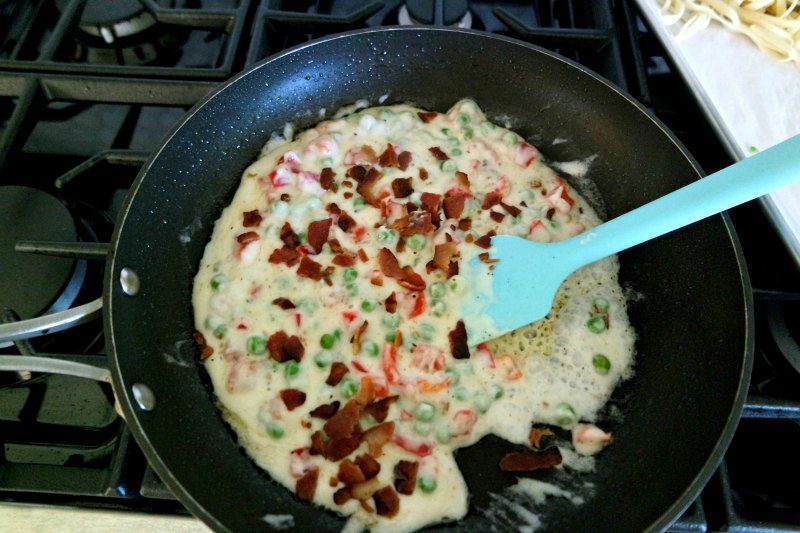 And the fettuccine noodles.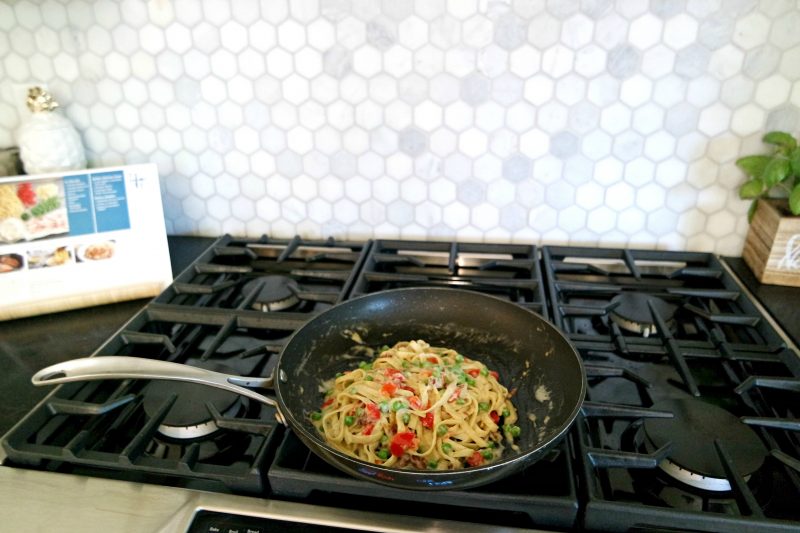 Just as everything was heated through, the chicken was ready to come out of the oven.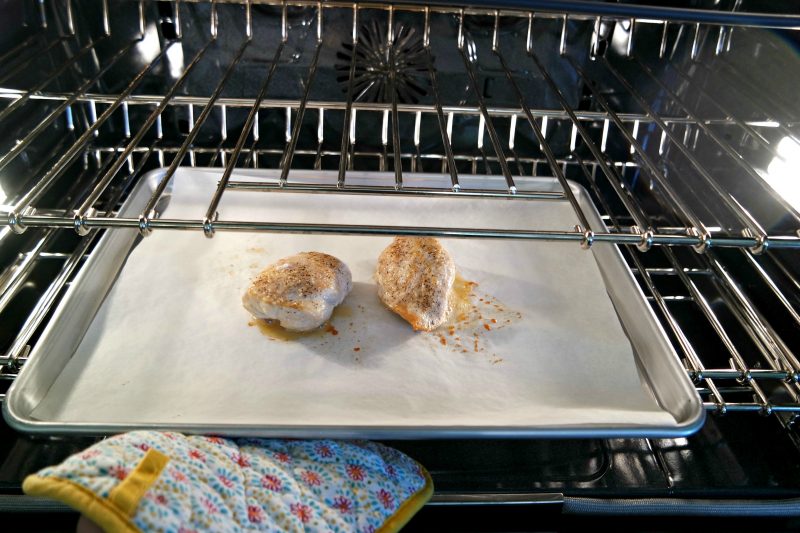 Can we just talk about how much my mouth was watering at this point? Holy yum!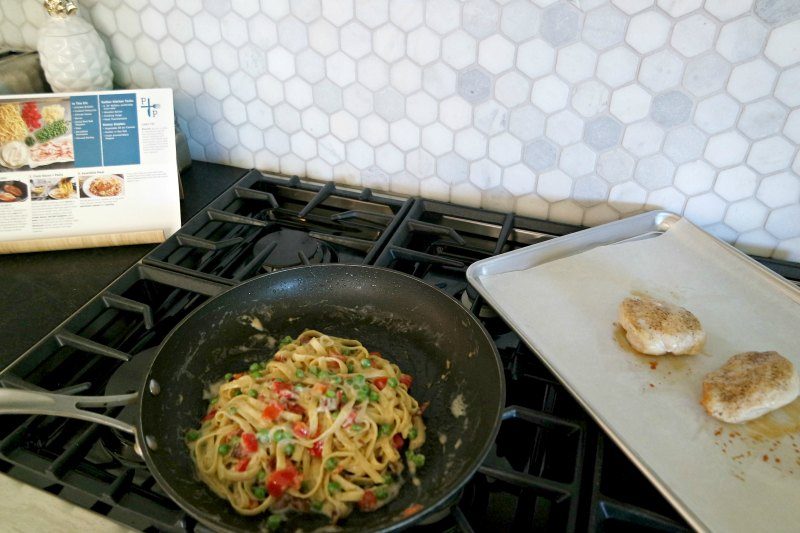 All that was left was putting the food on plates and sprinkling with parmesan cheese and parsley.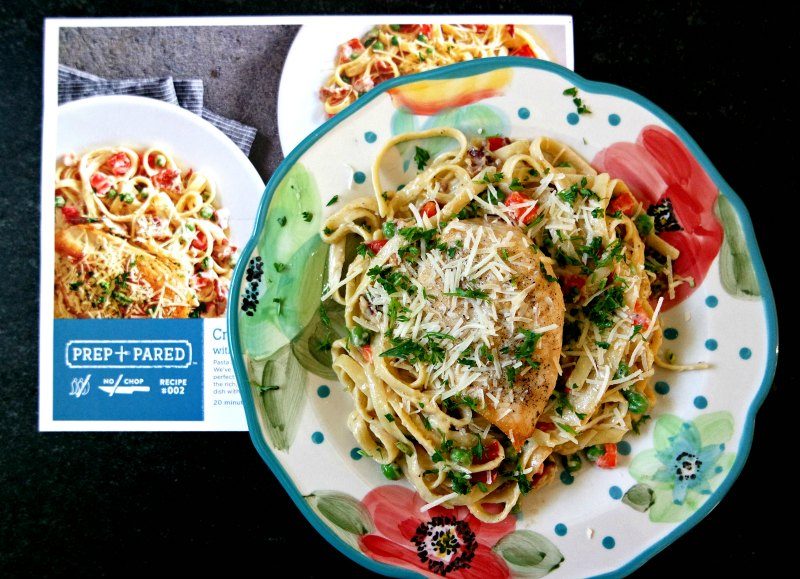 This entire meal took a little less than 20 minutes (including cooking the chicken.)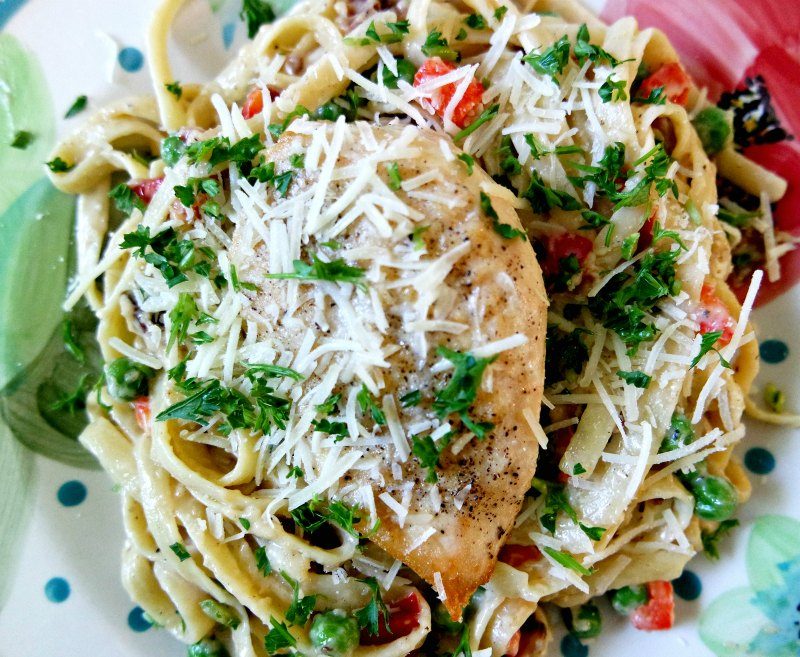 No hours spent chopping vegetables or trimming fat off the chicken. I didn't even have to cook the noodles.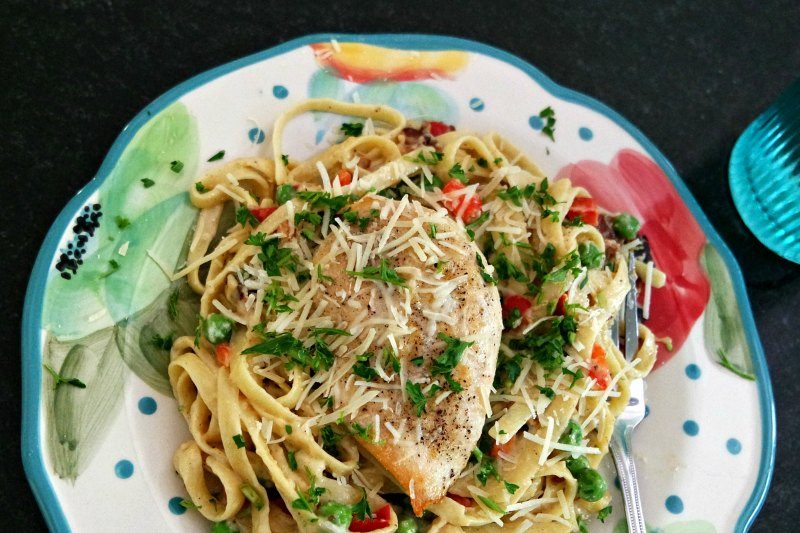 5 Ways that I Will be Using Prep+Pared
The entire family really enjoyed trying all of the Prep+Pared recipes, and there are several ways that I think we'll be incorporating them into our weekly meal plans.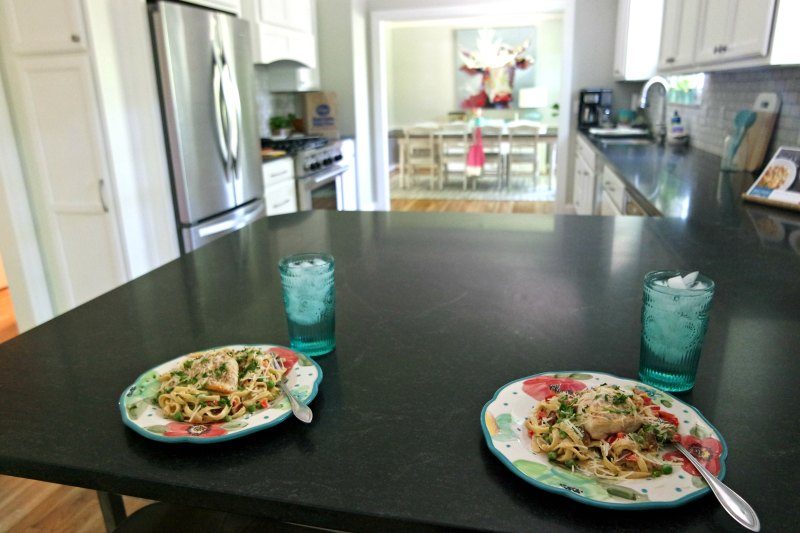 As part of our regular meal rotation. While each box contains two servings, we were easily able to feed our family of five with three of the recipes. For the other two, we just tossed in extra pasta or couscous to stretch it a bit.
Dinner parties. Cooking for other people stresses me out, but with Prep & Pared, I know that I'll be making something delicious and easy. (And I won't realize I'm missing an ingredient 20 minutes before company arrives.) Next time we're having another couple over, I'll just grab two boxes and be good to go.
"Date Night In." Between sporting events and homework, some nights everyone in the family is eating on a different schedule, and Even Steven and I eat after the kiddos are in bed. Prep+Pared is perfect for nights like that.
Cooking with the kids. My 9-year-old is very interested in cooking, and Prep & Pared is a great way for the two of us to cook together. He can follow the simple instructions, and he's so proud when he's the one that makes dinner.
Meals for friends in need. I panic when someone has a baby or has surgery, and I need to sign up to bring a meal because I never know what to make. Prep+Pared to the rescue!
Where to Find Prep+Pared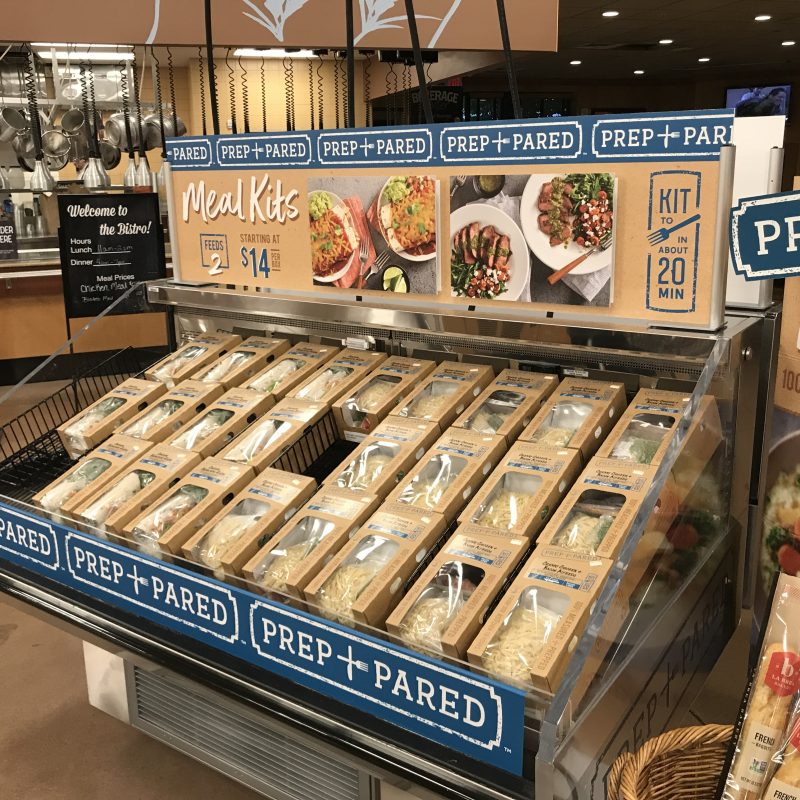 Prep+Pared kits will be coming to all Kroger Family of Stores in the near future. For now, you can grab them at these four locations:
Sharonville, Cincinnati Store (both in-store and ClickList)
Oakley, Cincinnati
Hyde Park, Cincinnati
Harper's Point, Cincinnati
This is a sponsored conversation written by me on behalf of Prep & Pared. The opinions and text are all mine.